Cos'è Zoho Mail
Zoho Mail è un servizio di hosting di posta elettronica professionale per utenti privati ​​e aziende. Il servizio fa parte di Zoho Online Office Suite pubblicato per la prima volta in 2005. Il servizio di posta fornisce agli utenti un'ampia funzionalità e un'elevata sicurezza, offrendo allo stesso tempo un'interfaccia utente semplice e intuitiva.
Mentre Zoho Mail è considerevolmente popolare, il servizio stesso è proprietario, quindi gli utenti cercano spesso un modo per importare Zoho Mail in Outlook. In questo articolo spieghiamo come esportare e-mail da Zoho Mail e importarle in Outlook.
Come convertire Zoho Mail in Outlook
Fare un passo 1: Esporta le email da Zoho Mail come EML
Il modo più semplice per convertire Zoho Mail in Outlook è utilizzare EML è un formato intermedio.
Accedi al tuo account Zoho Mail.
Vai a impostazioni facendo clic sull'icona a forma di ingranaggio nel pannello di destra.

Trova le e-mail di importazione/esportazione sezione e fare clic su di essa.

Seleziona la cartella che desideri esportare e fornisci il periodo di e-mail che desideri esportare. Poi, fare clic su "EsportazionePulsante ".


Zoho Mail esporterà i messaggi di posta elettronica come EML e li inserirà in un file .zip. Il collegamento a questo file viene inviato all'e-mail dell'account Zoho Mail principale.

Scarica il file .zip con i messaggi EML utilizzando il link che ti è stato inviato.
Decomprimi questo archivio .zip in una cartella. Ricorda il percorso di questa cartella, ne avrai bisogno su Step 3.
Fare un passo 2: Installa EML in Outlook Transfer
Dopo aver esportato correttamente EML da Zoho Mail, è ora di importare questi messaggi in Microsoft Outlook. Il modo più semplice per farlo è usare Strumento di trasferimento da EML a Outlook. Questo software offre il conversione più veloce di file EML al formato PST garantendo 100% affidabilità e sicurezza dei dati di posta elettronica, anche per quantità estremamente elevate di e-mail.
Perché utilizzare uno strumento di terze parti in primo luogo? Outlook non può semplicemente aprire quei file EML? No, non può. Outlook non supporta l'importazione di grandi volumi di EML, quindi devi usare alcune soluzioni alternative. E EML to Outlook Transfer non è solo una soluzione, ma un modo praticabile e conveniente per importare rapidamente E senza sforzo gigabyte di e-mail nel formato EML in Outlook.
Per scaricare il programma, fare clic sul pulsante in basso, quindi installare il software come al solito.
Fare un passo 3: Importa Zoho Mail in Outlook come file EML
Dopo aver installato EML su Outlook Transfer, eseguirlo. Dovresti vedere la finestra principale del programma.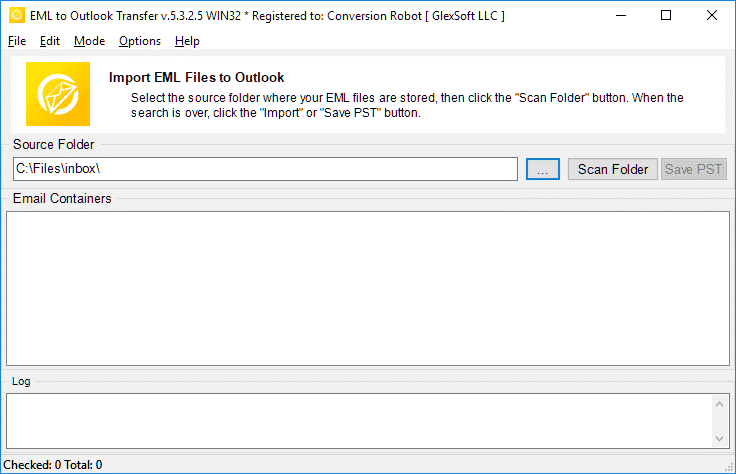 Fare clic sul pulsante Sfoglia cartella [...] per selezionare la cartella in cui si trovano i file EML estratti dal file .zip scaricato.
Prossimo, fare clic sul pulsante "Scansione cartella". Il programma cercherà nella cartella fornita tutti i file EML e li aggiungerà all'elenco.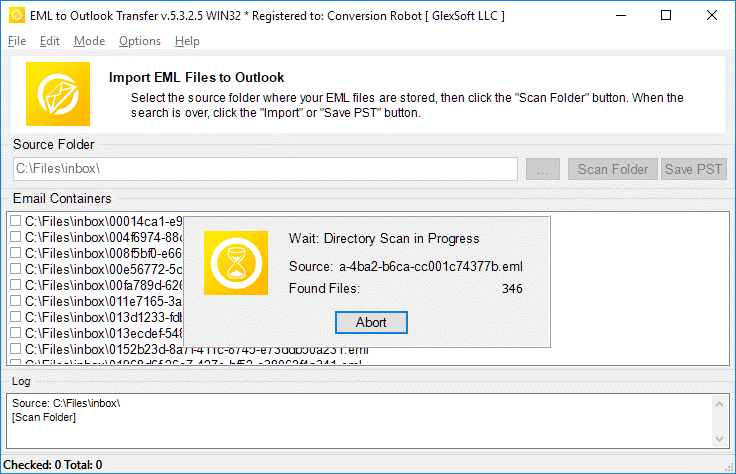 È possibile rivedere questo elenco al termine del processo.
Fare un passo 4: Importa file EML in Outlook
Infine, fare clic sul pulsante "Salva PST" per avviare l'importazione dei file EML caricati in un file PST. Puoi perfezionare questo processo utilizzando il menu "Opzioni"..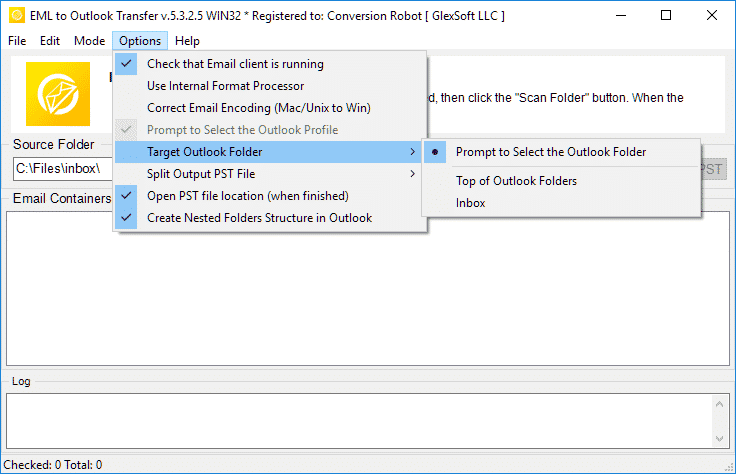 Il processo di conversione può richiedere del tempo in quanto la quantità di elementi da importare è elevata, e lo stato di avanzamento viene visualizzato in tempo reale nella stessa finestra.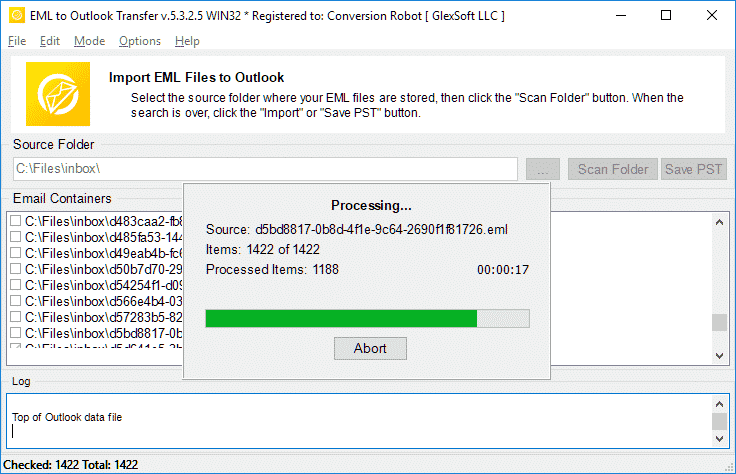 Dopo un po, la tua corrispondenza di Zoho Mail finisce per essere importata in Outlook.
Nota che con EML to Outlook Transfer puoi convertire migliaia di e-mail e gigabyte di dati senza problemi. Come oggi, il programma offre uno dei modi più semplici e intuitivi per migrare a Outlook quando le tue email sono in formato EML.
Si potrebbe anche voler sapere:
Ci dispiace che questo post non è stato utile per te!
Cerchiamo di migliorare questo post!
Diteci come possiamo migliorare questo post?