La gramática impecable es crucial para la comunicación profesional. Afortunadamente, los sistemas de correo pueden verificar su texto automáticamente. Esto ahorra tiempo y te ayuda a crear correos electrónicos impresionantes. Sin embargo, la función puede funcionar mal. Here is what to do about spell check not working in Outlook.
If the feature works, the system checks your grammar and spelling. Users are alerted if errors are spotted. With word spell check not working, you risk sending texts with embarrassing mistakes. This is hardly desirable, especially in the context of business communication. These tips apply to any version from 2007 a 365.
Why Is Outlook

2016

Spell Check Not Working

?

There are three possible culprits. Primero, the autocorrect in Outlook 2013 and other versions may simply be disabled. En segundo lugar, the language in the settings may be wrong. Finalmente, an installation issue or defective patch may be to blame.

Where Is Spell Check in Outlook?

The system allows manual and automatic checks. En el primer caso, you should access the "Spelling & Grammar" option from "Revisión". Sin embargo, forgetting is always a possibility, so set up auto-check instead.

Para hacer esto, find options for a mail from the "Archivo" menú. Tick the necessary box to enable automatic check before sending it. It is located under the section for composing. voila! This works for Outlook 2010 spell check not working.

Si tu problema es Outlook 2007 spell check not working, open the options via "Herramientas". You will see a Spelling tab with the necessary box. En versiones posteriores, the sequence is "Archivo" - "Opciones" - "Correo".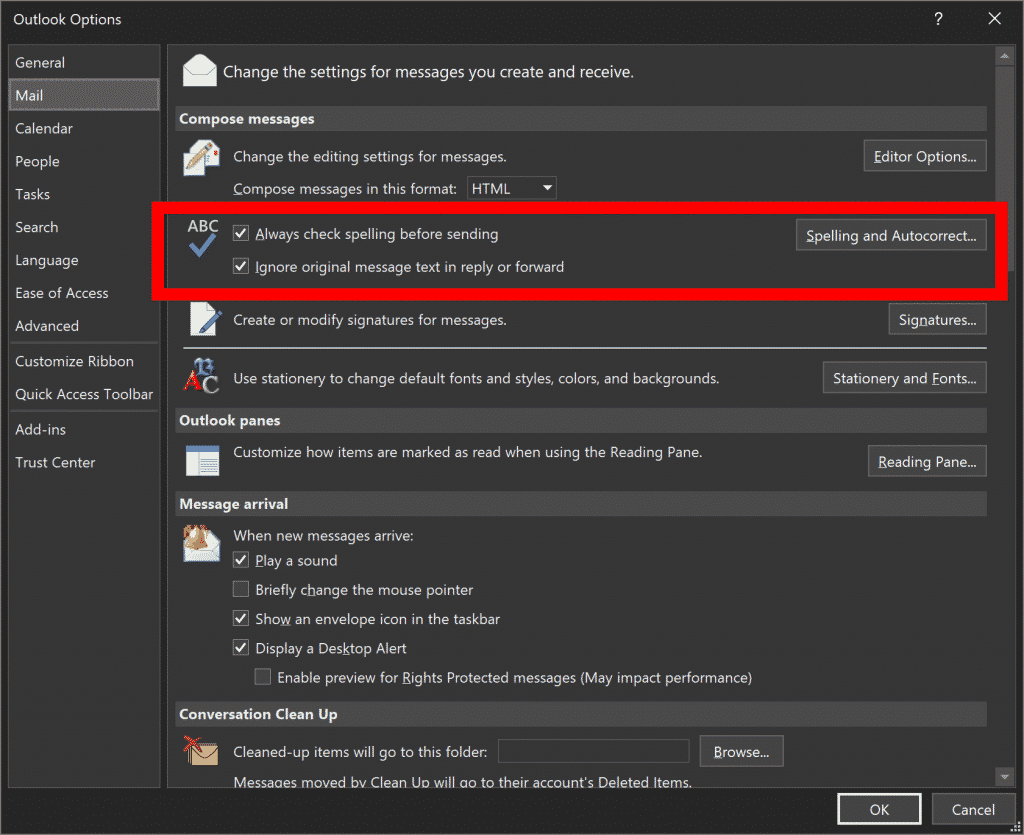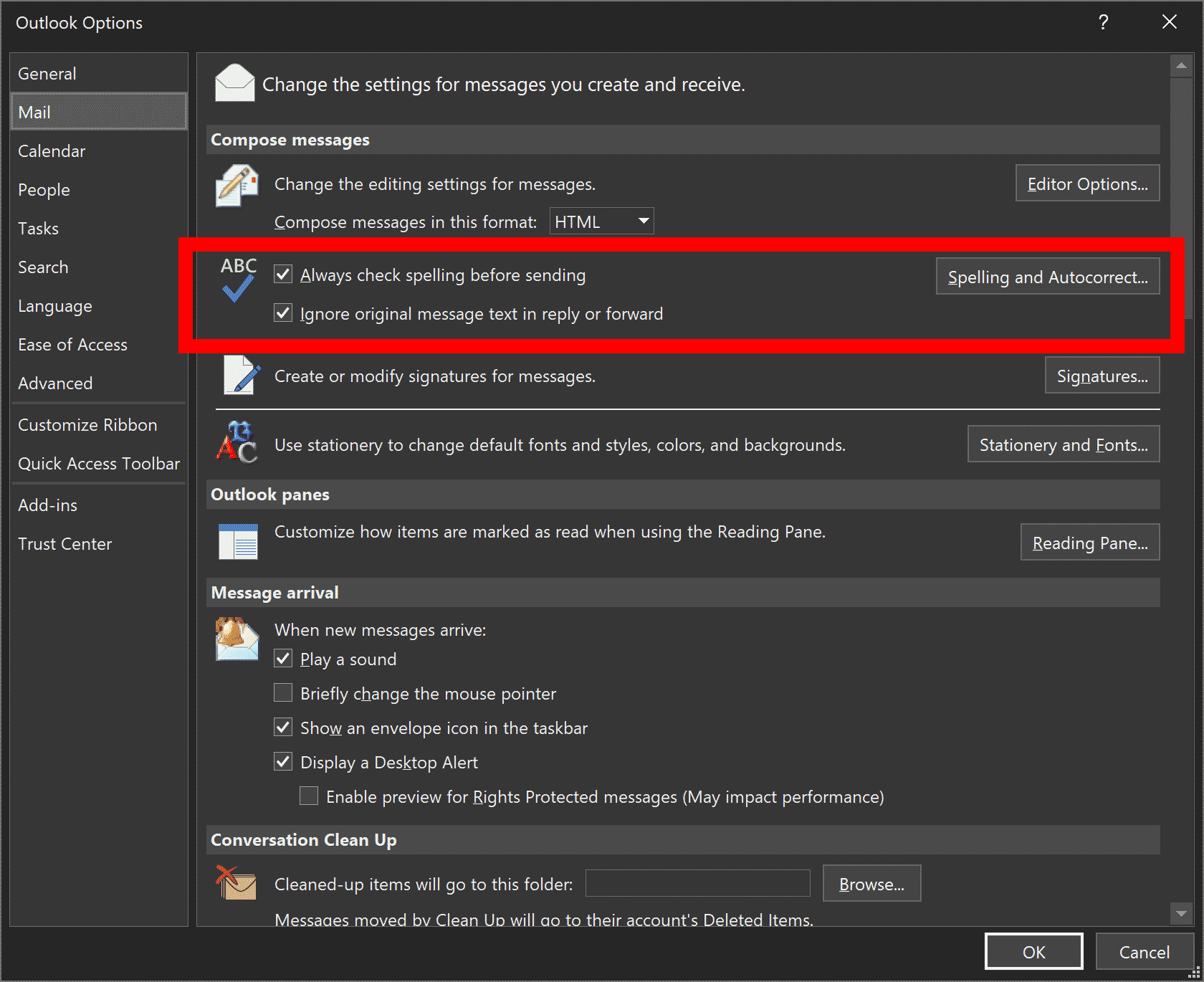 Remedy for Outlook Spell Check Not Working
You know there is a problem when mistakes are not underlined as you type. This is a surefire sign. The purpose of the system is to help you correct any errors before hitting "Enviar". Por lo tanto, if the check is clearly malfunctioning, what should you do?
If the cause is simple, restarting should help. After the system is working again, check the tool. This method is basic, but it can be effective. If the issue is temporary, it will disappear.
If it works, the system will check the spelling in every new message.
Is The Default Language Right

?
This setting could interfere with the checks. In the case of English and some other languages, you may be typing in one variation, and checking in another. Por ejemplo, if the check is programmed for American English, it will not accept British rules and the other way round.
Misspell words on purpose to see if the system works. Run a check through "Revisión" > "Spelling & Grammar".
Are The Messages Being Ignored

?
If Message Ignoring is set, the feature will not check some parts of your emails. The tool may fail to work if the system is programmed to overlook areas in forwarded emails and replies. Here is how to check it.
Access options by clicking on 'File'. Próxima, find 'Mail', Próxima, look at the composing section. The system may ignore the original text due to the corresponding setting. Unpick the box and click OK.
This is your last resort. The process is not brief, so make sure you have enough time to complete it. There are three things you may repair: the entire Office package, tu perfil, or data files.
Close all windows

.

Head to the Control Panel and use the category view to find Programs

.

Click on the uninstall option to summon a list of products installed on your machine

.

Find MS Office and right-click on it to change

.

Choose the type of repair

.

Restart the mail client

.
Does this solve the issue? Sino, try repairing separate elements — the profile and data files. To change the former, siga los pasos a continuación. Please note that Outlook Exchange accounts do not have a repair wizard.
Summon the menu via

"Archivo".

Open settings for your account

. Aparecerá una nueva ventana.

On the 'Email' tab

(

open by default

),

choose Repair to launch the wizard

.

Follow the steps suggested and restart the system

.
To fix only files, use a dedicated tool for inbox repair. It is available from the Microsoft website.
Restoring Spell Check in Outlook 2013
An automatic check is a useful option available in all popular versions of the system. Fixing it takes seconds if the cause is temporary. Repairing is the most complex solution.
Más artículos de Knowledge Base
---

Cuando inicias Outlook, comienza a sincronizar el correo automáticamente. Lo recibe y lo envía, y
Lee mas
---

A veces, este error del cliente de correo puede interrumpir su trabajo. Puede aparecer en cualquier momento.
Lee mas
---

La gramática impecable es crucial para la comunicación profesional. Afortunadamente, los sistemas de correo pueden verificar su texto automáticamente.
Lee mas
---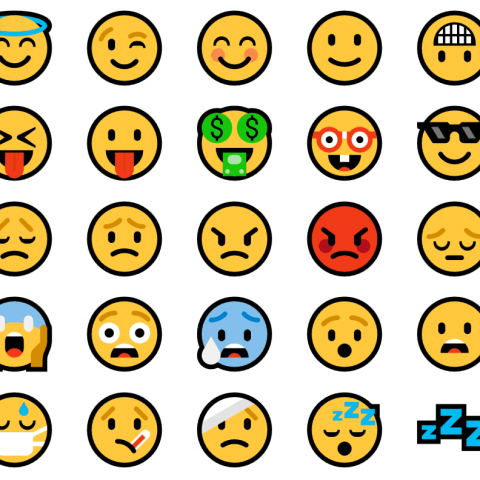 Con la creciente popularidad de los mensajeros, Los emojis ahora se usan ampliamente para agregar tinte emocional.
Lee mas
---

Es de conocimiento común que los correos electrónicos pueden contener virus.. Los archivos adjuntos pueden ser maliciosos, y usuarios
Lee mas
Lo sentimos que este post no fue útil para usted!
Vamos a mejorar este post!
Díganos cómo podemos mejorar este post?