Wat is Claws Mail?
Claws Mail is een gratis en open-source e-mailclient voor zowel Windows- als Unix-achtige systemen die sindsdien is ontwikkeld 2001. De e-mailclient biedt berichtcompositie, Bezig met verzenden, filteren en een aantal andere uitgebreide functies.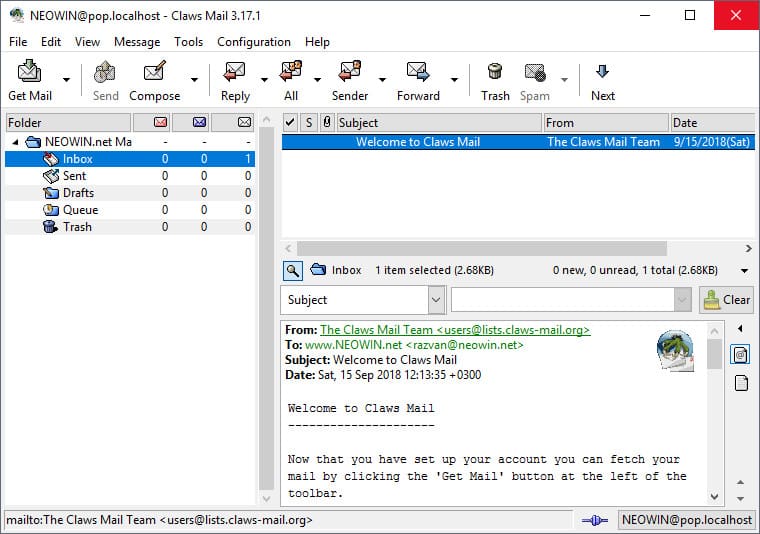 Hoe berichten van Claws Mail naar Outlook te converteren
Directe conversie van e-mails van Claws Mail naar Outlook is onmogelijk, helaas. Claws Mail slaat berichten standaard op in zijn eigen MH-formaat, en Outlook kan dat formaat niet openen. Echter, je kunt nog steeds je e-mails uit Claws Mail halen en ze importeren in Outlook. Hieronder vindt u de stapsgewijze handleiding voor het exporteren van Claws Mail-berichten naar het MBOX-formaat, en importeer vervolgens het resulterende MBOX-bestand in MS Outlook.
Stap 1: Claws Mail naar MBOX converteren
Claws Mail gebruikt zijn eigen mailboxformaat – MH mailbox die onleesbaar is in Outlook. Dus, de allereerste stap die we moeten maken, is om uw originele MH-mailbox in Claws Mail te converteren naar het veel algemenere MBOX-formaat.
Selecteer de "Bestand > Exporteren naar mbox-bestand" menu commando.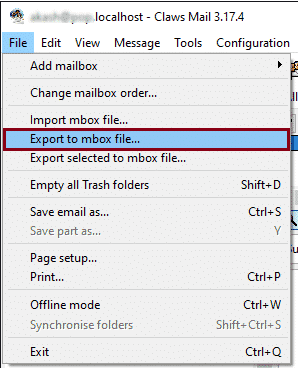 Het exportdialoogvenster wordt geopend. Specificeer de bronmap in de Claws Mail (bijvoorbeeld, Postvak in) en blader naar een doelmap, waar u het resulterende MBOX-bestand met de geselecteerde mapgegevens wilt opslaan.
Klik OK om het MBOX-bestand op te slaan.
Opmerking: als u e-mails exporteert vanaf uw Unix-computer, je moet het resulterende MBOX-bestand naar een verwisselbare opslag kopiëren, zoals een USB-stick. Als zowel Claws Mail als Outlook op dezelfde Windows-computer zijn geïnstalleerd, je hoeft alleen de map te onthouden waarin je MBOX hebt opgeslagen.
Stap 2: Installeer MBOX naar Outlook Transfer
MBOX to Outlook Transfer is een gespecialiseerde software om snel en moeiteloos alle MBOX-gegevens rechtstreeks naar Outlook over te zetten.
Download het programma met de onderstaande knop en installeer het.
Nadat u het programma hebt geïnstalleerd en uitgevoerd, je zou het hoofdvenster van de MBOX-converter moeten zien: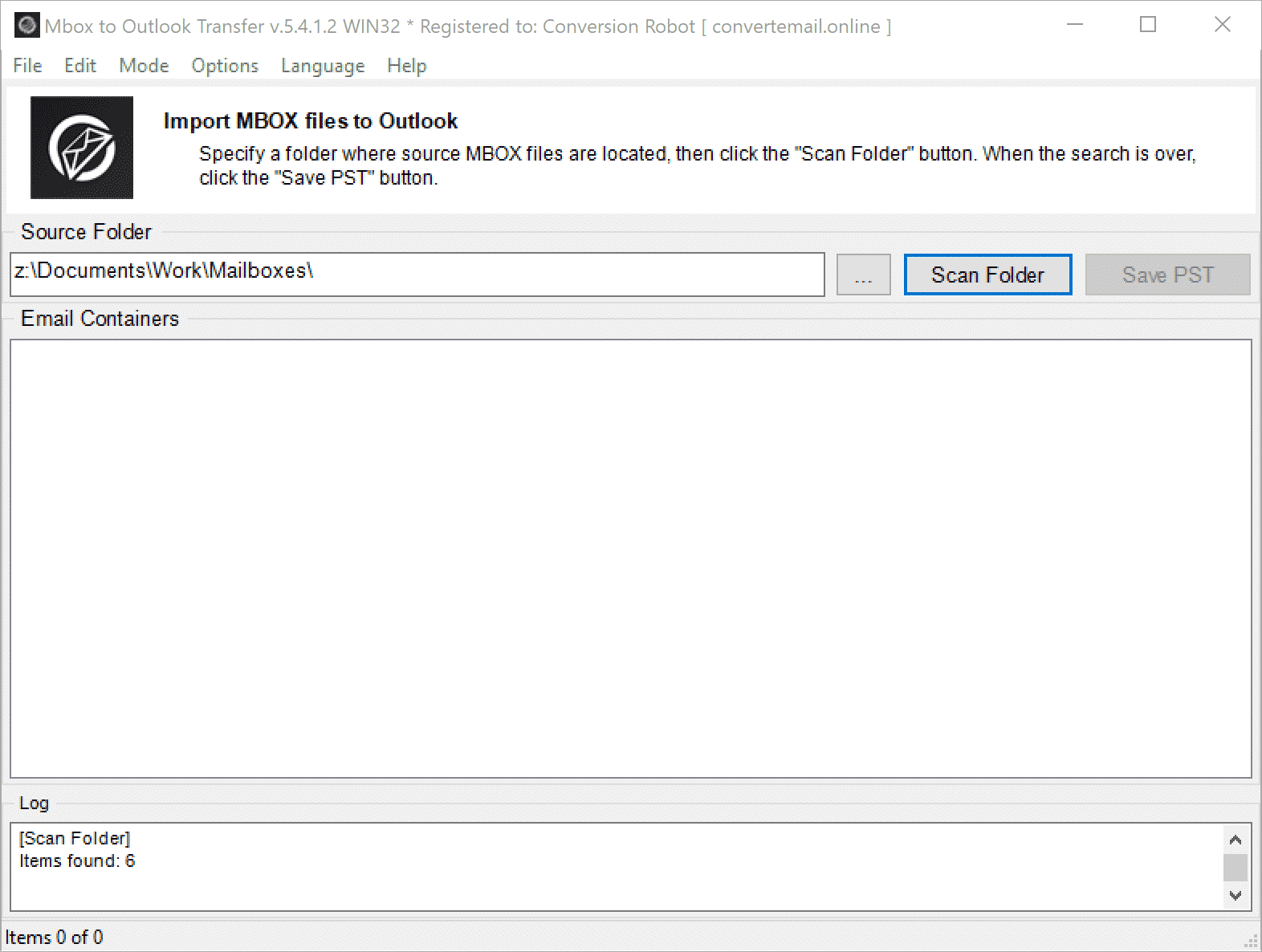 Stap 3: Blader door de map met MBOX-bestanden
Klik op de knop Bladeren (met de drie puntjes) en selecteer de locatie waar de MBOX-bestanden die zijn geëxporteerd vanuit Claws Mail worden opgeslagen. Als u een verwisselbaar medium hebt gebruikt om MBOX-bestanden van uw Unix-computer naar de Windows-pc over te brengen, specificeer het hier.
Klik op de map scannen knop. MBOX to Outlook Transfer scant de opgegeven map om alle MBOX-bestanden erin te vinden. Afhankelijk van het aantal bestanden en hun volume kan het proces enkele minuten duren.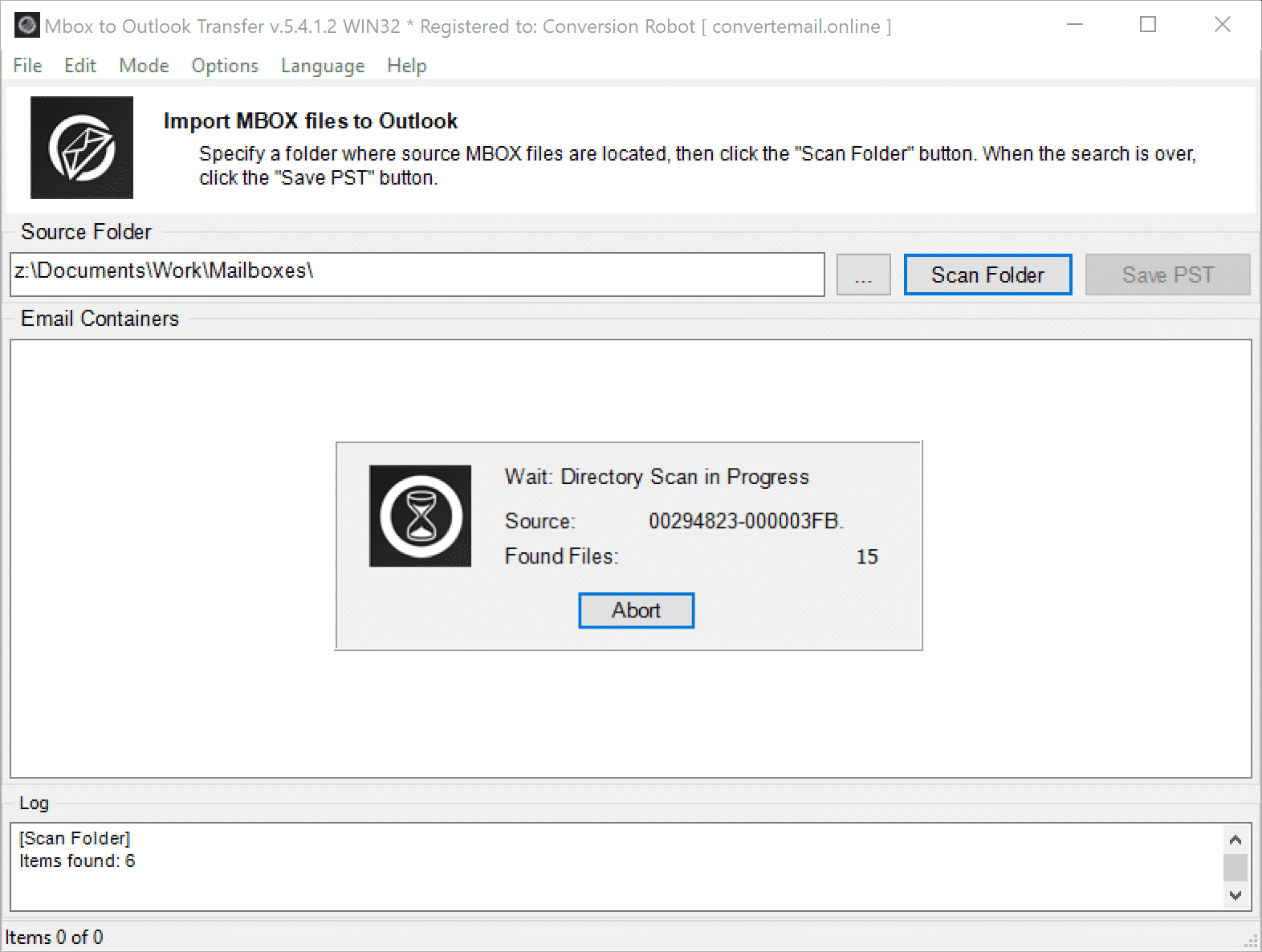 Stap 4: Sla MBOX-gegevens op in PST-formaat
Wanneer het scannen is voltooid, je zou de lijst met gevonden e-mailcontainers in het hoofdvenster moeten zien. Nu, Klik op de Opslaan van PST knop.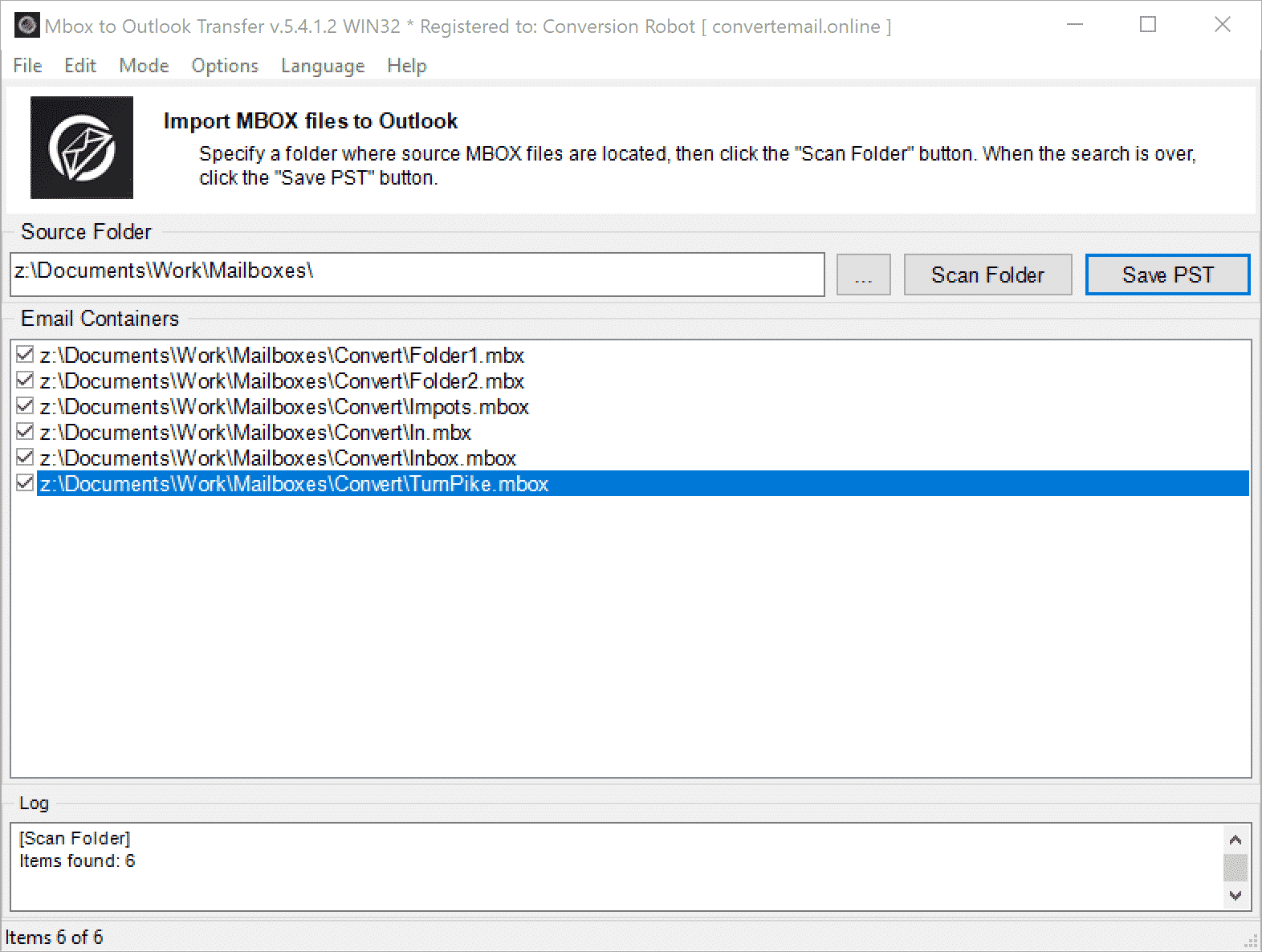 Het programma zal u vragen om de locatie op te geven waar u uw Outlook PST-bestand wilt opslaan. Vervolgens, specificeer de Outlook-map waar de gegevens uit de Claws Mail moeten worden geïmporteerd.
Conversie bevestigen.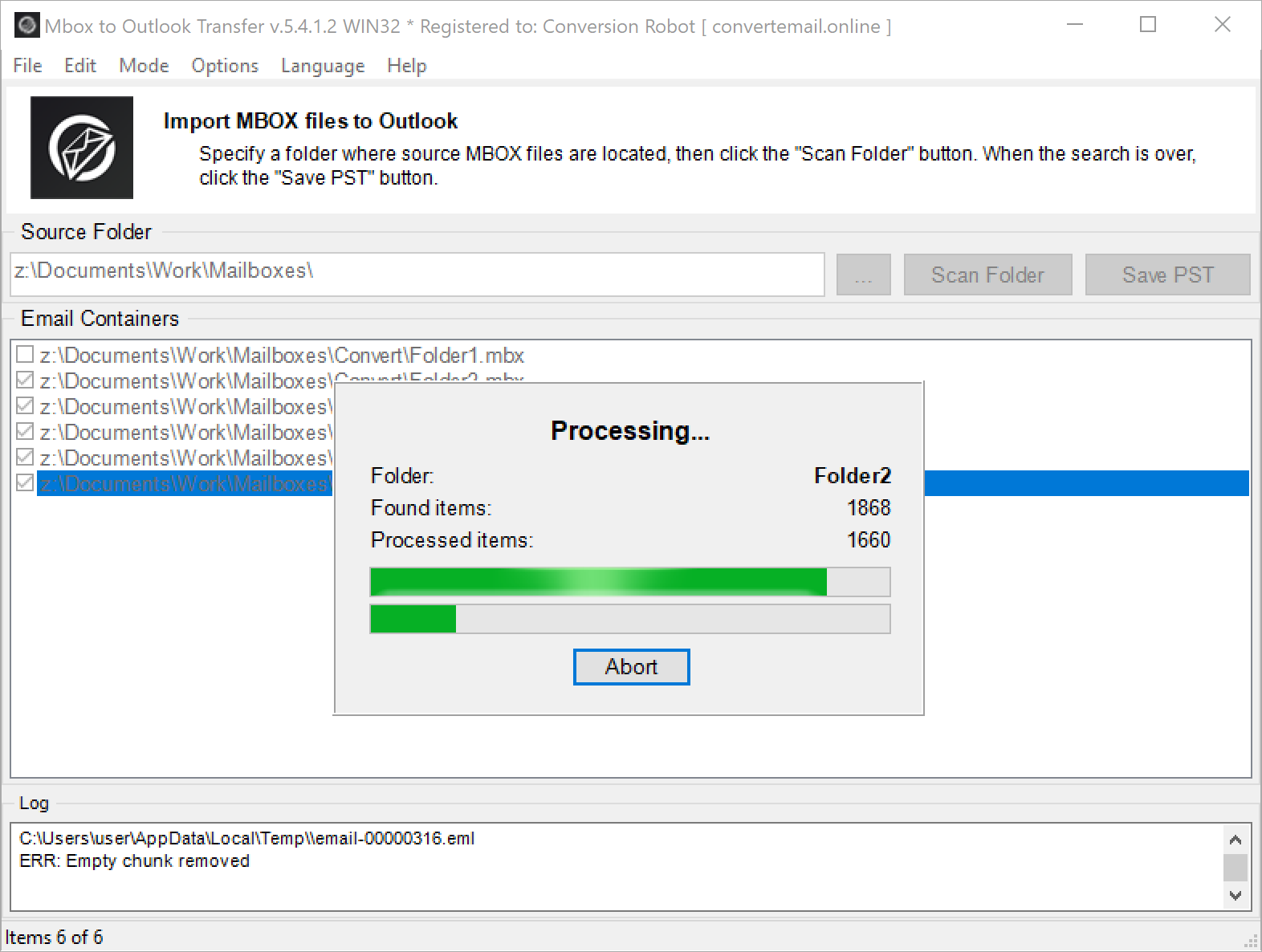 MBOX naar Outlook Transfer begint met het converteren van uw Claws Mail-berichten van MBOX naar Outlook. Als u het proces wilt stoppen, klik op de "Afbreken"Knop.
Wanneer het proces is voltooid, het programma opent automatisch het resulterende PST-bestand in Outlook.
Het spijt ons dat dit bericht is niet nuttig voor u!
Laten we dit bericht te verbeteren!
Vertel ons hoe we dit bericht kunnen verbeteren?