I utgangspunktet, Microsoft Windows brukt WAB søknad (Windows Address Book) til å lagre kontaktinformasjon, senere ble det erstattet med Windows-kontakter app grensesnitt, which has its own API and allows software developers to integrate contacts into various Windows applications. Den Windows-kontakter applikasjonen støtter jobber med CSV, WAB, VCF, LDIF kontakter filer samt XML-filer med .kontaktutvidelse. It supports contact grouping by creating contact groups. Follow our guide to import contacts into Outlook.
What is the .contact file

?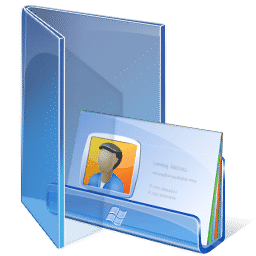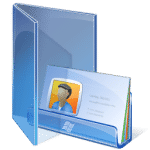 Den *.ta kontakt med file format is based on XML markup and consists of many specific tags that allow to store both text and graphic data such as a photo of a contact person. Individuell .ta kontakt med filene ligger i egen mappe på Windows-kontakter søknad og alle kontaktfeltene er indeksert av systemet, så kontaktinformasjon kan raskt funnet ved hjelp av Windows Search-boksen.
Til tross for muligheten for å integrere med Windows-programmer, filer med .kontaktutvidelse kan ikke direkte importert til MS Outlook. Men, a fairly simple method of importing contacts to Outlook exists. Dette, du trenger å eksportere kontakter fra Windows Kontakter-programmet til individ * .VCF (vCard) filer, og disse VCF kontakt filer kan importeres til Outlook eller konverteres til PST-format. Another option is exporting contacts to a CSV file.
Konvertering .contacts filer til VCF-format
Type in the

"WAB" kommandoen inn i søkefeltet (feltet med "Skriv inn her for å søke" tekst) og trykk Tast inn knapp. Alternativt kan du kjøre filer Explorer og skriv C:\brukere <brukernavn>\Kontakter i Quick Access bar (adressestrengen). Hvor <brukernavn> er ditt brukernavn i systemet.

Dette vil åpne Windows Kontakter program som inneholder en *.ta kontakt med filer.
Klikk på ">>" symbol for å utvide menyen (hvis det ikke er helt åpen).

Klikk Eksportere menyvalget, plukke ut vCard (mappe med VCF-filer) format og klikk Eksportere knapp.

Plukke ut "

Desktop

" og klikk "Opprett ny mappe" knapp.

Klikk ok knapp.
Kontaktene dine vil bli lagret som * VCF-filer til Ny mappe på

Desktop

. Følgende melding vises:

Klikk ok for å lukke meldingen, klikk Lukk for å lukke "Export Windows Kontakter" vindu, Klikk på X for å lukke Kontakt

app

. Nå,

you are ready to transfer contacts to Outlook

.
Her er hvordan å konvertere eksportert .contact filer til Outlook
It is a very simple procedure: løpe VCF til PST konvertering app, click the "…" button and choose Ny mappe som ligger på skrivebordet. Klikk på "Skann mappe" button and the program will find all contacts for importing into Outlook PST file. deretter klikker du "Lagre PST", angi PST filnavnet og lagre .contact filer til PST-format. Det er det, now open the .PST file in Outlook, go to the Contacts folder and check your contacts. La oss følge prosedyren steg-for-steg…
Åpne VCF til PST konvertering program. Hvis det ikke er installert på systemet ditt,

download and set it up

.
Klikk "…" (bla-knappen) og velg katalogen hvor VCF-filer er lagret (det var Ny mappe på

Desktop

i vårt eksempel ovenfor).
Nå klikker du på "Skann mappe"

button and the program will scan for the contact files and subfolders

. Det vil fylle ut listen over kontakt filer som er klar til å bli importert til Outlook PST-format.
Klikk på "Lagre PST"

button and select the target folder to save the output PST file

. Det kan være Desktop for eksempel.
Vent til slutten av konvertering og åpne resultat PST-fil i Outlook ved hjelp av menyen File > Datafil Åpne Outlook…
How to import from PST file into MS Outlook
Nå, you can feed the contacts into the mail client. Using a standalone PST file is particularly useful when you need to switch between accounts or computers. The method can move different data at once: meldinger, kontakter, tasks and calendar data. Importing is easy thanks to the in-built wizard. Her er hva du skal gjøre.
Åpne MS Outlook.

Access the import/export wizard through File — Open

& Eksportere.

Specify the source

(

you will be using another file

).

Select the PST type and proceed further

.

Browse to the location of the file you created and select it

.

Choose an action for duplicates in Options and proceed further

.

Enter the password to the file if it is protected

(

you will be prompted to do it

).

In "Select the folder to import from" choose Outlook Data File to transfer its entire contents

. Alternativt,

you can expand it and select a specific subfolder

(Kontakt).

Choose import into the current folder or choose "Import items into the same folder in" and specify another mailbox

.

Finalize by clicking "Finish"

.
Nå,

all you need to do is wait for completion

.

The progress box will disappear when the import is completed

.
How to import contacts from CSV to Outlook
To import data from a file with the .csv extension, you need to use the same wizard. This method works for all popular versions of the mail client. You will move CSV contacts to Outlook smoothly.
Repeat steps

1-3

above to launch the wizard and choose import from a file

.

Proceed further

.

Select the input format

(CSV).

Browse to the location of the file and select it

.

Choose an action for duplicates and proceed further

.

Select the Contacts folder under the destination email account

.

Click Finish if the file was created via Outlook

,

or use Map Custom Fields first

. I dette vinduet,

you can check if every Excel column will be matched with the right contact element in Outlook

,

and make changes if necessary — just drag and drop the categories from left to right

. Deretter,

click OK and Finish

.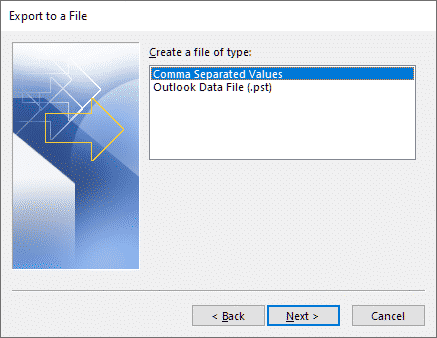 After the progress box disappears, you can check if your data has transferred successfully. Open the People section via the Navigation bar. The contacts should be listed.
How to transfer contacts to Outlook Online
Transferring to the online version is easy when you have a CSV file. To ensure accuracy, the contacts must be saved with the UTF-8 encoding. It is universal for all languages. Sign into your account on the web or Outlook.com. Gjør følgende:
Click the People icon on the left

.

Choose contact import by clicking the Manage button on the right under the bell

.

Browse to the location of the .csv file and open it

.

The name of the file will appear in the box

.

Click Import

.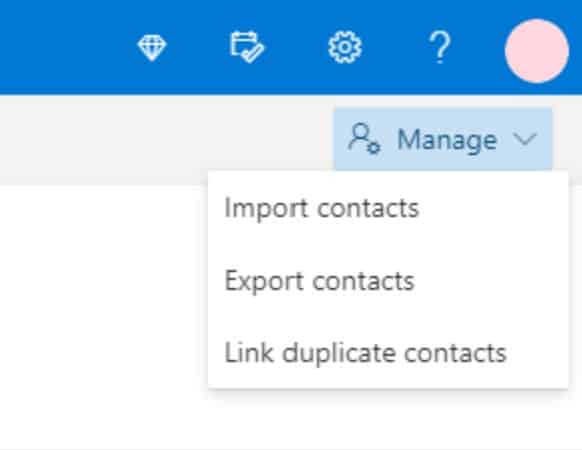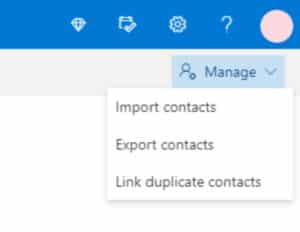 Som du kan se, the procedure is much shorter than in the desktop version. The system will process your duplicates in the default way — by creating new contacts. You can be sure your existing contacts will not be changed, replaced or deleted.
Siste ord
Now you know three ways of importing address book into Outlook — using VCF, PST and CSV files. Merge your address lists smoothly in both desktop and online versions of the mail client. A universal converter will help you achieve the goal with guaranteed precision.
Du kan også være lurt å vite:
andre Tutorials
---
What is Claws Mail Claws Mail is a free and open-source e-mail client both for
Les mer
---
What is SeaMonkey SeaMonkey
,
the all-in-one internet application suite includes a host of programs to
Les mer
---
What is Sylpheed email client Sylpheed is an open-source e-mail client that runs on many
Les mer
---
MailCOPA is a legacy email client for the Windows platform
.
This email client never was
Les mer
---
I utgangspunktet, Microsoft Windows brukte WAB søknad (
Windows Address Book
) til å lagre kontaktinformasjon,
Les mer
Vi beklager at dette innlegget ikke var nyttig for deg!
La oss med å forbedre dette innlegget!
Fortell oss hvordan vi kan forbedre dette innlegget?