IncrediMail og Thunderbird e-postklienter bruker de forskjellige formatene til å lagre e-post. Du må bruke filformatet som begge programmene godtar for å utføre overføringen av IncrediMail til Thunderbird. Dessverre støtter IncrediMail ikke masseposteksporten, og det er nødvendig å bruke det spesielle konverteringsverktøyet. IncrediMail til Outlook Transfer-programvaren lar deg eksportere IncrediMail-e-post til individuelle filer med EML-format. Filene i EML-format kan importeres til Mozilla Thunderbird-applikasjon ved å dra-n-slipp-metoden. Dette vil kreve manuelle arbeider, ettersom bare e-posteksporten kan automatiseres. Her er hva du bør gjøre for å utføre IncrediMail til Thunderbird-konverteringen:
IncrediMail til Thunderbird – EML-filer utvinning
IncrediMail til Thunderbird-migrering starter fra Thunderbird-e-postmeldinger som eksporteres til individuelle filer i .EML-format.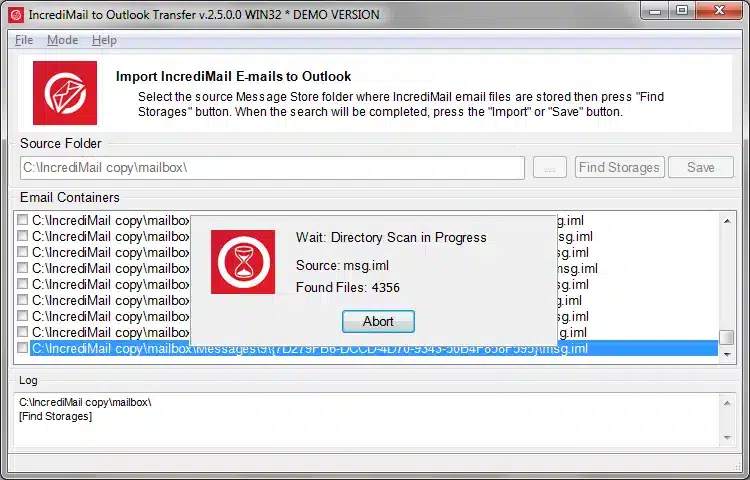 Last ned og installer IncrediMail to Thunderbird konverteringsprogramvare https://www.outlooktransfer.com/products/incredimail-to-outlook-transfer/
Hvis du allerede har aktiveringskode, aktiver den med den samme aktiveringskoden som du allerede har ved hjelp av menyhjelp > Aktiver ...
Velg kilden mappen hvis det ikke ble gjenkjent av programmet (se programmet Hjelp for detaljer).
Klikk Skann mappe knapp, velg deretter menyen Modus og aktiver Eksport til EML-filer vil du bli bedt om å midlertidig deaktivere antivirus.
Klikk Lagre EML og velg den tomme mappen på den lokale stasjonen for å lagre dem.
Importer EML-filer lagret fra IncrediMail til Thunderbird
Nå er det på tide å importere IncrediMail-e-post til Thunderbird, her er hva du skal gjøre…
Velg EML-filer (trykk Ctrl + En snarvei for å velge alle)
Klikk med venstre museknapp til den valgte filgruppen og hold museknappen
Dra valget til e-postklientvinduet, legg dem i riktig mappe og slipp museknappen.
Dette vil kreve manuelt arbeid, men dette er den eneste kjente metoden. Du kan imidlertid sjekke om det er tilgjengelig Thunderbird-tillegg som importerer e-postfiler på en gang.
I tillegg vil du kanskje konvertere kontakter fra IncrediMail til Thunderbird adressebok.
Eksporter IncrediMail-adresseboken til Thunderbird-kompatibelt format
Kjør IncrediMail-applikasjonen.
Klikk menyen Filen og velg deretter Import & Eksportere og klikk Kontakt.
I dukket opp Lagre som velg mappe for å lagre IncrediMail-kontakter.
Klikk Lagre for å redde

kontakter

fil i *.

csv-format

.

Adresseboken din ble lagret i kommaavgrenset fil (csv-format). Nå kan du importere den til Thunderbird adressebok.
Importer IncrediMail-kontakter til Thunderbird
Gjør følgende for å importere kontakter fra * .csv-fil til Thunderbird
Løpe Mozilla Thunderbird e-postklient.
Klikk Adressebok menypost øverst.

Klikk menyen Verktøy klikk deretter Import… menyvalget.

Klikk Adressebok alternativet for å velge det og klikke på Neste knapp.

Velg på neste skjermbilde av adressebokimportveiviseren Tekstfil (

LDIF

, .kategorien, .csv, .tekst) og klikk på Neste knapp.

I filtypefeltet (standardverdi LDIF) plukke ut Kommaseparert vil du bli bedt om å midlertidig deaktivere antivirus.
Velg CSV-filen som er lagret tidligere, og klikk på Åpen knapp.

Spesifiser hvilket adressebokfelt som tilsvarer datafeltet til CSV-filen. Klikk Forrige neste for å flytte mellom CSV-filfelt og Flytt deg opp / flytt deg ned for å velge feltene i listen.
Klikk ok knapp. Importen vil bli startet.
Klikk Bli ferdig -knappen når adressebokkonvertering vil være fullført.
Consider also

:
Flere Knowledge Base-artikler
---
Når det gjelder postklienter,
Outlook is the preferred environment for many businesses and
Les mer
---
Outlook har et rykte som en buggy e -postklient, men hvis du undersøker ren statistikk
Les mer
---
En MBOX-fil er et e-postlagringsformat, dvs.. postkasse som inneholder lagrede e-postmeldinger.
Les mer
---
E-post er en effektiv måte for kommunikasjon. Kjøre en bedrift, sende korrespondanse til venner og
Les mer
---
Det store antallet konkurrerende postklienter er betydelig. Åpenbart, bare noen få kan sammenligne
Les mer
Vi beklager at dette innlegget ikke var nyttig for deg!
La oss med å forbedre dette innlegget!
Fortell oss hvordan vi kan forbedre dette innlegget?