I takt med at verden langsomt men støt er ved at vænne sig til fjernarbejde og digitale arbejdspladser, elektroniske kalendere fortsætter med at bane vej som en metode til bekvemt at arrangere onlinemøder, webinarer og videokonferencer, samt at koordinere både interne og eksterne aktiviteter i virksomheder. Mange hjemmebrugere beundrer også Outlook-kalenderens rige funktionalitet.
Alligevel kan en bruger nogle gange være nødt til at eksportere hele Outlook-kalenderplanen til et andet program. Om dette er en del af fuldskala-migreringen til ikke-proprietær software, eller du vil måske bare importere din kontorkalender til din hjemmemaskine - du har nu brug for en måde at flytte din Outlook-kalender til Thunderbird på.
Trin 1: Eksporter data fra Outlook
samlet set, der er to metoder til at eksportere din kalender fra Outlook 2002.
Eksportmetode 1: Eksporter kalenderen til ICS
Denne første metode involverer en mellemkonvertering af Outlook-kalenderen til ICS-formatet. ICS står for "Internet Calendar and Scheduling". Her er, hvordan du eksporterer Outlook-kalender til Thunderbird via ICS:
Åbn Outlook og vælg Kalender. Derefter, Åbn den Fil rullemenuen og vælg "Gem kalender".
Indtast filnavnet for at gemme kalenderen, vælg derefter iCalendar (.ics) som destinationsformat. Klik på Gem knappen.
Vælg hele kalenderen eller et bestemt datointerval, og klik Ok.
Nu, du skulle ende med en eksporteret ICS-fil, der indeholder din Outlook-kalender.
Eksportmetode 2: Eksporter ved hjælp af Data Extraction Kit
Den anden metode er at bruge vores værktøj - Data Extraction Kit til Outlook. Blandt dens andre funktioner, denne software kan eksportere Outlook-kalender som en ICS-fil. Sådan gør du dette:
Download Data udvinding Kit til Outlook Her.
Kør Data Extraction Kit til Outlook.
På den øverste menulinje skal du vælge enten

Outlook

eller den

PST-fil

knappen. Den første knap eksporterer kalenderen direkte fra din standard Outlook-profil, mens den anden knap starter eksport fra en selvstændig PST-fil.
Vælg en mappe for at gemme de eksporterede filer.
Det er det. Hvis du kun har én almindelig Outlook-profil, der er ikke den store forskel, om du bruger den første metode eller den anden. Men, i tilfælde af at du har brug for at eksportere kalendere fra flere Outlook-konti, eller hvis sådanne kalendere indeholder mange data, vi anbefaler at bruge Data Extraction Kit på trinnet 1. Dette vil spare dig for en masse tid og mulige problemer.
Her er de detaljerede tips om eksport af Outlook-kalender
Trin 2: Importer kalenderen til Thunderbird
Følg disse trin for at importere ICS-kalenderen til Thunderbird.
Åbn Thunderbird. I topmenuen vælg "Arrangementer og opgaver" vare, klik derefter på "Importere". Hvis du ikke kan se topmenuen med det samme, tryk på Alt knappen én gang.

Find *.ics-filen, du har oprettet på det forrige trin, og åbn den. Dette får Thunderbird til at åbne denne kalenderfil og importere den.
For at se kalenderen importeret fra Outlook, Klik på den "Kalender" i "Arrangementer og opgaver"menu.
Afhængigt af Thunderbird-versionen kan fanen Kalender åbnes ved at klikke på Kalender-ikonet: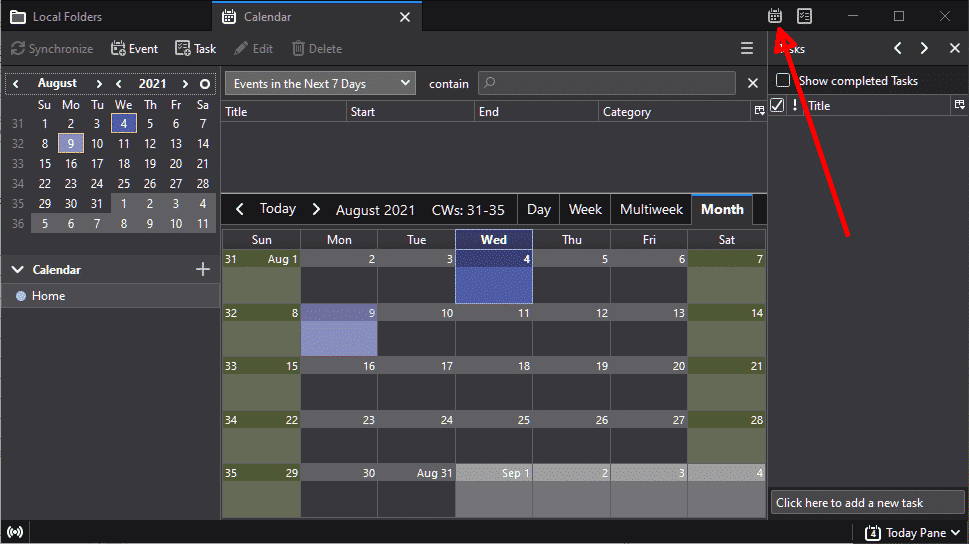 Bemærk: hvis du bruger en tredjeparts kalendertilføjelse i Mozilla Thunderbird, du skal muligvis følge den tilsvarende dokumentation for denne tilføjelse for at lære, hvordan du importerer ICS-kalenderdata til denne Thunderbird-tilføjelse.
Læs også:
Vi beklager, at dette indlæg ikke var nyttigt for dig!
Lad os med at forbedre dette indlæg!
Fortæl os hvordan vi kan forbedre dette indlæg?