Becky! Internet Mail by RimArts, Inc. is an email client developed in Japan. Since 1996, this email client kept accumulating features (but not size!), and that allowed it to become one of the most functionally rich email clients of that epoch. Becky! incorporates powerful message editor with templates, email filters, mailing lists, reminders, and more. Developed mostly for Japan users, Becky! was moderately popular back in the days worldwide too. Thousands of former users now seek for a way to transfer their messages from Becky! to other email clients such as Microsoft Outlook.
Exporting emails from Becky! to Outlook is somewhat hindered by the fact that Becky! has its own format of mailboxes. Needless to say, Outlook does not support *.bmf files by default. That is why we developed a simple automatic tool to transfer your emails from Becky! to Outlook.
Becky! to Outlook Transfer solves this conversion riddle in a minute. It scans the computer for installed Becky!, locates its mailboxes and starts converting messages from Becky! practically with the speed of light! It goes without saying, integrity of your data are left intact.
System Requirements:
OS Microsoft Windows®, Microsoft Outlook®
v.2000-2019 (standalone installation, at least one local
.pst
user profile should be configured). Source files:
*.bmf
files.
* - The unregistered version converts a limited number of messages
Advantages of using Outlook Migration Tool for Becky!

When you've got to transfer thousands of important emails from a legacy email client like Becky! to Outlook, the last thing you would ask for is advantages. If a tool merely converts your emails, that's great already, you may think. But in fact, if you think about it for a few seconds, you don't want your emails just converted. You want them all to remain available. You want to read them, search them, may be even reply to the messages from your old Becky! mailbox imported to Outlook. And you certainly don't want to see an unreadable mess instead of email messages. That is why Becky! to Outlook Transfer is so cool – it transfers ALL your messages and preserves them as accurate as possible.
Let's take a look at some of features of the program more closely.
Supports Becky! in full. You won't end up with a partially converted mailbox or damaged messages in an undecipherable encoding.
Converts fast and easy, and is not scared by huge mailboxes. Yes, Becky! to Outlook Transfer can work with gigabytes of data. The extra-performing conversion engine can parse huge mailboxes as reliably as a smaller ones, and deliver smooth and accurate conversion as a result.
Works perfectly with different encodings, which is crucial. After all, Becky! is Japanese software in the first hand, so chances are you may have a lot of non-US encoded messages.
Extracts Becky! messages to EML files. You can import EML files to many email clients then. This essentially allows you to import Becky! emails to other clients, not just Outlook.
Really easy UI. No need to read long manuals to start converting your Becky! mailboxes. You start the program, you get your messages converted. That's it.
100% reliability and safety. Unlike online services, Becky! to Outlook Transfer is a local software. Your data stays with you and physically cannot leak to unauthorized persons.
Works with 32-bit and 64-bit systems. Becky! to Outlook Transfer supports 32-bit and 64-bit operating systems and all Outlook versions.
Installs in less than a minute. And does NOT install junk software you do not need.
Summarizing, Becky! to Outlook Transfer is a simple and efficient software to effortlessly migrate from the Becky! email client to Outlook 2019, 2016, 2013 or earlier versions.
* - The unregistered version converts a limited number of messages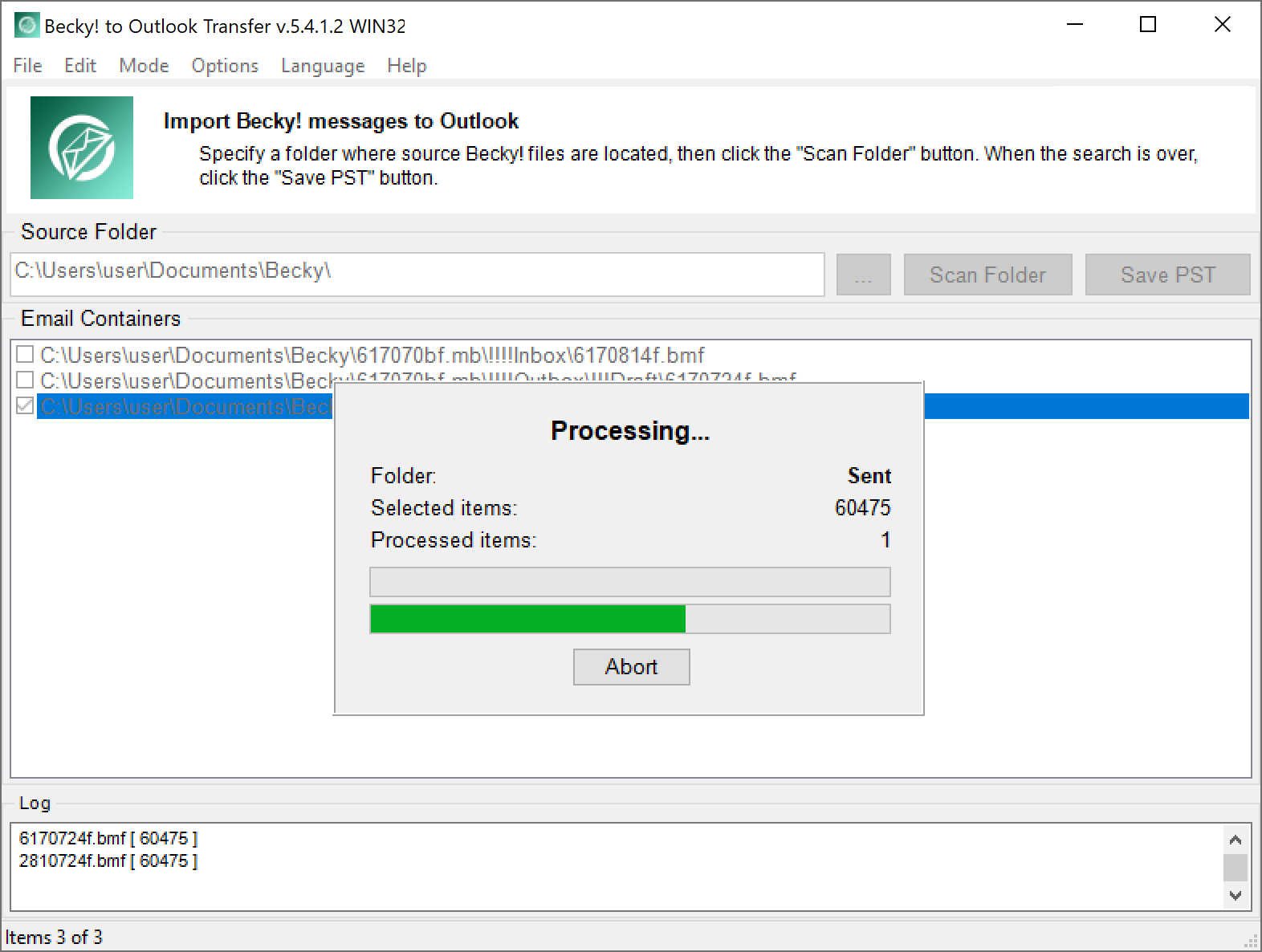 How to import Becky! mailboxes to Outlook
Becky! to Outlook transfer is designed to be as simple and straightforward as possible. Most of our users instantly grasp what they need to do to convert their mailboxes from Becky! to Outlook. The procedure is really simple, see for yourself.
Specify the Becky! Internet Mail mailbox folder. Becky! Internet Mail stores its mailboxes in a user-specified folder. When you start Becky! to Outlook Transfer, the program attempts to locate that folder automatically. However, if Becky! wasn't installed on this computer properly, you may need to browse for that folder manually.
Mailboxes scanning. Now, the program scans the specified folder for Becky! Internet Mail mailboxes (*.bmf). All detected mailboxes are displayed in the program.
Conversion. You can select which mailboxes you want to convert. Also, you have two ways of conversion: directly to your Outlook profile or to a PST file. Note: this requires Outlook to be installed on the PC. Alternatively, you can export certain messages to the EML format.
As you can see, the process is indeed very simple and 99% automatic. As a provider of professional email conversion solutions, we know how to make the process of migration from one email client to another painless and effective. That is why we embodied our expertise into rich features of Becky! to Outlook Transfer. Try it now for free or read this comprehensive tutorial on converting Becky! Internet Mail to Outlook.
Extremely fast response, expert service...perfect! Why mess about tinkering with niggle problems when it can be sorted out by a professional!!
Thanks for your quick and very competent help! Will come back to you when needed!
Customer Reviews
Your comments, suggestions or ideas will be very valuable as we do not stop to make improvements to our software. Please feel free to post your rating and review about Becky! to Outlook Transfer product using the button below. We really appreciate your feedbacks.
Becky! to Outlook Transfer
Average rating:
2 reviews
Jan 16, 2022
このプログラムは、私のすべてのメールとフォルダーを非常に迅速かつ正確にOutlookに変換してくれました。素晴らしい製品をありがとうございました。
Oct 31, 2021
Nice to have it
I want to thank you for making this program available to me for free. I am a retiree and don't have much wealth, but I needed to move all of my old mail from Becky! Internet Mail to something modern, which became Thunderbird by my choice. Your program worked perfectly and unloaded all Becky emails and folders into .eml files, which I easily loaded into my new Thunderbird.