MBOX is the name of a whole family of formats used for storing collections of email messages with attachments. The mailbox format, in this or that form, is currently used by dozens of email exchange applications, and it is this diversity of format variants that causes problems during email migration and conversion. The Mbox format has never been standardized and its implementation has always been up to the developer of a particular application. In addition, Mbox is used by applications on both Mac and PC platforms, which adds the encoding factor to the data conversion dilemma that some users inevitably face when they realize that they need to switch to Microsoft Outlook.
Supported MBOX files of the following (but not only) email clients and applications:
Alpine, Atmail, Becky! Internet Mail, Claws Mail, Cone, Ubuntu Evolution, Gnus, KMail, Mozilla Mail, Mulberry, Mutt,
Netscape
Messenger, Opera Mail, Pegasus Mail, Pine, PocoMail, SeaMonkey Mail,
Zimbra
, Google Mail (old Google Takeout format, use
Gmail Transfer
for new format).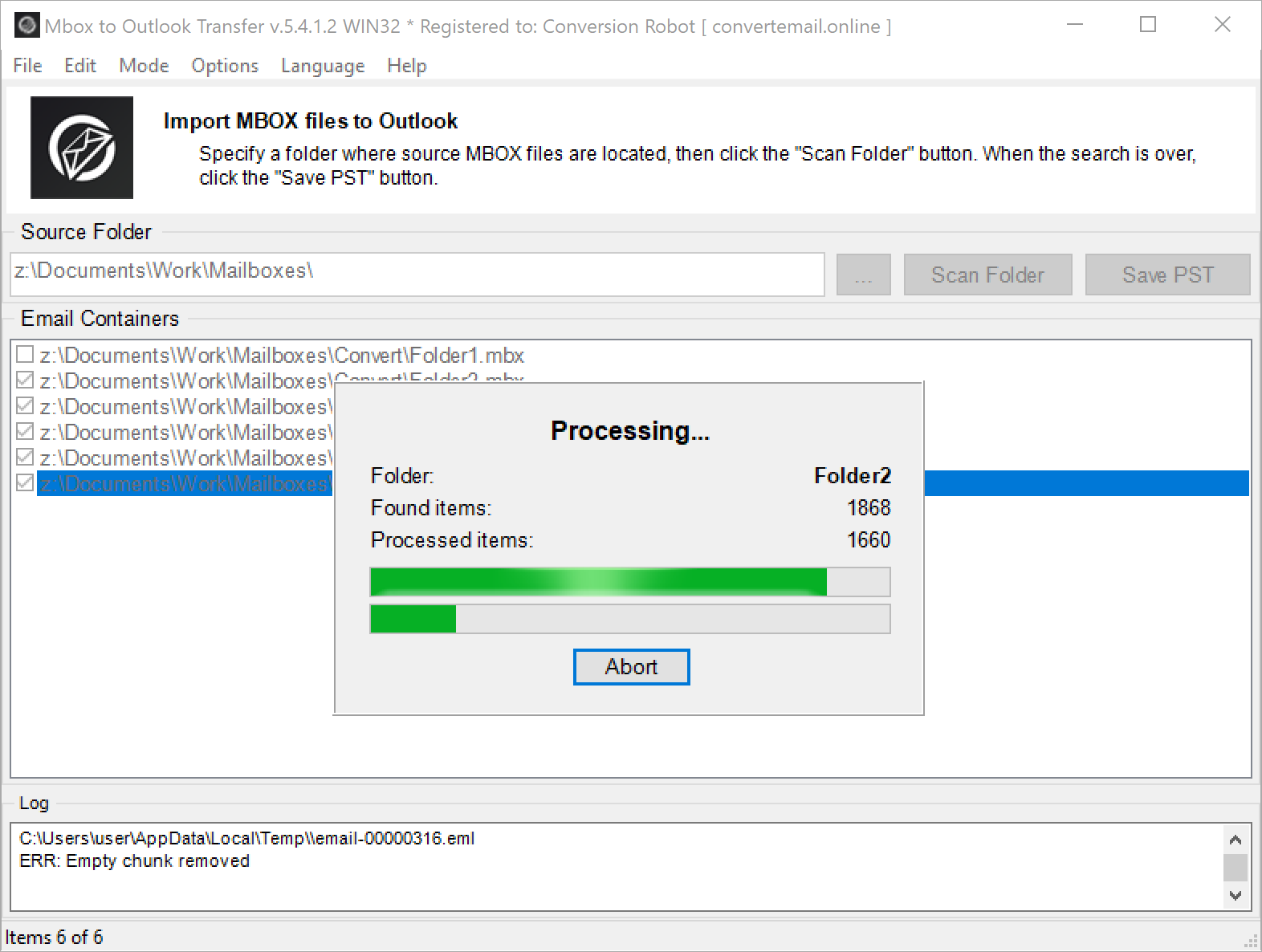 Mbox to Outlook Transfer is a powerful email conversion tool (the mbox to pst converter) compatible with all versions of the MBOX file format. Designed for people with no IT background and zero experience in data conversion, it offers end-to-end automation of the process and saves users the trouble of having to know the specifics of particular Mbox format subtypes. The software uses an intelligent proprietary engine to detect the structure of source mailbox files and the version of the Mbox format used, then extracts emails and saves them directly to Outlook or a standalone PST file in the right encoding.
The mbox to pst converter program is an absolute must-have both for one-time conversions and for regular email transfer jobs. Mbox to Outlook converter tool has the potential to save hours of time and countless dollars, let alone the massive amount of efforts that would be exerted on finding the right solution for the job.
Mbox to Outlook converter has a minimalistic and very self-explanatory interface that allows you to get from A to B in literally no time. However, if you have any questions or are not sure about a particular feature or setting, you can always refer to our User's Manual containing a detailed description of the program's functionality.
* - The unregistered version converts a limited number of messages
| | |
| --- | --- |
| Operating System | Microsoft Windows® Vista or higher |
| Microsoft Office | Microsoft Outlook® 2003-2021 (standalone) |
| Outlook Account | At least one Outlook profile (email account) should be configured |
| Source files | *.mbox; *.mbx |
| Hard Drive Space | 48 MB minimum |
| Available Memory | 4 GB for 32-bit and 8 GB or more for 64-bit operating systems |
| Processor | Pentium IV 2 GHz or faster |
| Display | Color display, set to at least 1024 X 768 resolution |

If you are moving from an email client that uses MBOX for storing emails, and are weighing your email conversion options, you should definitely check out Mbox to Outlook Transfer software. It offers a truly no-brainer 1-2-3- approach to message migration and will solve your problem in wink of an eye! The mbox to pst converter product is an essential piece of software for smooth and reliable conversion of MBOX email archives from Mac's and PC's to Microsoft Outlook.  
Mbox to Outlook Transfer is the only tool that works with all types of MBOX mailboxes generated by Windows, Linux and Mac email clients.
Below is a short list of the mbox to outlook converter features:
A proprietary data analysis engine capable of processing email collections of any size
Accurate and fast conversion of mailbox files of all known formats (

*.mbox and *.mbx

) *
Conversion of message encoding (Mac to PC, Linux to PC)
Simple interface with just a few controls for unprecedented ease of use
Compact installation file that takes seconds to download and requires no additional components
Convert mbox to PST file on the user's hard drive or Outlook profile
Export mbox files to outlook or extract mailbox email to EML files
Full compatibility with all Windows and Outlook versions, including 64-bit versions
* – All known mailbox format means standard format of MBOX specification. However there is a lot of mailbox format modifications called "changed mailbox format" or "mbox-like" format which can not be included in the same algorithm. If the tool is not supported your mailbox, please ask us and we will add the support in hours of course if that is possible.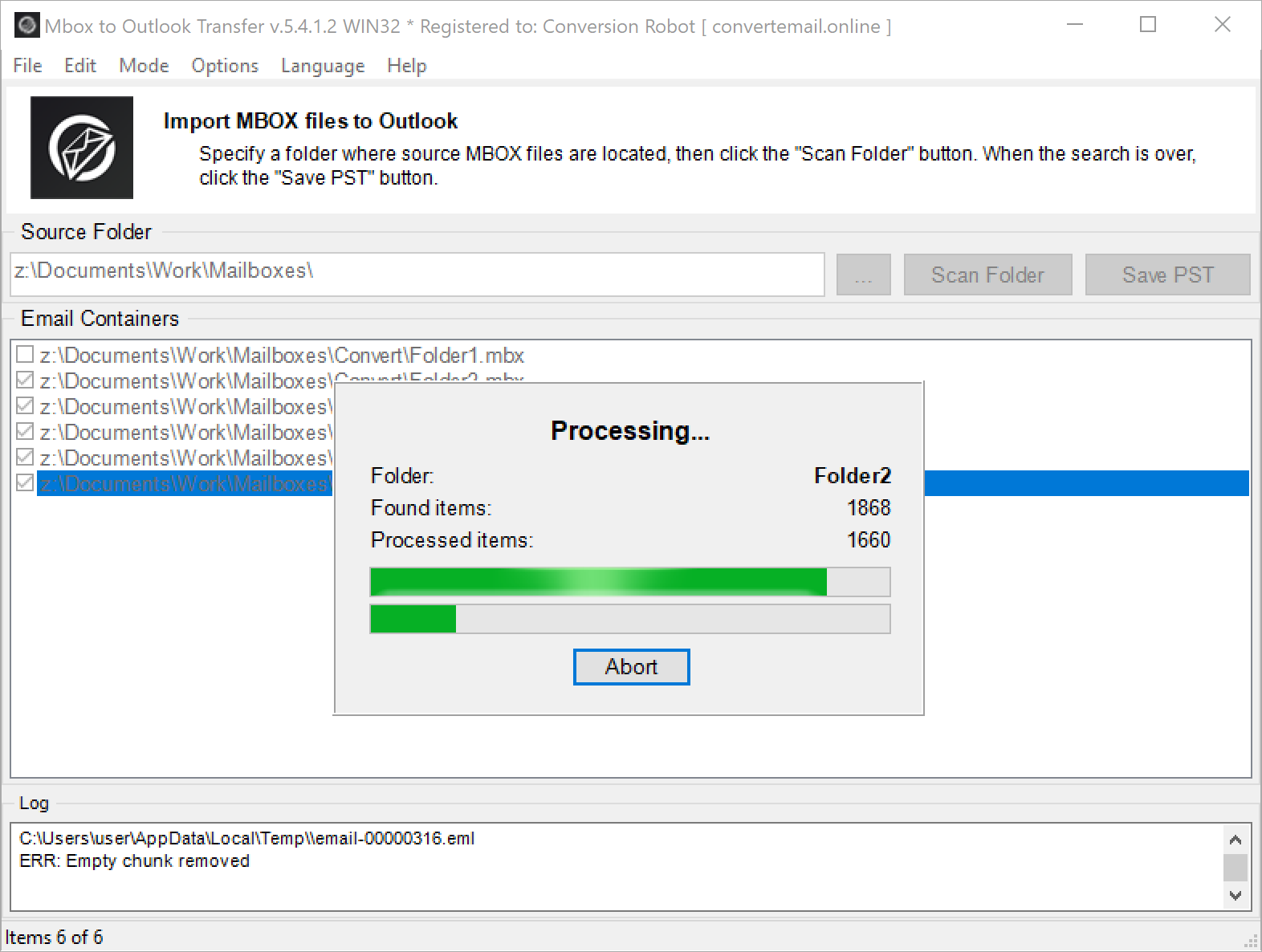 Importing mbox into Outlook
Run the MBOX to Outlook Transfer tool.
Select the source folder and let the program automatically find

MBOX

files in it.
Select the output type as PST file (alternatively Outlook profile or

EML files

).
Click Save PST button and specify the directory to save it.
Open result PST file in Outlook and enjoy the result.
---
What users say about Mbox to Outlook Transfer
I was searching for a reliable and efficient tool to transfer my MBOX files to Outlook and stumbled upon MBOX to Outlook Transfer. This software is amazing! It converted all my files in no time with complete accuracy. Thanks to the developers for creating such a user-friendly and effective tool.

Robert Stephens - USA, New York
I am impressed with the speed and accuracy of MBOX to Outlook Transfer. The software is easy to use, even for someone like me who is not tech-savvy. The interface is intuitive and the conversion process is quick and seamless. Highly recommended!

David Briggs - Pennsylvania, USA
MBOX to Outlook Transfer is a lifesaver! I had over 500 MBOX files to convert to Outlook and was dreading the process. But this software made it a breeze. I am extremely satisfied with my purchase and would recommend it to anyone looking for a fast and reliable MBOX to Outlook conversion tool.

Harold Schaepkens - Netherlands
---
Advantage of
Mbox to Outlook Converter
The greatest advantage of Mbox to Outlook Transfer is the ease of use it offers to users with no experience. The software automates the entire conversion process, from file selection to saving data to the selected destination.
MThe program comes with no ad- or spyware, search bars or browser extensions of any sort. You only get what you pay for and can be sure that your privacy will not be compromised. In addition, removing the program is just as easy as installing it – it can be uninstalled using the standard Windows "Add/Remove Programs" option means and leaves no traces in the system.
Mbox to Outlook Transfer comes with a free trial version offering the functionality of the full version with the only limitation – number of files converted per folder. The trial version provides everything necessary for initial familiarization with the program and making a purchase decision. The mbox to pst converter: free trial version can be downloaded here: https://www.outlooktransfer.com/free-trials/
When do you need to convert MBOX to PST?
In fact, the MBOX format or one of its descendants is used in literally dozens of emails clients, both contemporary ones and those that are already deprecated, but are still used by millions of people all over the world. And many of those people need to convert MBOX to PST free or even for money – that's how important the task is for them.
The list of email clients that use MBOX as a primary way to store mailboxes includes a lot of names. Below are just some examples of possible MBOX to Outlook conversion.
Thunderbird to Outlook
Thunderbird is probably the most renowned email client as of today. And this client relies on the MBOX format to store email messages. So if you use Thunderbird at work or at home and want to transfer emails to your new and shiny MS Outlook from Thunderbird's mbox, you can do this with our tool in just a few minutes. No problem. Check out our Thunderbird to Outlook Transfer tool.
Apple Mail to Outlook
Yes, Apple Mail (or Mac Mail if you wish) also uses MBOX as one of supported mail formats. And MBOX to Outlook Transfer can help with this conversion too. Actually, to convert an MBOX file to PST you need nothing save for this software. Importantly, the tool correctly deals with encoding of your text messages which may be important if you move emails from Mac to Windows. Also, the advanced MBOX converter can work with MBOX files of virtually any size and correctly deals with attachments. Also, take a look at our dedicated tool.
Gmail to Outlook conversion
Gmail is hands down one of the most popular online mail clients, so every months hundreds of people seeking for answer: how to import MBOX in Outlook from Gmail. By default old Gmail version allowed to export Gmail folders to the multiple files of the MBOX format. So if you are looking for the tool to convert your old archive from Google Mail to Microsoft Outlook, you may find our MBOX to PST converter software useful. And aside from the MBOX to PST converter, we also provide Gmail to Outlook Transfer tool which allows to convert Google Takeout version of the single mailbox file supporting the conversion of Google Tags into Outlook folders.
Eudora to Outlook Transfer
Eudora is a popular legacy email client that stored its mailboxes in the MBOX format. If you used this program in the past, you may need to import MBOX to Outlook as well. Once you convert MBOX to PST using our tool, you can safely open all your Eudora correspondence in MS Outlook now. Another way to convert Eudora to Outlook is this tool.
Entourage to Outlook Transfer
Microsoft Entourage is an email client available on Mac OS. This program also uses the MBOX format to store user email data. Hence, MBOX to PST conversion is a viable option when you need to move from Entourage to Microsoft Outlook. You simply select the MOX files to convert, and the MBOX converter does all the job for you, automatically. Also, see Entourage to Outlook Transfer.
How to use MBOX to Outlook Transfer Step By Step
STEP1. Start the MBOX to Outlook conversion tool
After you install the program, click the shortcut in the Start menu of on your desktop to run the tool. You should see its main window then.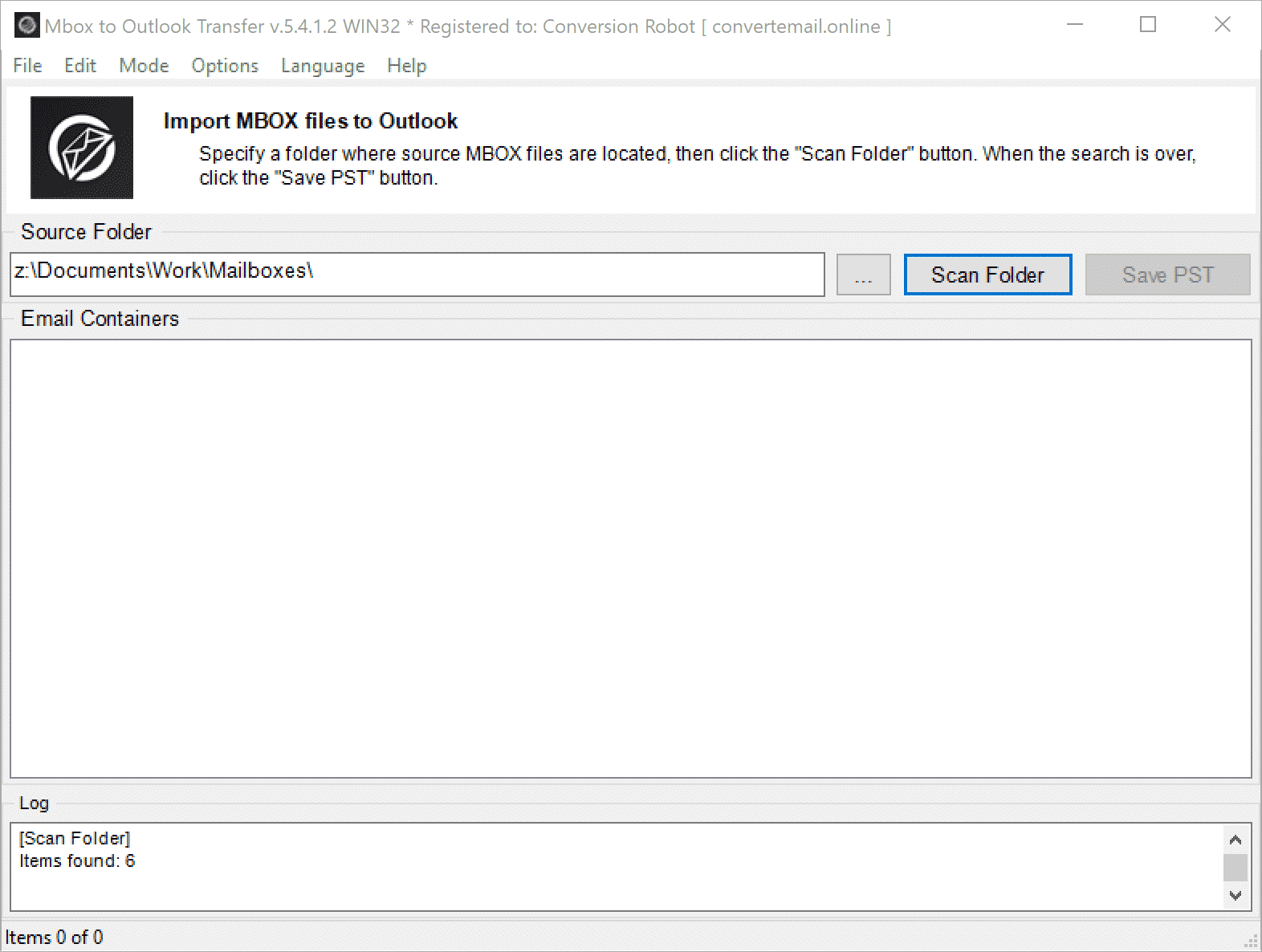 As you can see the interface is simple and quite self-explanatory.
STEP2. Select the source folder
Now you need to specify where your MBOX files are. Depending on the specific email client you want to export to the PST format, the path may be different. Click the three dots button to browse for a folder containing MBOX files.
STEP3. Find MBOX storages
Click the "Scan Folder" button. The program will scan the provided folder and its subfolders and detect all MBOX files in it. The located MBOX files are listed in the main window then.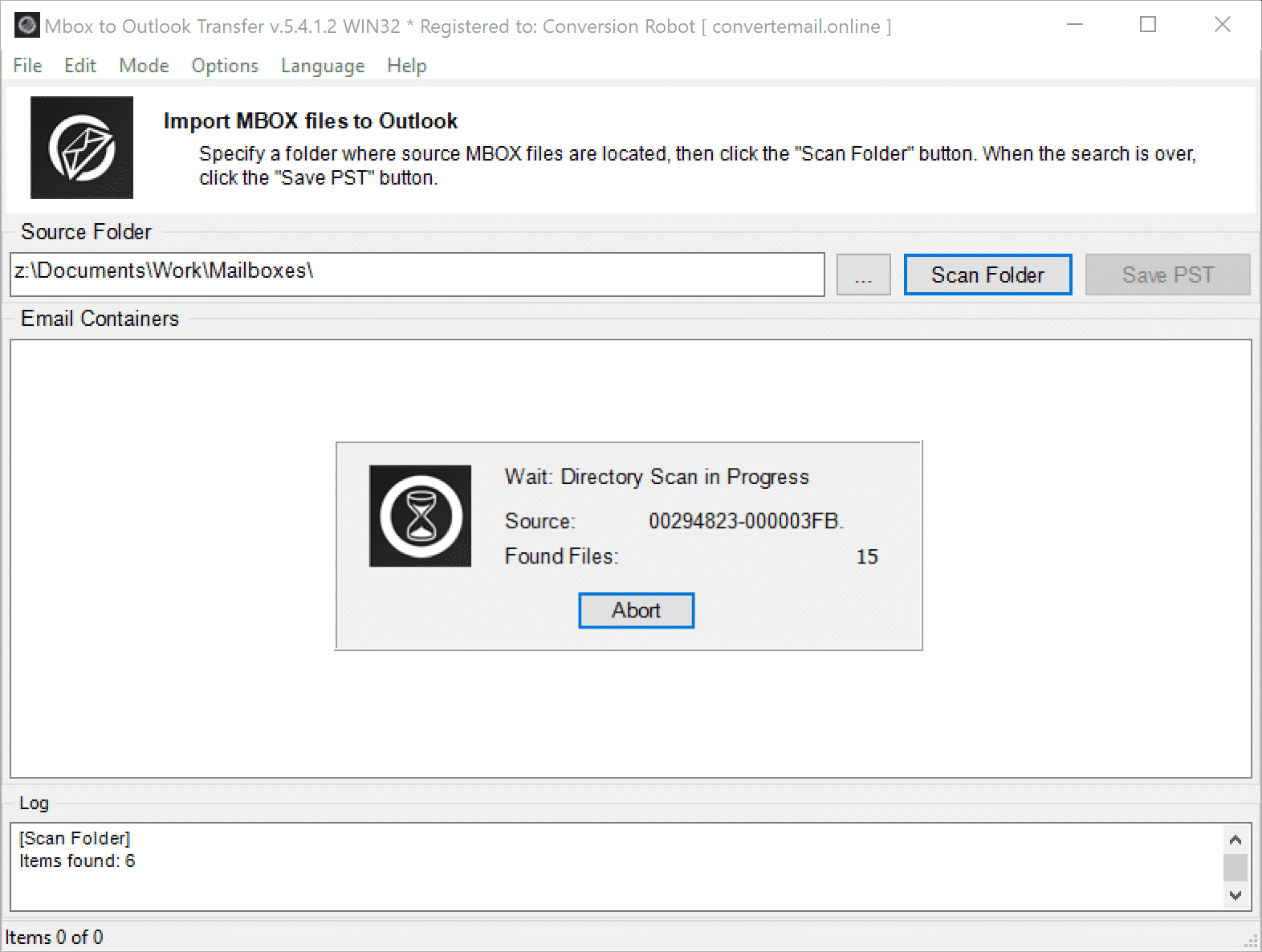 Note: depending on the size of your email database, the scanning can take some time.
STEP4. Configure MBOX to PST conversion parameters
Before you start converting MBOX to Outlook PST, you can adjust conversion parameters such as select the target Outlook folder or exclude certain folders or messages from conversion. Note that in addition to saving a standalone PST file, the MBOX to Outlook Transfer utility can also import data directly to an Outlook profile. Make sure to read our detailed guide to learn how to convert MBOX to Outlook directly.
STEP5. Start conversion
Click the "Save PST" button to begin conversion of the selected MBOX files to PST. The process may take a while depending on the amount of data to convert. The current status of the conversion is displayed in the main window of the program.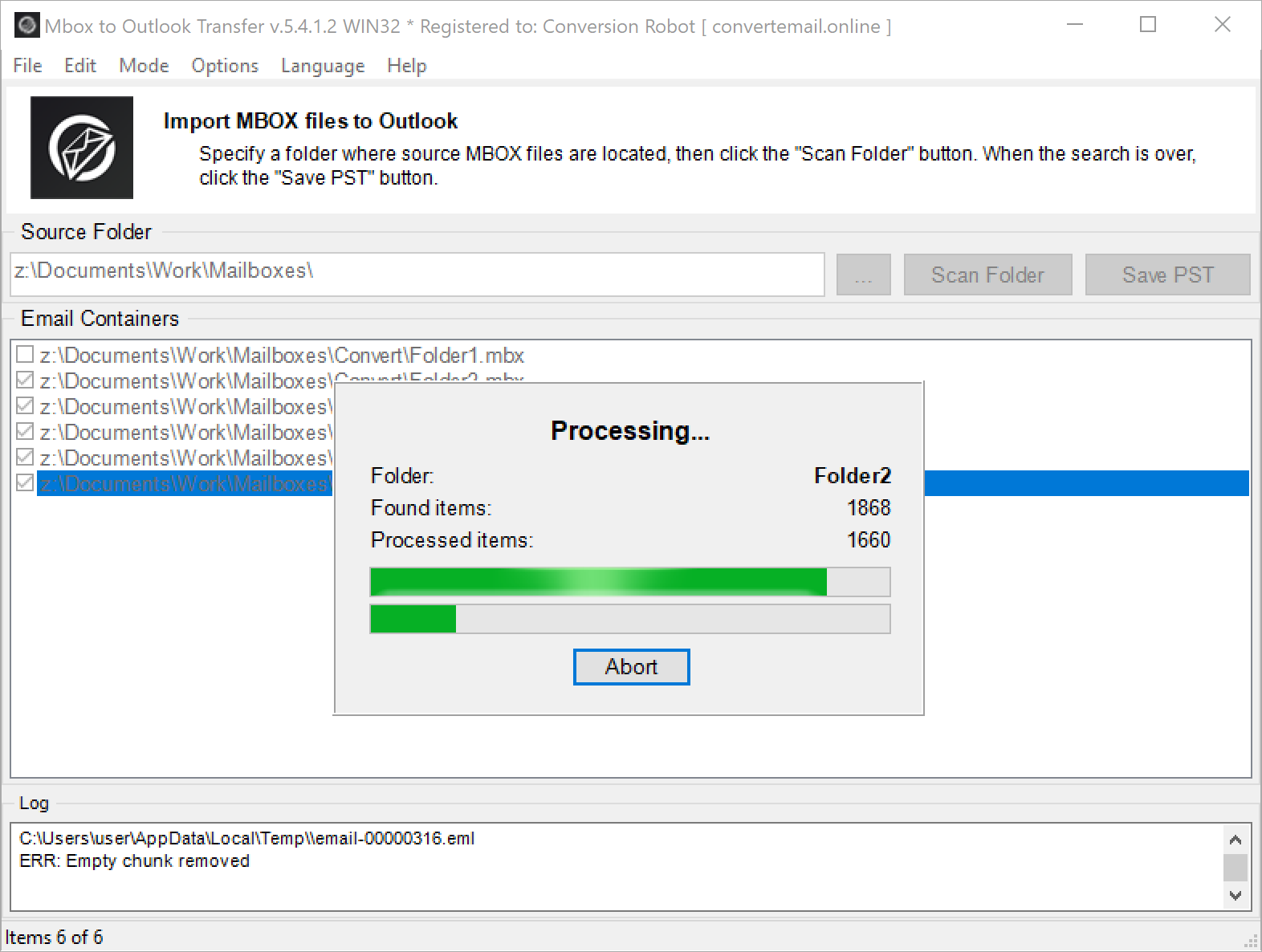 Comparison of the trial and full version
| Software Feature | Free Trial License | Home License | Business License | Technical License |
| --- | --- | --- | --- | --- |
| Unlimited Number of Emails | NO | YES | YES | YES |
| Unlimited Number of Accounts | NO | YES | YES | YES |
| Command Line (Batch Mode) | NO | NO | YES | YES |
| Network Sources | YES | NO | YES | YES |
| Server side use | YES | NO | NO | YES |
| Renewal Type (by choice) | - | Manual | Manual & Auto | Manual & Auto |
| Renewal Discount | - | 10% | 20% | 30% |
| Number of activations (by choice) | - | 1-5 | 1-50 | Unlimited |
| Technical Support | Limited | Standard | Priority | Extended |
Frequently Asked Questions
Can Outlook open an MBOX file?
No. This email client provides no standard ways to open MBOX files. If you need to convert MBOX to PST or simply want to open an MBOX file in MS Outlook, you should use either manual operations or our MBOX to Outlook Transfer software.
Can I import MBOX to Outlook?
Yes. Use our tool for that – it is fast, automatic and 100% reliable thanks to thorough testing with every version of Outlook and every MBOX-like email format. The program can reliably work even with gigantic MBOX files and demonstrates astonishing conversion performance due to the multi-threaded parsing engine inside.
How do I import MBOX into Outlook from Gmail?
The basic step-by-step is as follows. First, you should export your messages and attachments from Gmail to MBOX. Then, you simply select the folder with MBOX files downloaded from Gmail, and run MBOX to Outlook Transfer. The software automatically converts your Gmail MBOX to Outlook. For a more detailed guide, please refer to this tutorial.
How do I convert MBOX to PST for free?
There are several options that cost zero dollars. First of all, almost every mail client allows you to load your MBOX mailbox to the IMAP server. This way, you transfer MBOX files to some IMAP server, and then connect this IMAP server to Outlook to retrieve your messages. This method is free, but unfortunately is not 100% efficient. In our experience, users often face issues while converting MBOX to Outlook this way – lost messages, damaged encodings, wrong message formatting etc.
Another free option is manual conversion, message by message and folder by folder. This could easily take weeks, and can easily drive you mad in the process, but it is free.
Finally, a not-so-free yet still very affordable alternative is to use the MBOX to Outlook Transfer tool that automatically and safely exports your MBOX (or a load of them) to PST. This method is the simplest and fastest among all, but you may need to purchase a license. But your time and mind sanity are worth more than that.
How do I convert MBOX to PST on Mac?
The conversion will require two steps:
Finding MBOX files on your Mac machine, and physically transferring them to the Windows PC where you will run conversion to the PST format.
Actual MBOX to PST conversion.
If you don't know where to find MBOX files on Mac, please refer to our tutorial. Then, you can simply use MBOX to Outlook Transfer to effortlessly convert your files to Outlook PST.
Customer Feedbacks
Your comments, suggestions or ideas will be very valuable as we do not stop to make improvements to our software. Please feel free to post your rating and review about Mbox to Outlook Transfer product using the button below. We really appreciate your feedbacks.
Mbox to Outlook Transfer
Average rating:
13 reviews
Mar 3, 2023
Highly recommended!
I recently started using your MBOX conversion software and it has been a life-saver! It has allowed me to quickly and easily convert emails into different formats, making it much easier to share with colleagues and clients. The software is incredibly user-friendly and intuitive, so I was able to get up and running quickly. I'm so glad I found this software, as it has made my life much easier and more efficient. Highly recommended!
Oct 12, 2022
Škoda, že neexistuje překlad rozhraní do češtiny, takže jen 4 hvězdičky. Funkčnost je však ohromující. Jen malá pomůcka, ale milion možností. Soubory MBOX uložené v aplikaci Mac Mail a dalších formátech jsem dokázal převést bez problémů.
Aug 13, 2022
Wirth the money
I just converted all my old mailbox files into several PST files using your Transfer software. Well done, guys! Simple and intuitive interface, nothing to get lost in, very fast conversion from mbox to pst. I also extracted all messages from mbox to eml files just in case I need to import them to Horde or another online email system.
Aug 13, 2022
Really simple Mbox converter
I tried several software converters previously without a chance to get all my emails and folders converted. Mbox Transfer the only mailbox converter which did not corrupt the email encoding and attachments. Very fast and easy to use mailbox converter.
Jan 13, 2022
2,600 emails!
There are just a few buttons, so this tool is ideal for non-tech savvy users like me. I used the MBOX PST converter to migrate from SeaMonkey as I find its interface clunky. The converter recreated the folders and transferred all messages (around 2,600) with attachments.
Jan 4, 2022
Good, but only in English
I had hundreds of emails sitting in Opera Mail for months because I had no idea how to import mbox into Outlook. This tool is really fast, but the developers should add more languages, as my Malaysian friend could not set it up without my help.
Dec 23, 2021
Effective
Helped my grandma switch from old-school Pegasus to Outlook. This was easy! Thanks for developing this mbox converter tool, it works like a charm.
Dec 13, 2021
Thanks!
I've tried to import MBOX files into Outlook using other tools but failed miserably. This time it was smooth sailing. Installed the converter on Windows 10.
Dec 7, 2021
Excellent
I used this MBOX file converter to move emails from huge mailbox archive. The program just asks you for the source files, but it can also find them automatically. I created a PST archive and opened it in Outlook on another PC. The support team has been really helpful.
Dec 3, 2021
Great for Gmail
I needed to move emails from a Gmail account I don't use anymore. This tool helped me convert mbox to Outlook painlessly. Downloading the archive from Google was the most difficult part as I had to label the messages.