Back in 1996 Becky! Internet Mail was considered one of the most advanced e-mail exchange programs for desktop computers. Despite its ease of use and many useful features such as smart folders, email templates and labels, Becky! became outdated and can't compete with modern mail clients because it doesn't meet all the needs of modern e-mail information exchange.
Microsoft Outlook for desktop is considered the best email client at the moment. Thanks to the abundance of options and its trouble-free operation it is a top choice for everyone from the home to corporate users. Advanced features and the best security make MS Outlook a truly indispensable tool for daily work with e-mail. Becky! Internet Mail doesn't stand a chance against Outlook, it does not let you quickly search for folders and e-mails and does not have the ability to filter spam. Becky! stores your data in an outdated format which does not protect your data from intruders. On top of that, Outlook stores your data in an optimized and protected *.PST repository which is is not accessible from the outside and can be password protected.
If you want to migrate from Becky! to Outlook, you are in the right place. With our email migration utility you will be able to convert your mail from Becky! to Outlook automatically. You do not need to waste time searching for where Becky! stores messages, if it is  still installed on your computer, our program will find the source folder automatically and offer you several options before you start the conversion.
How to switch from Becky! to Outlook?
First we suggest you to install standalone version of Microsoft Outlook on the same computer where your Becky! mailboxes are saved. Additionally download and install Becky! to Outlook Migration Tool trial and run it.
Download for FreeFor Windows 32/64-bitBuy from $19.95Unlock all features
* - The unregistered version converts a limited number of messages
The installation process does not take long and the program will start automatically. If you are launching the software manually please take a note: if your Outlook version is 32-bit please use 32-bit version of our software, for Outlook 64-bit please use 64-bit version of our software. Both version will be installed and you just need to run the proper executable using the corresponding shortcut.
Run Becky! to Outlook Transfer software. You will see a graphical interface of the program that looks like this:
The software will detect the

Source Folder

location automatically if Becky! Internet Mail is installed on the same machine. If you are working with backup copy of Becky! mailboxes, you may need to specify the source folder manually.
Specify the Source Folder or select it using the "…" (browse) button. (if needed)
Click

Scan Folder

button to allow our software to check the specified source folder and subfolders. The software will find all *.bmf files where Becky! messages are stored and fill out the list of available "Email Containers":

Here you may deselect some of mailbox files if you don't want them to be converted. For example you may want to exclude "Deleted items" or "Spam" folders.
Click

Save PST

button to start the conversion. Depending on current options the program may ask you to select the target Outlook profile and folder, then it will run the conversion routine.

The software will display the process and progress indicator. When finished, the program will open created PST file (Outlook Data File) automatically.
Now run Microsoft Outlook and check imported folders and emails under "Becky! to Outlook Transfer" headline.
How to convert mbox files exported from Becky! to Outlook?

Becky allows to save a backup copy of each folder into special file called Mailbox, such files have the *.mbox or *.mbx extension. If you want to convert such mailbox files to Outlook we would recommend you to use another software called Mbox to Outlook Transfer. The program has a clear graphical interface and the Becky! mailbox conversion process looks the same as described above. Here is the GUI of the Mailbox conversion software: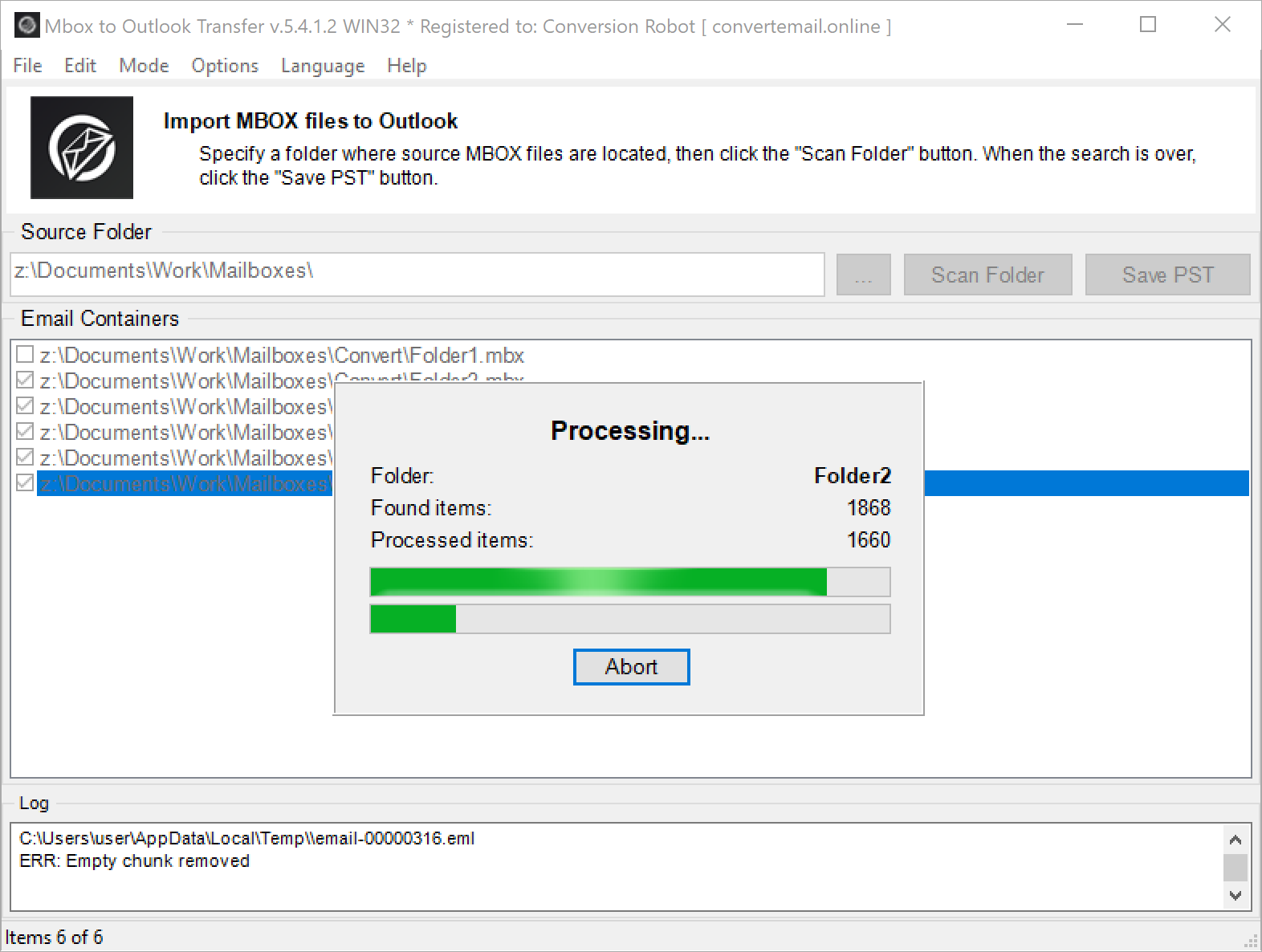 * - The unregistered version converts a limited number of messages
How to export Becky! folders to Mbox files?
Run Becky! Internet Mail and select the folder to export.
Go to menu File and click Export…


Click

OK

button in the appeared dialog. ("UNIX Mbox" will be selected as a default Export format.)

Specify the folder to save the mailbox file and rename it to have the *.mbox extension (example Inbox.mbox).
Save other folders this way then use Mbox to Outlook Transfer tool to convert mailbox files to Outlook.
How to import EML files from Becky! to Outlook?
Becky! Internet Mail allows to export messages also to *.eml files. If you have saved your Becky! messages into *.eml format and want to convert them to Outlook, you may use our EML to Outlook Transfer software. The GUI of this tool will look familiar: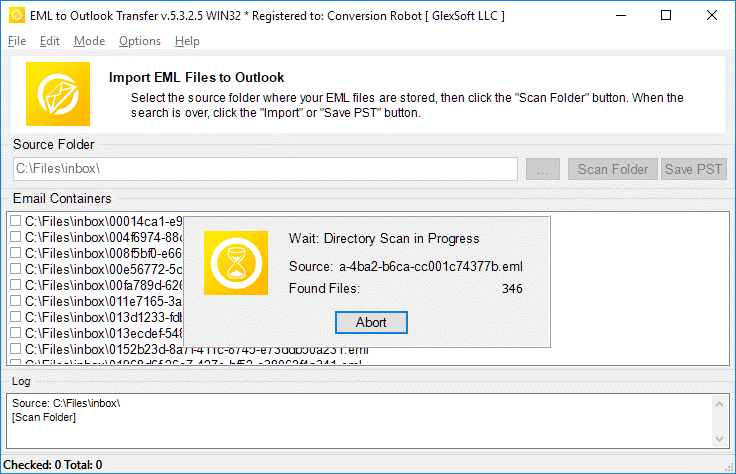 How to convert Becky! Address Book to Outlook?
Additionally you may want to convert your contacts from Becky! address book to Outlook. This is possible to complete with help of our vCard to Outlook Transfer utility.
Exporting Becky! Address Book
Run Becky! Internet Mail
Go to menu Tools and click Address Book menu. This will open the Address Book GUI.

Select address book (example: Personal) which should be exported.
Use menu File > Export then choose vCard format.
Specify the target folder to save vCard contact files.
Now you may use vCard to Outlook Transfer software to import vCard files to Outlook.
We are sorry that this post was not useful for you!
Let us improve this post!
Tell us how we can improve this post?