vCard to Outlook Transfer – User's Manual

Transfer of contacts from one system to another may seem like a complex task from the first glance – and it truly is, if done manually. However, tools like vCard to Outlook Transfer turn this seemingly challenging procedure into a chain of simple steps that anyone can cope with. Below is a detailed instruction on using the program for transferring any number of contacts in the *.vcf format to Outlook or a PST file.
VCF

format and program functionality

vCard is the standard format of electronic business cards that is widely supported by countless programs on the market. These files have the .vcf extension and are essentially text files with multiple fields defined using special markup.

vCard to Outlook Transfer is the only program needed for converting any number of VCF files of any structure to Outlook. Capable of saving data either to an Outlook profile or an Outlook PST file, the program perfectly complements the software kit of any system administrator or even a regular user who occasionally needs to add more contacts to his or her copy of Outlook. Fortunately for novices, the program's interface consists of a single windows with a very limited number of control elements: a source folder field, a large text area containing the names of all found VCF files from the source location, an area with log entries generated during the conversion, and, finally, a button that starts the vCard to Outlook conversion process.
Getting ready to convert your contacts
Before you start the conversion process, make sure you've got your contacts stored in a single folder and organized in a way you want them to appear in Outlook. Download vCard to Outlook Transfer software and install it:
Follow the instructions below to convert
VCF

contact files to

Outlook

:
Start the program by clicking a corresponding icon on your desktop or selecting it in the Start menu. Important: run 32-bit tool if your Outlook version is 32-bit and 64-bit tool if Outlook is 64-bit.
Click the Browse "…" button (the one with three dots) to open the standard Windows folder selection dialog. Browse to the folder with your VCF files and confirm your selection.
The source folder field in the upper part of the window will display the path to the folder you selected.
Click "

Scan Folder

" to start searching for contacts in the selected folder. If the program finds any, it will display their names in the "

Source Files

" area.
At this point, you can also configure the program's conversion options available in the

Options

menu:
1. Check that email client is running – turning this option on will make the program check if MS Outlook is running during conversion and ask you to close it to prevent access conflicts.
2. Remind to disable antivirus – if enabled, this option will notify the user that all anti-virus tools must be closed or disabled during the data conversion process. If they keep working, they can block access to files and prevent the program from completing data transfer.
3. Prompt to select the

Outlook

profile – this option helps select the destination

Outlook

profile for your contacts.
4. Target

Outlook

folder [Prompt to select the

Outlook

folder; Inbox] – helps define the default destination folder for transferred contacts. Do this manually before every conversion or set it to "Inbox" to apply it automatically to all future conversions. Discontinued option.
5. The "

Mode

" menu allows you to choose the necessary conversion mode: an

Outlook

profile or a

PST

file. Depending on what you select, your

vCard

contacts will be saved either to an

Outlook

profile or a standalone

PST

file.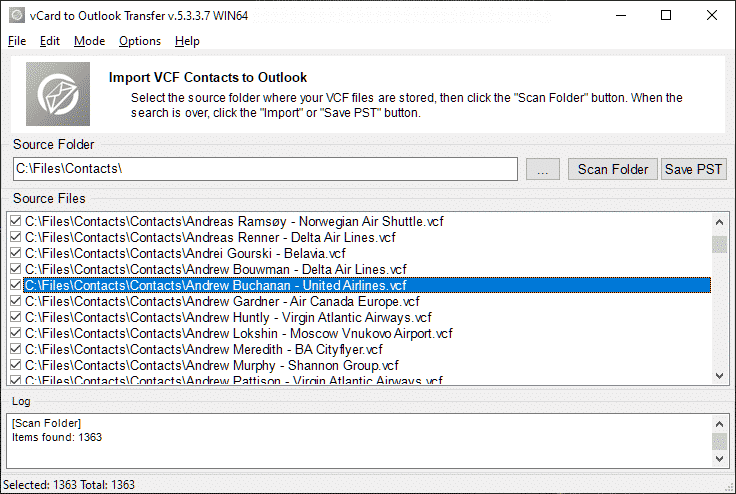 Once the options have been configured, you are ready for file conversion. To do this, click the "

Save

" button. Note that if the "Remind to disable antivirus" option is on,

vCard to Outlook Transfer

tool will prompt you to temporarily disable your anti-viruses to avoid potential access conflicts. Click OK to accept and continue. It is also possible that you will see an Office configuration selection window now. If you do, just leave the settings unchanged and click OK to continue.
A new dialog for selecting the target folder will open.
Choose an existing folder or create a new one, change the PST file name if needed, then click OK to start the data transfer.
If you previously chose to import contacts directly Outlook profile, you will undergo the same process, except for the destination folder selection step. In this case, you need to choose a folder on your system or LAN instead of an Outlook profile.
Opening and inspecting PST file contacts
If you imported contacts into PST file, you may want to open it and check the contacts. To do so, perform the following steps:
Run Outlook and use menu File > Open & Export > Open Outlook Data File
Select PST file and press Open button
Press Ctrl+6 keys combination to enable the Folders View
Click Contacts and check the contacts.
If you want to join contacts with your main contact list, you may press Ctrl+3 button and then select the contact folders to join. Content of selected contact folders will be view joined into view.
This concludes the vCard to Outlook conversion process. Should you have any questions, please contact our support service.
You may want to know:
Other Tutorials
---
If you already completed the Live Mail to Outlook emails conversion, you may want to import Live Mail contacts as well. In this article we will describe the main method of…
---
MSG to Outlook Transfer – User's Manual Even though "email conversion" may sound technical and complex, it may be a fairly simple routine if you have the right tool at hand.…
---
Email migration from Outlook for Mac OS to Outlook for Windows platform may be simple enough if you choose the right data format for export. Outlook for Mac OS uses…
---
Gmail to Outlook Transfer – User's Manual Gmail to Outlook Transfer (click here to download) is a highly efficient specialized tool for transferring the contents of online Gmail folders and email…
---
IncrediMail to Outlook Transfer – User's Manual This article describes different methods to convert IncrediMail messages and contacts to Outlook and other e-mail clients. Methods of automatic conversion that do…
We are sorry that this post was not useful for you!
Let us improve this post!
Tell us how we can improve this post?