MSG is a document format developed by Microsoft primarily for storing messages in Outlook. However, it is also well suited for storing other types of Outlook objects, such as tasks or contacts. MSG files are commonly found in archives and are often extracted from Outlook by various anti-virus tools for ease of item-by-item inspection. MSG to Outlook Transfer is a specialized solution that will help you quickly and effortlessly move any number of MSG documents to MS Outlook. The tool supports both binary MSG files and their text versions generated by programs like "The Bat!", and corresponding conversion modes can be selected from the program's main menu. In addition, the program preserves the structure of the source data folder by recreating all of its subfolders in the destination Outlook profile, regardless of the number of nesting levels.
The interface of MSG to Outlook Transfer consists of a single program window with several functional areas and just a few buttons. Our User's Manual contains detailed instructions on using the program in different modes and explains the meaning of all conversion options. MSG to PST converter tool is intended for home and office users who need to be able to convert any number of MSG files to Outlook regularly or on the ad hoc basic. If the frequency of conversions is fairly high or if a user needs bulk conversion of multiple MSG files simultaneously, the software can save such a user a great deal of time and money, which is very important in highly dynamic corporate environments.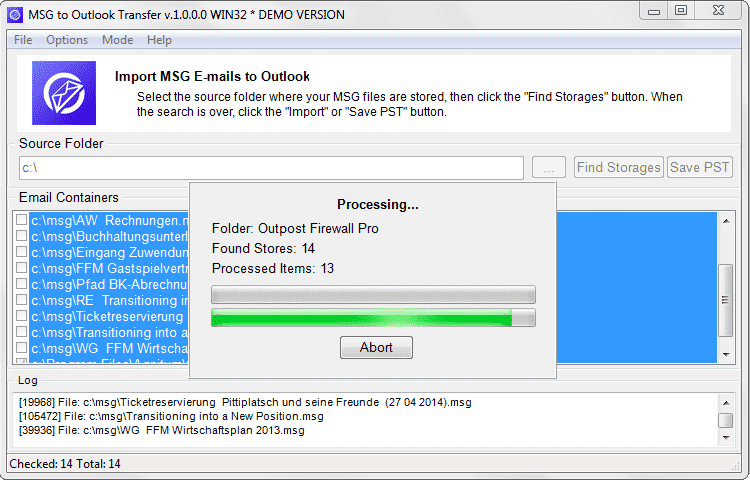 If you have an archive of MSG messages that has to be quickly converted to Outlook, you will not find a better tool to import MSG files into Outlook than MSG to Outlook Transfer. It is user-friendly, accurate, reliable and gets the job done in seconds!
* - The unregistered version converts a limited number of messages
| | |
| --- | --- |
| Operating System | Microsoft Windows® Vista or higher |
| Microsoft Office | Microsoft Outlook® 2003-2021 (standalone) |
| Outlook Account | At least one Outlook profile (email account) should be configured |
| Source files | *.msg (plain text or binary encoded) |
| Hard Drive Space | 48 MB minimum |
| Available Memory | 4 GB for 32-bit and 8 GB or more for 64-bit operating systems |
| Processor | Pentium IV 2 GHz or faster |
| Display | Color display, set to at least 1024 X 768 resolution |
MSG converter tool is based on a complex algorithmic core that instantly analyzes data streams in MSG files, converts encoding, if necessary, and outputs converted items to a designated Outlook profile. The entire process is fully automated, and the user is only asked to select the source data files and specify a corresponding file processing mode (text or binary, depending on the origin of MSG files) – the rest of the settings can be left unchanged.
Ease of operation is the key advantage of the program. It requires no special skills or training, and can be used by any user right after installation, so if your email archive is ready, you will be able to move it over to Outlook within minutes.
Here is how to batch Convert MSG to PST files
Launch the MSG conversion utility.
Select the location of your *.MSG files.
Program will scan the source folder and find all subfolders.
Click Save PST and specify the target location.
Open PST file in Outlook.
Email conversion in details
Working with this program (free download) is really easy even if you see software of such kind for the very first time. Here is a step-by-step guide on how you can process your MSG files and add them to PST.
Run the program. The interface of the tool is pretty self-explanatory, so simply follow the instructions. Select the source folder where your MSG files are located. Note: this tool can only work with MSG files, so if your old e-mail client stores the data in some other format, you will need to export your correspondence to the MSG format first.
After you set the folder, the program will scan the file system for any MSG containers found in this location. The scan may take some time depending on the overall amount of files in the folder.
Then, MSG to Outlook transfer displays the list of discovered MSG containers. To convert multiple MSG to PST select those you want to add to Outlook (bulk selection is supported) and click the "Save PST" button. The program will change the PST so to add the selected MSG files into it. The progress is updated in real-time on the screen. Once, the process is finished, you can grab the PST file, run Outlook and open the PST file there.
---
What users say about MSG to Outlook Transfer
MSG to Outlook Transfer has done a great job for me! As a busy professional, I often receive important messages in MSG format that I need to access quickly. This software has made it a breeze to transfer these messages into my Outlook inbox, allowing me to stay organised and efficient.

Steven Brody - Village Ltd.
If you're looking for a simple and effective way to transfer your MSG messages to Outlook, look no further than MSG to Outlook Transfer. This software is top-notch and has exceeded my expectations in every way. It's made my work life so much easier and more streamlined.

Paul Arvisais Law Corp - Canada
I can't recommend MSG to Outlook Transfer enough! This software is incredibly user-friendly and efficient, making it simple to transfer all of my important messages with just a few clicks. It's saved me so much time and hassle, and I feel much more confident in my ability to manage my inbox effectively.

Florian Baier - Germany
---
Below is a list of key features of
MSG to Outlook Transfer

:
A simple and convenient user interface suitable for a very wide audience ranging from novices to trained professionals
An advanced data conversion code ensuring best in class conversion accuracy
Direct data output to an

Outlook

profile
Support of binary and text

MSG

files
Support of email archives containing any number of folders and files of any size
Data preprocessing for full message readability in

MS Outlook

Possibility to select the destination

Outlook

folder
100% compatibility with all popular versions of

MS Outlook

Compact installation file with no bundled extras
Requires no additional components
Compatible with all current

Windows

versions and editions, including 64-bit
MSG to Outlook Transfer is an essential piece of software for regular users and professionals seeking a way to export email messages, contacts, tasks and other standard items from MSG files to Microsoft Outlook. The tool allows to import MSG to Outlook PST files that you already have or create new PST, extract data from older or abandoned e-mail clients in the MSG format, combine two email mailboxes together provided one of them is PST and the other is in the MSG format. You can also merge multiple MSG files into one PST or transfer email archive data from multiple source MSG files at once.
Comparison of the trial and full version
| Software Feature | Free Trial License | Home License | Business License | Technical License |
| --- | --- | --- | --- | --- |
| Unlimited Number of Emails | NO | YES | YES | YES |
| Unlimited Number of Accounts | NO | YES | YES | YES |
| Command Line (Batch Mode) | NO | NO | YES | YES |
| Network Sources | YES | NO | YES | YES |
| Server side use | YES | NO | NO | YES |
| Renewal Type (by choice) | - | Manual | Manual & Auto | Manual & Auto |
| Renewal Discount | - | 10% | 20% | 30% |
| Number of activations (by choice) | - | 1-5 | 1-50 | Unlimited |
| Technical Support | Limited | Standard | Priority | Extended |
What gives
MSG to Outlook Transfer

the edge?

In comparison with less automated solutions, MSG to Outlook Transfer reduces the conversion process to a few simple steps:
Selection of a set of source

MSG

files on the user's hard drive or in a network location
Modification of conversion options (optional)
Saving the data to

Outlook
M MSG to Outlook Transfer software offers full automation of the email conversion process and allows users to cope with this task in seconds or minutes instead of hours or days. In addition to saving time, the tool makes for considerable cost savings, since users no longer need to outsource this task to third parties.
All users considering a purchase are strongly encouraged to download the free demo version of the MSG to PST converter, which has all the features of the full licensed version, yet limits the number of files converted per folder. This way, you have a chance to familiarize yourself with the necessary features without paying for the product. The free limited version of our products can be downloaded here.
Alternative tools to import
MSG

files to

Outlook

:
Product to export PST to MSG files:
Customer Reviews
Your comments, suggestions or ideas will be very valuable as we do not stop to make improvements to our software. Please feel free to post your rating and review about MSG to Outlook Transfer product using the button below. We really appreciate your feedbacks.
MSG to Outlook Transfer
Average rating:
5 reviews
Feb 2, 2022
Does the job
I've used the data extraction kit from this site before, and this converter is very basic in comparison. Still, it is ideal as a batch MSG converter, which is all I needed.
Jan 26, 2022
Excellent converter
I found this .msg converter intuitive and convenient. Aside from exporting the files and making a few clicks, I didn't really need to do anything. This tool deserves five stars.
Jan 19, 2022
Slower than expected
It's great that you can batch convert MSG files using this tool, but I wouldn't say the process takes seconds. Registration wasn't smooth since I downloaded wrong software. To be fair, the support team helped me quite promptly, and all my messages were converted safely.
Jan 13, 2022
Awesome
I needed to transfer a few messages and contact details from my office PC to my laptop so I could work with them while traveling. You can convert MSG to PST in several clicks, it is fast and easy.
Oct 13, 2015
Cheap and fast!
Your MSG to PST converter is the best! Very impressed with the cheap price and especially speed of conversion. It converted my thousands emails in several minutes to PST file and now I am fully transferred my PMMail 2000 messages to Microsoft Outlook.