Gmail™ is a free email service from Google used by more than half a billion people around the globe. Fast, convenient and secure, it is trusted by individuals and companies of different sizes that benefit from its 24/7 service availability, global accessibility, scalability and unparalleled performance. Although Gmail is mostly used online, some users eventually need to access their emails from a desktop application, such as Outlook. This may happen for a number of reasons, from security concerns to convenience considerations, but whatever the reason is, this process requires automation and specialized software that will make sure that messages are converted in the right encoding, that attachments are not lost and properly associated with messages, and that the folder structure is preserved.
If you absolutely have to start using Outlook instead of the familiar Gmail web interface, Gmail to Outlook Transfer is the tool that will make this task a snap!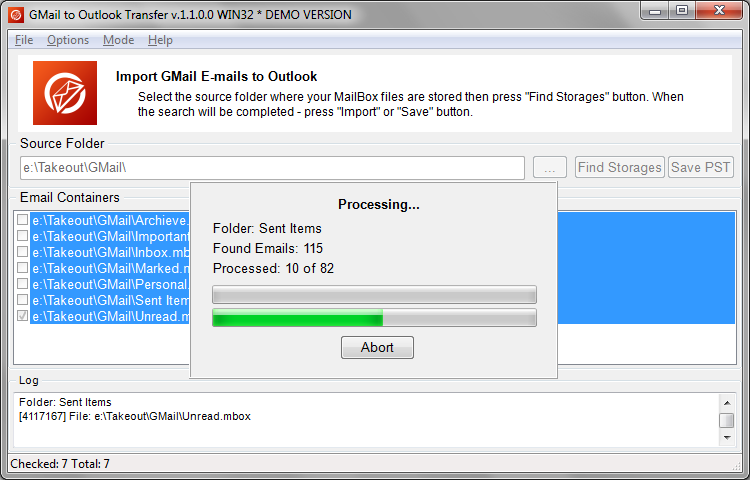 A new member of the growing family of Outlook email migration tools, Gmail to Outlook Transfer is a compact and convenient conversion tool for Gmail to Outlook migration. The program automates the conversion of MBOX files generated by Gmail (Google Takeout) and makes the entire procedure fast, smooth and 100% safe.
* - The unregistered version converts a limited number of messages
| | |
| --- | --- |
| Operating System | Microsoft Windows® Vista or higher |
| Microsoft Office | Microsoft Outlook® 2003-2021 (standalone) |
| Outlook Account | At least one Outlook profile (email account) should be configured |
| Source files | *.mbox files saved from the Gmail Takeout |
| Hard Drive Space | 48 MB minimum |
| Available Memory | 4 GB for 32-bit and 8 GB or more for 64-bit operating systems |
| Processor | Pentium IV 2 GHz or faster |
| Display | Color display, set to at least 1024 X 768 resolution |
Gmail to Outlook Transfer

software functionality

Gmail to Outlook Transfer. The core of the program was developed from scratch by the company's data conversion experts and takes care of all the nuances of MBOX to PST conversion. The developers of the program mostly focused on its ease of use and completeness of email conversion, so even if you have never used such software, your experience with Gmail to Outlook Transfer will be thoroughly enjoyable. When you need to convert Gmail MBOX to PST, you simply run this tool, select the MBOX file exported from Gmail and the software does the rest.
One of the principal advantages of the Gmail to Outlook Transfer software is extremely high accuracy of conversion. Gmail migration tool carefully analyzes the folder structure in the Gmail MBOX files and recreates the same structure when moving to Outlook. Attachments, message encodings, formatting and threads are also carefully duplicated in the resulting PST file or in your Outlook account.
The conversion is also very fast, which is a relief when you have to move gigabytes of mail correspondence from Gmail to Outlook in one go. A typical conversion takes no more than a few minutes. You can export from Gmail directly to Outlook or to a standalone PST file if you want to move your data to some other computer. The latter option also comes in handy when you just don't have Outlook installed on the computer, but still need to convert Gmail to Outlook email client.
Comparison of the trial and full version
| Software Feature | Free Trial License | Home License | Business License | Technical License |
| --- | --- | --- | --- | --- |
| Unlimited Number of Emails | NO | YES | YES | YES |
| Unlimited Number of Accounts | NO | YES | YES | YES |
| Command Line (Batch Mode) | NO | NO | YES | YES |
| Network Sources | YES | NO | YES | YES |
| Server side use | YES | NO | NO | YES |
| Renewal Type (by choice) | - | Manual | Manual & Auto | Manual & Auto |
| Renewal Discount | - | 10% | 20% | 30% |
| Number of activations (by choice) | - | 1-5 | 1-50 | Unlimited |
| Technical Support | Limited | Standard | Priority | Extended |
The key features of
Gmail to Outlook Transfer

tool are:
Ultra-fast

MBOX

to

Outlook

conversion
Simple and intuitive user interface
Conversion directly to

Outlook

or a standalone

PST

file
Extraction of Gmail MBOX to EML files
Can be used for email migration or email archiving
Supports Gmail mailbox archives of any size
Accurate conversion of email encoding for 100% readability in

MS Outlook

Recreation of the original folder structure (1 level)
Compatibility with all major versions of

MS Outlook (2019, 2016, 2013, 2010 … 2000)

Compact installation file size
Requires no additional components or connection to webmail or Gmail account
Compatibility with all major versions of

Windows

, including

64-bit

editions
Gmail to Outlook Transfer

tool is an absolute must have for system administrators dealing with users' data conversion requests on a daily basis and regular users who want to save on email migration and be able to repeat the process when necessary.
---
What users say about Gmail to Outlook Transfer
I was worried about losing important emails when I switched to Outlook, but this software ensured that everything transferred seamlessly. I couldn't be happier with the results!

Zachary Pollard - True Enterprises LLC
I'm so glad I found this software - it saved me hours of manual data transfer. The user interface is intuitive and the transfer process is lightning fast.

Morten Harket - Norway
This software made my transition from Gmail to Outlook a breeze! The transfer was fast and easy, and everything was seamlessly integrated into my new Outlook account.

Ketil Knudsen - Norway
---
Advantages of
GMail to Outlook Transfer

product

To move Gmail to Outlook and convert all emails to a PST file, run the conversion process that consists of two key steps:
Extraction of emails from

Gmail

and saving them to the user's hard drive. This can be done using the standard

Gmail

data export function that enables users to save the contents of their mailboxes to

MBOX

files on their computer.
Conversion of the resulting

MBOX

files to a

PST

format or their direct transfer to

Outlook

. This step cannot be performed manually and requires specialized software.
How to import emails from
Gmail

to

Outlook

?

GGmail to Outlook Transfer takes care of the second steps of the process and accurately converts emails and attachments into the PST format hence moving Gmail correspondence to Outlook. Offering full automation of the process, the program moves folders from Gmail to Outlook under names matching those of the source MBOX files. That is, if you save data from your Inbox and Sent Gmail folders to corresponding files, Gmail migration tool will create folders with the same names in Outlook (or a new PST file, depending on the choice of destination). In case you have subfolders, they will be created on the same level with their parent folders, but you will be able to restore the original nesting order simply by dragging and dropping folders in Outlook.

The main advantages of Gmail to Outlook Transfer are its performance, reliability and ease of use achieved thanks to the program's very simple and intuitive interface. Even if you are a complete novice, you will have no problems moving your Gmail archive to Outlook on your own. 

If you ever need to move all of your emails or just some of them from Gmail to Outlook, you won't find a better Google mail migration tool than Gmail to Outlook Transfer! It is compact, affordable and easy to understand and use – and what else can you wish for a data import and conversion tool! 
We encourage you to try the free demo version of Gmail to Outlook Transfer software and see how easy it is to move any of your messages from Google's servers to your copy of MS Outlook. The free limited trial version can be downloaded here.
Customer Reviews
Your comments, suggestions or ideas will be very valuable as we do not stop to make improvements to our software. Please feel free to post your rating and review about Gmail to Outlook Transfer product using the button below. We really appreciate your feedbacks.
Gmail to Outlook Transfer
Average rating:
3 reviews
Jan 21, 2022
Excellent
The only difficulty is that you need to export the MBOX archive. The rest is really easy. I can give this Gmail migration tool five stars. I was able to export all messages with attachments.
Jan 13, 2022
Not effortless but effective
I used this Google Mail migration tool to transfer around 5000 messages. It worked fine, but I had to figure out how to download MBOX, and Outlook must be installed on the same PC as the converter. However, it works as advertised.
Sr Jose Antonio Cesar Cota Ojeda
Oct 22, 2015
Good software, works as described.
The software is really good looking, fast and simple to use. However I expected to have a Spanish user interface so giving it 4 stars rating because of that only. No more cons, the gmail transfer tool just works as described.