Mozilla Thunderbird® is one of the major alternatives to Microsoft's email applications and PIM tools. Completely free and open source, it is available to users on various platforms, including Windows, Mac OS X and Linux, not to mention unofficial ports to more exotic operating systems, such as OpenSolaris and FreeBSD.
The program offers advanced email exchange functionality, supports multiple accounts and identities, flexible email sorting and filtering, message grouping and labeling, features a powerful Bayesian filter to cut off spam messages and offers a host of other powerful functions. Although the program remained one of the key players on the market of email applications for years, its popularity started to decline after Mozilla discontinued the work on new versions, which forced many users to choose Microsoft Outlook® instead. Another commonplace reason for Thunderbird to Outlook transfer is a growing number of users migrating to Windows OS and starting to use standard enterprise applications from Microsoft.
The technical difficulty of performing Thunderbird to Outlook migration roots in the difference between data storage formats used by these applications. Thunderbird uses MBOX, whereas Outlook stores data in its native PST format, and neither of the programs has integrated data export tools to facilitate the migration. The best way to export emails from thunderbird to outlook it is using of special tool called thunderbird to outlook converter.
Thunderbird to Outlook Transfer video guide
Thunderbird to Outlook Transfer is an all-in-one, efficient and extremely fast data migration solution that will help you transfer all types of matching data from Thunderbird to Outlook in no time. Thunderbird to Outlook Transfer efficiently solves the problem of Thunderbird to Outlook data conversion and ensures the integrity of personal or business correspondence.
* - The unregistered version converts a limited number of messages
| | |
| --- | --- |
| Operating System | Microsoft Windows® Vista or higher |
| Microsoft Office | Microsoft Outlook® 2003-2021 (standalone) |
| Outlook Account | At least one Outlook profile (email account) should be configured |
| Source files | *.msf and *. (no extension) mailbox files from Thunderbird for Windows, Mac OS or Linux |
| Hard Drive Space | 48 MB minimum |
| Available Memory | 4 GB for 32-bit and 8 GB or more for 64-bit operating systems |
| Processor | Pentium IV 2 GHz or faster |
| Display | Color display, set to at least 1024 X 768 resolution |
Advantages of using
Thunderbird to Outlook Converter

This thunderbird to outlook tool was initially designed to be an all-in-one tool for Thunderbird to Outlook email migration, which means that you will not need any additional tools or utilities to do an intermediate data conversion or unload messages from an mailbox file. Thunderbird to Outlook Transfer has all the necessary features under one umbrella and enables users to move email archives of any size directly from Thunderbird to Outlook or a standalone PST storage file. This software contains many additional options which will be helpful while you convert thunderbird to outlook, these options allow to:
Split output PST file to multiple fragments of predefined size
Correct the email encoding (Mac OS and Linux encoding to Windows)
Extract Thunderbird messages to separate EML files supported by many email applications
Use any existing Outlook folder to import emails from thunderbird to outlook or create and use a new one
Activate internal formats processor which handles smooth thunderbird email migration
Thunderbird Transfer software is based on the latest proprietary technology that ensures top data conversion speed, accuracy of data transfer and integrity of the source files.
New version features
In the new version of the Thunderbird to Outlook Transfer software, we have enhanced the filtering options that allow users to selectively convert Thunderbird emails to PST format based on criteria such as date range, sender, subject and other criteria. Filtering can be enabled in Save to PST mode via menu Options > Message filtering.
In addition, the user can now convert mailboxes located only in the specified source folder, excluding subfolders. This option can be enabled from the menu Options > Scan subdirectories for source files. By default, the program scans both the source folder and any subfolders within it for source mailboxes.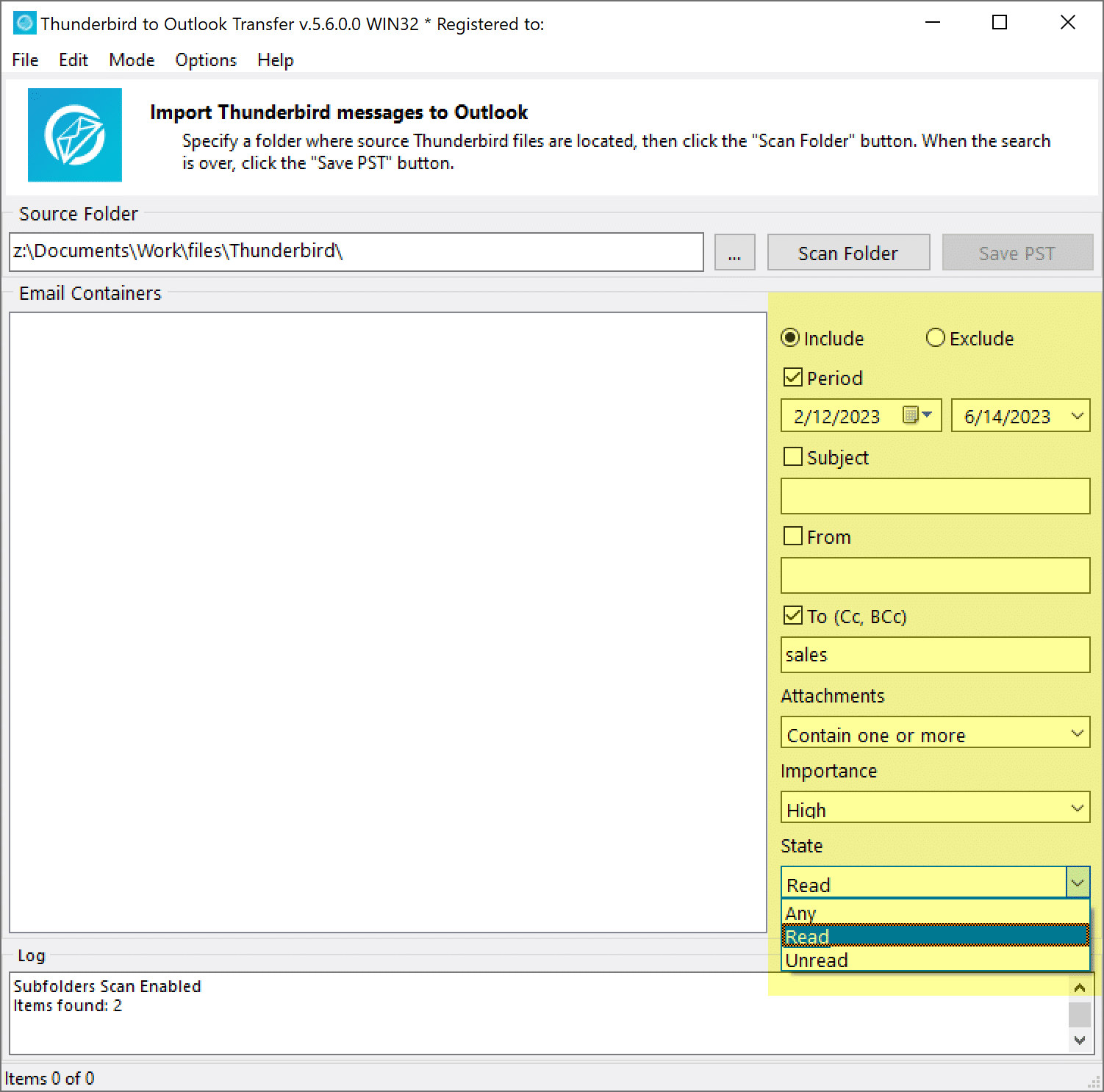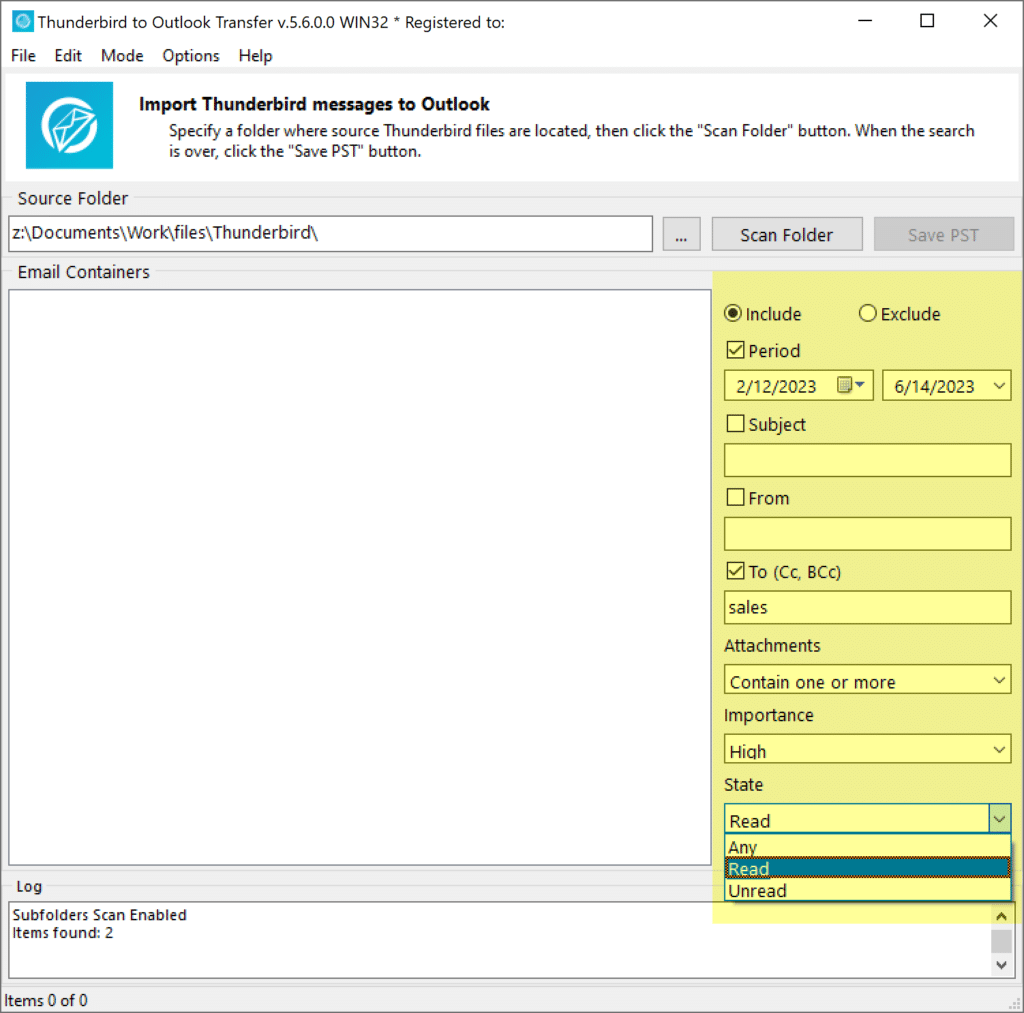 ---
What users say about Thunderbird to Outlook Transfer
Thunderbird to Outlook Transfer is an excellent software that does precisely what it says on the tin. It is an efficient and user-friendly tool that makes transferring data from Thunderbird to Outlook an absolute breeze. The software is straightforward to use, and it comes with a simple and intuitive interface that requires no technical expertise.

Eric Hammett
One of the best things about Thunderbird to Outlook Transfer is that it is incredibly fast and reliable. The software transfers a large amount of data in just a few clicks, and it does so with no errors and data loss. The software also offers a high level of customization, allowing you to choose which data you want to transfer and how you want to do it.

Tech community - Computerworld
I would highly recommend Thunderbird Transfer tool to anyone looking for a reliable and efficient solution for transferring data between email clients. The software is easy to use, fast and delivers excellent results every time. So if you're looking for a five-star solution for transferring data from Thunderbird to Outlook, this tool is definitely worth considering.

Yoshihiko Hatanaka - Toys "R" Us Japan
---
Compared with similar tools and methods, this product offers the following advantages:
Unparalleled intuitiveness of the User Interface.
The authors of the program did their best to take the complexity of thunderbird to outlook data conversion away from users' eyes. You won't be faced with technical abbreviations, confusing sliders, radio buttons and checkboxes while converting Thunderbird to Outlook data. The interface of Thunderbird Transfer tool is simple enough even for people who have never worked with similar tools and don't know how to convert Thunderbird to Outlook.
Maximum automation of the data location and conversion processes.
As a user, you may not (and don't have to) know where your emails, attachments and other relevant data are stored. Besides, Thunderbird does not store its data in a single database, file or even folder – your data are unevenly distributed across the program installation folder, so finding every item may turn out to be a fairly complex task even for a professional, much less an inexperienced user. Thunderbird to outlook converter detects the locations of source MSF files automatically and if it is impossible allows to user to do that manually.
Use of an intuitive multi-step data conversion wizard.
To assist users who have no previous experience in data migration and don't know how to move emails from Thunderbird to Outlook. The wizard ensures smooth and hassle-free progression to the final step of the procedure and makes the probability of a human error negligibly small. Such way allows to migrate thunderbird to outlook emails and reduce the possible human mistakes.
Affordable recovery without the risk of letting your personal data leave your system.
When you use an external service, your information ends up in the hands of other people, so no matter how good a contract is signed, others get to see it. With Thunderbird to Outlook converter, you can be 100% sure that your data remains with you at all times. Besides, you save an ample amount of money and can re-use the program as many times as needed together with your active license.
Ability to extract messages from damaged MBOX files.
Thunderbird Transfer tool will help you convert data from Thunderbird to Outlook even if one or many of the source mailbo files are damaged. No matter if you want to migrate thunderbird to outlook or just extract the Thunderbird messages to EML files, the tool automatically restoring the data integrity.
* - The unregistered version converts a limited number of messages
Selected and Bulk Export Thunderbird to Outlook
Our Thunderbird to Outlook converter offers as much flexibility as you'd expect from quality email transfer software. For instance, you can select what folders in your Thunderbird profile you want to move to Outlook. Or you can choose to run bulk converting from Thunderbird to Outlook. With this program in your toolbox this is now also an option. Of course, the size of your mailbox or individual folders does not matter: Thunderbird to Outlook Transfer perfectly works with extra large profiles and successfully exports data from them.
Comparison of the trial and full version
| Software Feature | Free Trial License | Home License | Business License | Technical License |
| --- | --- | --- | --- | --- |
| Unlimited Number of Emails | NO | YES | YES | YES |
| Unlimited Number of Accounts | NO | YES | YES | YES |
| Command Line (Batch Mode) | NO | NO | YES | YES |
| Network Sources | YES | NO | YES | YES |
| Server side use | YES | NO | NO | YES |
| Renewal Type (by choice) | - | Manual | Manual & Auto | Manual & Auto |
| Renewal Discount | - | 10% | 20% | 30% |
| Number of activations (by choice) | - | 1-5 | 1-50 | Unlimited |
| Technical Support | Limited | Standard | Priority | Extended |
Frequently Asked Questions
Can Thunderbird export to PST?
Not really. Thunderbird uses a different format to store mailboxes, and does not seem to pay any attention to Outlook's native PST. But that does not mean you are out of options to import Thunderbird to Outlook. For one, you can migrate from Thunderbird to Outlook via the IMAP mailbox. Yes, this will take time and effort, but here it is. Then, you can use our program and convert all your emails in just a few simple steps. This is not direct exporting, but still in the end you get a PST file perfectly exported from Thunderbird.
How do I export Thunderbird local folders to Outlook?
Briefly, here is what you need to do in order to export local folders to MS Outlook:
Run the Thunderbird to Outlook converter.
Browse the folder that contains *.msf files of Thunderbird. Typically, the converter detects that folder automatically.
Scan the selected path for all local Thunderbird folders.
Run the conversion to PST. This will convert Thunderbird emails to Outlook PST file.
Open the resulting PST file in MS Outlook as usual.
Here is the detailed guide on Mozilla Thunderbird to PST conversion for your convenience.
Can Thunderbird convert MBOX to PST?
The MBOX is a popular mailbox format that many emails clients use and Thunderbird is one of them. The reason for such popularity is that the format is open, and technically is a simple text file. On the contrary, the Outlook PST format was developed by Microsoft specially for Outlook. This is a proprietary mailbox format, so only MS Outlook and other Microsoft products can write to that format.
However, there are third-party solutions to convert the existing Thunderbird MBOX files to the PST format. One of such solutions (and arguably the best one) is our email converter – Mbox to Outlook Transfer. With this software you can convert Thunderbird MBOX files to PST. However if you need to convert or extract Thunderbird MSF files, we suggest you to use our MSF to PST converter described on this page.
How do I import Thunderbird into Outlook 365?
Outlook 365 is an online email service, a part of the Office 365 suite. Export Thunderbird to Outlook 365 is not possible, at least if you want to do this directly from Thunderbird. However, Thunderbird Transfer software saves the day by providing you a way to save Thunderbird messages as PST, and then import this PST file to Outlook 365. Such PST importing is by far the safest and simplest way to import Thunderbird to Microsoft Outlook 365.
Our software also can import Thunderbird data to Outlook 365 directly into your MS Outlook profile. But this way the results of importing depend on the server settings. Unfortunately, sometimes IMAP servers with enabled synchronization wipe out all the imported messages just because there is no such information on the server.
Thunderbird to Outlook Transfer will warn you about this peculiarity of Microsoft Outlook 365 if you attempt to import Thunderbird to Outlook 365 and will recommend saving to the PST format instead.
How do I migrate from Thunderbird to Outlook 2010?
You can move your email data from Mozilla Thunderbird to Outlook 2010 using manual or automatic exporting options. The manual option involves adding your Outlook IMAP mailbox in Thunderbird, then migrating to Outlook 2010. While totally doable, this way is not the best option whatsoever. You are not guaranteed to receive the best possible and accurate results, and are dependent on the IMAP server settings.
The alternative way is fully automatic and bullet-proof conversion of your Thunderbird mailboxes to Outlook 2010 using the Thunderbird to PST converter. Not only does Thunderbird Transfer securely move all your messages regardless of whether they are plain text or HTML, it also correctly transfers attachments. Run the tool, enjoy the result. That's just it.
How long does it take to export Thunderbird to Outlook?
The duration of the conversion process depends on the overall size of your mailbox in Mozilla Thunderbird. Typically, it takes from 10 minutes to several hours.
Do I need a separate MSF to PST converter tool to convert Thunderbird folders?
Even if your Thunderbird mailbox has multiple folders you don't have to search for a specialized Thunderbird to Outlook converter freeware to transfer them to Outlook. Our software is the MSF to PST converter you need. The tool automatically locates Thunderbird folders on your computer and allows you to quickly save the mailbox data to the PST format.
How hard it is to use
Thunderbird Transfer

to move emails from

Thunderbird

to

Outlook

?

Thunderbird Transfer was initially designed to be fast, intuitive and easy-to-use. It will be a perfect choice for all of your Thunderbird to Outlook conversion needs even if you have never done anything like that before and don't know how to convert MSF to PST. The software works out of the box and requires absolutely no third-party components, prior training or special knowledge and skills.
Get the Best Support for Thunderbird Transfer software
While our software is designed to be extremely simple to use thanks to its Wizard-like step-by-step user interface, we are dedicated to providing the best support to our users, whether of freeware or paid tools. Hence, if you experience difficulties with the program, or want to ask about a specific case of Thunderbird message exporting, please don't hesitate to contact us. We are here to help you!
In case you need the ultimate Thunderbird to Outlook converter and learn to how migrate from Thunderbird to Outlook in a few quick steps, make sure to try Thunderbird to Outlook Transfer tool! Convert thunderbird to outlook properly with Outlook Transfer!
Customer Reviews
Your comments, suggestions or ideas will be very valuable as we do not stop to make improvements to our software. Please feel free to post your rating and review about Thunderbird to Outlook Transfer product using the button below.  We really appreciate your feedbacks.
Thunderbird to Outlook Transfer
Average rating:
15 reviews
Jun 4, 2023
Overall - good
Overall, the programme is good, works faster than its competitors and converts emails correctly. No encoding or attachment errors. Everything is transferred.

The bad thing is that it only converts messages, not contacts. There is another programme that converts contacts. But the good news is that you can buy both at once for a great discount!
Apr 11, 2023
It's a must-have tool
As the editor of online magazine, I was impressed by the Thunderbird to Outlook Transfer software. This software offers a simple and efficient solution for transferring emails from Thunderbird to Outlook, which is a task that can be otherwise time-consuming and complicated. The Thunderbird to Outlook Transfer software is easy to use, and it offers a user-friendly interface that makes the process of transferring emails a breeze. With just a few clicks, you can transfer all of your Thunderbird emails to Outlook, including attachments, formatting, and metadata.
One of the most impressive features of this software is its speed. The transfer process is lightning-fast, and you can move large volumes of emails in just minutes. This is particularly useful for businesses or individuals who need to transfer a large number of emails quickly. What's more, the Thunderbird to Outlook Transfer software is also very reliable. The software is designed to ensure that your emails are transferred accurately and without any loss of data. This is particularly important for businesses that rely on their email communications to function effectively.
Overall, I would highly recommend the Thunderbird to Outlook Transfer software to anyone looking for a reliable and efficient solution for transferring emails between these two popular email clients. It's a must-have tool for anyone who needs to transfer emails regularly or wants to switch from Thunderbird to Outlook.
Mar 2, 2023
This is must have tool for all Thunderbird users. With help of this software I do the regular backups of my TB messages in the PST format. I have Outlook installed but I do not use it by now, however I plan to migrate to it in the nearest future, so I will be ready having all my mail by the hand in the compatible format. Your software is very easy to use and working like a charm!
Nov 27, 2022
Very reasonable price!
You did an excellent job of converting my old Thunderbird email to Outlook Email. I was the victim of identity theft and it is only by a miracle that I was able to copy all the thunderbird data to a USB drive as that machine has been compromised. They seem to be able to get in via mail messages in Thunderbird even though I have Thunderbird protected. Very sophisticated thieves, with an insidious scam to get you in contact with them. Now that I have my email back, I can go ahead and delete thunderbird and all its data from the old machine in the hope that will finally end their ability to get onto the system. Thanks again for a great job at a very reasonable price! 😊
Jan 11, 2022
From thunderbird I moved 3076 local folders containing around tens thousands of emails without any issue to my outlook. This software saved my IT life, like for real ! Thanks a lot, worst every penny ! 5/5 stars, it just "do the job".
Dec 21, 2021
It Really Works
Thanks for helping me export Thunderbird to Outlook quickly. This system is hassle-free, simple, and neat. The location of the files is detected automatically. It transferred all my messages and attachments safely, and I had hundreds of them!
Dec 13, 2021
Simple, fast, helpful
I switched to Outlook for security reasons and had to transform old emails ASAP. This Thunderbird to Outlook transfer software is a lifesaver. It is reasonably priced and effective — what else does one need from such tools?
Dec 7, 2021
Really fast!
Direct import into Outlook is awesome. I also like the simplicity of the interface, as you do not have to be a tech geek — getting lost in the menu is impossible. This Thunderbird migration tool proves that less is more.
Dec 3, 2021
Simple and convenient
This Thunderbird migrator is very easy to use. I converted around 1450 emails in under a minute, and they remained fully intact, including attachments and folder structure. Will recommend this product to coworkers.
Apr 10, 2019
GREAT PRODUCT & SERVICE!
We had literally thousands of emails in offline storage in Thunderbird but wanted to move back to Outlook because it can coordinate with iCloud for our Contacts and Calendars. It would have been impossible to do manually. The price was right to give their product a try, but I then struggled to find where my converted files had gone (eventually found them and they were perfect!). Their email support is amazing. Very fast and thorough. Some of my questions went beyond their interface but Robert and Andres were incredible in providing easy to understand answers. Would highly recommend this product to anyone changing email programs, especially Thunderbird to Outlook which use different incompatible formats.