EML to Outlook Transfer – Usage Instructions

Email conversion of any sort is quite often a complex process that involves a great number of dependency and format compatibility checks, implies a strict sequence of actions and requires a certain skill and knowledge level from the person undertaking it. People who have never performed data migration in any shape or form are understandably wary of doing it on their own, which makes them spend time and money to have it done by professionals. All of this can be avoided with the help of our products.
EML to Outlook Transfer is a tool that helps users save time and money while converting their email messages to Outlook. The software supports EML as the source format, which means that it can be used with a broad range of email clients supporting this format "out of the box" or through conversion from proprietary formats. The only supported destination format is PST, Microsoft Outlook's native data container that is not directly supported by any other application on the market. EML to Outlook Transfer software ensures a speedy, reliable and accurate conversion of your EML files and folder structure directly to Microsoft Outlook or a standalone PST file on your hard drive. At the same time, the product is extremely intuitive and user-friendly, so you don't need a master's degree in computer science to migrate from your old email client to Outlook. The process is fully guided, automated, and 100% hassle-free.
Hassle-free email conversion!
Instant solution to convert EML files to Outlook PST format, import EML into Outlook profile or convert EML files to MSG format. Download EML Converter and start your hassle-free EML migration now!
Brief EML to Outlook Conversion Guide
Run EML to Outlook Transfer software.
Specify the location of the Source Folder.
Click Scan Folder button to find all subfolders.
Click Save PST button to start the conversion.
Open Outlook to see imported emails.
Step by Step Guide on Import of EML Files to Outlook
In this article, we will provide different methods you can use to import EML files to the Microsoft Outlook 2019, 2016, 2013, 2010, and earlier versions. You can use both manual approaches and applications.
Below are detailed instructions for getting ready for and performing your very first EML to PST conversion.
Step 1 –
EML

to

Outlook

conversion tool installation

EML to Outlook Transfer software is supplied as a one-file distribution package. Please note that we do not guarantee the safety of files downloaded from any site except for the official one. The program requires no additional components to be downloaded and is ready to be used immediately after installation. The most recent version of EML to Outlook Transfer is fully compatible with all Outlook versions for Windows and can be used for opening .eml files in Outlook.
Download the program to your computer
Start the installation file. If you have UAC enabled, you will see a corresponding prompt for your permission to run the program. Answer affirmatively to continue.
Agree to the program's usage terms and conditions by checking the corresponding box.
Wait until the program is fully installed.
On the last page of the installation wizard, select the version of the program to start. If you have already installed the program, locate the program in the Start menu or use a desktop shortcut.
You may read more about software setup and removal in the specific instruction. If your Outlook version is 2013, you may need to install the latest updates from Microsoft to fix the issue related to the click-to-run set up,
Check this brief video of the conversion process
* - The unregistered version converts a limited number of messages
Step 2 – Selection of the source
EML

files to be imported

Before you proceed with EML to Outlook conversion, you need to make sure that you have properly prepared your source EML files and folders. This tutorial is based on the assumption that you have already extracted your email files to a folder on your hard drive either manually or using a built-in email export function or a third-party email extraction tool. For more information about exporting/extracting email messages to the EML format, please feel free to browse our site and check out corresponding tools.

If you have already taken care of this and your files have been saved to a particular folder on your computer's hard drive, do the following:
Start the EML to Outlook Transfer tool

Click the button to the left of the

…

(Browse) button to open a folder selection dialog. Use this dialog to locate the folder with your messages. Once done, the path to your files will be displayed in the

Source Folder

 field.

Click the

Scan Folder

 button. The program will scan the folder you selected and display a list of files in the

Email Containers

 area.

Select the files to be converted using the checkboxes to the left of the filenames in the list or leave all files selected by default. [Optionally]
Press the

Save PST

button and specify the PST file name and location where it should be created.

Press the

OK

button to start the conversion.

* - The unregistered version converts a limited number of messages
Step 3 –
EML

to

Outlook

conversion process

You have now successfully selected the EML files (Point #4) to be imported to Outlook. Please bear in mind that the EML conversion will not be possible without a copy of Outlook installed on your computer, since the tool uses some of its components for data processing.

EML to Outlook Transfer has a number of preprocessing options that you should be aware of. These options can be found in the Options section of the main program menu: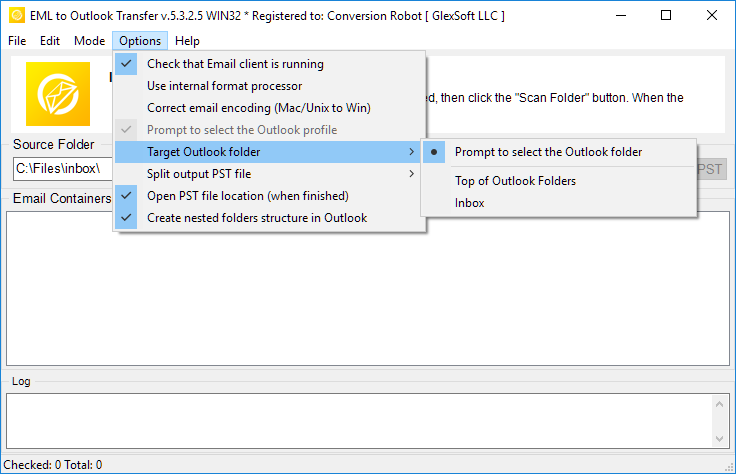 Check that email client is running

– when enabled, this option checks if

Outlook

is running and requests that the user close it to prevent potential file access conflicts.

Remind to disable antivirus

– if this option is unchecked, the program will no longer warn the user that all antivirus products like

Norton

,

Kaspersky,

or

ESET

must be closed/deactivated during data conversion, since they may affect its result or even make it impossible.

Use internal format processor

– when this option is enabled, the program will use its own data file parser that quite often performs better than the standard one (the data parser is not yet a part of the standard package and is made available upon request).

Correct email encoding (Mac/Unix to Win)

– when enabled, this option makes sure that

EML

files copied from

Mac

or

Unix

systems for conversion to a PC-based copy of Microsoft

Outlook

are properly processed and emails are readable on the destination system.

Prompt to select the Outlook profile

– turn this option on if you want to be able to select the

Outlook

profile for your data. This option works only when

Import

mode is active.

Target Outlook folder

[

Prompt to select the Outlook folder; Inbox

] – sets the default destination folder for converted emails. The user can specify it manually every time files are converted or set it to "

Inbox

" for all future conversions.

Split output PST file

– enables the PST file splitting with the option to choose one of the predefined volume sizes.

Open PST file location (when finished)

– if this option is enabled, the program will open the File Explorer window and select the created PST file when conversion is completed.

Create nested folders structure in Outlook

– creates the copy of file system folders and sub-folders in Outlook. Disabling this option instructs the program to import all emails into a selected folder without creating the folder structure.
The "Mode" section in the main program menu contains the following items:
Import to Outlook

Save to PST file
These options are fairly self-explanatory. The former will instruct the program to import directly to the current Outlook profile, while the latter will save your data to a PST file on your hard drive that you can use in a number of ways.
Note: Direct EML import is only possible if your account is configured as a local account (POP3) or if your email server supports remote data import. If you are not sure if remote data import is allowed on your server, use the
Save to PST
option.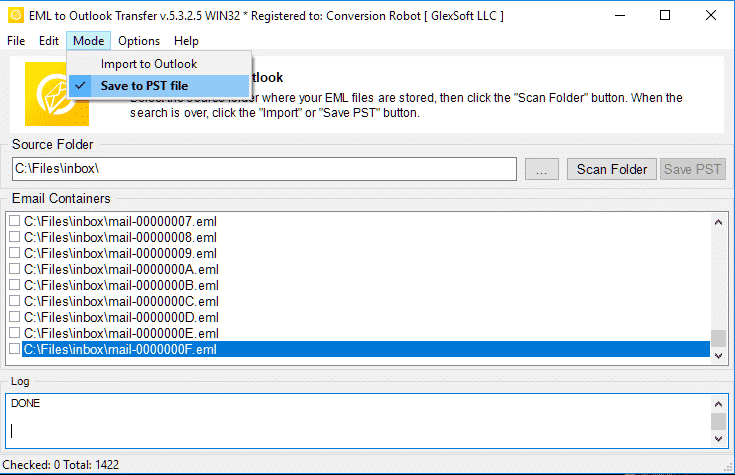 Now that you have selected the files to be processed and the necessary conversion options, you are ready to start the actual conversion process. Assuming that you are transferring data directly to Outlook, here is what you need to do:
Click the

Import

 button. The program will ask you to disable your antivirus software for some time to avoid potential problems (if the corresponding option is enabled). Click OK to accept and move on. You may also see an

Office

configuration selection window at this time. Just leave the setting unchanged and click OK to proceed.
The program will open a dialog for selecting the destination

Outlook

folder for your exported data. Pick an existing folder or create a new one using a corresponding button, then click OK to start importing data.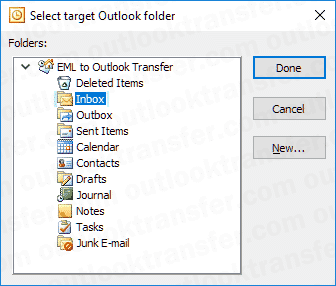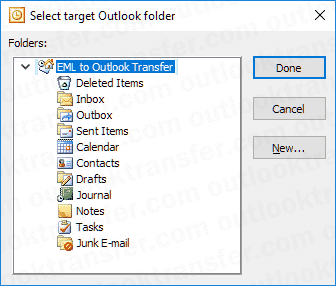 The program will start saving your emails to the selected folder.
In case you selected the Save to PST file option, the process will be nearly identical, with the exception of the destination folder selection step, where you will need to specify the name and location of the resulting file. The rest of the actions will be the same.
How to Open EML files in Outlook using the drag and drop method
You can open EML files in Outlook directly without using the transfer tool. However, Outlook needs to be installed for it to be effective.
This method is convenient if you have few eml files but may be troublesome for bulk .eml files.
Open your MS Outlook software
Click the Windows button, or navigate to the search bar and type MS. Outlook. Open the software.
Locate and drag and drop your EML files into Outlook
Check on your computer where your EML files are saved. Click one of the EML file, drag, and drop it into your Microsoft Outlook application. It may prompt you to choose the application you want to open the .eml file with. Choose MS Outlook.
You can import other eml files by using drag and drop method into Outlook software one at a time.
View your email messages on Microsoft Outlook
Now you can view your email messages on Outlook.
How to Import EML to Outlook using Windows Live Mail
This method requires importing the .eml files to Windows Live Mail. It is straightforward as all the other manual and software methods.
Open your MS Outlook Application and Windows Live Mail.
Open your MS Outlook application and Windows Live Mail application. On your Windows Live Mail application, click on the File > Export Email > email messages.
Export your email messages
Choose to export through Microsoft Exchange and click Next. A confirmation pop-up will appear.
Migrate your email folders
You can decide to migrate all the email folders or choose only the ones you want. Click OK and the export process will complete. Click on Finish.
Different email formats that can be imported in Microsoft Outlook
Microsoft Outlook application can open a variety of email formats like MSG, EML, and PST
MSG is a file format used to store individual email messages, tasks, meetings, appointments, contacts, and much more. It is compatible with any Outlook version.
EML is used by a variety of email clients. It even allows you to open using a text editor like Notepad.
How to save an email as a msg file in Outlook
Open your Microsoft Outlook application, select one email from the messages list. Click File and choose the Save as Option. Choose the folder you want to save it to and change the "save as type" to Outlook message format.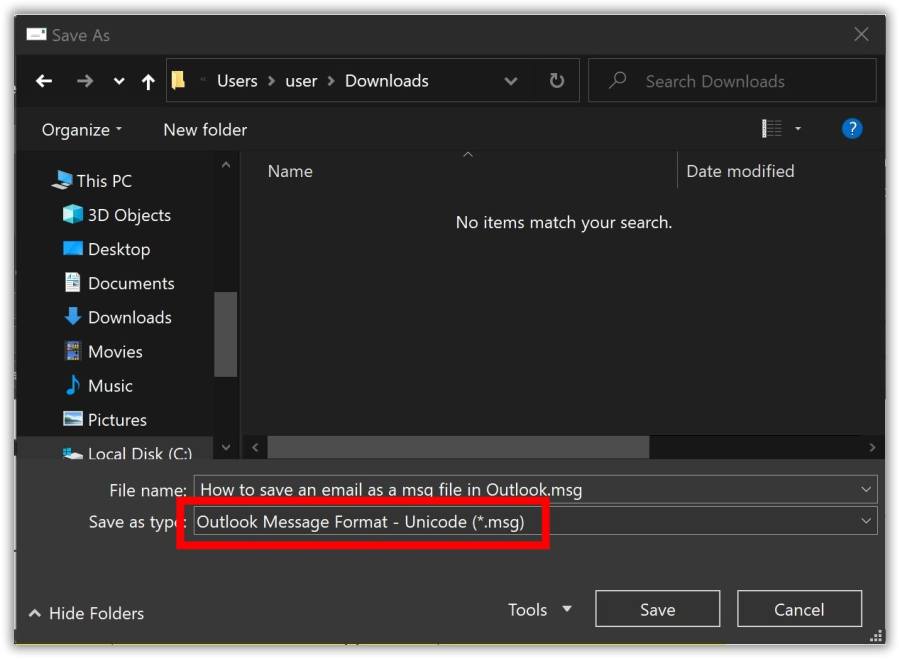 How to save a message as an .eml file
Open a new email in MS Outlook
On the top menu bar of your Microsoft Outlook application, click on

New Email

. A new Windows box will appear.

Create an email
Create a new message by writing the senders email address, subject and body.
Save your email as an eml file
To save this email message as an eml file, click on File > Save as and choose the destination folder. On the drop down choose

Text only

and save.

Open the saved text file using Notepad
Navigate to the saved text file and open using Notepad or your default text software.
Click on File > Save as and save using an eml extension. It will be saved automatically as an eml file.
You may also want to know:
Final Thoughts
This concludes the description of EML to Outlook or EML to PST conversion using EML to Outlook Transfer utility. Should you have any questions or issues with the program, please don't hesitate to contact our support team.
Thank you for using GlexSoft products!
Hassle-free email conversion!
Instant solution to convert EML files to Outlook PST format, import EML into Outlook profile or convert EML files to MSG format. Download EML Converter and start your hassle-free EML migration now!
Other Tutorials
---
MSG to Outlook Transfer – User's Manual Even though "email conversion" may sound technical and complex, it is a fairly simple routine if you have the right tool at hand. Conversion…
---
Mbox to Outlook Transfer – User's Manual The primary goal of Mbox to Outlook Transfer software is to assist users in moving their emails from any email client supporting the Mbox format to…
---
Data Extraction Kit for Outlook is a powerful all-in-one tool for Outlook/PST email conversion, migration and data analysis. The product can be used for extracting emails and other objects from…
---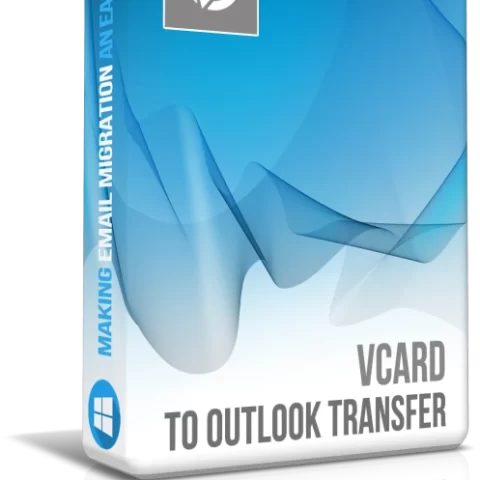 vCard to Outlook Transfer – User's Manual Transferring contacts from one system to another may seem like a complex task - and it can be if you do it manually.…
---
When it comes to managing large amounts of data in Outlook, one common issue that users face is the size limitation of PST files. PST files, which store all the…
We are sorry that this post was not useful for you!
Let us improve this post!
Tell us how we can improve this post?