Gmail to Outlook Transfer – User's Manual

Gmail to Outlook Transfer (click here to download) is a highly efficient specialized tool for transferring the contents of online Gmail folders and email to Microsoft Outlook. Designed and developed for users of all skill levels, from senior citizens to senior software engineers, the program is the ultimate shortcut between Gmail's online email storage and a copy of Outlook installed on your PC. We have done our best to make the product as intuitive, straightforward and convenient as possible, and hope that you will appreciate the results of our efforts.
Below is a detailed usage instruction that will help you complete the migration routine in a few quick and simple steps. The program has a very self-explanatory interface and requires no special knowledge, skills or training of any sort. We used a bare minimum of control elements to ensure that even the most inexperienced users make it through the entire process with a minimum of hassles and worries. Import your Gmail messages and contacts to Outlook in a flash!
The Gmail to Outlook email conversion process consists of two stages: data extraction and data conversion. Before you proceed, check that you have enough disk space on your hard drive to download and unpack the Gmail email archive (which may be quite big) and that Microsoft Outlook 2019, 2016, 2013, 2010 (or earlier version) is installed on your computer.
Gmail

Data extraction

Before starting the actual email conversion process, you need to extract and download your data from your Gmail account to your computer. To make things easier, Google has developed a special tool called Google Takeout, which enables users to download their data from several Google's services in the form of a compressed ZIP file. Here is what you need to do to get your data:
Step 1. Log in to your Gmail Account and to to Takeout
Please note that you must be logged in to the necessary Google account to download Gmail emails using the tool. To access Takeout, go to https://takeout.google.com/settings/takeout. You will see a long list of services that you can export data from, but you are only interested in your mail. Click the "Deselect all" button above the list to deselect all services.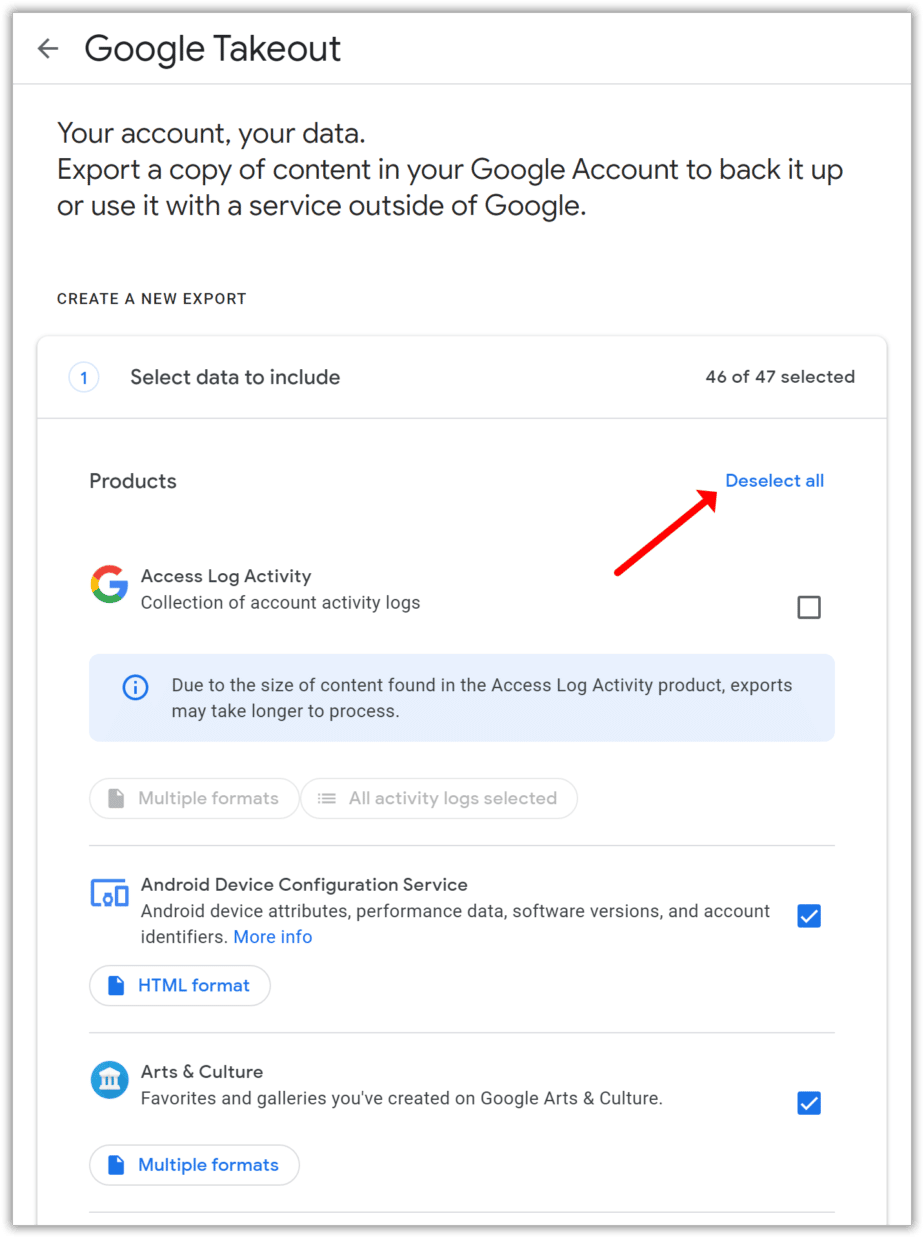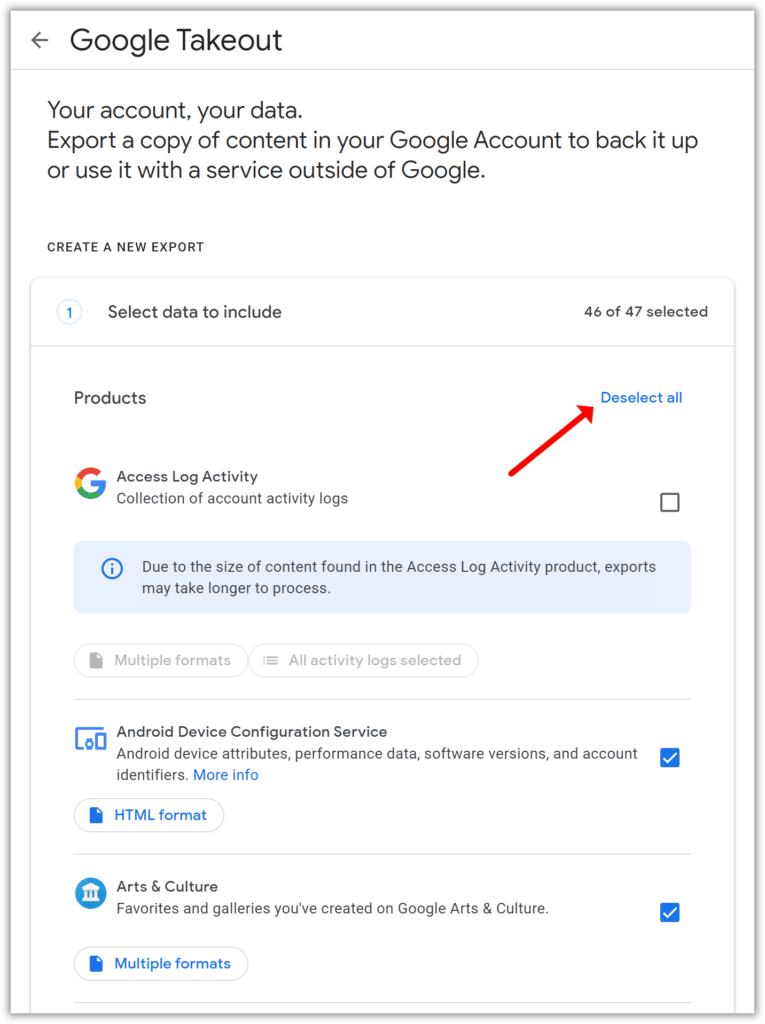 Step 2. Enable Mail export option
Scroll down to find and enable the Mail group and enable the checkbox for the Mail export. Your Gmail messages and attachments to be exported into single MBOX file (mailbox file).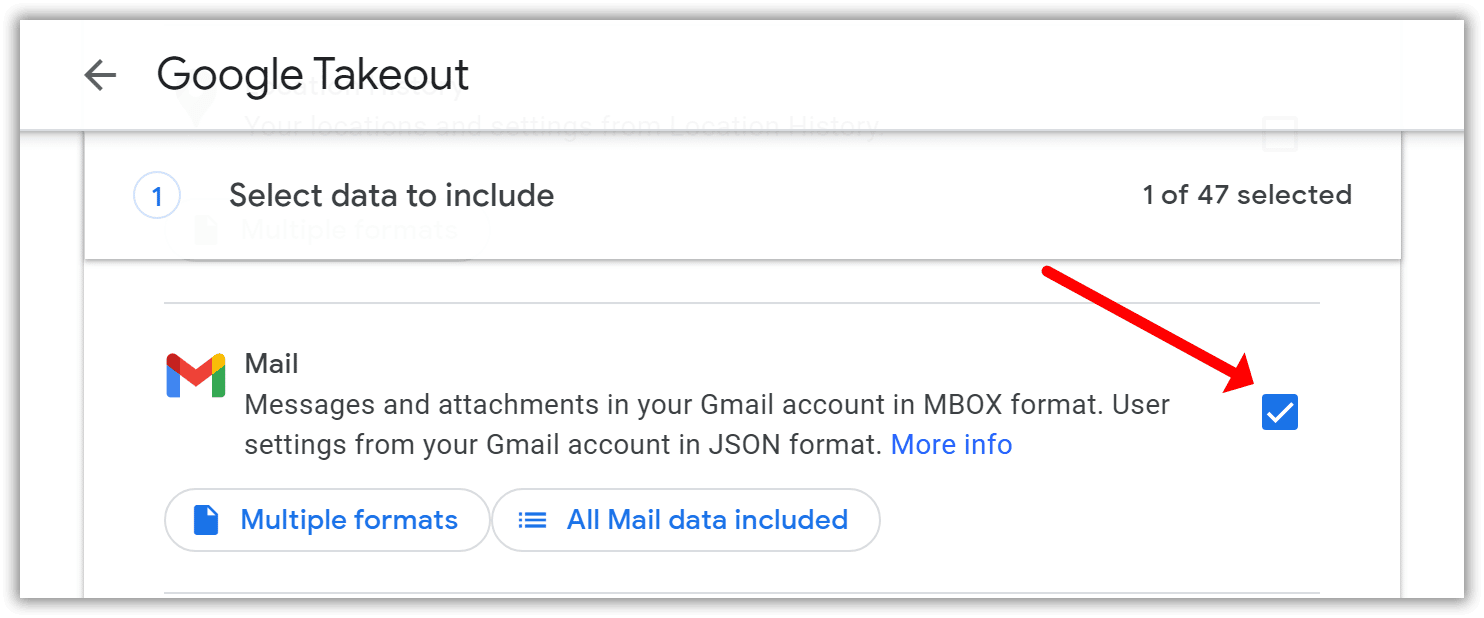 Scroll down and click "Next step" button to proceed to the next step.
Step 3. Configure the output options
"Choose file type, frequency & destination" page will appear. There is nothing to change here, however you can select an alternative output file format (ZIP is used by default) and the preferred delivery method (download link sent to your email or the resulting file saved to your Google Drive, Dropbox, One Drive or Box account).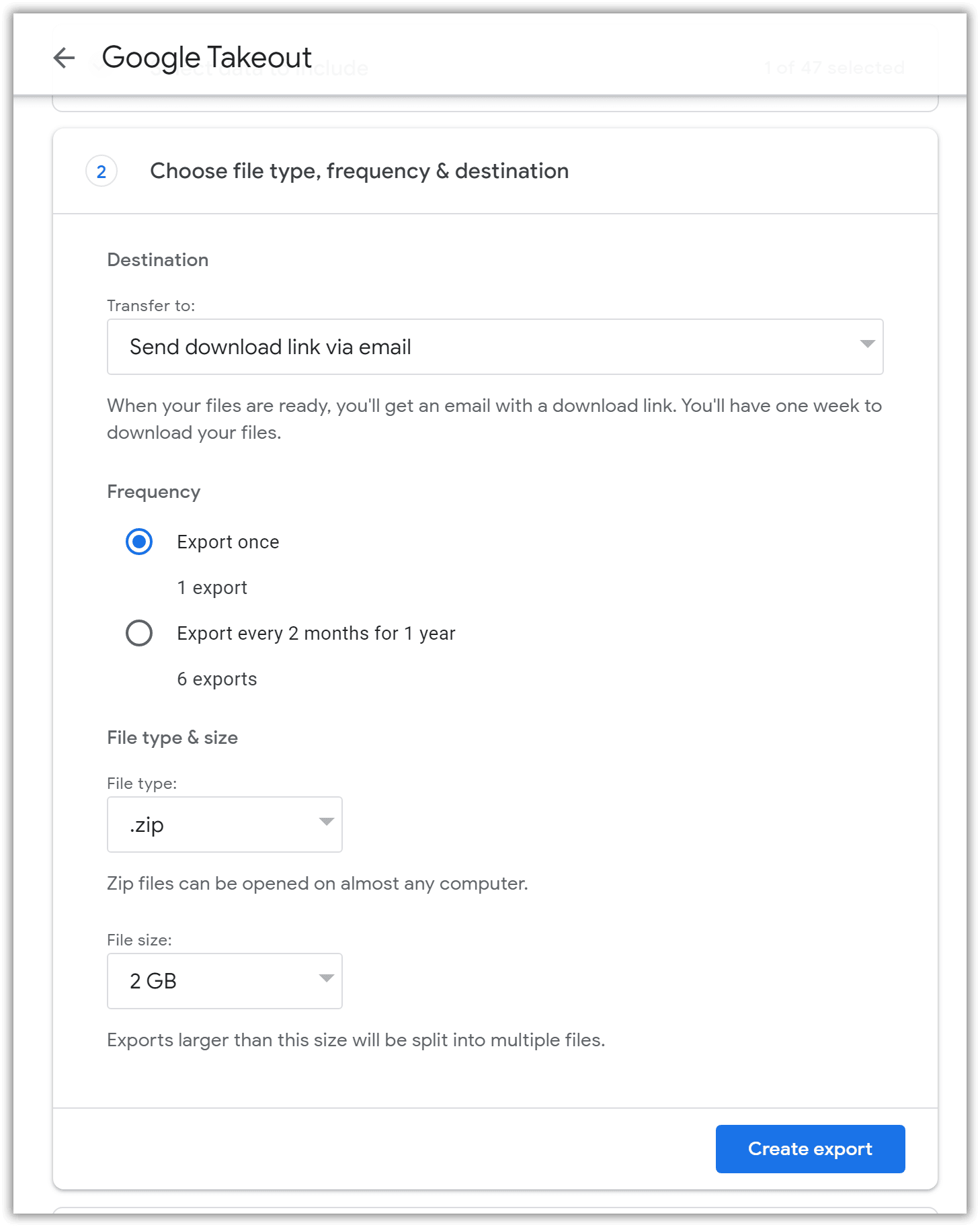 Step 4. Create export task
Click "Create export" to start data extraction. Please note that depending on the number of emails being extracted and their size, among other factors, this process may take as long as several hours. Once done, the Takeout service will save the contents of your mailboxes to an MBOX file ready for further processing and compressed into a ZIP archive for ease of downloading.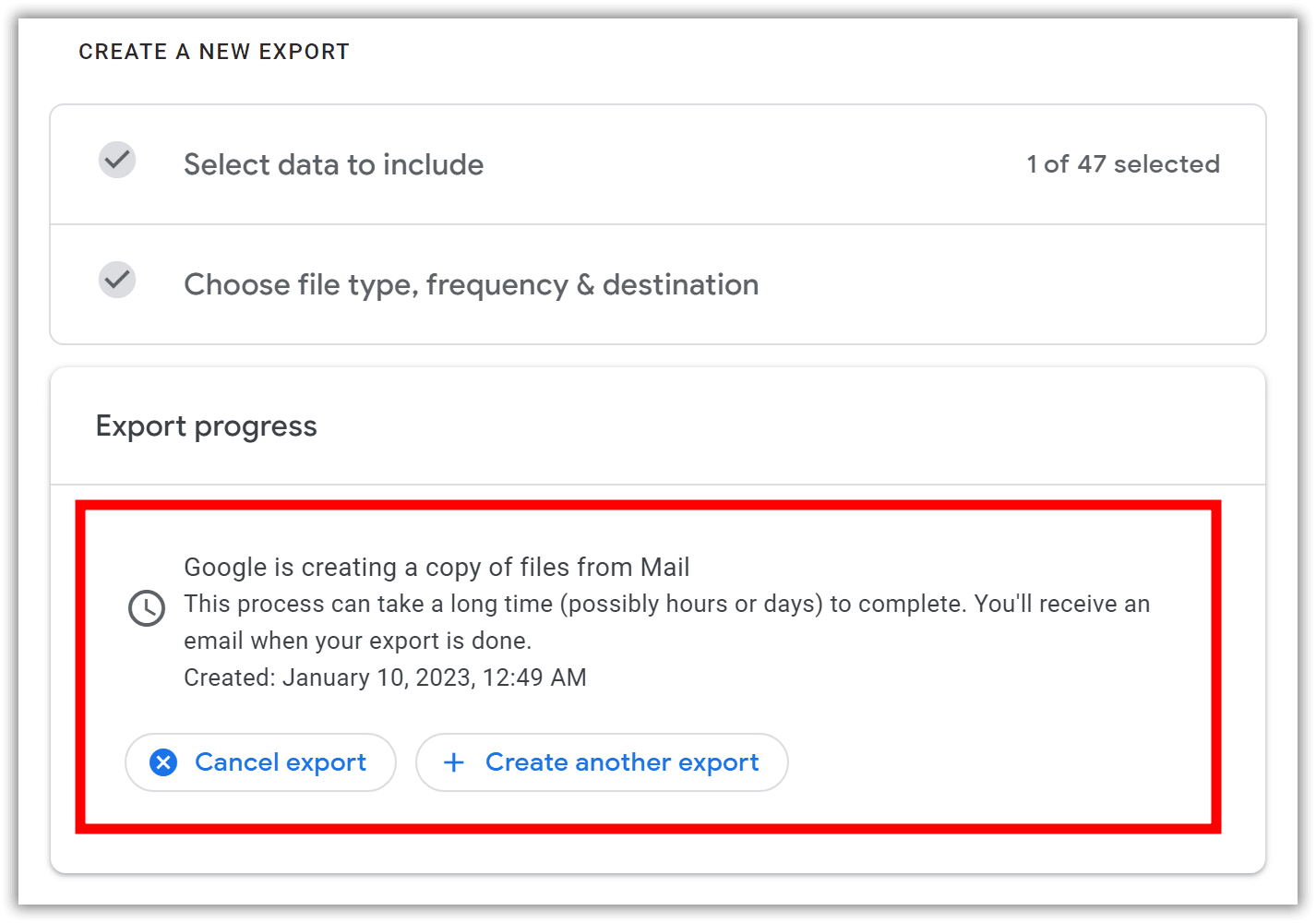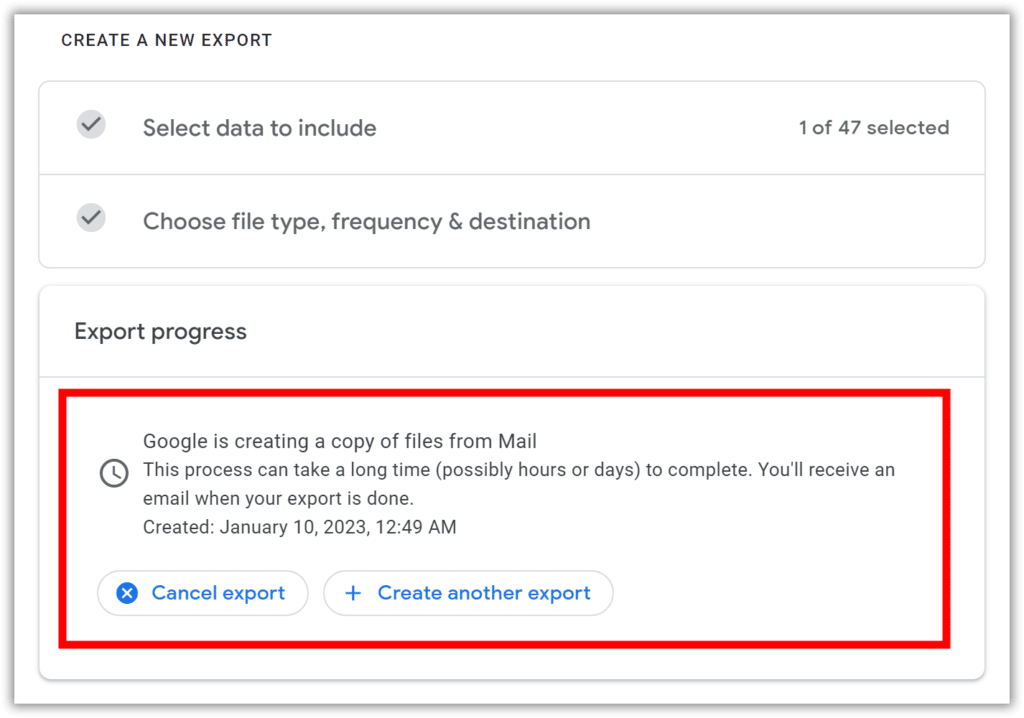 Step 5. Download your Mail from Gmail account
If you selected the download link option, you will shortly receive an email containing a link to the generated ZIP archive. If you chose to have the file uploaded to your Google Drive, you will find it there after the service completes data extraction. Download your files. Now, you are ready to migrate between the systems.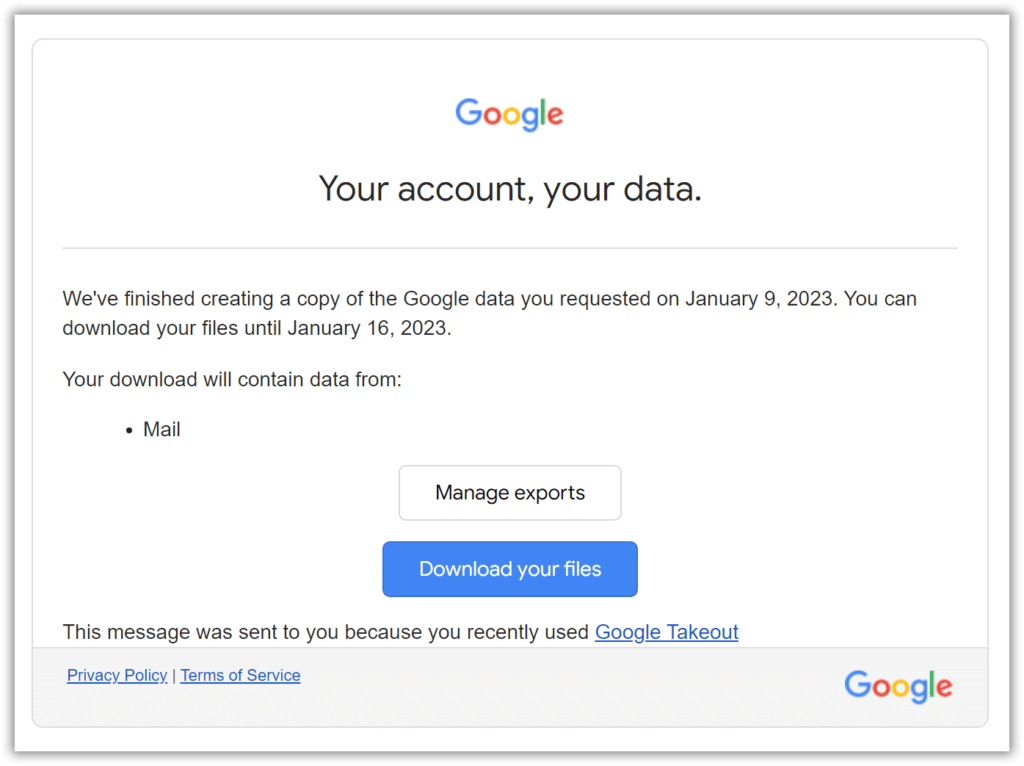 Once you have your email archive, you need to download and unpack it to a folder on your hard drive. You are now ready to start converting your data using Gmail to Outlook Transfer.
Email conversion
Now that you have successfully extracted and downloaded your emails, you can proceed to data conversion and export Gmail emails to Outlook. Note that email conversion will not work if Outlook is not installed on your system, since some of its components are used by the program for saving data.
* - The unregistered version converts a limited number of messages
Step 1. Select the Source Folder
Download Gmail to Outlook Transfer software, setup and run it. Select the source folder by clicking the "…" (Browse) button. This will open the standard folder selection dialog. Select the folder containing the MBOX file(s) you exported from Gmail and click OK button.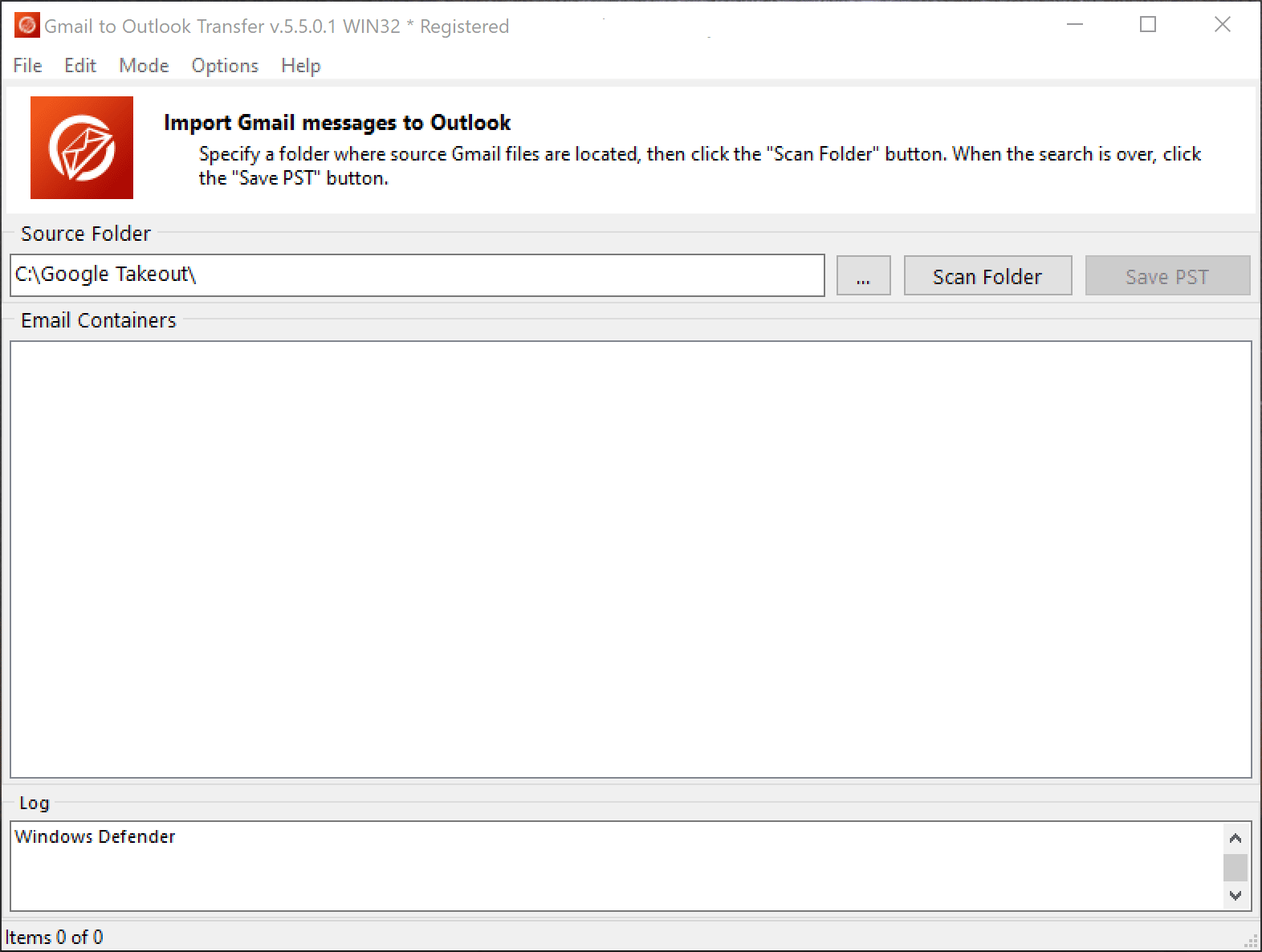 Step 2. Scan the Source Folder
Click the "Scan Folder" button. The program will search for MBOX storage file(s) in the selected folder and show them in the list below.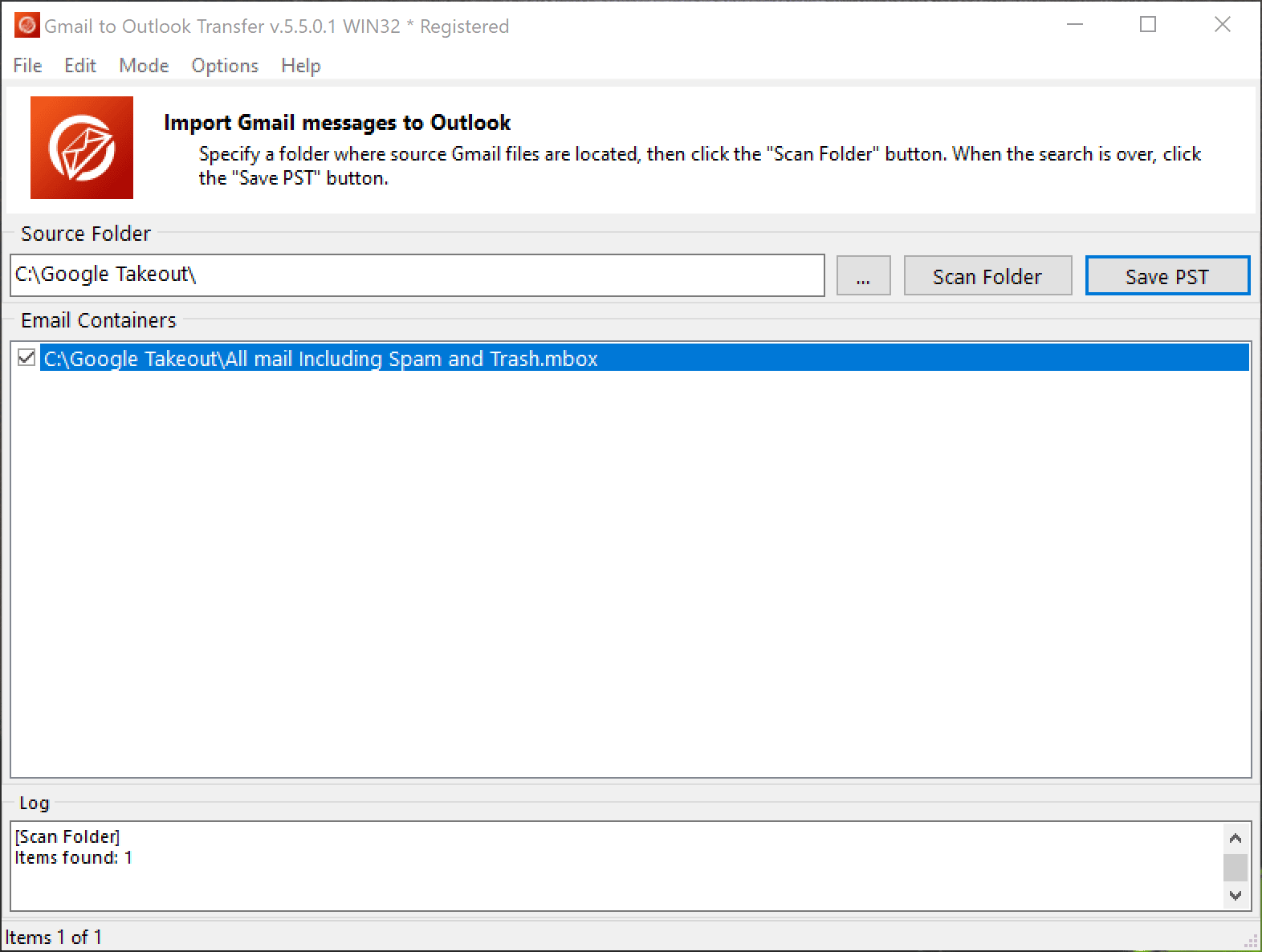 Step 3. Save Gmail messages to Outlook PST file
Select the MBOX file and click the "Save PST" or "Import" button. The program may ask you to temporarily disable your anti-virus software to avoid potential problems. Click OK to accept and move forward. The program will open a folder selection dialog that will let you specify the destination Outlook folder for your data. Select an existing one (for example Inbox) or create a new one using a corresponding button, then click OK to start the conversion of Gmail messages.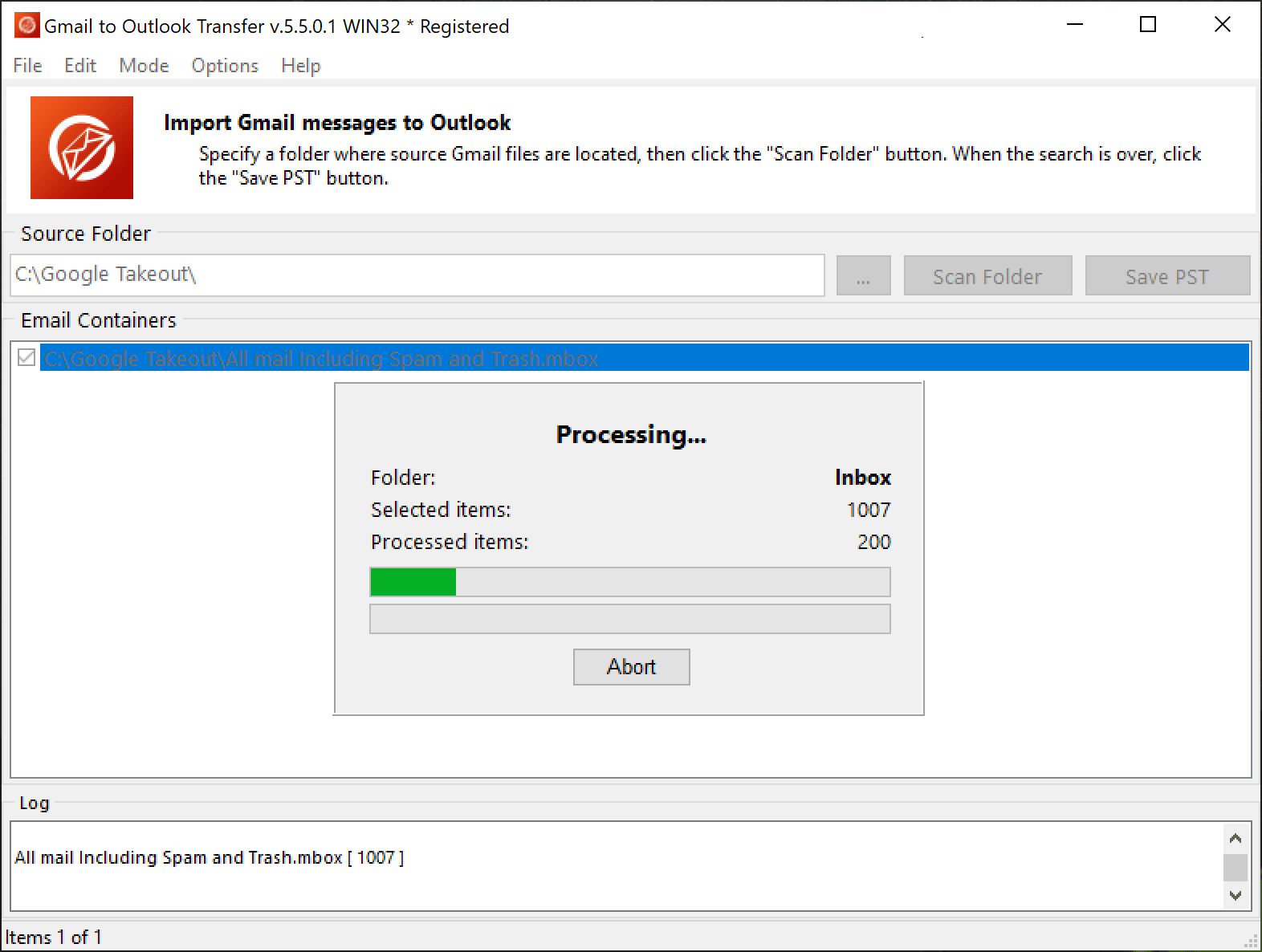 Watch the program save your emails to the selected folder.
If you choose to convert messages to a standalone PST file, you will only need to specify the name of the file on step 3. The rest of the necessary actions are essentially the same.
Program Options
Take a look at the main menu. Two of its sections – Options and Mode – contain options and settings that directly affect the conversion process. The Options menu consists of the following items:
Check that email client is running

– if this option is enabled, the program checks if

Outlook

is running and asks the user to close it to prevent possible data access conflicts.

Remind to disable antivirus

– if you uncheck this option, the program will no longer warn you that all anti-virus tools must be disabled during data conversion, since they may affect the result or make conversion impossible altogether.

Use internal format processor

– enabling this option will instruct the program to use a proprietary mailbox data file parser that often may produce better results than the standard one (available after contacting the support service).

Prompt to select the Outlook profile

– enable this option if you want to be able to select the

MS Outlook

profile that your data will be saved to.

Target Outlook folder [Prompt to select the Outlook folder; Inbox]

– defines the destination folder for converted emails. Can be set manually every time or be set to

Inbox

automatically for all converted folders and emails.
The Mode menu contains only two options and lets you specify where exactly your files should be saved to – either directly to Outlook (Import to Outlook) or a standalone PST file (Save to PST file).
Gmail to Outlook Transfer is a fast, reliable and highly intuitive tool for anyone looking for a way to convert an online mail archive to Microsoft Outlook. The software supports all major versions of MS Outlook, including 32-bit and 64-bit editions, and comes with a free demo version that limits the number of items imported per session.
Read also:
Other Tutorials
---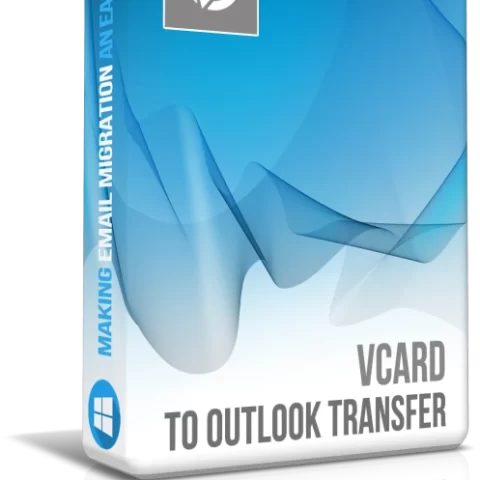 vCard to Outlook Transfer – User's Manual Transfer of contacts from one system to another may seem like a complex task from the first glance – and it truly is,…
---
Entourage to Outlook Transfer – User's Manual In this short article, we will try to cover the process of transferring emails from Entourage to Outlook in as much detail as…
---
Although data conversion and email migration are usually perceived as complex tasks that require a great deal of knowledge and experience, specialized tools make it something that even novices can…
---
IncrediMail and Thunderbird email clients are using the different formats to store emails. You have to use the file format accepted by both applications to perform the IncrediMail to Thunderbird…
---
Turnpike to Outlook Transfer – User's Manual Turnpike to Outlook Transfer is a conversion tool designed to facilitate the export of emails messages stored in containers of the Berkeley mailbox…
We are sorry that this post was not useful for you!
Let us improve this post!
Tell us how we can improve this post?