MSG to Outlook Transfer – User's Manual
Even though "email conversion" may sound technical and complex, it is a fairly simple routine if you have the right tool at hand. Conversion and importing can be easily automated, and this is what MSG to Outlook Transfer was designed for. The program is a compact tool that can bulk import MSG files from user-defined source folders and transfer them to a specified MS Outlook profile or a PST file.
Hassle-free email conversion!
Instant solution to convert MSG files to Outlook PST format or import MSG files to Outlook profile. Download MSG Converter and start your hassle-free MSG migration now!
MSG

File Format and Program Capabilities

The MSG format is the native Outlook data format for storing messages with attachments, contacts, tasks, and other types of objects. MSG files can be binary (if generated by MS Outlook) or text-based (if saved in The Bat!, Zimbra or PMMail 2000). The tool supports both types of file format, and allows the user to choose between the two. You can import MSG files into Outlook using a corresponding command found in the main menu.

The key advantage of MSG to Outlook Transfer tool is its ability to convert multiple MSG files into Outlook on their own and do it a lot faster than it would normally take without this tool.

Created for the widest audience possible, the program has a user friendly interface that even novices can use without any problems. Let's see how importing MSG file to Outlook goes.
Preparing data to import MSG into Outlook
To be able to import MSG into Outlook, you should prepare the source data.
Make sure the files are located in a single folder (you can create a new folder for convenience) and sorted by subfolders, if necessary. Make sure you know the format of your MSG files. MSG files generated by Microsoft Outlook, are in the binary format. If not, your MSG files are text-based.
Step-by-step Guide on How to Import Multiple
MSG

files into

Outlook

:

Download and install MSG to Outlook Transfer and register it if you have an activation code.
However if you don't have it you may use the software in free trial mode.

* - The unregistered version converts a limited number of messages

Steps to import msg files:
Launch the

MSG

files conversion program

Select the folder where MSG files you want to import are

Click the browse button (with three dots) to open the standard folder selection dialog. Navigate to the folder containing the source files you want to import and confirm your selection. The path to the folder will be displayed in the source folder field in the top part of the window.

Scan the selected folder for MSG files.

Click the "Scan Folder" button to populate the list of MSG files in the "Email Containers" viewer area

Adjust the MSG file format (optional)

If you are sure that the files you are converting were exported from Outlook, it means that they are in Outlook's native binary mail message file format and you don't need to change the program settings. If the source files were generated in The Bat! or PMMail 2000, Zimbra, they are text-based, and you need to switch the program to a corresponding processing mode by enabling the "Use internal format processor" option in the program menu.

At this point, you may want to check out the following options:

Check that email client is running – if enabled, check if MS Outlook is running and asks you to close it to prevent potential issues while you import MSG files into Outlook.

Make sure to disable antivirus – if checked, the program will warn the user that all anti-virus products like Norton or Kaspersky must be closed or temporarily deactivated during MSG into Outlook conversion. Otherwise, they can interfere or even block the process.

Use internal format processor – if the option is enabled, the program will use the internal data file parser designed for binary MSG file content. Otherwise, the program treats MSG files as text message files.

Correct Email Encoding (Mac/Unix to Win) – when enabled, this option will ensure full readability of emails originating from non-Windows systems.

Prompt to select the Outlook profile – this option enables you to select the destination Outlook profile for your data instead of a separate file in the PST format.

Target Outlook folder [Prompt to select the Outlook folder; Inbox] – defines the default folder for converted emails. You can do it manually before every MSG file conversion or set it to "Inbox" for all future conversions.

The "Mode" menu of MSG to Outlook Transfer lets you choose the conversion mode: PST file or Outlook profile. Depending on your choice, the system will save the .msg files into Outlook PST or import them directly in to a designated Outlook profile.

Start importing MSG files

Now that you have configured the options, you can proceed to conversion. Click the "Import" button.
You may also see the Office configuration selection window at this point – just leave the setting unchanged and click OK to proceed

You will see a dialog for selecting the target Outlook folder for your exported data. Choose an existing one or create a new folder, then click OK to start the conversion process. This will import msg files into Outlook.
Notes on import MSG files into Outlook as PST files

If you chose to save data to an Outlook PST file, the process will be the same, except for the destination folder selection step – you will have to specify a folder on your hard drive or network instead of an Outlook profile.
How to Import MSG Files into Outlook with Attachments?
Open Microsoft Outlook application on your computer. Ensure that you have the necessary permissions to import MSG files. To keep your imported MSG files organized, it's recommended to create a new folder in Outlook. To do this, right-click on your email account name and select "New Folder". Name the folder appropriately. Navigate to the location on your computer where the MSG files are stored. You can do this by opening the File Explorer and browsing to the correct directory.
In MS Outlook Go to the 'File' tab in Outlook, select 'Open & Export', then 'Import/Export'.
In the Import and Export Wizard, select 'Import from another program or file', then click 'Next'.
Choose 'Outlook Data File (.pst)' and click 'Next'.
Click 'Browse' to locate the MSG files on your computer. Select the files and click 'Open'.
Decide how you want Outlook to deal with duplicates. You can choose to replace duplicates, allow duplicates, or not import duplicates. Click 'Next'.
Choose the newly created folder as the destination for the imported files. Click 'Finish' to start the import process.
Once the process is complete, check the newly created folder in Outlook. All the MSG files along with their attachments should be present there.Remember, while this manual method to import MSG is effective, it requires a certain level of technical knowledge. Where manual technique fails, consider using an automatic MSG to PST converter tool. These tools simplify the process and reduce the risk of errors.
* - The unregistered version converts a limited number of messages
How to import Contact Group from MSG file into Outlook
If you have separate files with Outlook contacts saved to MSG files, you can simply drag and drop them into the Outlook program. This is quick and simple, but not always reliable. While professional MSG file converter described above is. For manual transfer, open Outlook and the folder containing the files. Then,
Select multiple MSG files with contacts you want to convert.
Drag them into your Outlook folder called "Contacts".
That's it, contacts will be imported from your MSG files.
Import MSG files into Outlook via Drag & Drop Method
It is important to note that this method in most cases only works for individual msg files and not for entire folders containing multiple msg files. Additionally, it is recommended to ensure that the version of Microsoft Outlook being used is compatible with the msg format. Otherwise, the drag-n-drop method is a quick and easy solution to import msg files into Outlook.
Open the folder containing the msg files and open Microsoft Outlook.
Drag the desired msg file(s) from the folder and drop them into the desired folder in Outlook.
The imported msg file(s) will now be accessible in Outlook application.
Disadvantages of manual method
Manual conversion of multiple MSG files to Outlook can be a challenging and time-consuming task. This process requires a significant amount of time and effort, especially when dealing with a large number of files. One of the main drawbacks is the lack of efficiency. The drag-n-drop method commonly used for this purpose only allows you to import one MSG file at a time. This means that if you have hundreds or even thousands of MSG files, you would have to repeat the process for each MSG file individually, which can be extremely tedious and time-consuming.
In addition, the manual process lacks advanced features and customization options. This means that users cannot modify the process to suit their specific needs or preferences. For example, they cannot choose to import only certain parts of the MSG files or exclude certain types of data. Another major drawback is the risk of data loss or corruption. During the manual conversion process, there is always a chance that some data may be lost or corrupted, especially if the process is not performed correctly. This can cause significant problems, especially for organizations that rely on the accuracy and integrity of their data.
While you can import MSG files into Outlook manually, the manual PST conversion process is fraught with challenges and limitations. It is inefficient, lacks customization options, and carries the risk of data integrity corruption or even loss of imported outlook messages. As a result, users may want to consider other, more efficient and reliable conversion methods.
Conclusion
In conclusion, both automatic and manual methods provide effective ways to convert MSG files to Outlook. However, automatic methods are more efficient and less prone to errors, while manual methods require more technical knowledge. Choose the method that best suits your technical skills and time constraints.
The same instruction applies for Outlook 2010 and above versions. You can also use the Outlook PST converter to transfer Outlook emails from a separate PST file to other mail clients. Should you have any questions or problems converting some MSG file with our tool, please don't hesitate to contact our support team.
Hassle-free email conversion!
Instant solution to convert MSG files to Outlook PST format or import MSG files to Outlook profile. Download MSG Converter and start your hassle-free MSG migration now!
Frequently Asked Questions
Can I import multiple MSG files into Outlook with MSG to Outlook Transfer?
Yes, definitely! You can easily import MSG files into Outlook application even when it comes to hundreds or thousands of source MSG files.
Can I add desired MSG files into an existing pst file?
Yes. In our PST converter tool, you can either create a new PST file or add the imported msg emails into the existing pst file.
How long does it take to import MSG files to Outlook?
The overall time it takes to import MSG file depends on its size and the file format. If you want to import multiple Outlook messages, the conversion process takes from a few minutes to several hours, and in any way it takes much less time than it would take to import MSG into Outlook manually.
What Outlook versions does the program support?
MSG to Outlook Transfer allows you to easily import MSG files to Outlook regardless of its versions. Currently, the MSG to PST converter supports the following versions of Outlook 2016, 2013, 2010, 2007, 2003.
Will the importing preserve the existing folder hierarchy and mail folders?
Yes, the program carefully transfers the entire contents of your source MSG file with respect to the existing folder structure. Then, it can place the data to the desired Outlook folder in your profile.
Other Tutorials
---
---
Mbox to Outlook Transfer – User's Manual The primary goal of Mbox to Outlook Transfer software is to assist users in moving their emails from any email client supporting the Mbox format to…
---
Data Extraction Kit for Outlook is a powerful all-in-one tool for Outlook/PST email conversion, migration and data analysis. The product can be used for extracting emails and other objects from…
---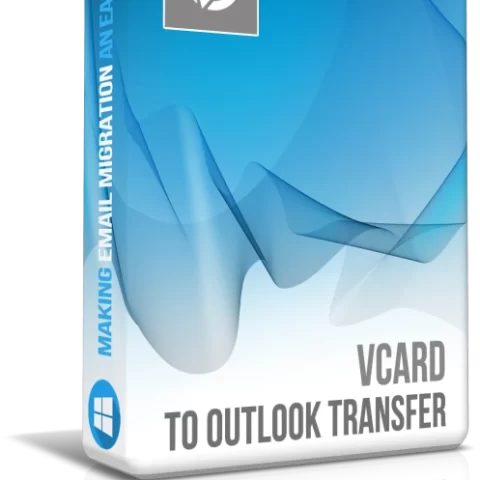 vCard to Outlook Transfer – User's Manual Transferring contacts from one system to another may seem like a complex task - and it can be if you do it manually.…
---
When it comes to managing large amounts of data in Outlook, one common issue that users face is the size limitation of PST files. PST files, which store all the…
We are sorry that this post was not useful for you!
Let us improve this post!
Tell us how we can improve this post?