Since The Bat! uses MBOX as the primary data storage format, it means that all emails created or received in this program cannot be carried over to Outlook directly and such migrations require specialized software for proper conversion and data transfer. Unfortunately, the MBOX format itself never managed to make it to an industry standard and every application using it for storage has its own implementation of the MBOX format, which means that you will likely need a program-specific conversion tool for every occasion.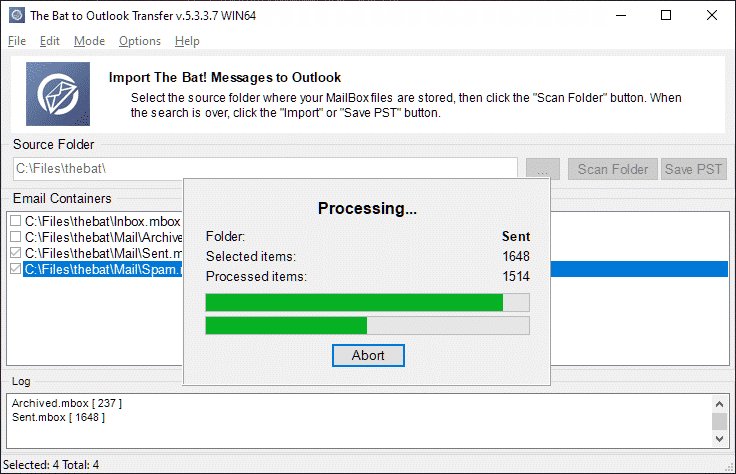 The Bat to Outlook Transfer utility is exactly this kind of tool. Created specifically for this particular MBOX subtype, the product saves a great deal of time and effort for users seeking a reliable method of moving their emails to Outlook. The Bat! to Outlook converter is based on an intelligent engine that takes care of message encoding, recreation of folders named identically to the names of source MBOX files, and ultra-fast processing of mail archives of any size. To make things easier for more advanced users, the product offers a number of conversion options that help fine-tune the result and achieve maximum accuracy.
Download for FreeFor Windows 32/64-bitBuy from $19.95Unlock all features
* - The unregistered version converts a limited number of messages
| | |
| --- | --- |
| Operating System | Microsoft Windows® Vista or higher |
| Microsoft Office | Microsoft Outlook® 2003-2021 (standalone) |
| Outlook Account | At least one Outlook profile (email account) should be configured |
| Source files | *.mbox (export from The Bat! as a Unix mailbox file) |
| Hard Drive Space | 48 MB minimum |
| Available Memory | 4 GB for 32-bit and 8 GB or more for 64-bit operating systems |
| Processor | Pentium IV 2 GHz or faster |
| Display | Color display, set to at least 1024 X 768 resolution |
The interface of the program is simplistic, lightweight and very intuitive, making it a top choice for users of all levels. It's a single-window User Interface with a simple menu and just a few buttons. Those who are not familiar with conversion tools of this sort will appreciate our detailed User's Manual explaining the basics of MBOX to Outlook conversion in different modes and the meaning of each option.
The target audience of The Bat! to Outlook PST converter spans from home users looking for a tool for one-time conversion on their own PC to corporate professionals performing migrations from The Bat! to Outlook on a fairly regular basis for dozens of users. The software helps convert email archives of any size without assistance from specialized services or experts to Outlook, saving users the trouble of spending time and money, which is especially important in busy corporate environments.
Tired of looking for a reliable and fast converter for

The Bat!

messages? Need a true no-brainer approach to

MBOX

to

PST

conversion? Try

The Bat! to Outlook converter

tool and your messages will get from A to B in no time!

The Bat! to Outlook converter software is built around a powerful engine created by leading developers of our company with years of experience in data conversion and recovery. The engine utilizes several algorithms working concurrently to ensure that highest conversion speed and quality of result. All messages remain fully readable after conversion, not matter the original encoding. As a rule, conversions can be performed with default options, but users who know what they are doing can modify them to achieve the result they need.
Download for FreeFor Windows 32/64-bitBuy from $19.95Unlock all features
* - The unregistered version converts a limited number of messages
Comparison of the trial and full version
| Software Feature | Free Trial License | Home License | Business License | Technical License |
| --- | --- | --- | --- | --- |
| Unlimited Number of Emails | NO | YES | YES | YES |
| Unlimited Number of Accounts | NO | YES | YES | YES |
| Command Line (Batch Mode) | NO | NO | YES | YES |
| Network Sources | YES | NO | YES | YES |
| Server side use | YES | NO | NO | YES |
| Renewal Type (by choice) | - | Manual | Manual & Auto | Manual & Auto |
| Renewal Discount | - | 10% | 20% | 30% |
| Number of activations (by choice) | - | 1-5 | 1-50 | Unlimited |
| Technical Support | Limited | Standard | Priority | Extended |
Ease of familiarization and use were the top priorities of the program's developers. It does not require any experience with other products of this type or special skills, which makes it a universal tool that can be used literally by anyone, from complete novices to professionals with a diverse IT background.
---
What users say about The Bat! to Outlook Transfer
What a fantastic tool! Outlook Transfer made the transition from The Bat! to Outlook a breeze. The software is incredibly intuitive and saved me hours of manual work. Thank you for creating such an amazing solution!

Emanuel Bright - California, USA
Outlook Transfer has truly simplified my life! With its seamless integration, I can effortlessly transfer all my important emails from The Bat! to Outlook. It's fast, efficient, and user-friendly. Highly recommend!

Marcin Drewko - Poland
It's a reliable and efficient tool that effortlessly transfers all my emails, attachments, and folders from The Bat! to Outlook. The interface is clean and straightforward, making the migration process a breeze.

Emil Tanukov - Bulgaria
---
Below are the highlights of
The Bat! to Outlook Transfer

:
A super-simple and lightweight UI with a minimum of control elements
Based on a powerful proprietary data conversion engine with best in class efficiency
Three output modes:

Outlook

profile,

PST

file and multiple EML files
Support of email archives of any size
Accurate conversion of email encoding for full readability in

Outlook

Users can select the destination

Outlook

folder before starting conversion
Full compatibility with all major versions of

Outlook

Ease of installation – no extra components required
Ease of uninstallation – the program is removed completely and leaves no traces in the system
No bundled software, ad- or spyware. You get what you pay for!
Compatible with all current

Windows

versions and editions, including 64-bit
The Bat to Outlook Transfer

is an absolute must-have for anyone seeking the ultimate

MBOX

to

PST

migration solution capable of efficiently solving the email migration problem and saving ample amounts of money in the long run.
What makes
The Bat! to Outlook Transfer

the best tool for the job?

T The Bat! to Outlook converter is the most affordable and easy-to-use tool on the market of email conversion solutions. Unlike many competitors, it boasts an extremely simple User Interface and offers a remarkably easy way of moving all of your emails from The Bat! to Microsoft Outlook. You don't need to worry about encoding, attachments, folder structure, message creation/receipt dates and such – the program will do it all for you!
The entire process consists of several easy steps:
Run The Bat! to Outlook Transfer tool.
Select the source folder containing The Bat! mailboxes.
Click Scan Folder button to find all subfolders.
Click Save PST button to save your data.
Open result PST file in Outlook and enjoy the result.
T The software offers end-to-end automation of the The Bat! to Outlook conversion process and the only thing you need to do manually is to export your data from The Bat! Home users that need a tool for one-time migration will definitely appreciate the simplicity of its MBOX import procedure, while the more advanced users who need to perform such migrations on a fairly regular basis will find it to be a real time and money saver.
We strongly recommend all users to download the free trial tool to convert The Bat! to Outlook PST format prior to purchasing a commercial license. The evaluation version is identical to the full version of terms of functionality (you will have access to all of the conversion options and modes), but limits the number of converted files per folder. Trying the free version first will allow you to see if the product meets your expectations and is a good choice for your needs. The free limited version be downloaded from the official download page here.
Alternative tools to import mail from The Bat! to Outlook:
Customer Reviews
Your comments, suggestions or ideas will be very valuable as we do not stop to make improvements to our software. Please feel free to post your rating and review about The Bat! to Outlook converter product using the button below. We really appreciate your feedbacks.
The Bat! to Outlook Transfer
Average rating:
2 reviews
Jan 28, 2020
Very accurate conversion.
I would like to thank those who created this software. I am not computer safe person but this software is easy to use and having a self explanatory user interface so I was able to use it without any problem. Unfortunately the program interface is English only, that's why 4 stars. But the result of conversion is perfect. Nothing was lost, all emails and folders were transferred from The Bat to Outlook without a glitch.
Jul 18, 2016
Great product It saved my life.
I used you software to import all my folders and messages from The Bat to Outlook. The Bat! to Outlook Transfer tool worked just like you said. Great product It saved my life. Thank You.