We've been working hard to get our software ready for the Microsoft Office Security update and we've got a new version of the importing libraries for you. Update your software today, as many of favourite features won't be supported in older versions.
New users will also notice that we completely redesigned the software activation procedure and key codes of our apps. This is the first step in a complete redesign, stay tuned!
The Outlook emails importing module is now a lot faster and as always, we worked hard to fix possible bugs and improve stability. Give it a shot and let us know what you think!
Outlook Transfer Benchmark
Some of outlook transfer software users asking us to provide the average benchmarking on emails conversion. We did some tests, please see the results below: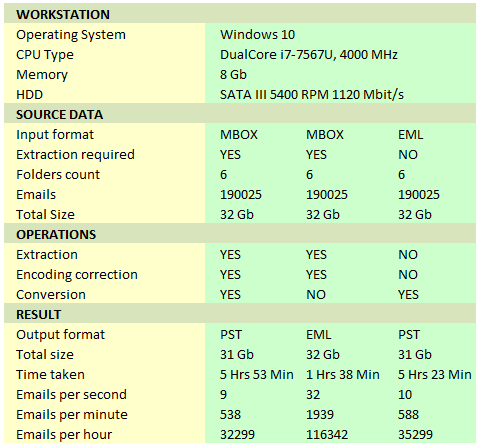 – the time of conversion for each individual email may warry depending on size of the email attachment
– conversion speed is dependng on other impacting factors such as amount of emails per Outlook folder and antivirus checks.
Enjoy the latest version on outlooktransfer.com
We are sorry that this post was not useful for you!
Let us improve this post!
Tell us how we can improve this post?