We would like to thank all of those who replied to our appeal for help. It really meant a lot to us. In order to provide a way to contribute updates and bugfixes, we setup a contact page, where you can submit your pull requests and point out bugs and other issues.
MSG file format detection
This release (v.5.2.2.3) includes a completely rewritten source mailbox detection module to handle MSG format recognition. Outlook MSG files are having the proprietary binary format however there is many email clients which exporting emails into textual MSG format or RFC 822 specification. It is nearly the same as to rename the usual EML file to MSG.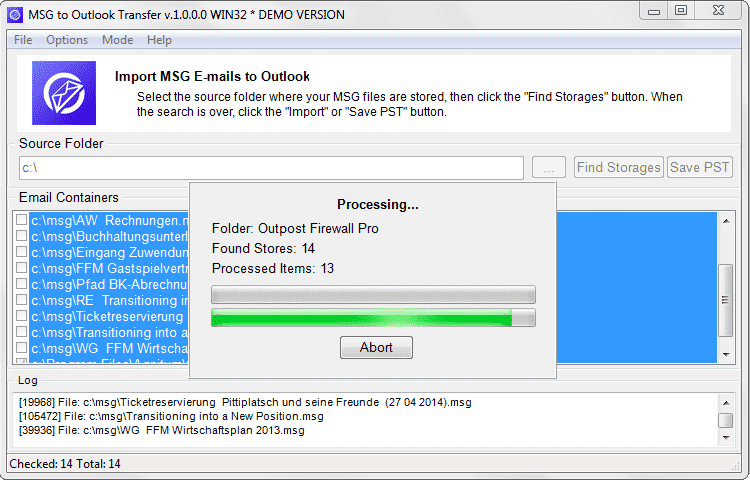 * - The unregistered version converts a limited number of messages
Now MSG to Outlook Transfer utility detects the source format of each MSG file automatically and imports them based on this criteria. This allows to import MSG files without need to digging into technical things like determining of file format manually.
Let us know if you notice anything out of the ordinary, and feel free to submit a pull request to fix any bugs you might find. If you would like Outlook Transfer products to do be equipped with extra options, please do not hesitate to submit your requests either via contact form to our support team. In the meanwhile, we will keep working on our documentation, videos and on polishing our code even more.
Other Updates
---
New release of Outlook Transfer software introduces the batch messages conversion to PST format with the support of command line parameters. This guide describing what is batch scripts and command…
---
This version of Data Extraction Kit for Outlook implements the "List of recipient email addresses", a new report that enables our software to export Outlook extract email addresses from a…
---
We've been working hard to get our software ready for the Microsoft Office Security update and we've got a new version of the importing libraries for you. Update your software…
---
All email importing tools were updated with new command line parameters allowing to pre-define the conversion options without needs to launch the software and pre-configure it. Additionally some So what's new…
---
In new version, importing gets even faster, and all tools introduce a new Outlook wrapper that makes importing of large quantities of emails much easier. (more…)
We are sorry that this post was not useful for you!
Let us improve this post!
Tell us how we can improve this post?