Sometimes, this mail client error may disrupt your work. It can appear at any moment. You may be creating or forwarding an email, checking your inbox, or replying to a message. "Microsoft Outlook not implemented" is no minor issue. It renders the system unusable. So, what does it mean, and what is the best Outlook not implemented error fix?
What Does Not Implemented Mean in Microsoft Outlook?
You may see this error message for different reasons. The most common culprits are corrupt configurations or system files, faulty add-ins, and aggressive antiviral defense. Here are three key methods that should help you with not implemented Outlook 2010 and the same error in other versions.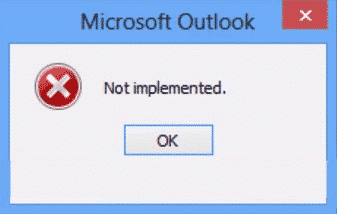 1. Fix Not Implemented Outlook Using Repair
First, initiate the Run window. This may be summoned with a combination of Windows Key + R. Alternatively, type 'run' in the search field of the Start menu.
In the window (or in the menu search field), enter the word 'control'.
Click OK to let the Control Panel open.
Access 'Programs and Features' by clicking the icon or title of the 'Programs' category. This opens the full list of apps installed on your machine.
Choose the mail client and click 'Change/Repair'.
The tool will present you with two options: quick and online. Try the former first. It can identify and fix installation errors fast, even offline. A web-based check takes longer, but it helps with more complicated problems. Once the process is complete, close all windows and try running Outlook again.
2. Fix Outlook Error Not Implemented With OS Reversal
Reverting to the older version is radical. First, check if the latest KB updates are to blame. Here is how you can do it.
Begin in the Start menu.
Open the settings for your computer.
Find the section for updates and security.
Choose the update in question and view its history.
Choose the uninstall option.
The latest update is not necessarily the culprit. Did the error occur before it was installed? Check the date and find the addition that may have triggered the error.
Still no luck? Now, version reversal looks reasonable.
In the same 'Updates and Security' section, open the tab for recovery.
Find the option which takes you back to the preceding version.
Launch the process and follow the prompts.
Restart the OS.
Run the mail client and see if the issue is fixed.
Sometimes, you may be unable to launch the reversal. In this case, the 'Get started' button is inactive. This means the update is too old to initiate a reversal. The system tells you that it was installed over 10 days ago.
3. Outlook Message Not Implemented Due to Antivirus
Sometimes, third-party software causes malfunctioning of the mail system. If this is the case, try temporary disabling. If the issue is solved, you should consider uninstalling the defense.
4. Outlook 2007 Not Implemented Due to Compatibility
Enter 'C:\Program Files\Microsoft Office\Office14' in your File Explorer. You will see the .exe file for the mail client. Right-click to access its properties.
Open the tab with compatibility options.
Make sure the boxes "Run this program in compatibility mode" and "Run this program as administrator" are empty.
Finalize with OK.
Alternative Solutions
These tips could help you remedy the issue with not implemented Outlook 2013. Fortunately, this problem is relatively uncommon, as it is tricky to solve. If none of the above works and the issue persists, try alternative methods. These include tweaking your Send / Receive Settings, editing your profile, and replacing the Outlook PST file. There are also automated third-party tools that can repair your system quickly.
More Knowledge Base articles
---
OST and PST are two of the major outlook data file formats. Essentially, they store information meant to be read or viewed in Outlook. While their primary purpose is to…
---
Connecting an email account to Outlook creates a local backup of that data on your PC. You may retrieve already downloaded or synced emails, calendar entries, contact information, and activities…
---
This quick TIP for those who want to convert their OST (Offline Storage or Offline Outlook Data File) to PST format without purchasing conversion software. This guide describes how to…
---
PST stands for Personal Storage Table.  Microsoft Outlook utilizes the file format to store email and other data in an easy-to-access form. Each computer and mobile device has its storage…
---
Table of contents: How to import Android contacts to Outlook using CSV file? Useful way to Export Android address book to VCF file How to Sync Android Phone Contacts With…
We are sorry that this post was not useful for you!
Let us improve this post!
Tell us how we can improve this post?