People using Microsoft Outlook calendar are mostly aware of how beneficial it is for managing meetings and daily tasks. However, this tool can perform more tasks than you may think. We've made some recommendations for making more from MS tool. So, let's start our MS Outlook tips and tricks.
Personalize Performing Tools

MS Outlook displays plenty of methods to personalize your calendar`s look. Most of them are accessible through the "View" and dialog options.
For instance:
1) In order to consider the incorporated performing options, you have to reach them by pressing "View" –  "Arrange By" – "Current View"
Furthermore, you can select from various extra options as Active Appointments, Events, etc. You can additionally personalize views by the "Customize Current View" menu (changing fonts, displaying meeting finish time, showing clocks, etc.). Moreover, you are able to add your own alternatives using the "Define Views" menu tab.

2) Now it is possible to personalize your working schedule by showing or hiding week numbers, changing background shade, etc. In order to do this, click "Tools"- "Calendar Options".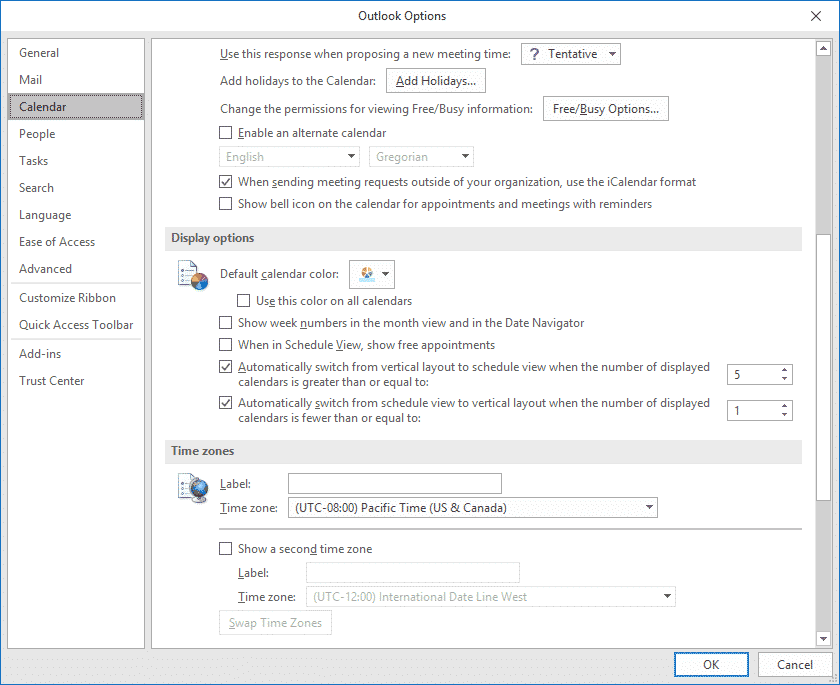 Perform Non-Contiguous Dates
If you wish to personalize your Windows 10 Outlook Calendar to perform non-contiguous dates you primarily have to ensure that the "Navigation pane" is performed via pressing "View"- "Navigation Pane" from the menu. Press Ctrl+Click to multi-select dates in upper Left corner.
Printing the schedule
Printing working appointments may be useful if you need to have the schedule by your side. It is easy to perform if you know exactly how to do it quickly. The guidance is already here:
Choose "File"- "

Print

" from the basic menu;

Decide on the Style and Periods;
Include or delete the personal appointments;
Configure other printing variations, and click "Print".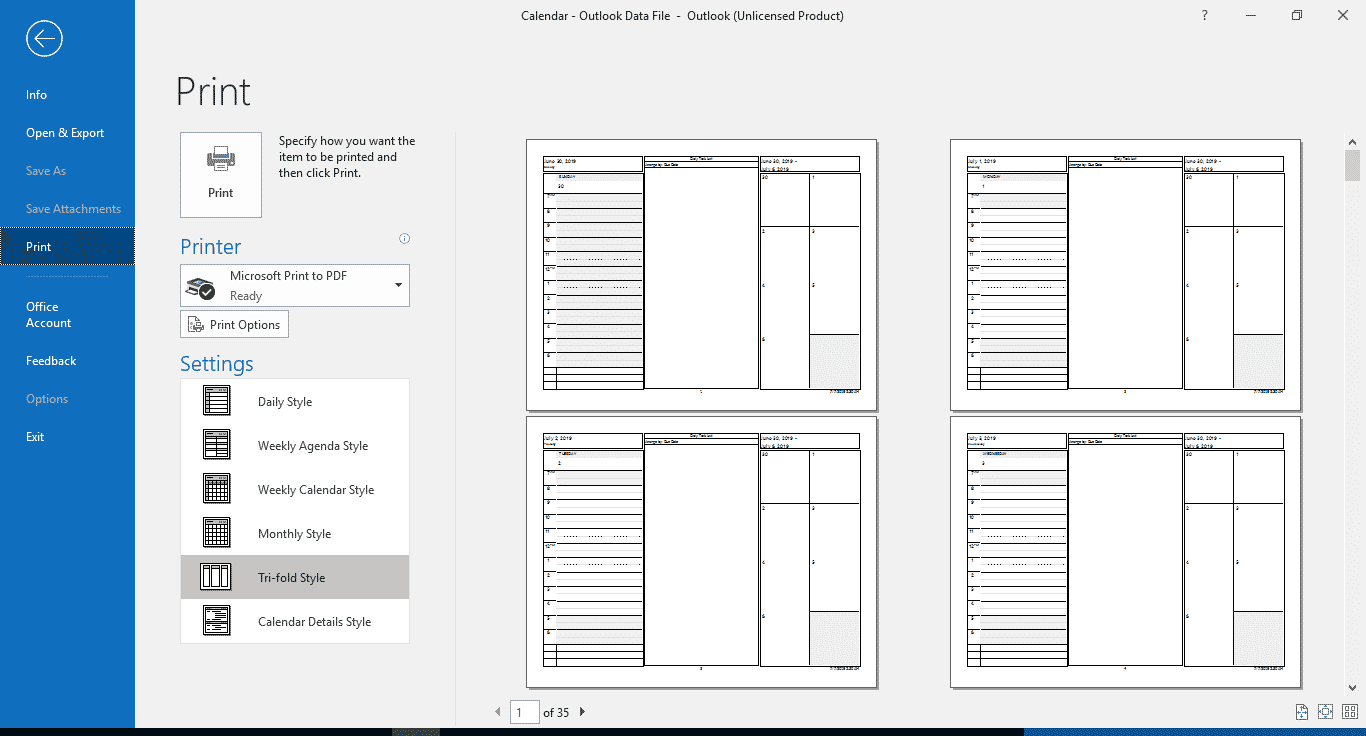 The same procedure applies if you wish to print Non-Contiguous Dates.
Printing a Clean schedule
Following the basic option to reprint the daily schedule, you are able to print an additional clean blank. It may contribute your work if you plan further projects, make notes or simply try to manage your time.
In order to print it, press "File"- "New"- "Folder" from the menu.

Insert the name for the folder, select "Calendar Items" in the "Folder Contains" list, and confirm the destination.
Press "OK" to make the new folder.
Press "Go"- "Folder List" from the basic menu or press Ctrl+6 keys combination, and choose the folder you just made. (Folder List enables the view of all Outlook folders as a simple list.)
Click "File"- "Print".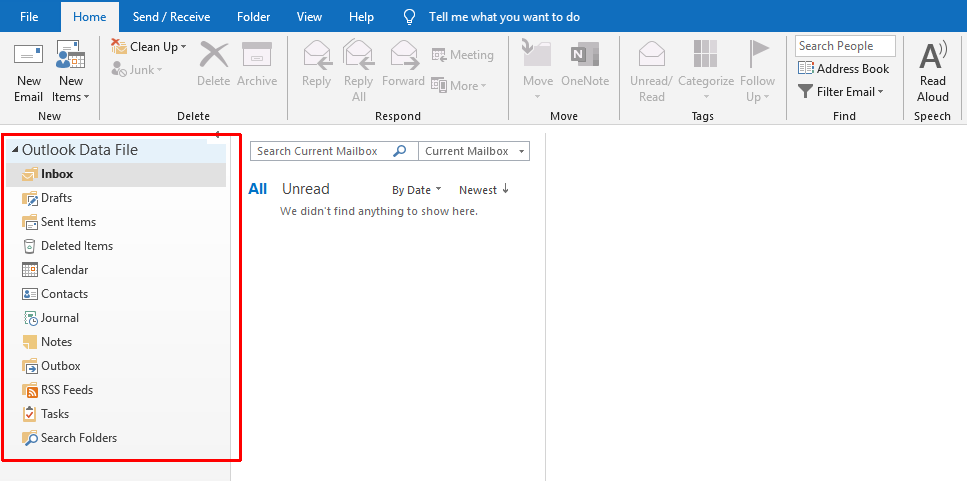 Add Your Calendar to another format
MS Outlook additionally allows exporting your private information to numerous formats, which include Access, Excel, etc. It is simple to perform by following the scheme:
Select "File"- "Options" – "Advanced" – "Export to" and  launch the import/export wizard;

Insert the

suitable format;

When the "MAP CUSTOM FIELDS" button opens,

press all or click the fields to export.
Or Use standard Open & Export menu: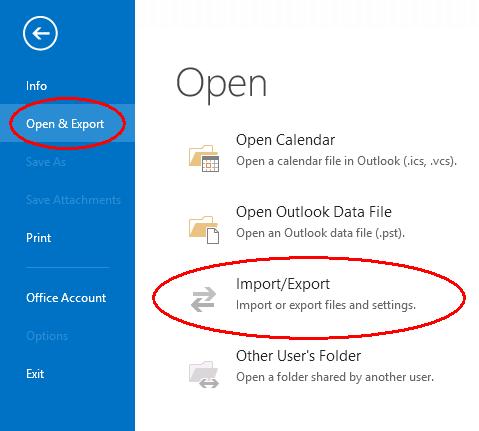 Skip to a Certain Date
If you want to easily skip to a certain date, click "Go"- "Go to Date", or press Ctrl+G  combination to open the Go To Date dialog.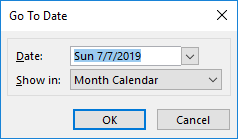 Choose the day you wish to skip to or insert text describing the day. For example, insert "The first day of spring", or "4th of June", or even "Christmas Eve" to move there.
In order to move back to the current day, press "Go" – "Today", or choose the "Today" tab on the toolbar.
Sharing your schedule
People who use MS Exchange Server are able to share their schedule with other users. In order to do it:
Press "Share Calendar" on the Navigation Pane. It opens the Permissions tab.

In the "Name" box, click "Default", and choose the permitted level to use by default.

Press "Add", – "Add Users".

Review the permissions, and customize them if necessary.

Automatic reservation
If you received a letter about booking a flight, hotel or car, the tool automatically includes it to your agenda. You can use other events, such as accounts for invoices and lunch reservations, which are added to the schedule by changing the Event configurations.
At the top of the page, select "Settings"- "View all" Outlook Options. Select "Calendar"- "Events from email".

Perform one of the following actions:
To enable email events, select the check box next to "Automatically add events to my calendar from email".

To specify which events to add to the schedule, select the check boxes in the fields Flight, Room Reservation, Car Rental, and Package Delivery, Table Reservation, Event or Account.
All events received from messages are entitled as private by default and only visible to you. You can make your events accessible to the public by unchecking the Mark events as private checkbox so that they are displayed only for me.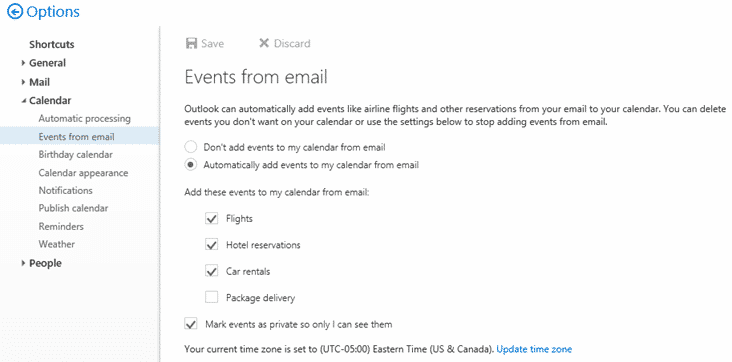 Conclusion
We believe that these simple MS calendar tips will make your Outlook experience more beneficial. If you still have anything to ask or just curious how to use Microsoft Outlook calendar feel free to do it in comments.
Read also:
More Knowledge Base articles
---
Email migration is a process of transferring emails and other data from one email platform to another. One of the most common email migration scenarios is moving from a different…
---
An MBOX file is a mailbox format that stores email messages one after the other as a plain text. Each individual message within mbox file stored in EML format. So…
---
Outlook is a widely used email client, which is professionally developed by Microsoft. It offers many advanced features to its users, such as emails, calendars, tasks, contacts, notes, and many…
---
Outlook is a popular email client used by millions of users worldwide. It is widely used by individuals, businesses, and organizations to manage their emails, calendars, tasks, and contacts. However,…
---
As a Microsoft Outlook user, you may experience the "Errors have been detected in the file xxx.ost" error message. This situation can be frustrating and confusing, especially if you rely…
We are sorry that this post was not useful for you!
Let us improve this post!
Tell us how we can improve this post?