New version of Outlook email forensics reports is here!
Report called "E-mail properties from Outlook Profile (*.csv)" now allows to select the source Outlook profile for data extraction. Earlier users were able to extract data from default Outlook User Profile only.
Excel reports now support Unicode, it makes the email forensics reporting available Worldwide
We have fixed the logical mistake when the option which allows to disable processing of nested folders affected the reports execution. It should work only for exported data. However we are planing to add the similar option for forensic reports later.
New report: "Items count per Outlook folder" report allows to create the text listing or Excel file containing the name of all folders and subfolders with count of items inside each folder. Currently this report is available in demo version also.
Bug fix: Dialog that don't allow to save data to the non-empty directory was reconfigured. Now user may select if they still want to use the selected directory, or they would like to change the target directory. User may also cancel.
Please don't hesitate to contact us and let us know if you have an idea or suggestion on how to improve the functionality of Data Extraction and Email Forensics tool.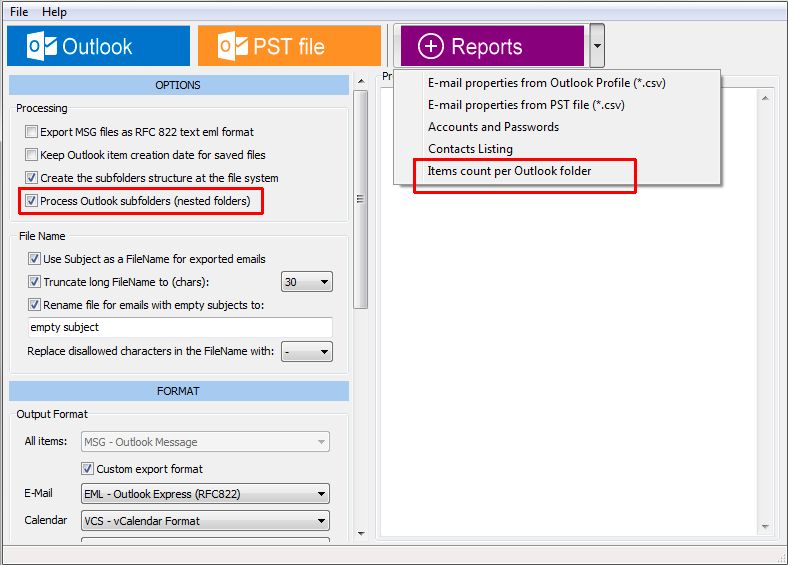 Other Updates
---
New release of Outlook Transfer software introduces the batch messages conversion to PST format with
Read more
---
This version of Data Extraction Kit for Outlook implements the "List of recipient email addresses",
Read more
---
We've been working hard to get our software ready for the Microsoft Office Security update
Read more
---
All email importing tools were updated with new command line parameters allowing to pre-define the
Read more
---
In new version, importing gets even faster, and all tools introduce a new Outlook wrapper
Read more
We are sorry that this post was not useful for you!
Let us improve this post!
Tell us how we can improve this post?