New version of Outlook Extractor is here!
New option: "Process Outlook subfolders (nested folders)"
Bug fix: old windows produced error: "FileOpenDialog requires Windows Vista or later."
* - The unregistered version converts a limited number of messages
We have fixed one critical bug that appeared on old Operating Systems. Users were unable to select the output folder due to error stated "OpenDialog requires Windows Vista or later.". New version shows Directory Selection dialog according to the OS version and it is not interrupting the work of the program.
We continue to improve the Outlook Data Extraction Kit functionality and so we added an new option which allows to process only topmost Outlook folder i.e. only selected one. When option "Process Outlook subfolders (nested folders)" enabled the program will export/process all subfolders inside the selected folder. If option unselected the tool will ignore all nested subfolders and process only selected folder.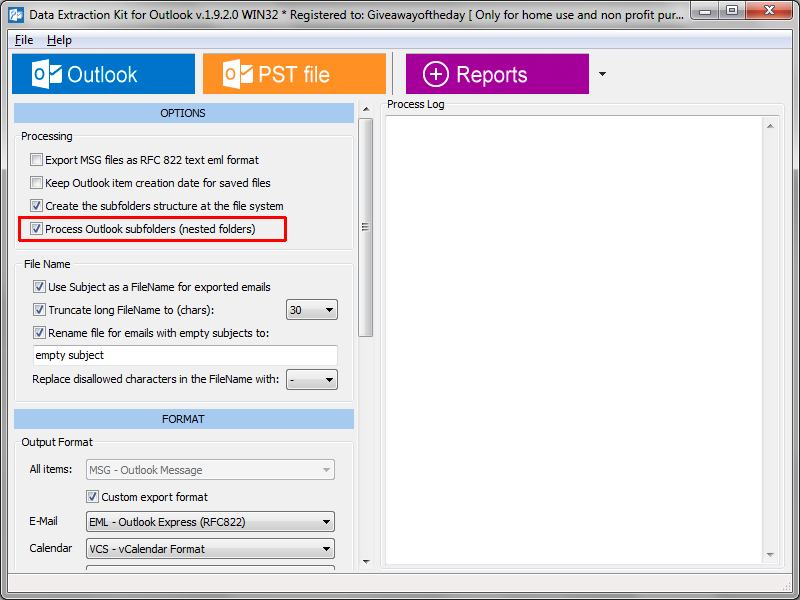 Other Updates
---
New release of Outlook Transfer software introduces the batch messages conversion to PST format with the support of command line parameters. This guide describing what is batch scripts and command…
---
This version of Data Extraction Kit for Outlook implements the "List of recipient email addresses", a new report that enables our software to export Outlook extract email addresses from a…
---
We've been working hard to get our software ready for the Microsoft Office Security update and we've got a new version of the importing libraries for you. Update your software…
---
All email importing tools were updated with new command line parameters allowing to pre-define the conversion options without needs to launch the software and pre-configure it. Additionally some So what's new…
---
In new version, importing gets even faster, and all tools introduce a new Outlook wrapper that makes importing of large quantities of emails much easier. (more…)
We are sorry that this post was not useful for you!
Let us improve this post!
Tell us how we can improve this post?