Microsoft Outlook is a convenient means of information exchange. People use it for business, as well as personal correspondence. Aside from email-sending, it provides the feasibility to store contacts' list, calendar, and keep track of agendas and meetings. Remaining mostly the software for emails' exchanging, Microsoft Outlook 2016 provides plenty of functions so that users could enjoy the full extent of features.
In particular, you may need to move your emails from one account to another, from a PC to Mac or vice versa, as well as want to store them on a hard drive. This is when pst files come in handy. To fulfill these actions, a user should know how to export and import pst file in Outlook 2016 or other versions.
What is a pst File: Starting with the Basics
To quickly understand how exporting and importing take place, it is better to start with the comprehension of an Outlook pst file. These three letters stand for a personal storage table. That is the type of file where everything you have got in Outlook is saved and kept — emails, attachments, contacts, appointments, notes etc. Hence, .pst is an Outlook file extension. Once an account is created, this file automatically appears on a PC drive.
An Outlook pst file location in Windows 10, for example, is:
go to Drive (Usualy C:\) ➨ Select the folder Users ➨ choose the username ➨ Documents ➨ Outlook Files.
C:\Users\Cloud\Documents\Outlook Files\
As for previous versions of MS Outlook and Windows:
go to Drive (Usualy C:\) ➨ Select the folder Users ➨ choose the username ➨ AppData ➨ Local ➨ Microsoft ➨ Outlook.
Even if you don't know where it is located, knowing how to open .pst files can help you with this. Just click on File, then go to Open & Export ➨ Open Outlook Data File. Select the PST file to open and confirm the opening. Usually, the software should open it automatically, however, this depends on how Outlook has been configured.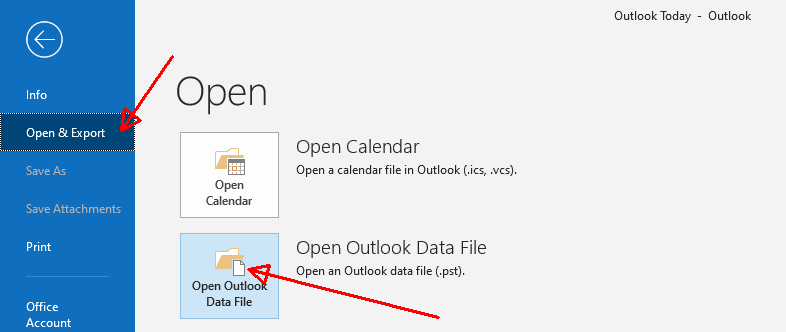 How to Import a pst File in Outlook 2016: Several Easy Steps
An Outlook file can be shared, saved on a hard disc or exported to another device contingent on what a user wants. Most often, this function is needed when a user decides to transfer all data to his/her newly acquired MacBook. So, knowing how to import pst file in Outlook for Mac 2016 makes it possible to change a PC with little discomfort.
Get Ready for Importing
Before importing, it is necessary to export contacts and/or emails:
On your Windows, open the Microsoft Outlook software.
Press on the tab File ➨ choose Open & Export.
Select Import/Export ➨ the wizard for importing & exporting will appear.

Choose Export to a File ➨ Next.

In the window that appears, click on a data file with .pst extension ➨ Next ➨ select a folder/folders for exporting.
Choose the location where an exported file will be stored and check the provided choice of options regarding duplicates ➨ Finish.
If you have exported all the emails, knowing how to import pst file in Outlook 2016 including folders (.pst) is not a question anymore. The procedure is the same. The only difference is choosing the function Import in the wizard that appears.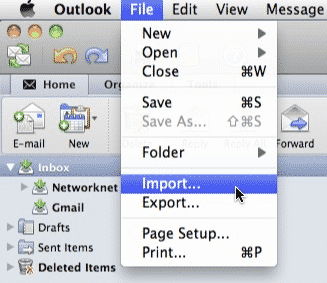 Hence, the steps on how to import pst file in Outlook 2016 Mac are alike. Open the Outlook application on a Mac, press on the menu File ➨ Import.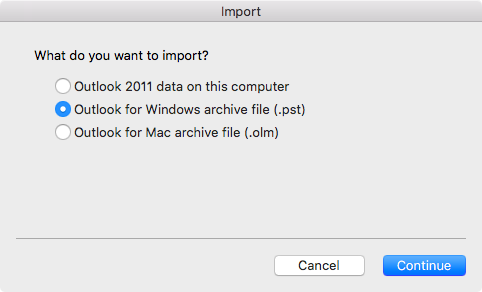 Select "Outlook for Windows archive file (.pst)" and press Continue button. Choose a .pst archive from Outlook for Windows and click on Continue. After you find where this file is stored on your PC, press on Import. After the process is completed, all the imported emails can be found on the panel On My Computer.
Microsoft Outlook has been developed for users to organize their correspondence, routines, as well as to effectively use their time. Hence, there are plenty of functions that help to easily back up, store, transfer, and exchange data. Make use of them.
More Knowledge Base articles
---
Email migration is a process of transferring emails and other data from one email platform to another. One of the most common email migration scenarios is moving from a different…
---
An MBOX file is a mailbox format that stores email messages one after the other as a plain text. Each individual message within mbox file stored in EML format. So…
---
Outlook is a widely used email client, which is professionally developed by Microsoft. It offers many advanced features to its users, such as emails, calendars, tasks, contacts, notes, and many…
---
Outlook is a popular email client used by millions of users worldwide. It is widely used by individuals, businesses, and organizations to manage their emails, calendars, tasks, and contacts. However,…
---
As a Microsoft Outlook user, you may experience the "Errors have been detected in the file xxx.ost" error message. This situation can be frustrating and confusing, especially if you rely…
We are sorry that this post was not useful for you!
Let us improve this post!
Tell us how we can improve this post?