In the modern business world, email partly serves the function of a telephone; it is an integral part of corporate communication between company employees, with external customers and partners. Sending and receiving emails is simple, but the functionality of email applications such as Microsoft Outlook is much broader than that of a regular phone. Unfortunately, some users do not always fully understand how to correctly apply all these functions. Some of the misused features of Microsoft Office Outlook 2003 and Outlook 2002 are listed in the convenient list below. Some of them refer to using custom folder entities and data categorizing facets.
Table of contents
Following the below tips, office staff and Outlook users will be able to work more productively with the solution. So if you want to reach the maximum productivity and team efficiency, then it is time for you are aware of how to create a new folder in outlook and use it for data sorting out.
Why Do You Need to Create New Folder in Outlook?
Most Outlook users actively use rules and folders when working with email. In this case, the folder structure can be deep and branched. Depending on your needs and preferences, you can create outlook email with as many folders as you need and sort them out the way that works the best for you. When changing the mailbox, when moving and migrating to other mail systems, when creating new Outlook profiles, your new folder structure will be of great benefit to you. Not to mention the simple transfer of the existing folder hierarchy to another level of attachment or to another folder – that's just a life-saving functionality for the one. What is more, when using Exchange Server mailboxes and public folders, you can set permissions for each folder.
Note: Outlook performance may be significantly decreased if one of the Outlook folders stores more than 100,000 emails inside. It is recommended to use multiple folders to organize Outlook emails.
How to Use Outlook Folder Functionality?
Outlook is the most powerful email tool for managing online communication, events planning, and tasks scheduling. If you have never used the service, consider taking your hand at it. Here are some of the unobvious possibilities of this solution that may be useful to you:
1

  Emails preview

Use the email preview to see see the sender's email address, its subject, and the very first line of the message text. The last parameter of Outlook can be customized. To do this, you need to open the "View" tab, find the "Message Preview" button, and select the required lines number. If you wish, you can also disable viewing. Outlook will also ask if you would like to apply the setting parameter only to this folder or to all mailboxes – check what suits you best.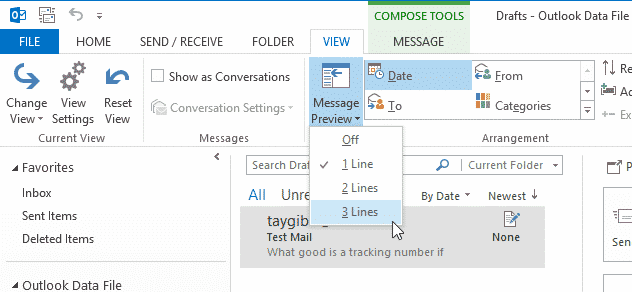 2

  The main mailbox

If you have multiple accounts in Outlook, it is possible for you to select a particular email as the primary one so that the corresponding folder opens when you start the mail. To do this, you just need to click "File", move to "Options" and pick the "Advanced" tab, which is in the left pane.

In the section "Outlook start and exit" of Outlook, click on the "Browse.." button. In the "Select a folder" dialog box, find the required account and select "Inbox" or any other folder that suits you best for this purpose.
3

  Search folders

If you often search for letters in outlook inbox by typing the same words and expressions into the search string, you can simplify your task. Outlook supports search folders or smart folders. Set them up, and you can forget about manual sorting of your correspondence. Click the "Folder" tab and move to the "New Search Folder" section. In the window that pops up, you can pick the search folder from outlook email template options or create your own.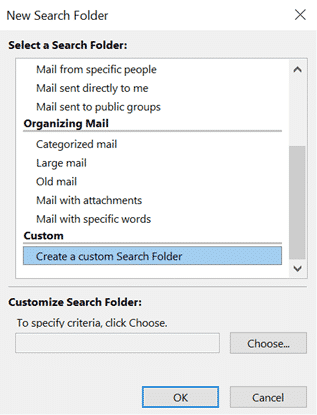 If you're not satisfied with the Outlook templates module, you can always double click on "Create a custom Search Folder" at the bottom of the list. Enter the folder name, click "Criteria", and specify the conditions for selecting messages in it.
4

  Cleaning Folders

This feature automatically removes redundant entries in the selected folder. Excess refers to quoted copies of your letters. To check the function in action, right-click on the folder where the duplications and copies of emails are accumulated, and select "Clean Up Folder".

You can specify which messages are considered redundant. To do this, select "File", click "Options", then go to "Mail", and scroll down to "Conversation Clean Up" section. Here there is a possibility to set up cleaning so that it does not affect important inbox outlook stuff and select the folder where to move unnecessary letters to. By default, they are sent to the "Deleted Items" folder.
Final Say
As you can see, there is unlimited number of Outlook features you can benefit of when you know how to use them. Create different types of folders to sort out Outlook data and manage it efficiently.
Read also:
More Knowledge Base articles
---
Email migration is a process of transferring emails and other data from one email platform to another. One of the most common email migration scenarios is moving from a different…
---
An MBOX file is a mailbox format that stores email messages one after the other as a plain text. Each individual message within mbox file stored in EML format. So…
---
Outlook is a widely used email client, which is professionally developed by Microsoft. It offers many advanced features to its users, such as emails, calendars, tasks, contacts, notes, and many…
---
Outlook is a popular email client used by millions of users worldwide. It is widely used by individuals, businesses, and organizations to manage their emails, calendars, tasks, and contacts. However,…
---
As a Microsoft Outlook user, you may experience the "Errors have been detected in the file xxx.ost" error message. This situation can be frustrating and confusing, especially if you rely…
We are sorry that this post was not useful for you!
Let us improve this post!
Tell us how we can improve this post?