It is common knowledge that emails may contain viruses. Attachments could be malicious, and users are advised to delete messages when in doubt. Cyber perpetrators use email to infect computers and cause damage, both moral and financial. Fortunately, Microsoft takes serious measures to counteract offenders.
It regularly updates a list of potentially dangerous file types that may be attached. An email could look innocuous, but once you click on the attachment, Pandora's box is opened. Generally, culprits belong to one of the two categories: they are either programs (aka executables) or automatic processes (aka scripts). The Microsoft mail client detects them and blocks them.
If Outlook Blocked Access to Attachment
If you experience this problem, this is due to the extension class. Any filename is compound. It includes two elements separated by a dot: the name itself and the extension. The latter determines the program that reads the content.
For instance, a report may be titled quarterly_report.docx. Files with the *.docx extension are created and recognized by Microsoft Word. It is considered safe, so such an attachment will not get blocked.
Why Is Outlook Blocking Attachments?
Your mail clients use an available list of suspicious extensions to filter all attachments and block the ones deemed unsafe. This is done in every user's best interests, so there is no reason for discontent. The list of dubious attachment types is compiled by the Microsoft Corporation, and it is updated as new threats are identified.
This does not mean all files with these extensions contain viruses by default. However, they theoretically could. As the mail clients do not have any inbuilt antivirus feature, no chances are taken. After all, it is better to be safe than sorry.
For instance, consider the sheer number of extensions related to Microsoft Access. When attached to an email, these files are seen as potentially harmful:
Project Extension (*.ade)
Project (*.adp)
Module Shortcut (*.mad)
File (*.maf)
Diagram Shortcut (*.mag)
Macro Shortcut (*.mam)
Query Shortcut (*.maq)
Report Shortcut (*.mar)
Stored Procedures (*.mas)
Table Shortcut (*.mat)
Media Attachment Unit (*.mau)
View Shortcut (*.mav)
Data Access Page (*.maw)
Manifest configuration (*.mcf)
Add-in, MDA Access 2 Workgroup (*.mda)
Application, MDB Database (*.mdb)
MDE Database (*.mde)
Add-in Data (*.mdt)
Workgroup Information (*.mdw)
Wizard Template (*.mdz)
What It Looks Like
If blocking occurs, you see a corresponding notification in the message header. It says Outlook blocked access to the potentially unsafe attachments. Any file with the blacklisted extension is blocked by default.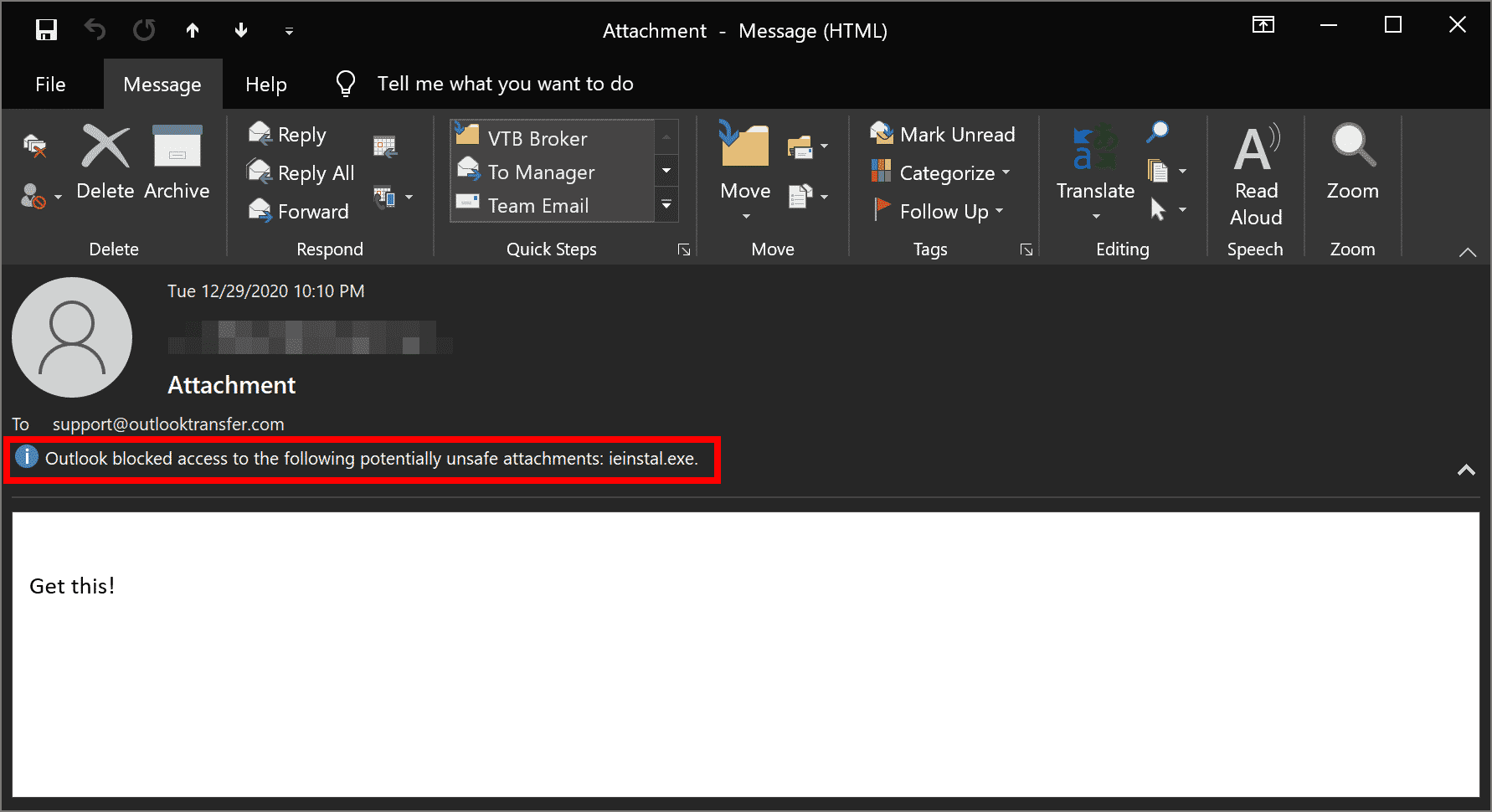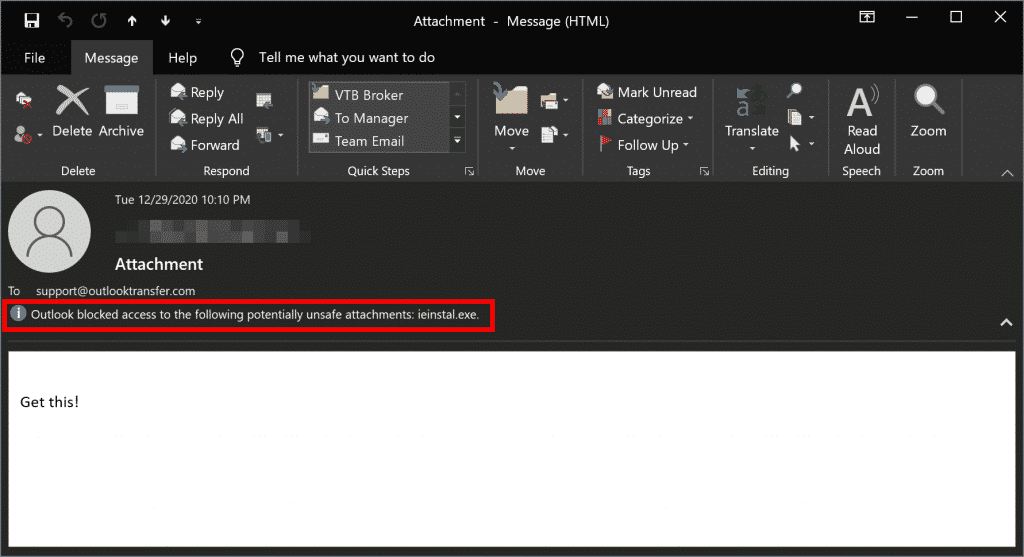 If your problem is Outlook 2010 blocking attachments, you will face it other versions of the program, too. Sometimes, this may annoy. If you are perfectly sure the attachment is clean, but MS Outlook relentlessly blocks it, you need to adjust its settings. For instance, Outlook blocking PDF attachments is a serious nuisance for business communication.
Outlook Blocked Attachment: Alternatives
Many users look for guides on how to unblock attachments in Outlook, but few of them realize the dangers of doing it. Even though it is possible to open any blocked attachment, you need to be aware of all potential risks. Generally, there are two tricks allowing the transfer of files with blacklisted extensions. See if your sender can use one of these instead.
First, if such a file is compressed as a .zip or .rar archive, the recipient can run an anti-virus check before extracting the contents. An additional benefit is that less space is occupied, and the transfer time is shorter. Secondly, you can upload the files to cloud storage (e.g., Google Drive) and send your recipient a link. Whether Outlook 2007 blocked attachments or Office 365, it is best to be safe than sorry.
How to Unblock Attachments in Outlook 2010 and Others
In any case, unblocking the attachment is your last resort. This may only be attempted if you know the contents are safe, and the sender has no opportunity to resend the file via cloud storage or an archive. The procedure that makes blocked attachments accessible requires changing the Registry.
Please be very careful, even if you received the reply on your email it still can be sent from the hacked computer. The email is look like a response to your letter, it contains a password protected ZIP archive and but password is indicated in the letter. It is done with purpose. You may enter the password and open the archive, but your antivirus can't do that, so this email attachment remains unblocked. The archive contains a .DOC file (MS Word) with malicious code.
Follow the procedure detailed below. Once the process is complete, and the attachment is saved, return the original Registry settings. If you are wondering how to unblock attachments in Outlook 2013 or another version, this is your best bet.
Do not be forgetful: unless you restore the settings, the gateway to viruses will be left open. To restore previous settings, repeat the procedure. This time, delete the value in step 6 instead of renaming it.
Outlook Unblock Attachment Sequence
Close the mail client.
Start the Registry Editor and go to 'Start'.
Enter 'regedit'.
Find the key you need*.
To get to 'String Value', head to 'Edit' and 'New'.
Assign the name Level1Remove (be careful with uppercase and lowercase letters) to the value and double-click on it.
Specify the extension you want to open (include the "dot" symbol): e.g., .prg.
You may enter several extensions, separating them with a semicolon.
To finalize, click OK on the input box.
Close the program.
*Keys for different versions of the mail client follow the general formula: [HKEY_CURRENT_USER\Software\Microsoft\Office\____\Outlook\Security]. Fill the space with the correct identifier for your mail client. For 2007, it is 12.0, for 2010 – 14.0, for 2013 – 15.0, and for all later versions — 16.0.
Outlook Blocked Attachment 2016: Bottom Line
Some files are just not meant for sending through email. When the mail client blocks an attachment, this is done in your best interests. It is strongly recommended you avoid clicking on any unfamiliar files even if the source seems familiar. Today, phishers are increasingly creative in their techniques. What looks like a message from your bank may be a fake email crafted to lure you into opening its attachment.
Do not attempt unblocking unless you are absolutely sure the contents are safe. Ask the sender to provide the same file through a cloud-sharing service. Before opening, scan it for viruses. A few extra minutes could prevent a major computer disaster.
More Knowledge Base articles
---
Email migration is a process of transferring emails and other data from one email platform to another. One of the most common email migration scenarios is moving from a different…
---
An MBOX file is a mailbox format that stores email messages one after the other as a plain text. Each individual message within mbox file stored in EML format. So…
---
Outlook is a widely used email client, which is professionally developed by Microsoft. It offers many advanced features to its users, such as emails, calendars, tasks, contacts, notes, and many…
---
Outlook is a popular email client used by millions of users worldwide. It is widely used by individuals, businesses, and organizations to manage their emails, calendars, tasks, and contacts. However,…
---
As a Microsoft Outlook user, you may experience the "Errors have been detected in the file xxx.ost" error message. This situation can be frustrating and confusing, especially if you rely…
We are sorry that this post was not useful for you!
Let us improve this post!
Tell us how we can improve this post?