Modern communication requires speedy delivery of correspondence. When your Outbox malfunctions, it is not just a nuisance. Sometimes, important tasks may be at stake. What if you barely manage to meet a deadline, and then discover your urgent report never left your system? Luckily, this complication does not appear too often. When it does, though, it is best to be armed with the right strategy to solve the problem quickly. So, what should you do with emails stuck in the outbox?
What Is the Outbox in Outlook?
This folder holds emails that are in a state of limbo. They have been composed, but are yet to be sent. The contents are waiting for you to press Send/Receive. The folder may also be programmed for auto-sending. If you are wondering where is outbox in Outlook, look at the list of folders in the program (on the left).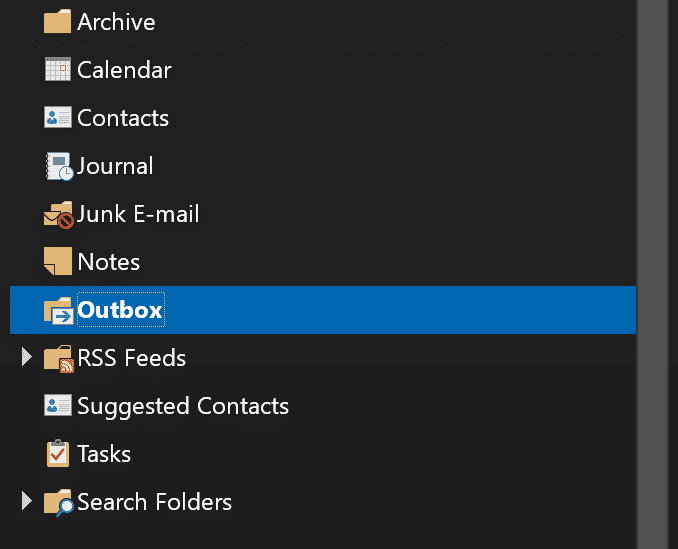 Why Are My Emails Getting Stuck in the Outbox?
There are several possible culprits. First, check your attachment to ensure it is not too big. Large PDF files may be easily compressed using dedicated software. There could be a communication issue, or the internet connection is simply faulty. Whatever the case, you will find a solution below.
Mail Stuck in Outbox: Overview of Methods
Overall, there are 5 ways to tackle the issue with Outlook outbox. Any of these helps you retrieve the message. Steps range from relaunch to creation of a special file. Choose the most convenient approach. We guarantee: it will get the job done!
Before going further, see if the Outlook messages stuck in outbox are displayed. If not, they must be Read Receipts, which require special treatment.
Reopening Outlook Email Stuck in Outbox
This is the least complicated solution. Open the unsent email by clicking twice, and close it. Now, select it to delete or move. If you still want it to reach the recipient, transfer it to your Drafts folder.
Going Offline to Free Email Stuck in Outbox
This is another sequence clear for all users. It will unblock your message in no time. The way you disconnect your mail client from the Internet may vary. Remember to restore the Online mode once the issue is resolved.
For versions up to 2007, go to menu File and pick Work Offline. All later editions are put in the disconnected state via the Ribbon tab. Just go to Send/Receive and pick the same option. Now you can restart the program and delete the outbox email message.


Playing It Safe
A message may be stuck due to an add-in. For instance, an integrated antivirus tool may be the culprit. Such features should be eliminated anyway. To see if it is the case, follow these steps.
Click on the shortcut to the mail client while holding CTRL. Keep the button pressed until a dialog box pops up. There, select 'Yes' to confirm that the Safe mode is what you need. There is no reason not to use this trick together with the above-mentioned methods. Holding down the CTRL key is the easiest way to enter the Safe mode.
*.PST as Remedy
The strategy for emails stuck in outbox Outlook 2010 and others is more challenging, as you will need a dedicated temporary file. However, if all else fails, it may be a lifesaver.
The steps may also be used to regenerate the Outbox folder. Each sequence brings you to the same function 'Outlook Data File' which alters your default delivery location.
Where to Begin
For mail client versions of 2007 and earlier, head over to File > New. Go to your Account Settings to assign the newly generated file as default. This is done through menu File > Data File Management….
For all subsequent editions*, utilize the Home button on the same tab. Select New Items to find the desired function. To ascribe default status, pick Data Files in settings (accessed via menu File).
* – Here, the only exception is Office 365 with a single line ribbon: from Home, use the down arrow to get to More Items from New Email button. 
Now, re-launch the mail client. The original file with *.PST extension should be displayed in the secondary set of mail folders. It is now possible to either move the email from your Outbox or delete the folder altogether. If you opt for the latter, remember to clean your Deleted Items as well. Alternatively, press SHIFT during file deletion.
The final step for mail stuck in outbox Outlook is to restore the original source setting. This is achieved through exactly the same means. Relaunch the mail system. No more emails stuck in outbox Outlook 2013 or other versions.
Last Resort: MFCMAPI
This is your heavy artillery, and it requires extra caution. The editing feature useful for emails stuck in outbox Outlook 2016 is the brainchild of Stephen Griffin at Microsoft. This is a double-edged sword: you get impressive results or irreparable harm. To prevent undesirable consequences, back up the data. Every subsequent step must be followed to the letter.
Download the utility from GitHub.
Extract the contents and run installation.
On the first screen, select OK.
Follow the steps: 'Session'- 'Logon'
Unless you are a pro, press OK.
You will now see a window with file Display Names and Default Store for each. Select the line where the value is True with two clicks.
In the left-hand side panel, you should see the entry set as the root container or mailbox. Expand it.
Expand the right folder for your account type.
In the Outbox folder, click twice to summon the list of messages stored.
In the dialog box, pick the problem message and select 'Abort submit'. This is found through 'Submit' in 'Actions'.
With the selection still on, you need 'Delete message' which is found in 'Actions'.
Turn on 'Permanent delete passing DELETE_HARD_DELETE (unrecoverable)'. Confirm.
If you have several messages jammed, repeat the same sequence for each. To finalize the process, close all windows. Run the mail client and enjoy your clean Outbox!
More Knowledge Base articles
---
Email migration is a process of transferring emails and other data from one email platform to another. One of the most common email migration scenarios is moving from a different…
---
An MBOX file is a mailbox format that stores email messages one after the other as a plain text. Each individual message within mbox file stored in EML format. So…
---
Outlook is a widely used email client, which is professionally developed by Microsoft. It offers many advanced features to its users, such as emails, calendars, tasks, contacts, notes, and many…
---
Outlook is a popular email client used by millions of users worldwide. It is widely used by individuals, businesses, and organizations to manage their emails, calendars, tasks, and contacts. However,…
---
As a Microsoft Outlook user, you may experience the "Errors have been detected in the file xxx.ost" error message. This situation can be frustrating and confusing, especially if you rely…
We are sorry that this post was not useful for you!
Let us improve this post!
Tell us how we can improve this post?