Microsoft Outlook is one of the widely used email clients for personal and business purposes: getting necessary information, exchange of letters with partners, banks, and other establishments, as well as handling plenty of other matters that require urgent attention of recipients. Therefore, the situation when Outlook notifications are not working may become not just an inconvenience but a problem leading to missed deadlines and inappropriate responses.
How do I Get Outlook to Notify Me of New Emails?
If you have faced the problem with getting alerts, the above question is one of the most common ones. Luckily, if Outlook desktop alert is not working, it is quite easy to fix the problem. Begin with making the necessary settings in Outlook:
Open Outlook email client and go to the File menu;
Click Options to open the Outlook Options;
On the left pane, choose option Mail;
Scroll down and find the section Message Arrival;
There will be several options for possible actions and Outlook notifications. If you want to get a desktop Outlook email alert and see an envelope icon in the taskbar, make sure that the relevant boxes are checked. If you're going to stop Outlook notifications, uncheck the relevant boxes.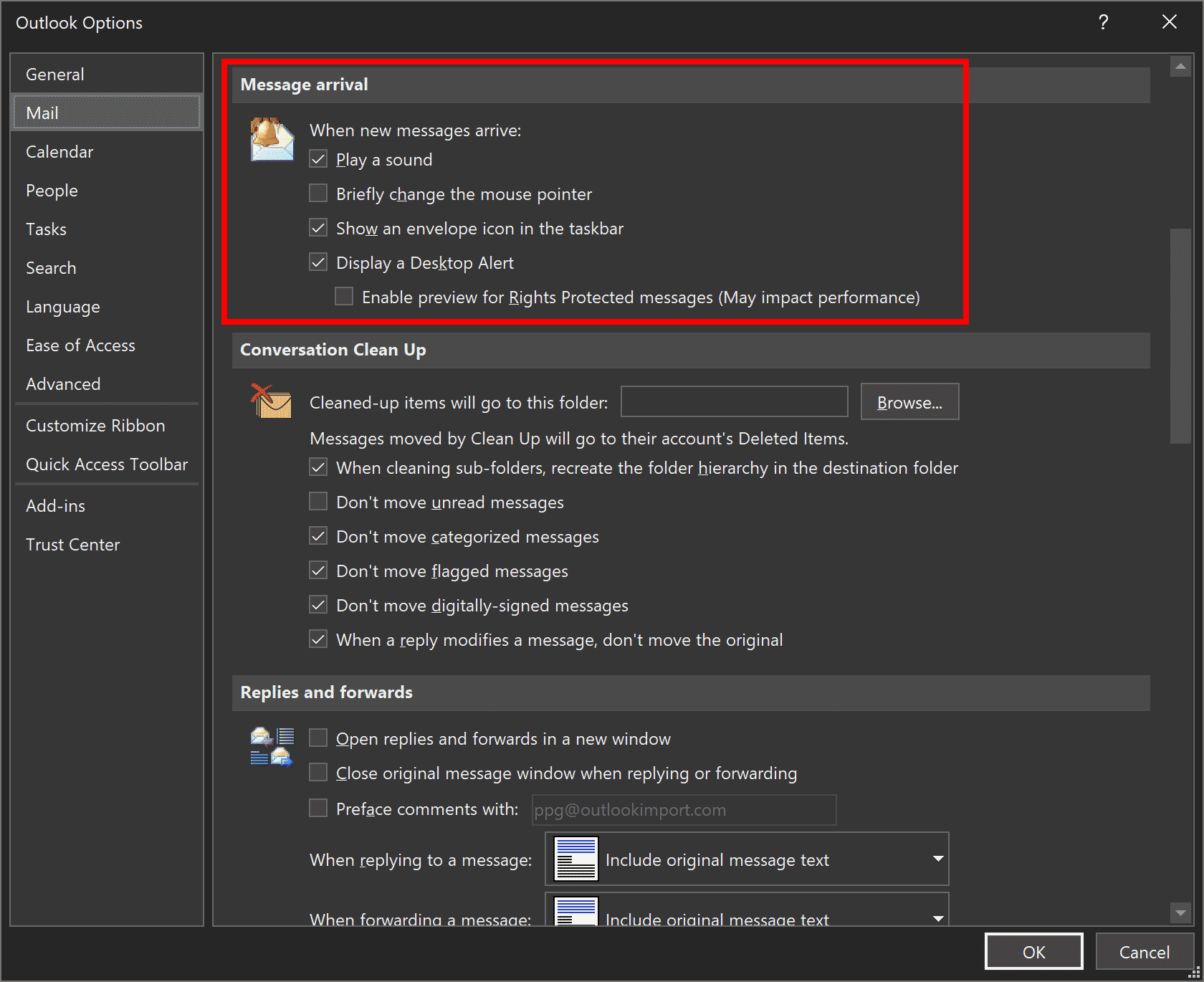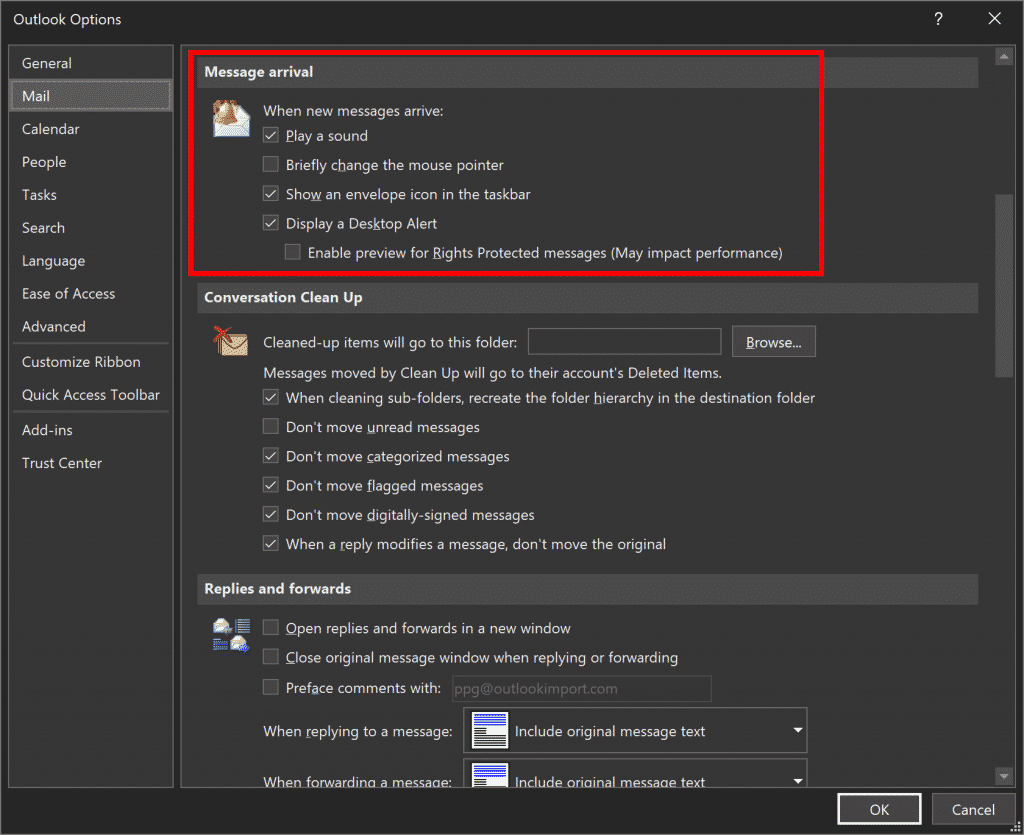 After making these changes, it is recommended to restart Outlook. Then, send yourself a test email. If you still do not receive the Outlook new email notification, then it is necessary to check the settings of Windows alerts.
Enabling Outlook Notifications in Windows 10
The second reason for not receiving Outlook email notifications is that they are disabled in the Windows Settings. To check and change these settings, go to the Action Center in the bottom right corner and press All Settings:
Press System ➮ check the panel on the left, find Notifications & Actions, and click;
Scroll down to the bottom to find the section Get notifications from these senders, find Outlook and click on it.
Make sure that all the methods of alerts are checked, and Outlook notification settings are correct.
After enabling alerts, press on Close, restart the system and send yourself a test email.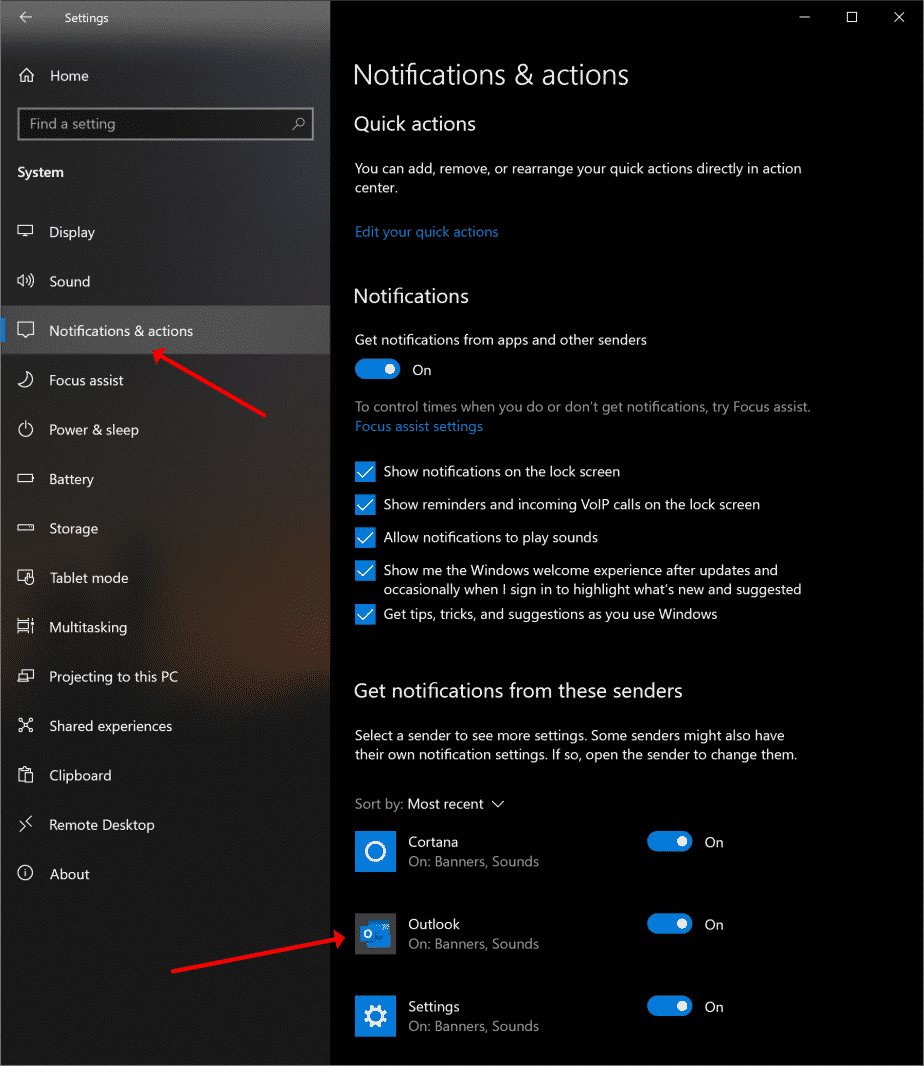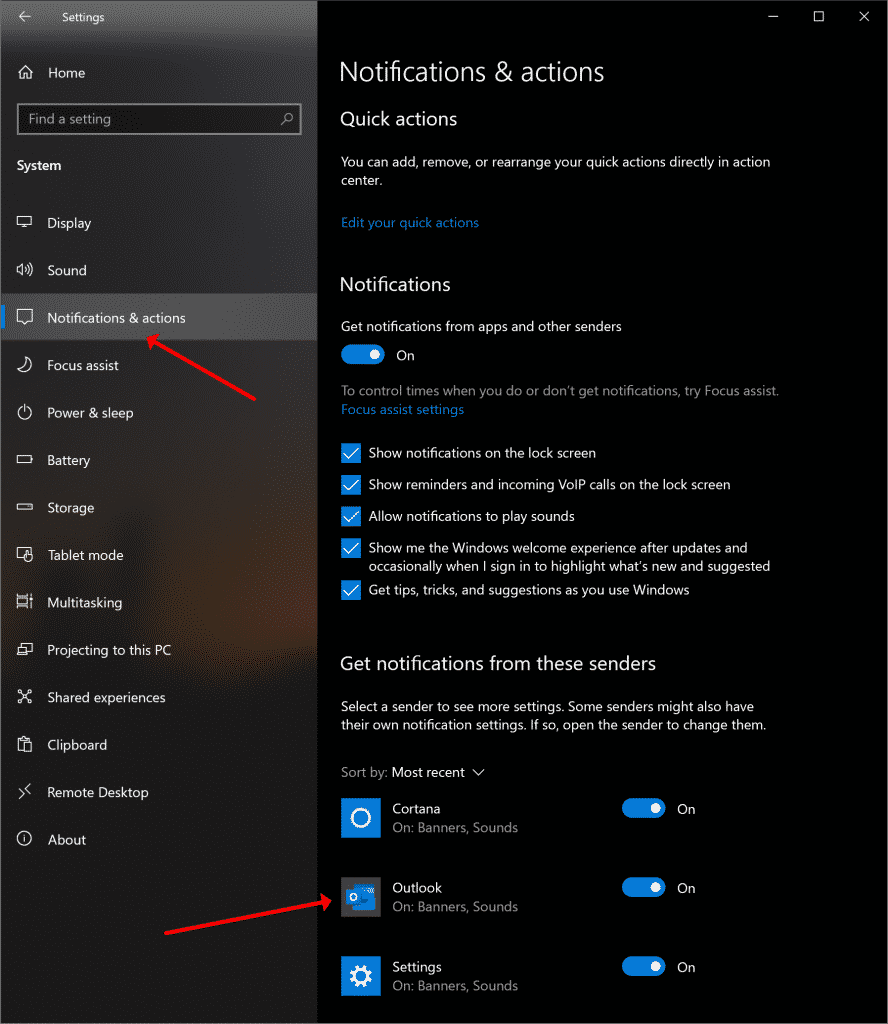 If you have tried to switch on notifications, but Outlook is not listed there, it means that you haven't yet received new messages. Answering the question "How do I add Outlook to notification center?" here are just two steps to take:
Close the Settings app and send yourself an email;
Reopen the Settings app and check if Outlook has appeared there.
Extra Tips to Enable Outlook Desktop Alerts
If you have already checked all the above settings and switched all the alerts on, however, you are not notified of new emails, consider one more possible reason. If you have created several folders and set a rule that automatically adds emails to folders, you won't get a notification for these emails. So, it means that you haven't turned off Outlook notifications. You simply won't get them if emails are received, not in the default Inbox folder of your Outlook account.
Open Outlook and go to the File menu;
Go to Options;
Choose the option Mail;
Scroll down and find the section Configure the Mail Alert;
Check the settings and make sure that all the folders you have created are included and monitored.
Any Other Possible Reasons & Solutions?
Above, we have specified the most common reasons why users do not see alerts of new Outlook emails. However, this may happen that all the above settings are correct, but there are still no notifications. Here are some additional tips that might come to rescue:
Make sure that you haven't got quiet hours enabled. Some users set a quiet period in the wrong way and experience problems with notifications. Check the side tab and find Quiet Hours and make sure that the function is disabled.
Take all the above steps again and disable all the notifications and alerts and restart the system. After, proceed as described above again and enable all the notifications again. Restart the system and check if the problem has been solved. One may think this is a weird solution, however, users who have been concerned with the question "how do I turn on pop up notifications in Outlook" have solved their problem with the help of this a bit strange method.
A bit more serious approach is to create a new Outlook account with the same settings: File > Info > Account Settings > Manage Profiles. However, if you are not a confident user, it is better not to resort to this option in order not to cause any other problems.
In general, MS Outlook is user-friendly, and clients experience minimum difficulties while using it. The problem of non-working notifications is rare to appear. If this is your case, however, our tips will help you out.
More Knowledge Base articles
---
Email migration is a process of transferring emails and other data from one email platform to another. One of the most common email migration scenarios is moving from a different…
---
An MBOX file is a mailbox format that stores email messages one after the other as a plain text. Each individual message within mbox file stored in EML format. So…
---
Outlook is a widely used email client, which is professionally developed by Microsoft. It offers many advanced features to its users, such as emails, calendars, tasks, contacts, notes, and many…
---
Outlook is a popular email client used by millions of users worldwide. It is widely used by individuals, businesses, and organizations to manage their emails, calendars, tasks, and contacts. However,…
---
As a Microsoft Outlook user, you may experience the "Errors have been detected in the file xxx.ost" error message. This situation can be frustrating and confusing, especially if you rely…
We are sorry that this post was not useful for you!
Let us improve this post!
Tell us how we can improve this post?