If you plan to purchase the Outlook Transfer software, we strongly recommend that you read this article. It describes how to properly evaluate our software and test the basic conversion parameters and modes.
Let's start with the most frequently asked question:
What is the difference between the free version and the paid version?
The trial version of Outlook Transfer software displays a message when you trying to start the conversion. This message reminds you that free Trial version can import or convert a limited number of emails (or contacts) per folder. However, this does not hinder to evaluate how the program works on your computer and whether it performs all the functions you need.
How to Evaluate the
Outlook Transfer

software properly
IMPORTANT: A test run should be passed at the same PC where you plan the further use of the software.
Following example is based on EML to Outlook Transfer software evaluation.
Open software description page and read the brief description. Pay attention to the System Requirements!
Download software installer and run it. The system may prompt you to allow the installation to continue:

Click Yes to setup the software, then complete the software installation wizard.


Important! Software installer setups both 32-bit and 64-bit version of the converters but only one of them can be used. You have to use the converter which corresponds to your Outlook version. If you have 32-bit Outlook installed at your PC, you may use only 32-bit converter and if Outlook version is 64-bit, you may use only 64-bit version, it doesn't matter what OS edition you have. This rule applies to the conversion modes "to Outlook" or "to PST file".

When setup will be finished, you will see two shortcuts, one to run 32-bit converter and another to run 64-bit one. Click appropriate shortcut to run the converter.
Select the folder where your source files and folders are located, use other options according to the software usage instruction. Don't forget the folder where you new PST file was saved.


Important! Default software working mode is set to "Save to PST file", we recommend to use this mode for the evaluation. The possibility of direct import to Outlook profile may depend on your account type, account configuration, server preferences and policies of the domain network (for organisations). You may also try to import data directly to Outlook profile, but first, please check if saving to PST works properly.

Run the conversion and wait till the end of process.
Inspect the program log if needed and close the program.
Opening PST file in Microsoft Outlook
To properly evaluate the conversion result you should open result PST file in Outlook and check the imported data (Emails, Folders etc.). To do that:
Run Microsoft Outlook and use menu File > Open Outlook Data File.
Select and open the PST file created by our software.
In the list of Outlook folders (left panel) find the Data File name corresponding to your PST file.
* – in this example it is called "EML to Outlook Transfer"
Click the

triangle icon

to expand the tree of subfolders (see the screenshot below).
Check imported emails.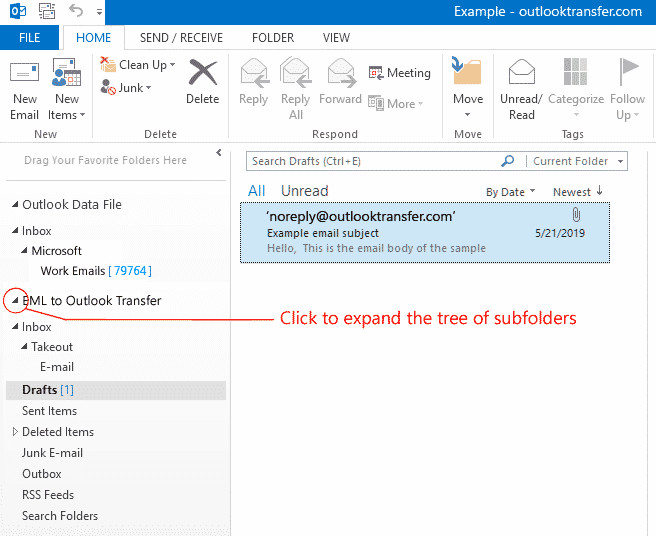 Don't forget that free version imports limited amount of emails per folder. Full activated version of Outlook Transfer software do not have such limits i.e. it allows to import unlimited amount of emails.
Let us know if you have any questions or concerns regarding to our software. We will be happy to help you to migrate your emails to Outlook smoothly and without major efforts.
Read also:
More Knowledge Base articles
---
iCloud synchronizes your user data across your devices. It serves as a backup and allows easy sharing of photos, notes, videos, and other files with friends and family. If you…
---
Users print emails from Microsoft Outlook for many reasons. The email may have a form that they want to print, fill out, and submit. Many people retain a physical copy…
---
MS Outlook is a useful software for handling email communications, keeping track of the personal schedule and important dates, storing contact information, as well as other essential information. Outlook uses…
---
If you use Microsoft Outlook to manage your email, you may, at some point need to find old emails. This can be difficult if you don't know where to look…
---
Emailing is an integral part of everyday business and private communication. It is common for people to migrate from one service to another until they find the one that meets…
We are sorry that this post was not useful for you!
Let us improve this post!
Tell us how we can improve this post?