The importing of Thunderbird contacts to Outlook is always starting from data export routine. First you should save Thunderbird address book to the file format which can be imported then to Microsoft Outlook. However it is not always possible.
Depending on Thunderbird version it may allow to export contacts to .VCF (Virtual Contacts File) or only to .CSV (Comma Separated Values) format supported by Microsoft Excel.
Following instruction guides you on how to import Thunderbird contacts to Outlook in both cases.
Table of contents
Why Do You Need to Import Contacts From Thunderbird To Outlook?
You may need to import contacts into Outlook if you're switching your email client. Manually copying and pasting each email address can take a lot of time. So, it's better to use a tool that allows you to import multiple emails at once. Other reasons include backup purposes, or when you're using a new address, for example, for work.
Method 1: Exporting Thunderbird Address Book to Outlook via vCard
To start the address book export you should run Thunderbird and open the Address book. User may have multiple address books so you have to select which one will be exported, then click "Export" and choose the output format. After that it is remaining to save exported data to the desired location.
Step 1: Exporting .vcf File From Thunderbird
Run Thunderbird and click "Address Book" menu
Depending on Thunderbird version it may be located inside "Tools" menu or on the main menu bar;

Select the Address Book which should be exported, for example "Personal Address Book";
Go to menu Tools and click "Export";

Choose "vCard" in the "File Type" field;
If "vCard" format is not available, choose "Comma Separated" in the "File Type" field;
Select a location and specify the file name;
Press Save button;
This will save selected address book contacts into the file of selected format, which can be imported the to Outlook and converted to Outlook contacts. Let's continue the Thunderbird contacts to Outlook conversion…
Step 2: Importing Contacts to Outlook from vCard (.vcf) file Automatically
There are two different methods to import Thunderbird contacts to Outlook and they vary depending on the contacts file format. One of the most compatible formats you can use is vCard. Here is how to use it. Following part describes the most convenient and semi-automatic procedure of importing contacts from virtual contacts file VCF file to Outlook.
Download for FreeFor Windows 32/64-bitBuy from $19.95Unlock all features
* - The unregistered version converts a limited number of contacts
Click here to download and install the vCard to Outlook Transfer tool;

Run it and select the source folder where VCF (vCard) files were saved;

Press "Scan Folder" button to scan for available vCards;
By default converter allows to save contacts into PST file, if you want to import contacts directly to Outlook profile, you may choose the program menu "Mode" and change the mode to "Import to Outlook";

Click "Save PST" or "Import" button (the label depends on mode, selected in a previous step);
Method 2: Saving contacts to PST file (Save to PST mode)
Specify the PST file name in the appeared "Save as" dialog;
Click "Save" to start the conversion. Contacts will be saved to the specified PST file;
When conversion is finished, close the converter and use Outlook menu File > Open > Open Outlook Data File… to open the PST file containing the imported contacts.
Method 3: Import Thunderbird Contacts to Outlook Profile (Import to Outlook Mode)
Chose the Outlook profile if it will be prompted and click "OK";
note: only local pop3 profile can be used
When conversion is finished, close the converter. Now you may organize your contacts inside Outlook.
Some Thunderbird versions may export emails only to comma separated values (CSV) file. This file can also be imported to Outlook, however it requires more manual work, read below.
Method 4: Importing contacts to Outlook from CSV file
The following part describes the manual importing method, however there is no other way to import contacts from comma separated (CSV) file yet available.
Download for FreeFor Windows 32/64-bitBuy from $19.95Unlock all features
* - The unregistered version converts a limited number of contacts
Step 1: Manual Convert Thunderbird Address Book into CSV file for Outlook
In Outlook click File > Open > Import to open the "Import and Export Wizard".

Choose "Import from another program or file" in a list of actions to be performed.
Click "Next" button.

In the "Select file type to import from" dialog choose "Comma Separated Values (Windows)".
Click "Next" button.

Click "Browse" and choose the CSV file.
Configure other options if needed. You may leave them unchanged.
Click "Next" button.

Select "Contacts" in the "Select destination folder" dialog and Click "Next" button.
Step 2: Contact Fields Mapping
The fields mapping procedure allows to specify the matching of source and target fields. Each contact field in Thunerbird have their own name, the same is for Outlook contacts. However field names in Outlook and Thunderbird do not match. For example Thunderbird field called "Organization" and corresponding Outlook field called "Company". The proper field mapping should be specified for each contact field.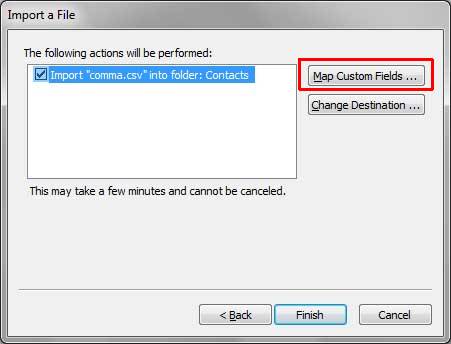 Click "Map Custom Fields …" button and specify the fields matching by dragging values from the left panel (values related to source file) and dropping them on the appropriate destination field on the right panel. To remove fields from the field mapping you may drag them back from the right to the left panel.

You may ignore some fields or map them randomly, however remember that their values will appear in Outlook in the contact fields that you have specified.

When all fields will be mapped click "OK" and then "Finish" button to start the conversion.
A progress indicator will appear and Outlook start importing contacts from .CSV file according to the specified fields mapping. Conversion may take a few minutes and cannot be cancelled.
This article described all possible methods to import contacts from Mozilla Thunderbird to Microsoft Outlook. As you see, vCard format provides more flexibility and allows to import contacts in few easy steps, however there is a lot of manual work in case if Thunderbird allows only CSV data export. If you search the way to import Thunderbird emails to Outlook, please check this product instead.
Frequently Asked Questions
Here are some commonly asked questions about importing Thunderbird contacts to Outlook.
How do I export contacts from Thunderbird?
It's quite easy to export Thunderbird address book contacts without any third-party software. In the email client, go to Tools > Address book. Specify the Address book with the contacts to export. Choose Export. Specify the format as vCard (if available) or Comma Separated Values (*.csv) and the file folder. That's all it takes.
How to import VCF contacts to Outlook?
Download and run vCard Converter, specify the source directory containing VCF files, scan it and click Save PST button. The program will do the rest.
How do you import contacts into online Outlook account?
Using your Outlook.com account, go to People. On this page, check for "Manage" from the top right-hand side. Choose "Import Contacts". You should see a file explore wizard, asking to specify the file. Choose and import it.
Where are Thunderbird contacts are stored?
Mozilla apps, including Thunderbird, store personal info in a profile automatically created the first time the program launches. Thunderbird stores configuration settings, addresses, and other user data in the Profile file. It's stored in the default location on your operating system. To view this file on Windows, go to C:\Users\<Windows user name>\AppData\Roaming\Thunderbird\Profiles\<Profile name>.
Other Tutorials
---
MSG to Outlook Transfer – User's Manual Even though "email conversion" may sound technical and complex, it is a fairly simple routine if you have the right tool at hand. Conversion…
---
Mbox to Outlook Transfer – User's Manual The primary goal of Mbox to Outlook Transfer software is to assist users in moving their emails from any email client supporting the Mbox format to…
---
Data Extraction Kit for Outlook is a powerful all-in-one tool for Outlook/PST email conversion, migration and data analysis. The product can be used for extracting emails and other objects from…
---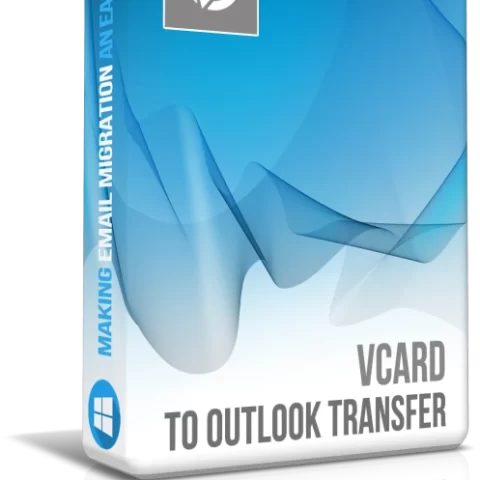 vCard to Outlook Transfer – User's Manual Transferring contacts from one system to another may seem like a complex task - and it can be if you do it manually.…
---
When it comes to managing large amounts of data in Outlook, one common issue that users face is the size limitation of PST files. PST files, which store all the…
We are sorry that this post was not useful for you!
Let us improve this post!
Tell us how we can improve this post?