In the contemporary world of the Internet, everyone uses email as their primary form of communication. The mailbox choices clients have today are abundant. Among them is Mozilla Thunderbird– one of the top services. One of the reasons for this is that emails are stored in the MBOX format.
Standing for MailBox, this file extension can be accessed by many different mail platforms. Knowing how to export emails from Thunderbird is convenient. Some users may need to migrate from Mozilla Thunderbird, while others want to use several platforms simultaneously. Therefore, they want to export Thunderbird emails to have their correspondence available on another platform, for instance, Microsoft Outlook.
How to Export Emails From Thunderbird
Mozilla Thunderbird is an open client that provides the possibility for emailing, chatting, and checking news feeds. Its software is simple to use. Exporting the Thunderbird MBOX is an easy task requiring just a few steps that can be undertaken without any third-party tool. To export mail from Thunderbird, here are the steps you should follow.
Steps to Export Emails from Thunderbird to the Hard Drive
Begin with launching Mozilla Thunderbird on your PC and clicking on the icon (1) on the right corner of the bar. In the drop-down list, find the option Add-on (2) in the menu to initiate the Thunderbird message export. After, a new window will appear.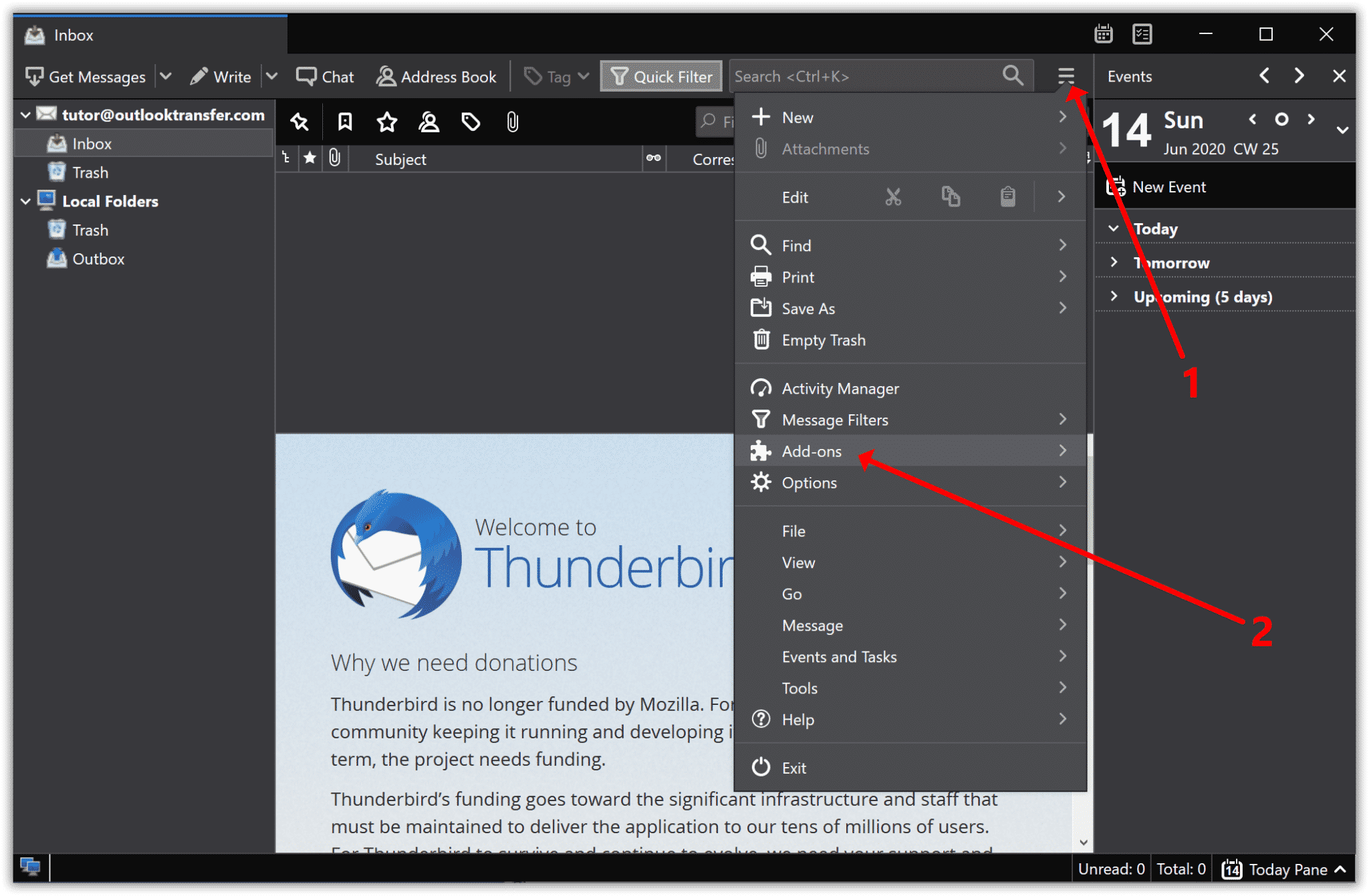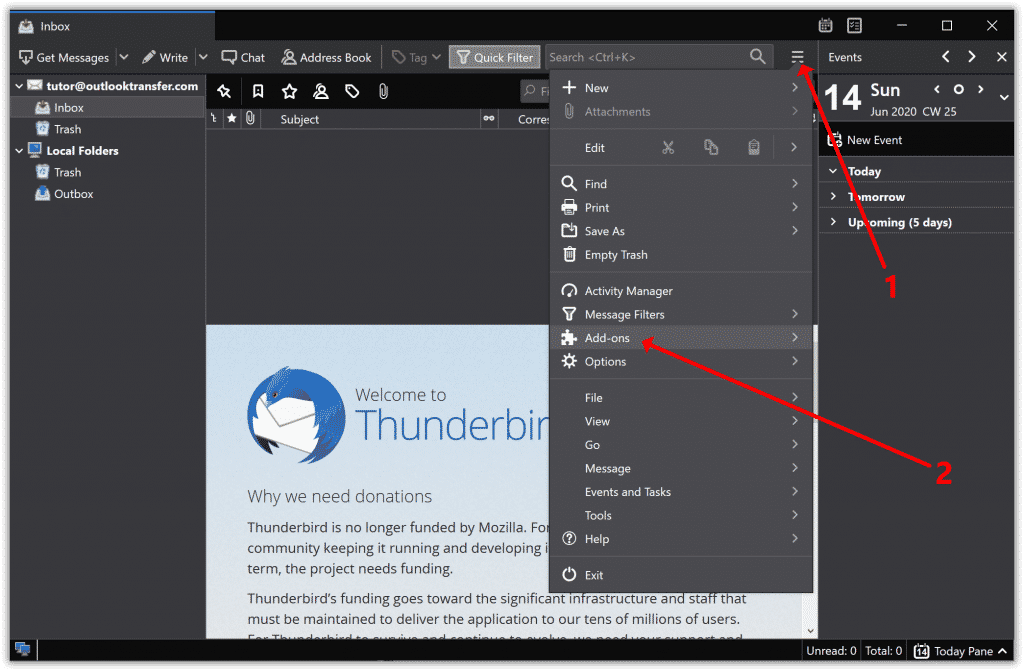 There, find the option Up & Coming and hit it. Check the Add-on options that are proposed and find the plugin ImportExportTools NG ➨ download and install it following the steps proposed by the installation wizard. The software will ask you to restart Mozilla Thunderbird– fulfill this request.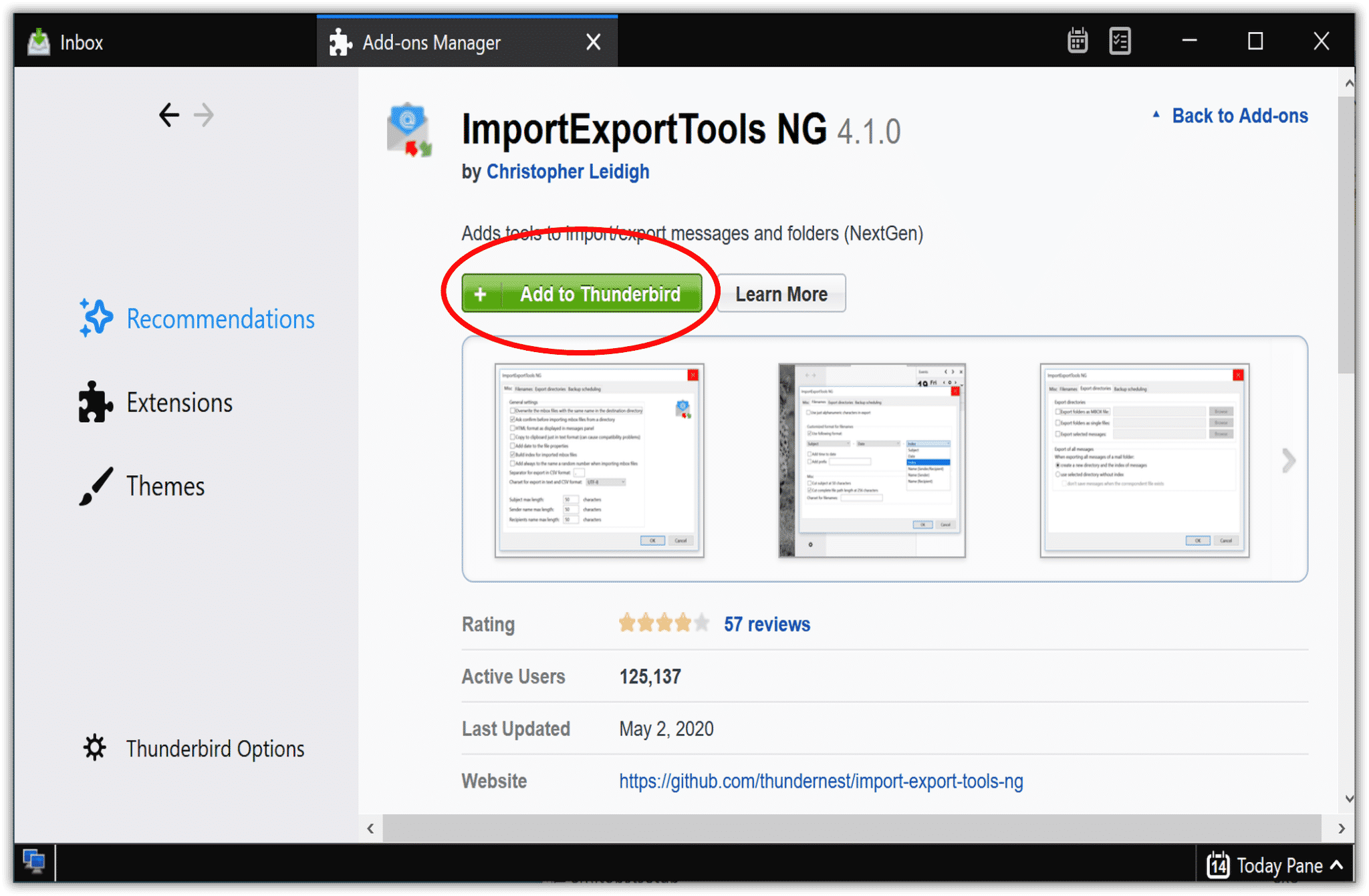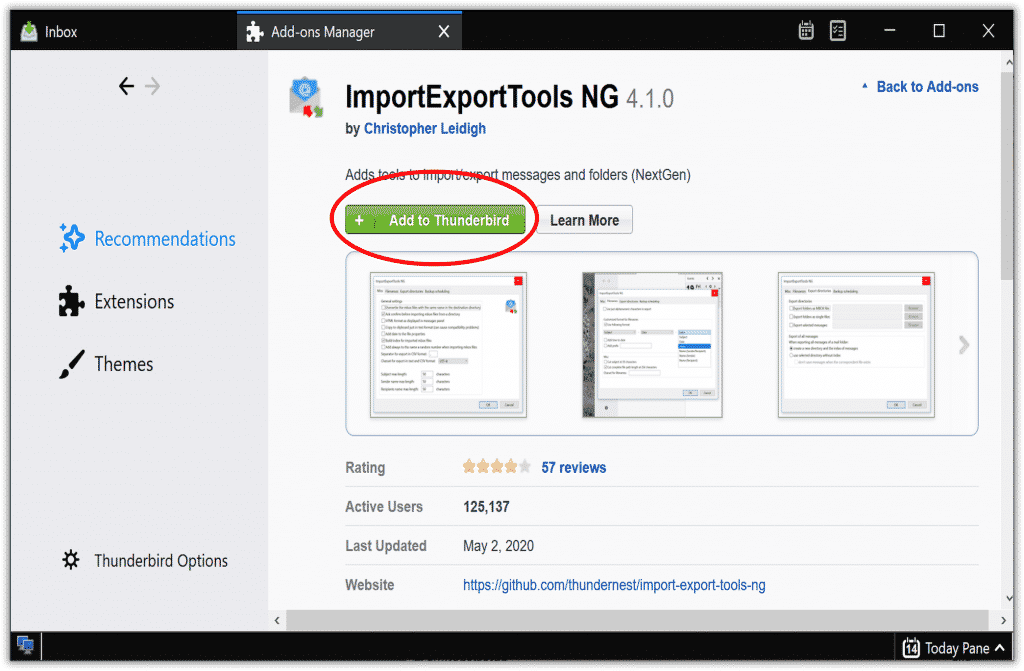 To proceed, find the folder All Mail and right-click it ➨ opt to ImportExportTools ➨ choose the Export folder option. In the window that appears, identify the location on the hard drive where you want Thunderbird to export the email folder to. Then, press on Select Folder. After opening the selected folder on the PC, right-click on the mail file. Rename it and add the extension .mbox at the end of the name.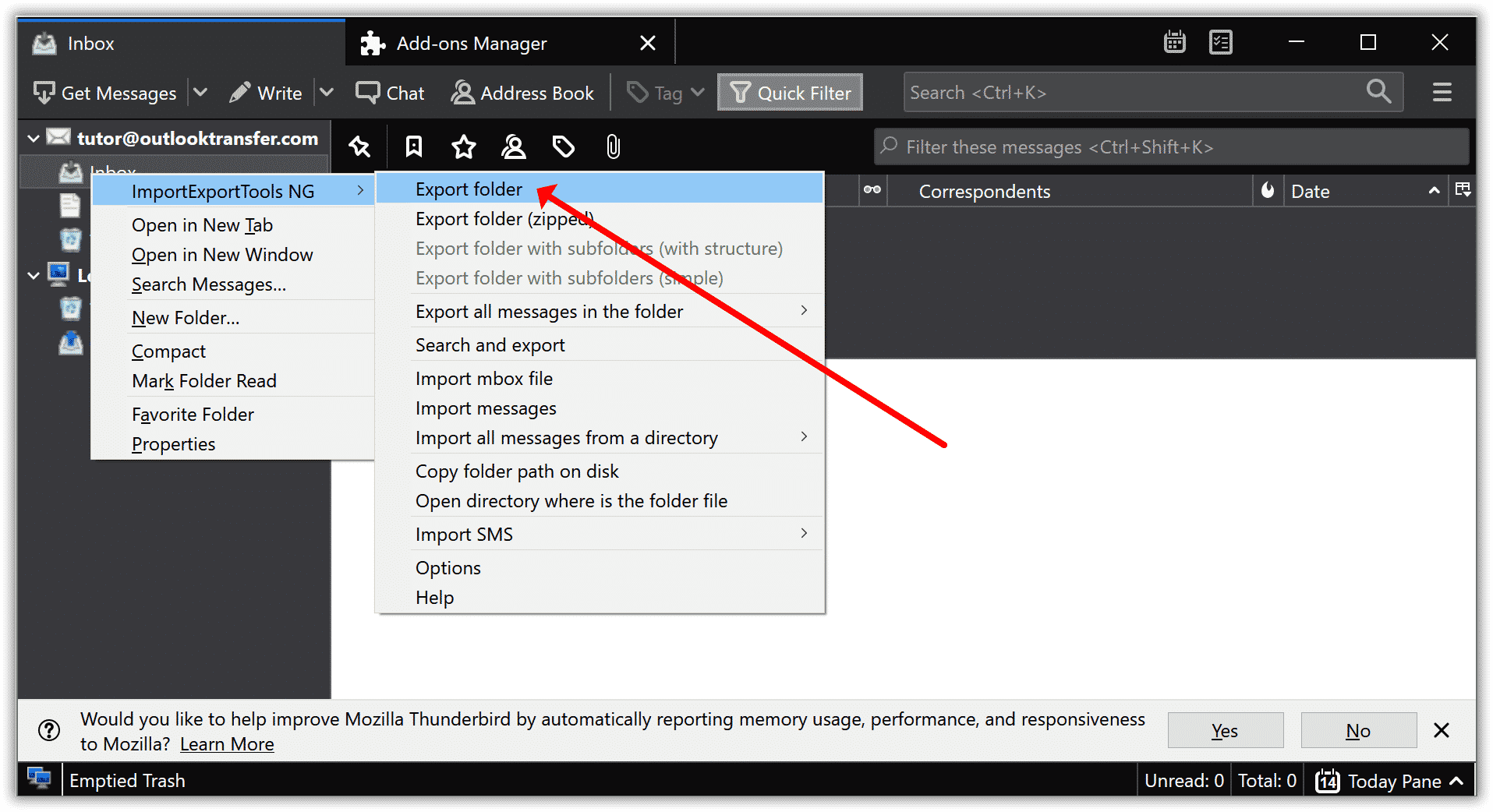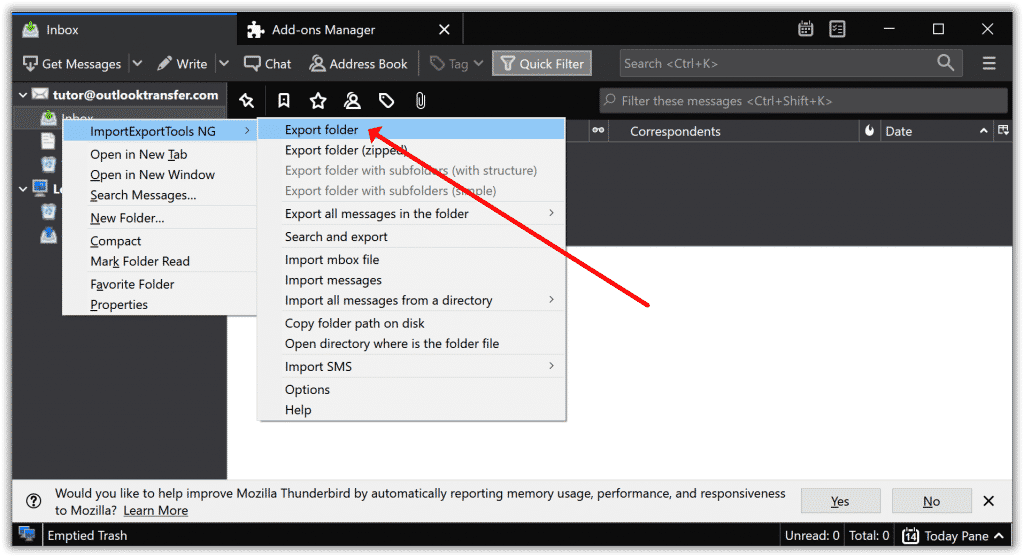 That is how to export Thunderbird emails easily and hassle-free. Using this method, the MBOX file will be available for further use. For instance, if you have saved emails for the purpose of simply backing up or archiving, it will be later possible to open the MBOX file in Thunderbird and continue using it.
Exporting Thunderbird Emails for Further Migration
If you are looking for a way to export emails from Thunderbird to transfer to another platform, for instance, Microsoft Outlook, here are two suggested procedures for you.
Utilizing IMAP
The abbreviation stands for Internet Message Access Protocol. Generally, this protocol is used to sync two email clients online. In other words, you will be able to open the Thunderbird MBOX folder from different email accounts. Here is how it is done:
By means of the IMAP server, set the configuration of the Gmail account in your Mozilla Thunderbird
Open Google Mail, create a new folder and copy messages to it
If you need to have access to these emails from MS Outlook, open it ➨ by means of IMAP or POP server, create the same Gmail account
Download Thunderbird emails afterward
It is worth noting that this method provides the opportunity to export from Thunderbird only a limited amount of emails.
Simply Drag and Drop
This is a simple solution to migrate some messages from Mozilla email client to another email client. The first stage explains exporting Thunderbird emails. Unfortunately this will not work for MS Outlook, but this method can be used to migrate from Thunderbird to Mac mail, Live Mail, OE Classic and many other email applications.
Open Mozilla Thunderbird and choose messages that need to be exported
Create a new folder on the desktop, name it accordingly
Drag the chosen messages and drop them in the newly-created folder
Follow the additional steps below to transfer these emails into new email client.
Open new email client and go to the folder where exported messages should be imported
Update the new folder on the desktop, select the messages, and move them to the folder of the new email client.
Here is the example video on how the Drag-n-drop method works:
Important Notes on Exporting Emails from Thunderbird
Above are the steps to manually export MBOX files from Mozilla. They are easy to complete. However, it is crucial to remember that such procedures make it possible to export only a limited number of emails. Additionally, some crucial data can be lost or distorted.
If you need to save messages as backups, trust that you will be able to open MBOX files in Thunderbird or in any other system without the fear of losing sensitive data. Make use of special software that is designed specifically for this purpose! This is especially recommended to users who have little to no technical experience with various software.
If you want to migrate from Mozilla mail client or need to use more than one service for emailing, our guide on exporting MBOX files will help you out. Choose the option that suits your needs best and practice exporting your emails.
More Knowledge Base articles
---
Email migration is a process of transferring emails and other data from one email platform to another. One of the most common email migration scenarios is moving from a different…
---
An MBOX file is a mailbox format that stores email messages one after the other as a plain text. Each individual message within mbox file stored in EML format. So…
---
Outlook is a widely used email client, which is professionally developed by Microsoft. It offers many advanced features to its users, such as emails, calendars, tasks, contacts, notes, and many…
---
Outlook is a popular email client used by millions of users worldwide. It is widely used by individuals, businesses, and organizations to manage their emails, calendars, tasks, and contacts. However,…
---
As a Microsoft Outlook user, you may experience the "Errors have been detected in the file xxx.ost" error message. This situation can be frustrating and confusing, especially if you rely…
We are sorry that this post was not useful for you!
Let us improve this post!
Tell us how we can improve this post?