It is a great pleasure of having a new personal computer and enjoying it. However, it can become a real problem when it comes to transferring all the important data from an old PC to a new one. Nevertheless, Microsoft Outlook that is a program managing personal contacts, emails, meetings, and plans offers its users the opportunity to export all the necessary data and import it into a new device.
Before answering the question on how to move outlook archive files to another computer, it is crucial to understand that not all data can be exported. Microsoft Outlook makes it possible to transfer such archive files as emails, contacts, and calendar.
Table of contents:
How to Transfer Outlook Archive Files
The process of transferring Outlook archive files to a new PC is complex and consists of several steps. The first would be to export the files from the Microsoft Outlook into a new format. Sometimes, data is converted into a .pst file that can be opened on a new computer and even on a different version of Outlook.
Exporting Data from Outlook
First of all, a user should open the program on the old PC. In the top right corner, one should click on the tab File. After that, a user should choose the Info button and then press Options. A new window will appear with a list of actions. A user needs to click Advanced. After doing that, one needs to choose the option Export.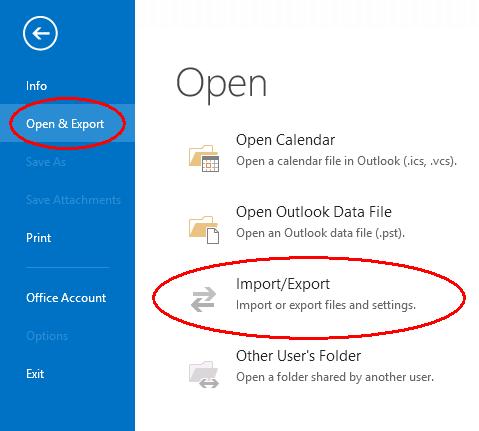 After that, click Export to a file, and then press Next. Then, one should press Outlook Data File (.pst) and Next. After that, a user should choose a folder to export. Only one can be processed at a time. After naming the file and choosing a storage place, the exporting part is finished.
Importing Data to a New PC
The next question would be how to transfer Outlook files to new computer. This is the second step, and it requires importing of the exported data to a new PC. To do that, it is recommended to use a Flash Drive to move an exported .pst file to a new location.
After that, a user needs to launch Outlook on a new device. Select the File tab on the left bottom of the screen, and choose Open & Export. When Import and Export Wizard window appears, a user should click Import from another program or file.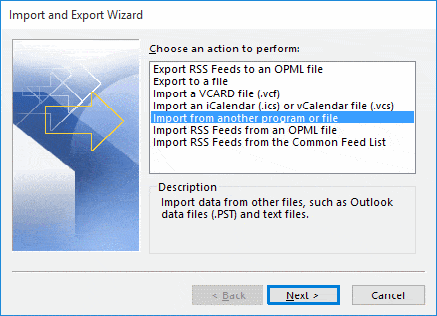 Then, it is time to select a file that was exported and saved in the previous step. There will be a list of options on how to import files. It is preferable to choose to replace duplicates with items imported as it will be the answer to how to merge Outlook archive files.
Then, a user should click Next. If a program asks to enter a password, a user should use one that was created on the previous PC. After clicking Finish, the process of transferring archive files to a new computer will be complete.
Opening PST File in Outlook
Alternatively user may open PST file in Outlook instead of importing it. For that one need to run MS Outlook at new PC, then click menu File and choose Open Outlook Data File… item. Then select the PST file to open and confirm opening. The PST file will appear in the list of folders as second or third storage depending on the amount of connected PST files. Another important step is to expand the Outlook folder tree of the new opened PST file. To do this, user have to click to the rectangle symbol before the PST store name.
How to copy a single Outlook message to Outlook at another PC
If you need to transfer a single or several Outlook items from old to a new PC, you may do the following:
Run Outlook at old PC and select items you want to copy
Drag selected items to Desktop. This will create MSG files for each selected item
Now transfer these MSG files to your new computer using removable media or network
Run Outlook at new PC and drag copied MSG file iside one of Outlook folders.
This will import MSG files and you will be able to use them at new PC.
To make these imported emails and other items appear correctly, you have to drag them into the folder of similar type like it was at old PC. For instance if you copying the content of the Sent Items folder, you have to drag the MSG files into the Sent Items folder. The same for Contacts, Calendar, Notes and other Outlook items.
Sending Emails to a new PC
Not so popular but still working method for those who want to transfer small amount of emails or another type of Outlook items to another computer it's to resend them as attachments in the sengle or several emails. For instance you need to copy several emails from one PC to another, here is what you may do:
Run Outlook and select emails you want to copy
Click Forward. This will open the new email window with attached MSG files created from the selected emails
Specify the email address to send these emails to new PC and fill out other fields if needed
Click Send button
Go to new PC and receive the email
Right click to the message and select Save all attachments… item and press OK in the appeared window
Choose a folder on your hard drive and save these attachments and confirm saving
Select saved MSG files and drag them into Outlook folder to import
Outlook will import selected items
To sum everything up, the following article aimed to answer the question of how to transfer MS Outlook archive files to a new personal computer. The process can be difficult for an average user, but the instructions in the article will be helpful on this journey.
More Knowledge Base articles
---
Email migration is a process of transferring emails and other data from one email platform to another. One of the most common email migration scenarios is moving from a different…
---
An MBOX file is a mailbox format that stores email messages one after the other as a plain text. Each individual message within mbox file stored in EML format. So…
---
Outlook is a widely used email client, which is professionally developed by Microsoft. It offers many advanced features to its users, such as emails, calendars, tasks, contacts, notes, and many…
---
Outlook is a popular email client used by millions of users worldwide. It is widely used by individuals, businesses, and organizations to manage their emails, calendars, tasks, and contacts. However,…
---
As a Microsoft Outlook user, you may experience the "Errors have been detected in the file xxx.ost" error message. This situation can be frustrating and confusing, especially if you rely…
We are sorry that this post was not useful for you!
Let us improve this post!
Tell us how we can improve this post?