Technologies and innovations have become a major part of people's life. All modern applications allow you sorting and filtering correspondence, contain a built-in address book, can display attached images, as well as recognize HTML-code. Each Windows mail client has its pros and cons. Modern best email clients not just let you send emails, but also provide their users with services for processing emails, storing addresses, creating templates and signatures.
You can choose the email sending method that is right for you and that meets all your individual needs evaluating the best mail programs. The main email clients pros: all received emails are stored on the user's PC, they can be read offline, and mail utilities often include more features than the standard web interface.
In this article – pros and cons of the following email client apps:
Best Email Client for Windows 10 – Outlooktransfer.com
The proposed email applications support common POP3 and IMAP protocols. This means that they are compatible with most mailboxes.
IncrediMail

IncrediMail is a bright and colorful email client, the first messages of which brings a great mood to the user. You can download the program for free from the official site and use it for an unlimited period of time. Developers earn money on additional service functions, decorations, and plug-ins to the mail client.
IncrediMail has a traditional structured interface which, however, has an outstanding design. The working windows headers have their own style. The email client paid version lets you change themes. IncrediMail lets you save all user settings, mail database and contact list. These tools make it possible for you to easily transfer the software to other workstations.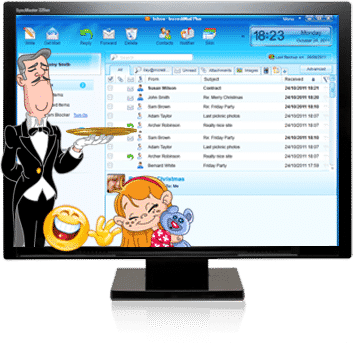 During the first launch of the program, the helper takes control, with which you set up an account. If you have a mailbox on the GMail service, then you will be asked to enter a password immediately after you enter the email address. You do not need to remember all other fields associated with the indication of addresses of POP3 and SMTP servers. In the case of entering an address belonging to another service, the program will try to check with the network database by searching for data to be automatically filled.
Remembering that we live in a three-dimensional world, the developers supplied the email client with a variety of 3D effects. Opening a new message may resemble an unfolding envelope, a rotating gyroscope, or a piece of drawing paper striding across a desktop. When sending a letter, you will see that your document, becoming a piece of paper, begins to fold into a pigeon, and then flies away with the sound of a jet plane. Deleting messages also involves fabulous metamorphosis. A letter can be snatched out of the application's working window like a sheet from a calendar.
IncrediMail conversion:
---
Mailbird

This program is included in the top 10 email clients. Mailbird is a functional email client for the Windows operating system. Its key feature is the presence of an integrated event planner, which will be very useful in business and everyday life.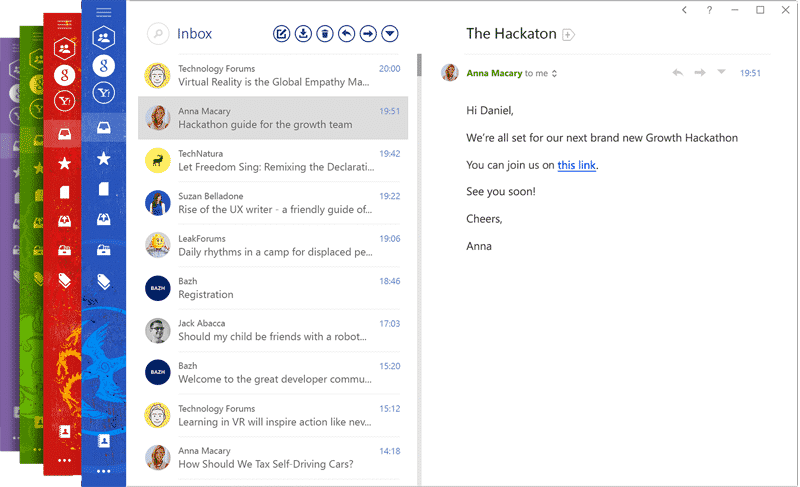 The main advantages of the program:
It supports many languages ​​and integration with various services.
It can be used as a news aggregator.
All messages are stored in conditions of absolute confidentiality, which is guaranteed by the introduction of modern technologies.
Messages are sent quickly and without unnecessary actions.
It allows you to create and edit notes.
It has a stylish and easy to use interface.
You can connect up to 100 profiles simultaneously.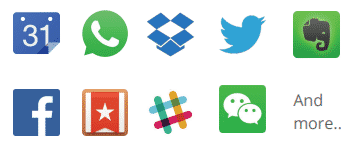 The Mailbird application has support for such mail services as Outlook.com, Gmail, as well as many others, to which you can connect without problems if they work on the basis of the IMAP protocol.  When you first launch the program, Mailbird will offer to choose the preferred interface construction option. The first option assumes the location of letters on the left side, and their contents will be displayed on the right. In the second case, the sidebar contains the mailbox categories, and the list of letters and their contents occupy the remaining horizontal part of the program. In each mode, the interface can be scaled and customized to suit your needs. Mailbird contains a built-in typing editor that automatically checks spelling and punctuation.
For the quick implementation of basic functions, you can set hotkeys and their combinations. This provides lightning-fast access to sending messages, opening certain categories or letters. To save personal time, you can create letter templates and prepare lists of recipients.
It is also essential to note the support for extensions developed by third-party companies. In this regard, Mailbird resembles Thunderbird, which is very popular these days. The application is optimized for maximum performance, both from the data processing and the speed of the workflow. The developers made the work in the interface as productive as possible. And offline access helps manage your email from anywhere.
Talking about the cons, we can say that there is a little number of different functions. Here you will not find many familiar things that are present in other email clients.
---
Airmail 3

After the first version of the application, the Airmail is often called the best for macOS, which can not only replace the standard mail but also simplify many routine actions with letters, meetings, reminders, and notes. When you first see the program in the App Store or on the developer's website, you don't even think that this is an email application. It looks like mobile messenger or application for a social network.
But to achieve this kind of reality, you need to turn off the message details panel and get used to open letters with a double tap on the trackpad. And only after that, Airmail 3 can be called the most minimalist email client for macOS. Flexibility is one of the main features of the client. With the help of various kinds of stretching and dragging, it can be reduced to a form almost similar to the standard macOS mailer.
In addition, the account image can automatically be associated with a specific color, which will be marked with all the letters of a particular mailbox. And there are themes that change the display style of incoming letters.
It is not surprising that the application received the prestigious Apple Design Awards 2017 award. The developers did their best. Everything opens instantly, has nice animations, nimble switching, and quick reactions. Comparing to a standard mail, an Airmail 3 is a jet plane.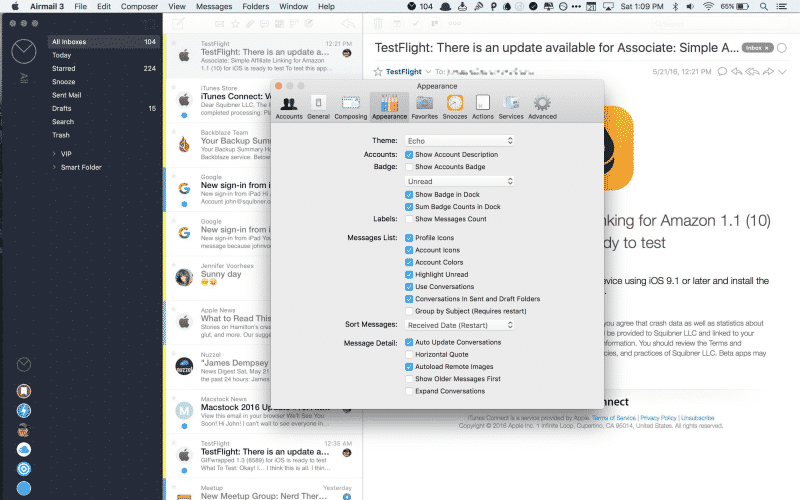 The difference is especially noticeable when the application window is closed and reopened after some time. The standard mailer can take up to 5 seconds to resume work and download letters, while Airmail can handle it in 1-2 seconds.
Airmail 3 supports all modern technologies. The API and Apple platforms can be integrated with a huge number of third-party cloud services, note-taking programs, schedulers, and so on. Work with letters is also taken to a new level. You can postpone a reply to a letter with a reminder, send it to an internal list, mark it as completed, or turn it into a note.
In the new version of the application, interaction with letters and access to normal functions has become much more convenient. In addition to the familiar swipe gestures, customizable hotkeys appeared. Also, there is the ability to add four selected actions directly to the toolbar. There are two global shortcuts that can be set as you like to compose a new letter and display the Airmail window. Owners of a large number of accounts with chaos in the sidebar will be helped to manage custom folders. You can leave only the most necessary and hide the rest.
The first disadvantage is that it is quite expensive, comparing to other options. And the second one is that it works badly with Gmail emails.
---
The Bat!
Th

is best mail software supports authentication and encryption protocols when working with mail servers to protect against intentional data corruption, as well as confidential information leakage when sending messages online.
Thanks to selective letters downloading using the client, you are able to download specific messages only. Among others, The Bat pros: external modules support, integrated templates, RSS-feeds broadcast, and built-in HTML-viewer.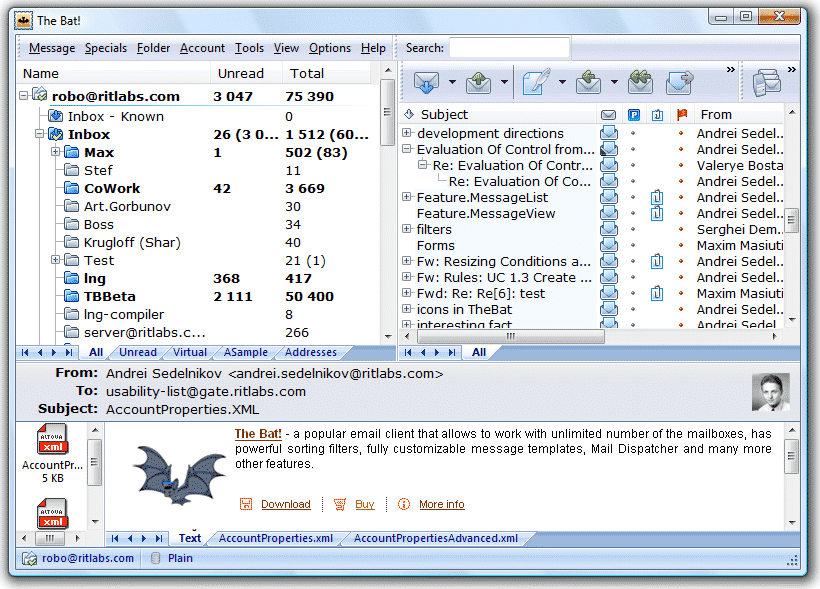 Here is some official information about this powerful and convenient email program, which has many unique and necessary functions:
The Bat! supports the management of an unlimited number of mailboxes that you can open on different servers.
It has a flexible creation of various letter templates based on embedded macros.
It has a powerful mail filtering.
Any box, folder, or recipient can have its own template for a new letter.
Quick templates allow you to insert pre-prepared text in the process of editing a letter and save a lot of time when writing correspondence.
Correct work with all internal encodings and a flexible system of settings allows you to set your own encodings for each mailbox and recipient.
There is a convenient interface in 17 languages ​​with the ability to switch them without restarting the program.
There is a mail dispatcher for working with letters directly on the server. Therefore, you manage the correspondence without taking it to your computer.
It is perfect for people who like multitasking. The program can check mailboxes and sort messages while you are viewing or editing letters.
It can read letters in the format of HTML-mail.
There are powerful search tools in the database of letters and address services.
There is built-in support for PGP, based on the SSLeay library.
It has a support of smart cards with PGP secret key for bank-client mail transactions and other areas where a high degree of security of the data is required.
You can selectively enable/disable confirmation of the delivery of letters for any folder, as well as change the priority of the message when writing it.
There is a convenient address book with the ability to store not only email addresses but also a large number of additional information about your correspondents.
This program supports IMAP4, POP3, APOP, SMTP, and SMTP-authentication protocols.
There is an opportunity of importing messages from the most popular mail client formats and the Unix mailbox format, as well as exporting to the Unix mailbox format.
The Bat! messages conversion:
---
Postbox

Postbox is an excellent email application that is based on the engine of the Mozilla Thunderbird mailer. With its help, you can work simultaneously with several mail services. The program has an attractive interface that is similar to Mac OS and a broad set of tools for filtering and viewing correspondence. A feature of the program is the address book. It can collect information about users from social networks.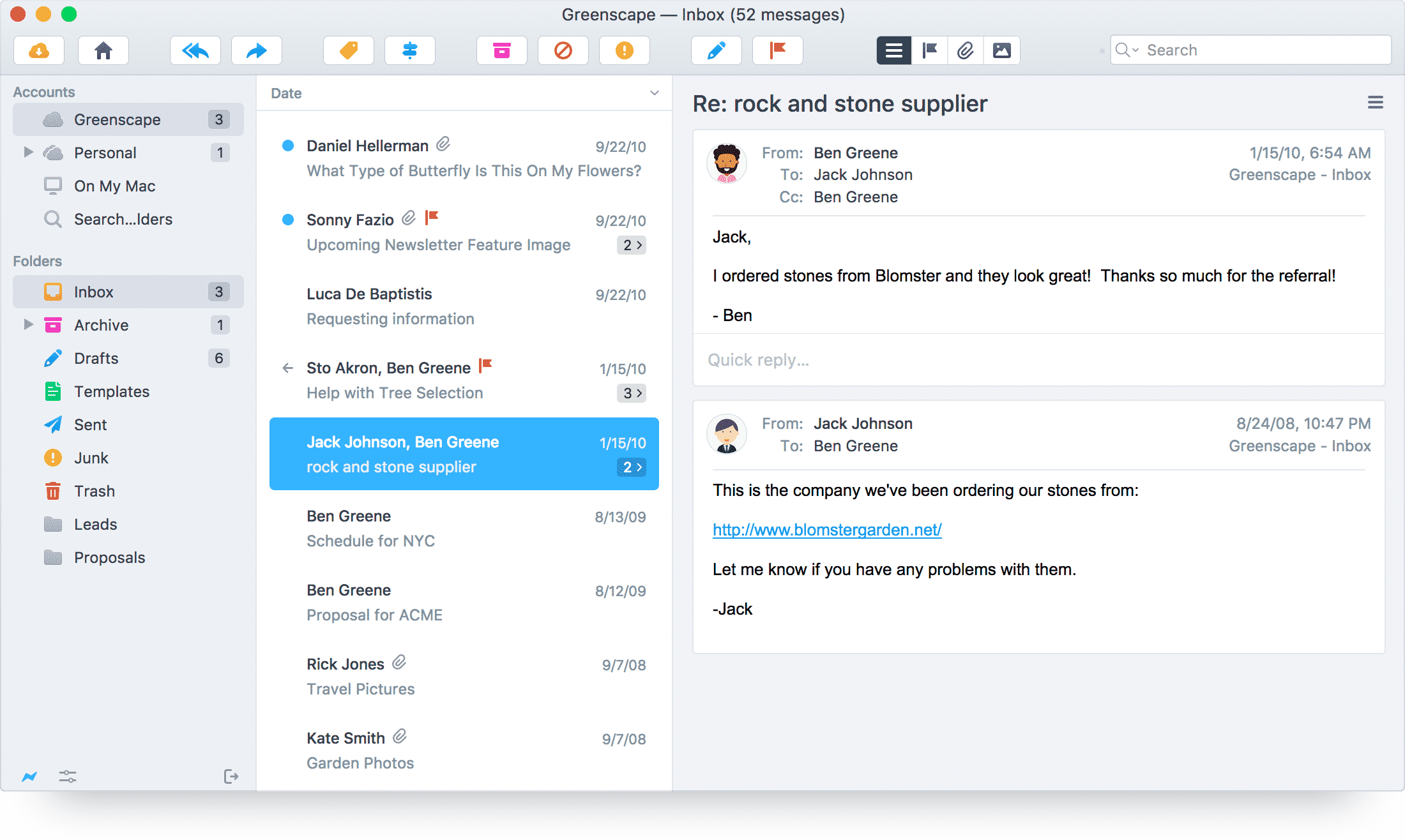 After you start the application, it is necessary to enter data of your working mailbox. If a popular service is used, then the app will independently set up information about correspondence servers and encryption methods. You only need to enter the address, and the program will do everything itself. A full version of the program costs $ 40. There is a one month trial period which will help you to learn all the features.
The desktop application integrates perfectly with Gmail: you will hardly notice the difference between the web version of the service and Postbox. You can simply upload the required document from the Dropbox window directly to the body of the letter. The program will add a link not downloading the file.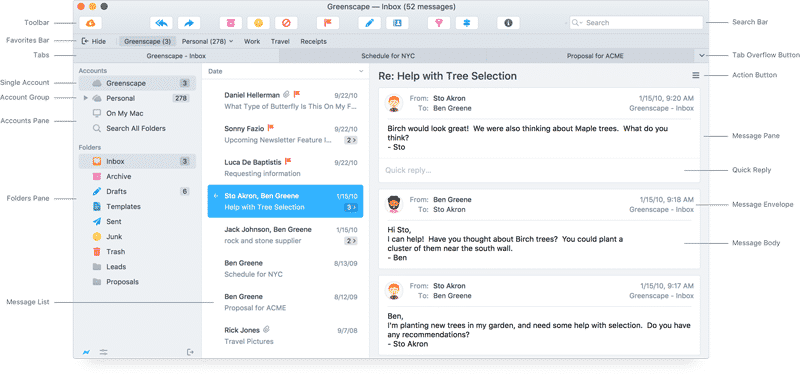 The program allows you to download and send emails. In addition, the application performs automatic mailbox configuration. There is also a text editor for spell checking. You can transform and apply effects on images as well. Besides, various services can be embedded.
The main advantages of this program are that it can filter folders and individual letters. In addition, the program has high-quality plugins. There is an opportunity to use emojis smiles.
Talking about negative points, it is worth highlighting the lack of filters for multiple profiles. In addition, there is a delay in the response of the interface when working with the address book.
In general, this application is a modern mailer with a convenient interface, emojis, and plugins.
Postbox email migration:
---
Thunderbird

The mail application was created by Mozilla, the developer of lots of extensions. It will help you import mail accounts, while a powerful search engine will make it possible for you to quickly find the necessary information.
Thunderbird is perfect for both personal and business usage. After a simple setup, the program allows you to conveniently view your email and find out about the letters that came to the box in time. Besides, if you have several mailboxes, then the client will display all these messages.
The design is extremely convenient. Smooth edges and thoughtful menu items attract attention from the first seconds. The interface itself is a bit similar to the Mozilla Firefox browser. There are tabs where you can place open folders or accounts. You can hide the toolbar if you need it. In general, the appearance and convenience performed at the highest level.
The program has a standard set of functions for the mail client. But it also has some features that we need to talk about in detail. There you can change the design and increase functionality. Everything is downloaded directly from the client, so you do not need to visit websites. In addition to the email client, there are clients for popular chats, which is a big plus for this kind of programs.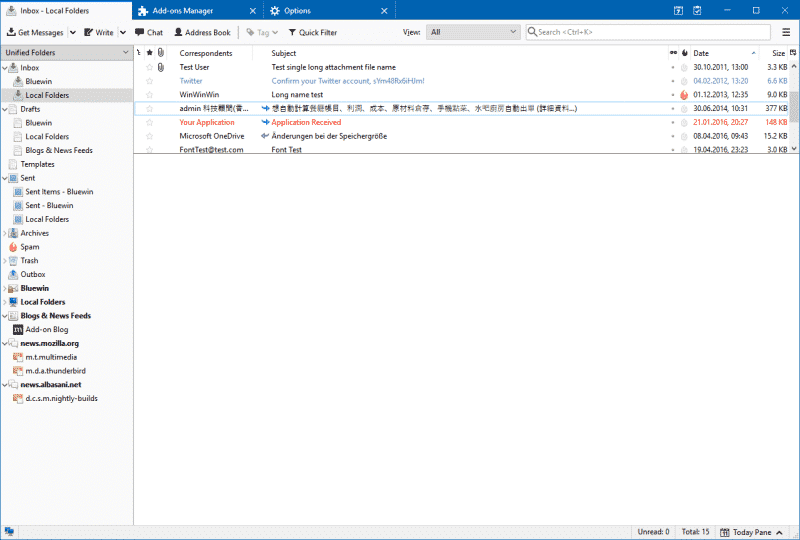 When setting up your account, you can choose how to store letters and their attachments on the Internet resource or your PC. At the same time, you can specify the size of the cache on your hard disk. And then you can read letters and download the material you need even if there is no Internet connection if the messages were received in advance.
You can customize Thunderbird in the way you like. You can remove the unnecessary information and add everything you need. It is also worth noting that the program does not consume a lot of resources when running in the background and does not require a large amount of traffic to synchronize with the server.
The main, and perhaps the only drawback of Mozilla Thunderbird is the possible errors in the recognition of encodings.
Conversion of Thunderbird data:
---
Opera Mail

Opera, known for its flagship product, is the developer of this best mail client for Windows. Earlier, the mail client was a part of the Opera browser, but now it's a standalone application.
The program is known for a high operation speed, a convenient algorithm for displaying the mail history, as well as the integrated tools to block spam. One of the main pros of the program is its modern interface. It also attracts users with high-speed letters download.
When you first start the program, you will have an easy mailbox setup process. To do this, you need to enter your name, email address, company, username, and password. Everything is so easy if you use a popular mail service. If the service settings are not in the Opera Mail database, then you will also have to enter the incoming and outgoing mail servers manually. In principle, it is not so difficult, and this process is rather ordinary for any mail programs.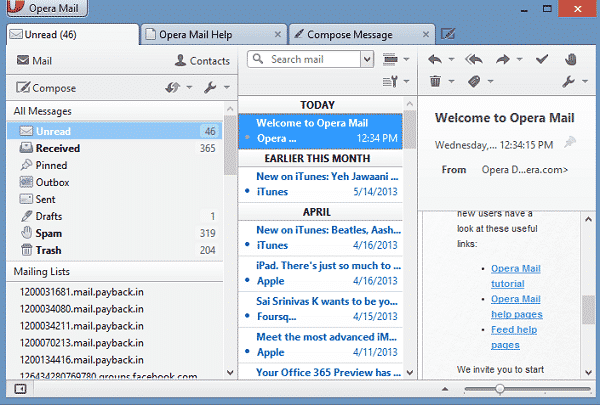 Opera Mail uses three classic letter viewing modes: vertical, horizontal and list without preview. These types of display letters have long been used around the world and are fundamental when working with mail. You can change the appearance of the display through the settings, which are available in the upper right corner under the wrench label.
On the sidebar, you can find a list of used folders, tags, and attachments. If the list of tags and folders is a common thing for mail clients, then the list of attachments is unusual. The list consists of the types of nested data like documents, images, music, video, and archives. By selecting one of them, the user will receive a list of all emails with attachments of the selected data type.
In the upper part of the sidebar, there is a contacts button, clicking on which, the user sees a list of all contacts with whom he or she corresponded. After selecting one contact from the menu, the list of letters on the right is filtered, and only those letters containing the selected contact are left. To shorten the list of contacts, you can use the filter, which is located at the top.
The only Opera Mail's flaw is the lack of archiving capabilities. In other aspects, it is a high-quality, fast, and free email client.
Opera Mail emails conversion:
---
Live Mail

Windows Live Mail Desktop is the official Live Mail client; this service is no longer supported by Microsoft's free email programs, while a special connector will soon be available for Microsoft Outlook. In this case, a special HTTP-based protocol is used, although POP3 / SMTP and IMAP are also supported. One of the best email apps for Windows subscribers is also protected from graphic advertising.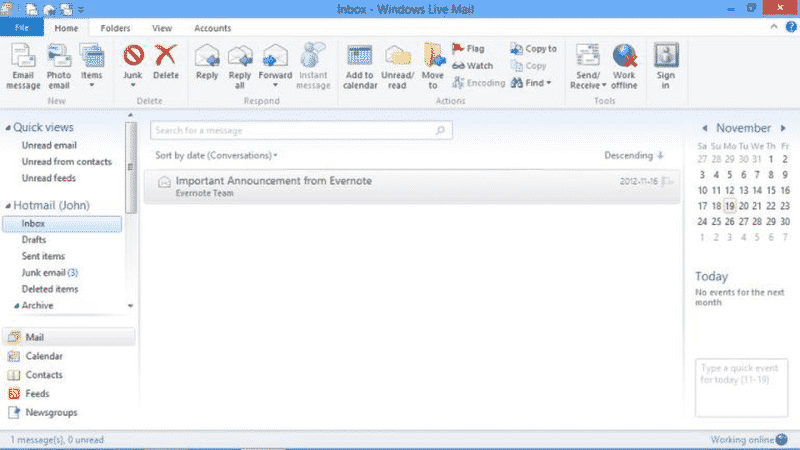 Setting up Windows Live Mail is very easy, especially if you worked with Windows Mail or Outlook Express. Most configuration options are in the same menu, so there will be no surprises for you. In addition to its new interface, Windows Live Mail has several new features that are not available in Windows Mail. The most notable are:
Easy email configuration. If you use Windows Live Hotmail or Gmail, you do not need to know the addresses of email servers, ports, and so on. Just enter your email address, password, display name, and Windows Live Mail will do all the advanced settings for you.
Separate inbox folders for different POP accounts. If you work with several Email accounts, you will have separate folders for each of them.
RSS Feeds. You can easily subscribe to your favorite RSS feeds and read them directly from your inbox.
Windows Live Contacts Online Sync. Windows Live Contacts is integrated with Windows Live Hotmail, Windows Live Mail, Windows Live Messenger, and Windows Live Spaces to provide users with access to their contact and information profiles. This means that you will be able to access the same list of contacts when you work on your computer or when you access Windows Live and Hotmail from the network.
Great picture messaging. When you send photos by email, you can add frames and their borders, change their size and location, or even edit them.
Emoticons and built-in spell checker. A spell checker is always a welcome feature. There are emoticons that you know from Windows Live Messenger. Even if they are not very impressive, I'm sure this is a good new feature.
The main disadvantage is that Windows Live Mail opens Microsoft tech support messages created in Microsoft Avondale Mailer as empty messages. You can read them only by clicking on the "Send" button. In addition, letters from folders disappear sometimes.
Yes, all these email clients are good, but nevertheless we would recommend to migrate your messages into the best email software called Microsoft Outlook. And our products may help you in this task.
Conversion of Live Mail emails and contacts:
---
Conclusion
It's not necessary to use the mailbox web interface for easy access to multiple email accounts. For this task, special email applications are very suitable. The best representatives of this category were presented in our material. You can be sure each of the clients will definitely help you to establish a simple and quick work with your mailboxes. If you looking for the email clients comparison, you may check this article.
More Knowledge Base articles
---
Email migration is a process of transferring emails and other data from one email platform to another. One of the most common email migration scenarios is moving from a different…
---
An MBOX file is a mailbox format that stores email messages one after the other as a plain text. Each individual message within mbox file stored in EML format. So…
---
Outlook is a widely used email client, which is professionally developed by Microsoft. It offers many advanced features to its users, such as emails, calendars, tasks, contacts, notes, and many…
---
Outlook is a popular email client used by millions of users worldwide. It is widely used by individuals, businesses, and organizations to manage their emails, calendars, tasks, and contacts. However,…
---
As a Microsoft Outlook user, you may experience the "Errors have been detected in the file xxx.ost" error message. This situation can be frustrating and confusing, especially if you rely…
We are sorry that this post was not useful for you!
Let us improve this post!
Tell us how we can improve this post?