There is no doubt that making a backup for personal information is necessary and can be very helpful on multiple occasions. Such popular service as Microsoft Outlook gives its users the possibility to protect their data and store it on a flash drive as a backup. How to transfer emails? Find the answer below.
In this article:
Transfer Emails from Outlook to Flash Drive
The logical question that many people ask is "How do I transfer emails to a flash drive?" To transfer Outlook files, one needs to take several steps. Firstly, a user will have to export information from the program and then use a flash drive to store it. Here is a thorough guide that will make the process quick and easy.
To transfer emails from Outlook to flash drive follow these steps:
Click menu File.
Click Open & Export option.

Click Import and Export button.

Select Export to a File option and click Next.

Choose Outlook Data File (.pst) and click Next.

Select the needed data, choose a suitable folder to transfer.
Select the Flash Drive as target and click Finish to complete the process of Outlook transfer emails.
By taking everything into account, this is how a user can transfer emails from Outlook to flash drive. Outlook email transfer may seem complicated, but it will be easy and quick with the guidelines presented in the article.
Full Backup of the Outlook data file
If you considering to make a full backup of your Outlook emails, contacts and other data regularly, you may want to create a special BAT file, which will do this automatically for you. The BAT file is a simple text file containing commands which system accepts via the command prompt (CMD). So what to do?
Run Notepad or another text editor and type in the copy command:


copy "<source>" "<destination>"


where:
<source> – the system path where your PST files are located, plus the PST file name to backup
<destination> – the system path to the backup folder where the data should be backed up
* – see the full help and examples of the Copy command use below
Save your text file somewhere on your PC (don't forget where it is)
Run the File Explorer
Open the place where you just saved your text file
Rename the text file to have .bat extension
Now run the BAT file by double click on it
– don't forget to exit Microsoft Outlook prior to run the backup BAT file otherwise the backup will fail.
Copy command help: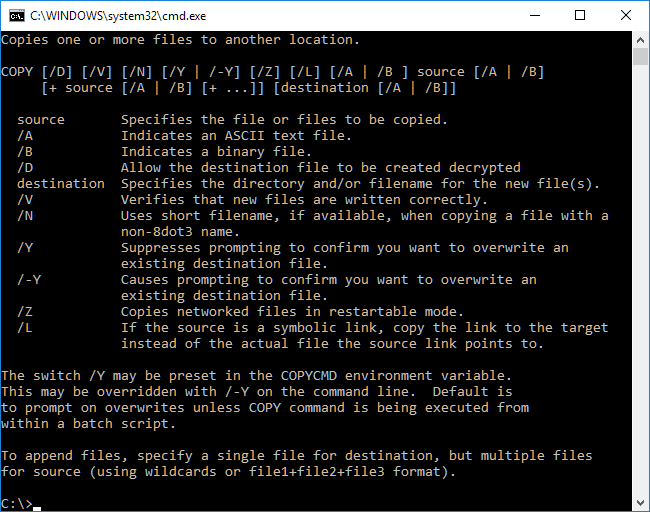 Example:
Let say that your Outlook is configured to store it's data files at "C:\Users\JohnDoe\Documents\Outlook Files\" the data file name is Work.pst and you want to save a backup copy at "F:\Backups\" (your flash drive), the copy command should look like this one:
copy "C:\Users\JohnDoe\Documents\Outlook Files\Work.pst" "F:\Backups\"
If you want to backup multiple .PST files, you may use the wildcard *.pst in your command:
copy "C:\Users\JohnDoe\Documents\Outlook Files\*.pst" "F:\Backups\"
The backup batch file can be appended with other commands. For example if you want to see the result (useful if any error reported by the copy command) you may add Pause command at the end of the *.bat script.
Remember to close/exit Microsoft Outlook prior to run the backup script.
Automatic Outlook Backup
Finally if you want to automate the Outlook backup, we recommend to use the Data Extraction Kit for Outlook software – the ultimate Outlook Extractor which saves Outlook data to multiple different file formats. So you may save emails as PDF, EML, HTML or other formats, save contacts to CSV format to use them in another email clients or export Outlook contacts to Excel file.
To export Outlook data it is enough to:
Run Data Extraction kit for Outlook software;
Select the source which you want to use for export. It can be one of your Outlook profiles or a PST file;
Choose Outlook folder to export (all subfolders may be also included depending on enabled program options);
Choose the target folder to save exported Outlook data.
The program will automatically save all the data to corresponding formats. Isn't that easy? The software available as free trial version, try it with no obligations to pay!

* - The unregistered version converts a limited number of messages
It is always better to be safe than sorry: be considerate and protect your data by creating a backup for your emails. There is no person who has been sorry for keeping regular backups. Follow these recommendations and never lose anything valuable.
More Knowledge Base articles
---
Email migration is a process of transferring emails and other data from one email platform to another. One of the most common email migration scenarios is moving from a different…
---
An MBOX file is a mailbox format that stores email messages one after the other as a plain text. Each individual message within mbox file stored in EML format. So…
---
Outlook is a widely used email client, which is professionally developed by Microsoft. It offers many advanced features to its users, such as emails, calendars, tasks, contacts, notes, and many…
---
Outlook is a popular email client used by millions of users worldwide. It is widely used by individuals, businesses, and organizations to manage their emails, calendars, tasks, and contacts. However,…
---
As a Microsoft Outlook user, you may experience the "Errors have been detected in the file xxx.ost" error message. This situation can be frustrating and confusing, especially if you rely…
We are sorry that this post was not useful for you!
Let us improve this post!
Tell us how we can improve this post?