One of the respectful American research groups once figured the amount of online correspondence delivered per day: the average number is 100 letters. Every day we perform the same tasks dealing with lettering – the tasks that seem quite simple to do but they unconsciously steal our working time. How can we cope with the growing number of emails in the inbox? The answer is clear: use the MS Outlook Rules.
To make it clear, a rule deals with emails after its arrival or sending. For instance, it may put it into a certain folder. Most of the rules are incorporated into the Outlook, however, one of them works by default delaying an outgoing email for 1 minute. This is made to give the opportunity to edit or cancel such letters before they will be finally delivered to the recipient.
Comparing to rules, the alerts are not so frequently used. They were made to notify clients about changing docs or folders in MS Sharepoint. If you want to get know more about rules and alerts in Outlook – take a look at Outlook add-ins.
This guide contains the following chapters:
How to setup rules in your Outlook
To start with, click the "rules" toolbar button in your Outlook profile. By the way, you can also press on any letter for which you wish to set the rule and to save your time, as MS Outlook will help by inserting several fields for you.

For now, we will set up a rule that puts the same-looking emails to an archive folder. Imagine that your company uses a WordPress site to provide shopping. For this purpose, WooCommerce service is used, which is configured to send copies of emails to both the client and us. So, when the order is purchased, this service sends an invoice with a mark "Paid" to the client and we receive the copy as well. Now we have to put these emails to a folder named "WooCommerce", keeping all the recipes in order.
So, here is a step-by-step guide on how to make a rule:
Select a mail to create new Outlook rule for;
Press "Rules" – "Create Rule";
Open the "Subject" box and insert the field with "New customer order";
Then press "Move to folder" and select the "WooCommerce".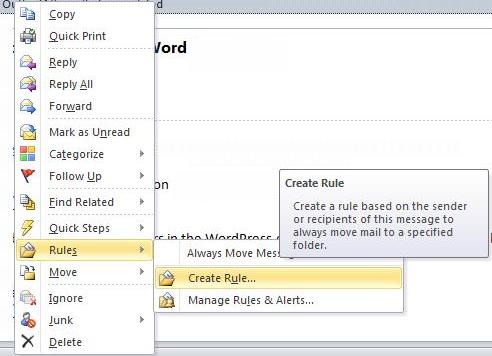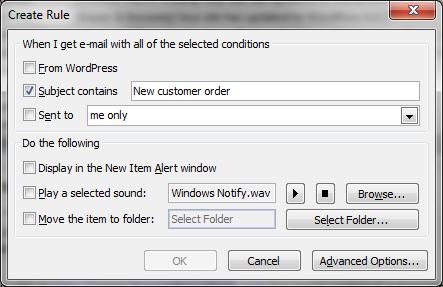 The other example to set up the rule will tackle the delaying email sending for one minute:
Press the small pulldown under "Rules";
Select "Manage Rules and Alerts";
Select "New Rule";
In the "Start from a blank rule" zone, press "Apply rule on messages I send"
Avoid choosing any conditions, just click "Next";
Press "Yes" to the warning notifying you about setting the rule to all the messages you send;
Choose the tab to "defer delivery by a number of minutes";
Decide on a value for time;
Press "Finish".
Several steps to rule editing
If you are not satisfied with how the rule works, it is always possible to cancel it. However, before to do it, try to edit the rule by following steps:
Press "Rules"- "Manage Rules & Alerts";
Select the rule you wish to change;
It'll appear in the "Description" box allowing you to edit any values.
Press Finish
We can apply this scheme to make quick changes but if you want to edit the conditions, actions or exceptions, you have to perform it manually as well. In the end, you are able to insert the name and make sure it works. Now the rule is configured and automatically saved.
How to disable the rule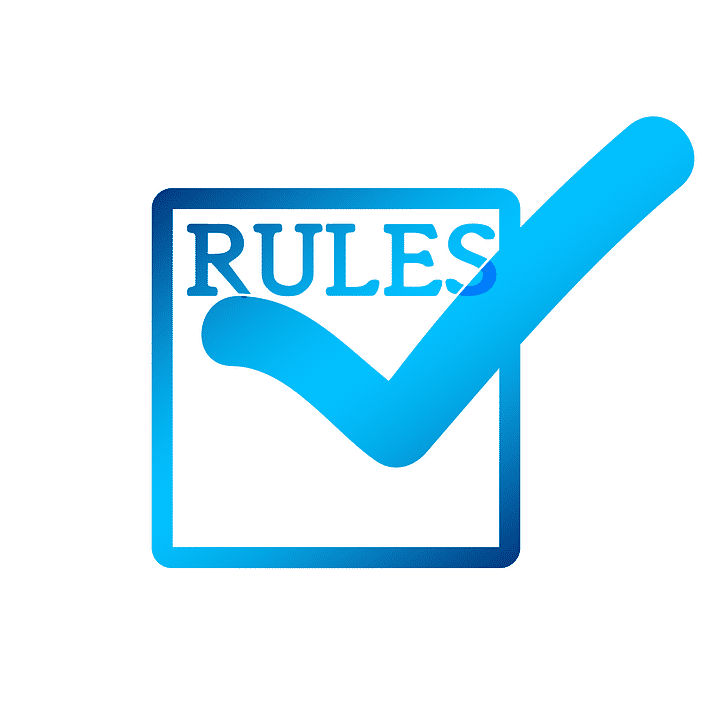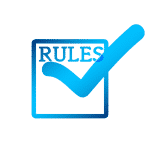 There are probably many reasons why people want to disable the rule. It is quite simple to do by finding it in the list of rules at the menu and pressing "Delete".
In some cases, it is better to temporary disable it. It is better to have a sample of the rule already configured for you than make it several times. Switch on the rule when necessary.
However, you should also know that it takes some additional space in your Outlook profile. So, if it doesn't apply to you – it is better to remove the rule.
Exporting/importing the Outlook rules
The Outlook implies special file format to export rules – RWZ. It is not possible to read as it's only created for exchanging files between devices. If you want to edit such file directly – it is necessary to get an RWZ editing program. In order to create the RWZ file use special add-in program. For instance, Power Rules Manager can easily export your rules in minutes.
The importing rules may be useful if you create a new profile or change the device. If you already have the RWZ file, then follow these simple steps to import Outlook rules:
Press in a small arrow under the "Rules" tab;
Open the "Rules and Alerts Manager";
Press "Options" – "Import Rules";
Select the RWZ file and click "Open";
Confirm the choice pressing "OK" button.
What to do with Outlook rules
People use various options to maintain the huge flow of emails. At least, they frequently use the rule, allowing putting mails into a certain folder. It helps to arrange similar emails together by optional parameters. The idea is to decrease the amount of time spent on everyday mailing tasks with the help of the Outlook email rules. Does not matter whether you choose the only or dozens of rules to manage your correspondence – the main purpose is to automate your mailing activity as much as possible.
How to work with redirected massages?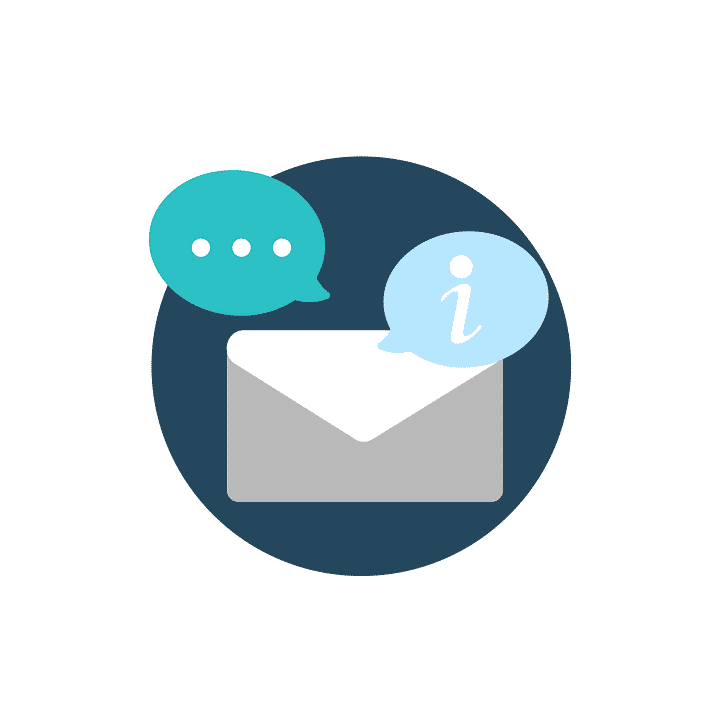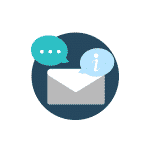 The redirected messages mean that your emails are forwarded to another recipient in its original look. When the forwarded client intends to reply, it will be eventually sent to the original address but not to the redirecting one.
If you share the mailbox with other stuff, then you can use the rules to redirect the emails from a certain customer to a concrete team member. For example, someone may take the clients lettered from A to H, others share the rest of clients. In this case, it is quite easy to optimize the working process, as the stuff will reduce the time spent on the email reply.
The difference between server and client side rules
People are able to run the rules from different places – their desktops or from the server. It sometimes happens, that rules simply do not work just because the client side rules require the Outlook to be constantly run in order to perform them. Perhaps, you are not able to decide whether the rule will run from the server or from your desktop side.
Do the rules perform email migration?
They do not. If you want to migrate from your previous mailing client to MS Outlook – make sure to convert your contacts and correspondence to PST file, supported by Outlook. In order to do it automatically, use the Outlook Transfer tool. It performs easy and fast transferring and requires a minimum of manual settings. Visit the official website and take advantage while using the trial version. Outlook Transfer has several licensing options to choose from, competitive pricing and user-friendly interface. Save your time and let it make this job for you!
Conclusion
We hope this article helped you to find out some useful features of MS Outlook rules. As you see, there are truly a lot of things to do in order to manage your business correspondence. If the certain rule does not work for you – get rid of it or configure. Export and import rules in RWZ format if you want to change the profile or device. Set up the Outlook rules and alerts manually or use the specific app to have this job done for you.
In case you would like to share your experience or ask questions – do not hesitate to reach us in comments.
More Knowledge Base articles
---
Email migration is a process of transferring emails and other data from one email platform to another. One of the most common email migration scenarios is moving from a different…
---
An MBOX file is a mailbox format that stores email messages one after the other as a plain text. Each individual message within mbox file stored in EML format. So…
---
Outlook is a widely used email client, which is professionally developed by Microsoft. It offers many advanced features to its users, such as emails, calendars, tasks, contacts, notes, and many…
---
Outlook is a popular email client used by millions of users worldwide. It is widely used by individuals, businesses, and organizations to manage their emails, calendars, tasks, and contacts. However,…
---
As a Microsoft Outlook user, you may experience the "Errors have been detected in the file xxx.ost" error message. This situation can be frustrating and confusing, especially if you rely…
We are sorry that this post was not useful for you!
Let us improve this post!
Tell us how we can improve this post?