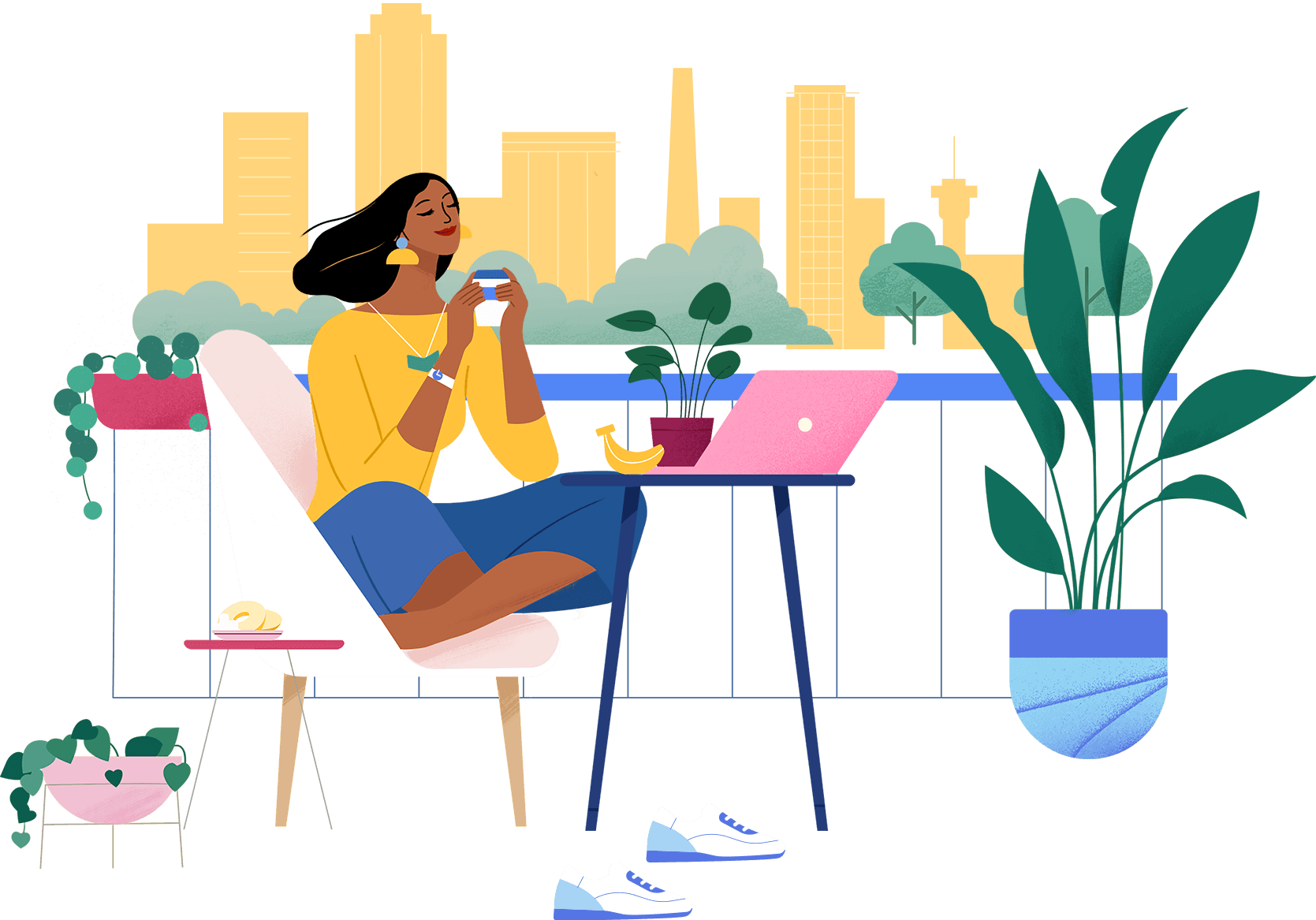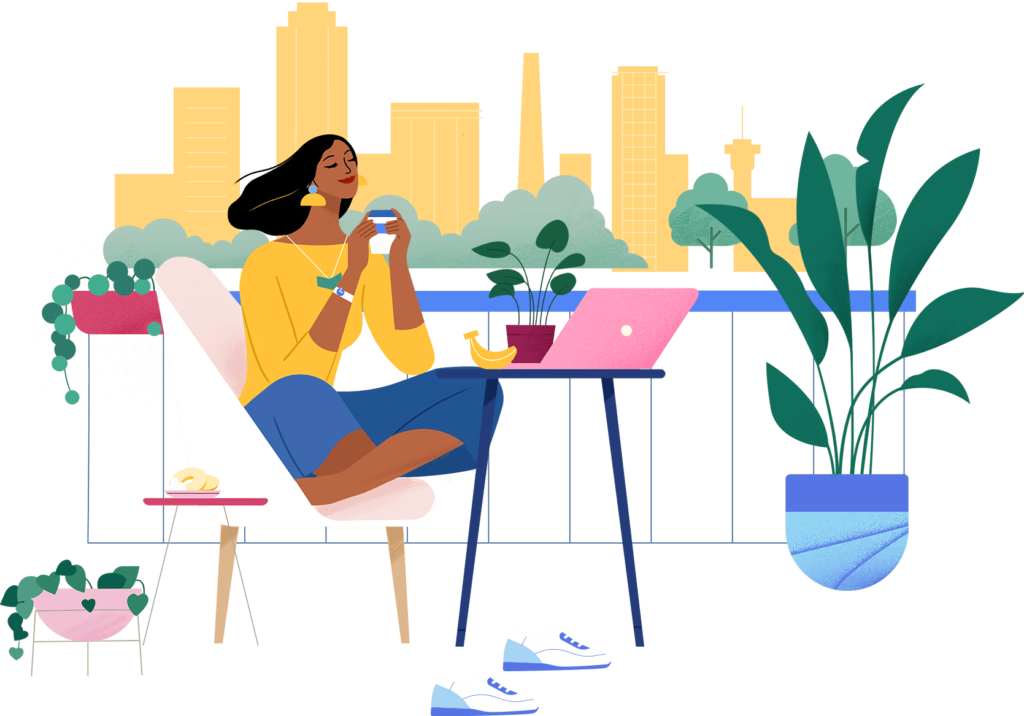 Fastmail may be one of the best email services available today, but what if you want to use another provider? It can be hard to decide on just one with so many email options available.
The email industry has been redefined in the last decade, especially with the arrival of cloud-based services like Fastmail that have changed the way we approach email management and security.
Unfortunately, as with all good things, there are always people who want to capitalize on new opportunities to scam and steal your data. This is why you need to start looking into Fastmail alternatives as soon as possible to keep your emails safe in the long run.
| | | | | |
| --- | --- | --- | --- | --- |
| | Fast mail | Proton Mail | Tutanota | Posteo |
| Security | 3/5 | 4/5 | 4/5 | 5/5 |
| Storage | 5/5 | 3/5 | 4/5 | 5/5 |
| Customization and Tools | 4/5 | 5/5 | 3/5 | 3/5 |
| User Support | 3/5 | 5/5 | 4/5 | 3/5 |
| Affordability | 3/5 | 4/5 | 4/5 | 4/5 |
The Best Fastmail Alternatives
For many people, Gmail and Yahoo are the de facto email providers. Still, there are tons of some of the best Fastmail alternatives, some of which provide even better services than their more popular counterparts.
This article will look at some of the best Fastmail alternatives that you can choose from in 2022 based on your specific needs and preferences. We'll also review some other useful information about email management that you might find useful before making your choice. Let's get started!
Fastmail vs Outlook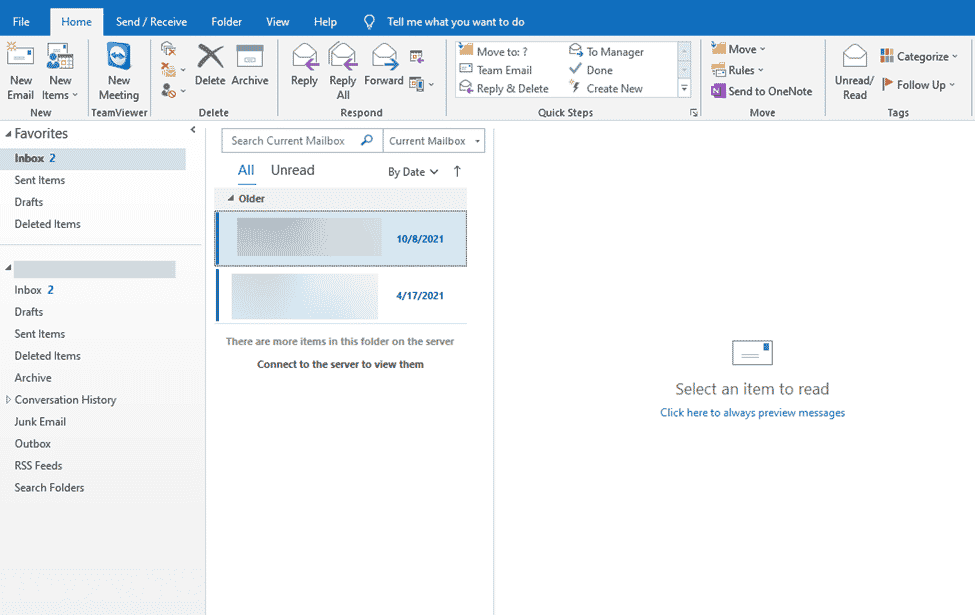 Security
Microsoft Outlook offers several different options for email security, but none that rival those offered by Fastmail. Fastmail's two-factor authentication puts security first and makes sure that your email account stays secure from hackers—and you stay safe from malicious emails.
The Microsoft Outlook way of doing things may not be as secure as some other options available, but it does help users fight spam by giving them additional features to identify junk mail.
Storage
Microsoft Outlook provides anywhere from 0 to 50 GB of storage, depending on your Outlook plan. Meanwhile, Fastmail offers 5 GB of storage and 10 MB of attachments per email account.
Microsoft Outlook could be right for you if you use less than 5 GB in Microsoft Outlook or are satisfied with a 10 MB attachment size limit.
But if not, Fastmail could be a better fit because it provides more storage space per account and allows users to send files up to 2 GB in size.
Customizing options and tools
Both Microsoft Outlook and Fastmail offer tons of options to customize your inbox and hundreds of third-party integrations, so finding what you need should be easy.
However, Microsoft Outlook has a few more options than its competitor—for example, it offers block mode and has support for task lists. Microsoft also boasts an extensive suite of business tools, while Fastmail supports multi-user email accounts and calendars that can be shared among coworkers or friends.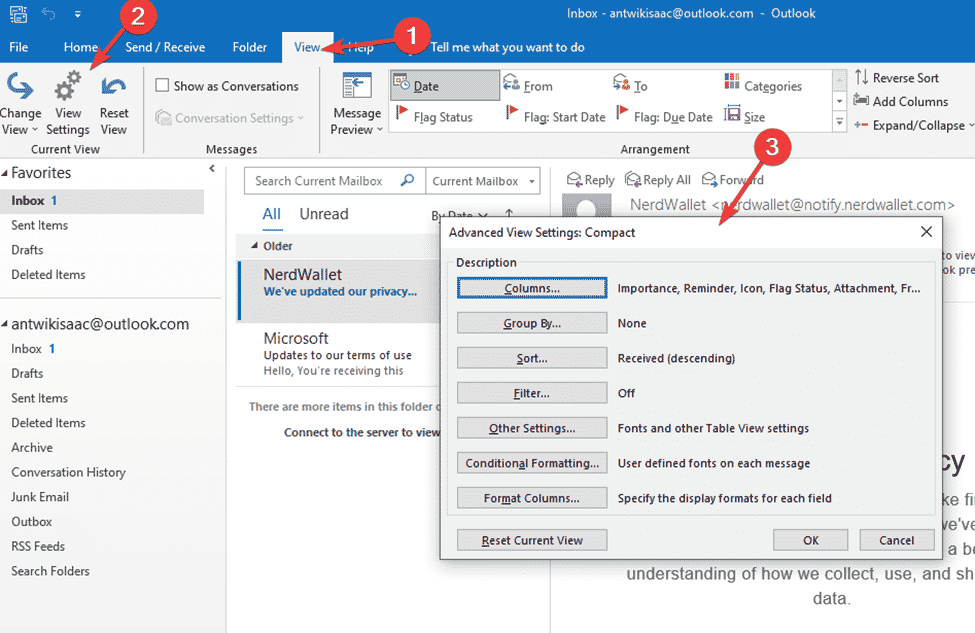 But if you're looking for a completely custom experience with a host of powerful options at your fingertips, then Microsoft Outlook might be more up your alley. If it's a simple and functional email service you want with some extra organizational features thrown in, then Fastmail is your best bet.
Productivity features
Microsoft Outlook beats Fastmail out of sight when it comes to its productivity features. Its calendar supports reminders, categories, and color-coding; it also allows users to make recurring appointments that include a guest option.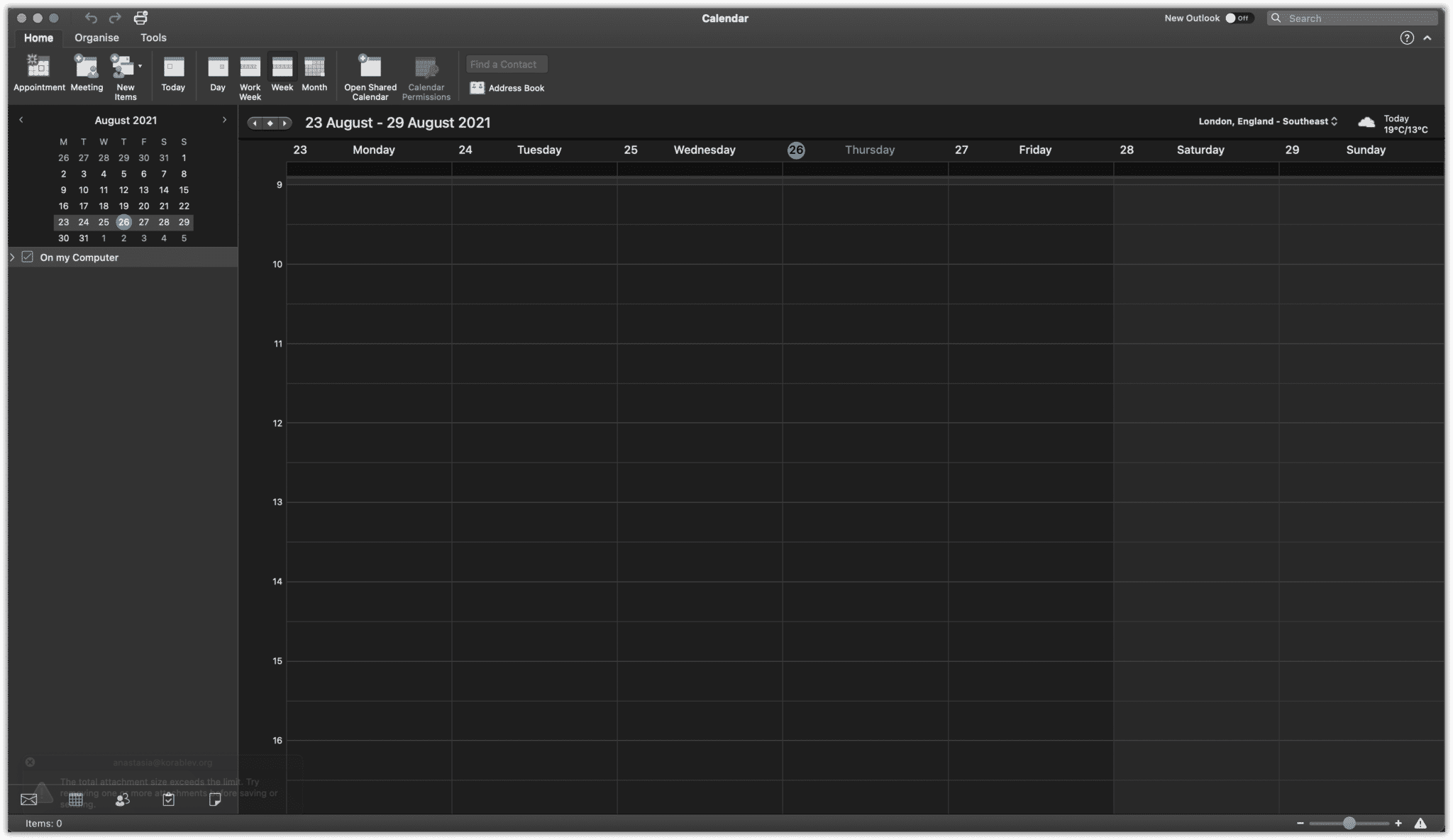 The program's task manager includes an assign a category feature and makes it easy to reschedule items and view deadlines on an overall task list.
Its mail service also lets users clean up messages by flagging them as junk and marking them as read or unread with just one click—and there's a word prediction feature to help ease typing burdens. Microsoft Outlook email tips include MSN email capabilities that allow you to access Hotmail from your desktop easily.
Affordability and user support
Microsoft Outlook does have a free version, but you can only use it to the max if you have an Office 365 account. Otherwise, expect to pay $60 per year per user, which will give you unlimited storage and a few advanced features (like Clutter), but little else.
But even that pales in comparison to what Fastmail offers for free: 1GB of storage with up to 100 emails sent or received each day. Your inboxes won't be quite as slick as Microsoft Outlook's either, since they were designed by two different companies and tend to lack integration with each other.
Cost
Microsoft Outlook doesn't come with a price tag—it's an integrated part of Microsoft Office 365, so you can use it as long as you pay for your subscription. By comparison, Fastmail offers two different tiers—Free and Premium.
The Free version includes all of your email accounts (Fastmail, Gmail, Yahoo!, and more), custom signatures, unlimited email aliases, calendar reminders, and meetings/events/tasks integration.
The Premium version includes 1GB of attachments per email account, extended storage, and priority support access. The costs to upgrade between these two packages are $30 per year if paid monthly or $5 per month when paid annually ($60 total).
Microsoft 365 for Business
Summary
Plans
Microsoft 365 Business Basic: $6/user/month, 1 TB storage
Microsoft 365 Apps For Business: $8.25/user/month, 1TB storageMicrosoft 365 Business Standard:$12.50/user/month, 1TB storageMicrosoft 365 Business Premium: $22/user/month, 1 TB storage
Free trial
N/A
Platforms
Windows, Android, iOS
Selling Points
More varied productivity features

Wide range of customization options

Drawbacks
No free plan available
Fastmail vs ProtonMail
Security
ProtonMail uses end-to-end encryption, meaning that ProtonMail never has access to your private key, and no one in between can access it. This makes ProtonMail secure, even in a data breach or hack. Fastmail doesn't use end-to-end encryption because they are less concerned with privacy than most Fastmail email providers.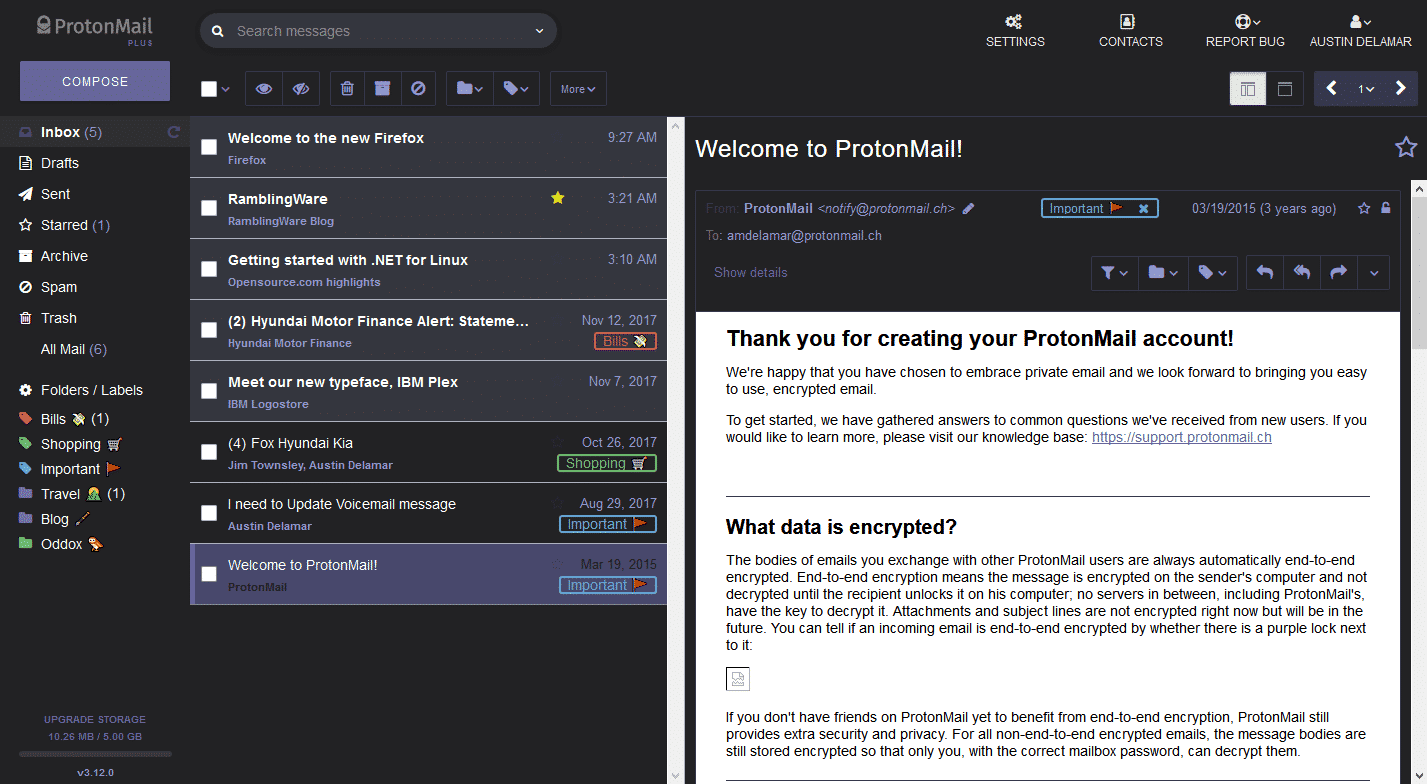 They claim their servers are safe, but if you store sensitive information on Fastmail, you should use a secondary security layer to protect it further. For example, when signing up for a new ProtonMail account, users have options to connect ProtonMail with a VPN like IPVanish. So, in a Fastmail vs ProtonMail tug of war, you now know who will win.
Storage
ProtonMail offers 2GB of storage compared to Fastmail's 500MB; ProtonMail's 10GB plan costs $5 a month, while Fastmail's 1TB goes for $40 a month. If you don't care about an inbox twice as big, you're paying Fastmail 50 times more than ProtonMail per gigabyte. In a storage bid of ProtonMail vs Fastmail, Proton does come out as the winner.
Customizing options and tools
Both services offer customized forwarding options and a few tools that help to keep your email organized. The ProtonMail encrypted storage feature (only available with a paid plan) and Fastmail's powerful filtering tools are two of these helpful tools.
When it comes to customization, ProtonMail offers users more options than Fastmail. For example, users can choose between an automatic or manual reply option when they forward a message to their inbox.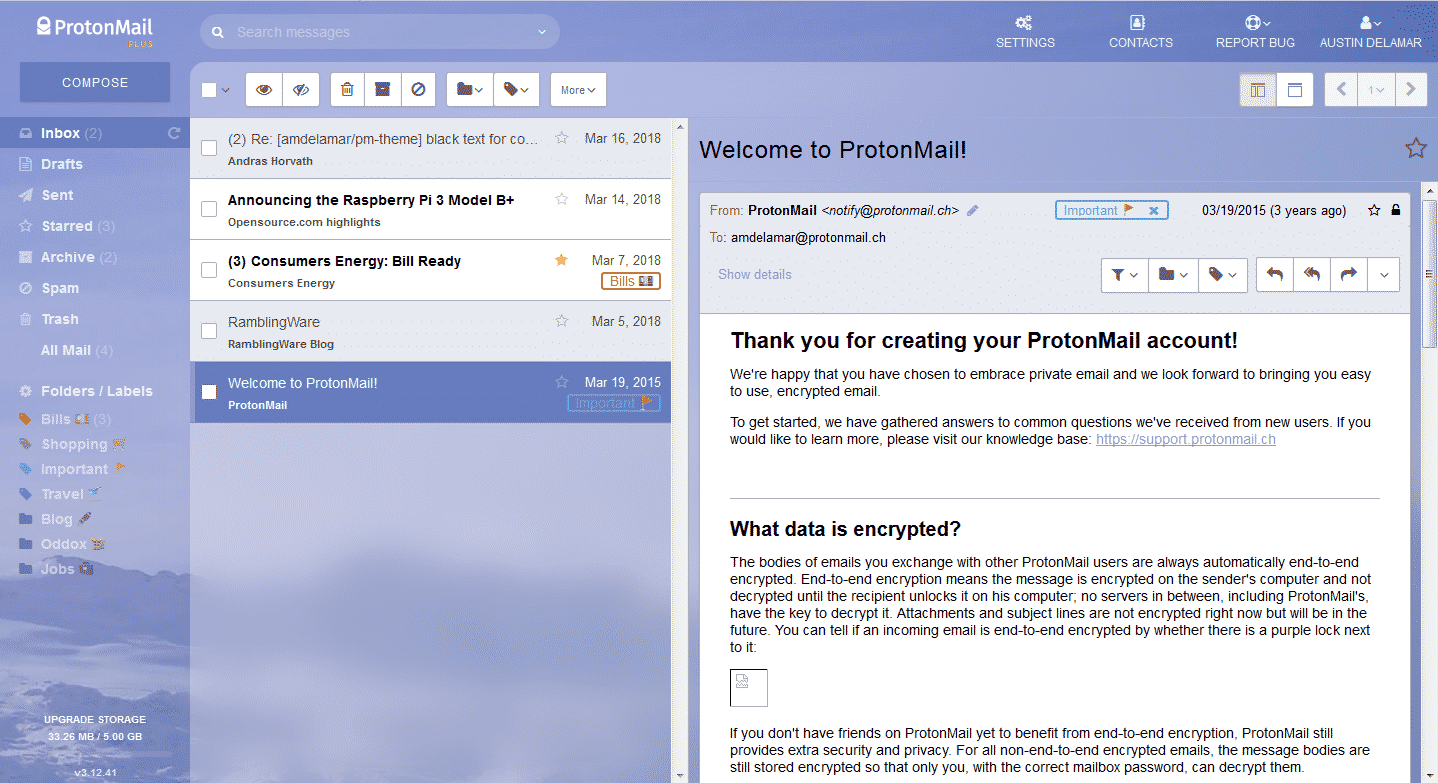 Additionally, ProtonMail allows users to download all their emails in one archive file. Fastmail limits you to exporting 30 days' worth of messages at once—and doesn't allow you to export in .eml format.
Productivity features
There are plenty of features that both email services have in common, but it's worth looking at what sets them apart. Let's look at three popular productivity features: calendar management, address book management, and task management.
For businesses operating in multiple time zones and juggling meetings across different time zones, Fastmail shines with time zone support.
Fastmail users can define contacts as local to their location or one of several hundred major cities worldwide and automatically apply those locations when setting up an event in the Calendar. And with support from meeting organizers setting up meetings just got a lot easier.
Affordability and user support
ProtonMail and Fastmail offer free email services with paid upgrades available to both; ProtonMail's free option includes a custom domain, while Fastmail provides a custom subdomain.
ProtonMail offers its paid plans at $5/month and $10/month, while Fastmail has Plus plans at $10/month and Premium plans at $30/month, making it more expensive than most traditional email providers.
This higher cost may be off-putting to many users, especially those looking for the best Fastmail alternatives because they are unhappy with their current provider. ProtonMail lets you pay monthly or annually, whereas Fastmail only offers annual payment options.
Cost
The first thing that strikes you about Fastmail and ProtonMail's services is their pricing. Both are marketed as secure, ad-free email services. ProtonMail also offers secure messaging, and both have plans for business use.
But it's clear from comparing them that Fastmail is designed to be much cheaper. Its free tier (500MB of storage) has more storage than ProtonMail's $5 per month offer.
ProtonMail
Summary
Plans
Free: one user, 500MB storage
Plus: $5/month per user, 5GB storage
Professional: 8$/month per user, 5GB storage
Visionary: 30$/month per user, 20GB storage
Free trial
Free plan
Platforms
WebMail, Android, iOS, IMAP-SMTP
No POP3
Selling Points
Send non-ProtonMail recipients encrypted messages
VPN service
Drawbacks
Metadata is not 100% encrypted
No calendar for iOS yetSmaller-than-average storage space
Tutanota vs Fastmail
Security
Fastmail offers a powerful and easy-to-use security suite with integrated two-factor authentication and an encrypted link to your email client. There's nothing too fancy about it, but if privacy is your priority, Fastmail does enough to offer sufficient security. But who takes the crown in a Tutanota vs Fastmail security tug of war?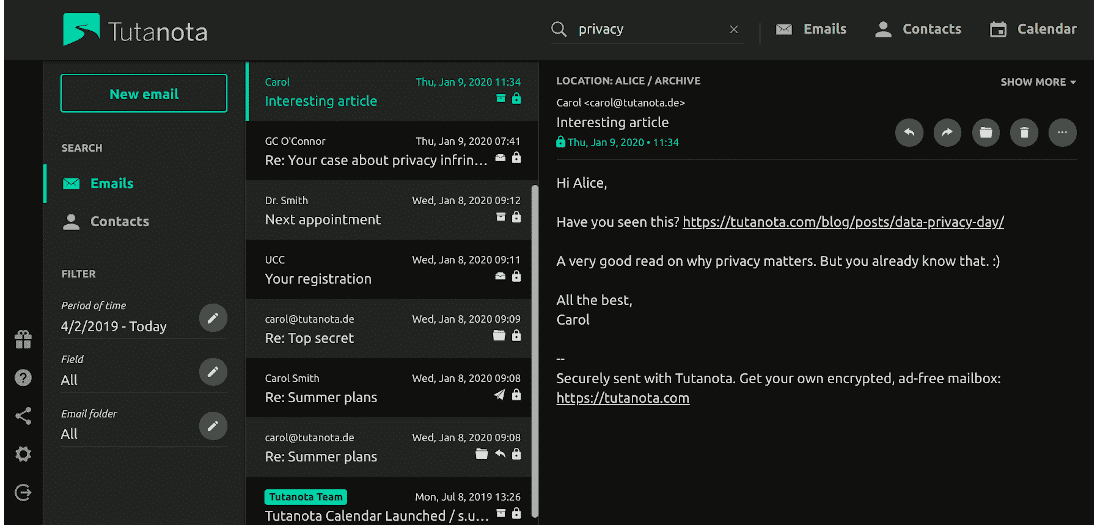 Tutanota is built with privacy in mind. Its email encryption technology ensures that no one can read your emails, not even Tutanota itself. With secure login and end-to-end encryption, it's easy to see why Tutanota has become a favorite among many digital nomads and cybersecurity experts.
Storage
Tutanota offers users 1GB of free storage, which can be used to hold a lot of emails and attachments. Fastmail also offers 1GB of storage for its basic accounts, but more expensive accounts get more storage. Free accounts on Fastmail only get 2GB, but paid accounts can get up to 30GB at $4 per month.
While Tutanota doesn't offer much in terms of extra storage space, it does offer something many other services don't: end-to-end encryption. With Tutanota, everything stored on their servers is encrypted with strong AES 256-bit encryption. So, Tutanota vs Fastmail tug of storage war leaves Fastmail at the top.
Customizing options and tools
Both services have good customization options and tools, but Fastmail offers a slightly better system. Tutanota's default colors are also a bit harder on older eyes.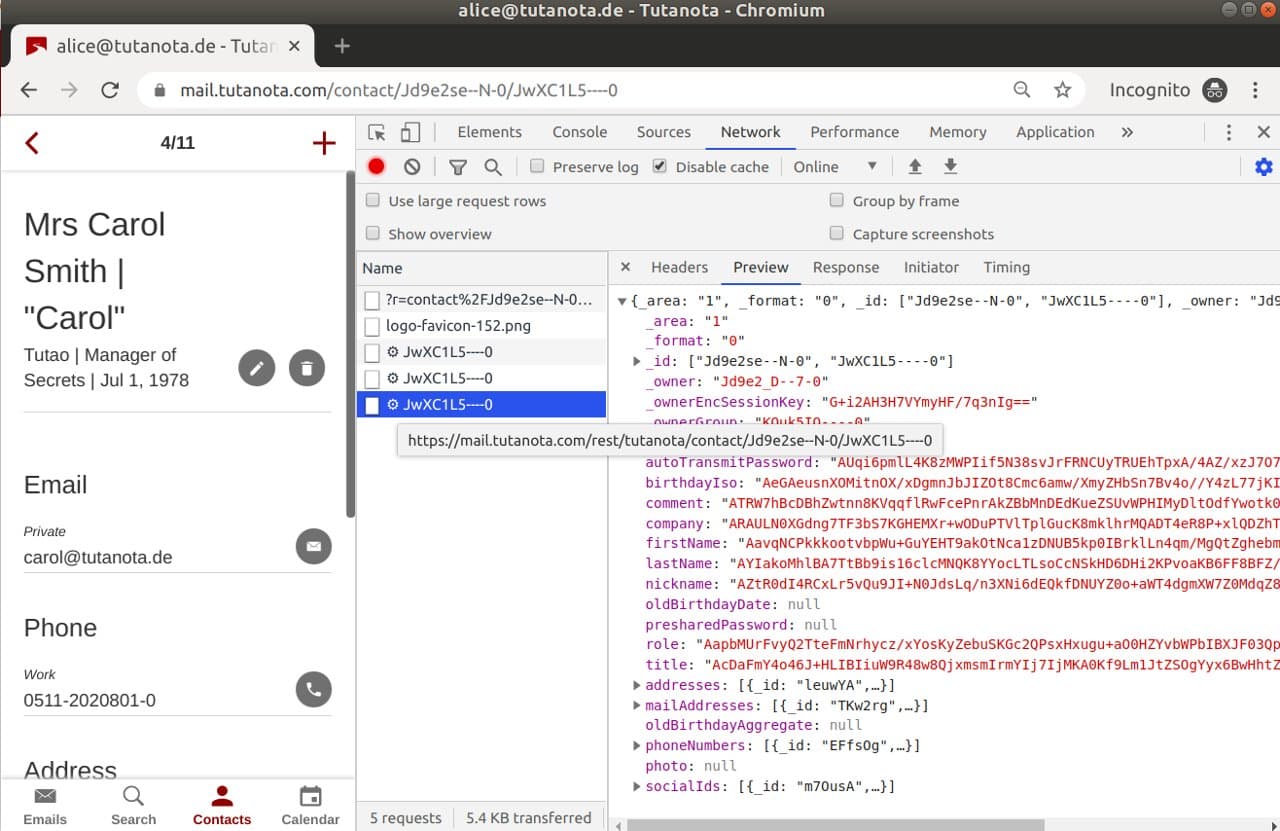 Fastmail allows users to create up to four color-coded accounts within their basic package, and each user can set their colors to make it easier to keep track of their account.
If a particular contact uses an email account with your organization, it will also appear in that person's account box. Additionally, if that person has an Android phone or Apple iOS device, Fastmail will also update when they log into their account on those devices, so you know immediately if they have read your messages.
Productivity features
Both services offer several productivity features, including time-tracking, an auto-responder, workflow automation, and goal setting. Fastmail also provides a calendar view in its email service, and Tutanota offers Tasks.
Both Fastmail and Tutanota provide iOS and Android apps. However, Fastmail's apps are only available to paying customers; Tutanota's are free to everyone with an account.
Affordability and user support
Fastmail, as a paid service, costs $50/year and has options for up to 5 additional users at an additional cost of $5 each. Tutanota, on the other hand, is free and comes with 1 GB of storage for each user.
While Fastmail's storage space has limitations (e.g., up to 100 MB per email address), it does offer more add-on packages that help it make up some ground.
Additionally, Fastmail offers live support through phone or email, while Tutanota relies only on email correspondence, although they respond quickly and in a friendly manner.
Cost
It doesn't cost anything to sign up for a Fastmail account, but Tutanota does charge $1 per month. But in Fastmail's defense, it has been operating since before 1998 and has racked up more than 20 million users to date.
However, Tutanota encrypts everything end-to-end and can be accessed on your mobile devices if you have their Android or iOS app. Another thing that makes Tutanota interesting is its slogan: Email made secure—no ads, no games.
Tutanota

Summary
Plans
Free, one user, 1GB storage

Premium, $1/user per year, 1GB storage

Teams, $4 per year plus $1 for any user you add, 10 GB storage

Business premium, $2 per year plus $2 for any user you add

Business Teams, $5 per year, plus $3 for any new user

Free Trial
Free Plan
Platforms
Windows, macOS, Linux, Android, iOS
Selling Points
Upgradable plus for storage, domains, and other functions

Secure connect

Special offers for non-profits

Drawbacks
Limited customer support
Posteo as a Fastmail Alternative
Security
Fastmail can be a perfect option if you need to access your email anywhere. However, if you are looking for secure and private email, Posteo is probably a better option.
They promise not to store any personal data about their users (including IP addresses), making them feel more secure than most other Fastmail email providers.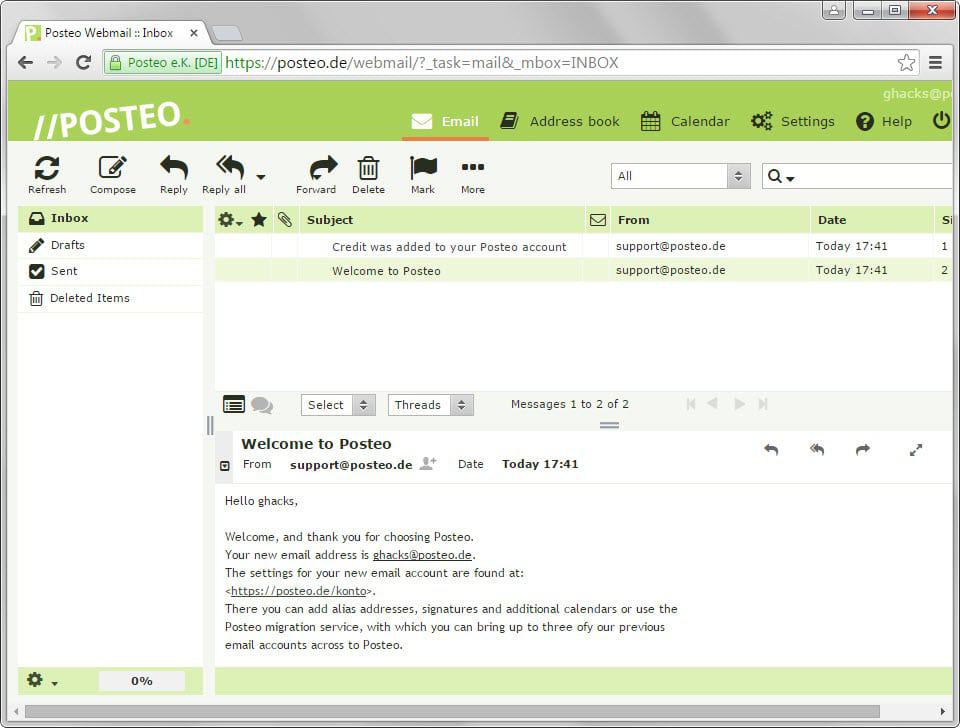 On top of that, Posteo also has end-to-end encryption using PGP/GPG. This means that even if Fastmail wanted to snoop around in your emails, they wouldn't be able to read them (unless they could break cryptography).
When it comes to security, though, Fastmail is still way ahead of Posteo since they don't store any metadata or personal information.
Storage
At Fastmail, you can upgrade your storage with credits. This allows you to buy more storage at $0.10 per 1 GB. However, your storage is not limited only by what you've bought but also by how much space your data takes up.
Posteo offers users 2 GB of free storage, with additional storage available for purchase. The price of extra space is $1/GB, but all purchases are non-refundable, and payments can be made using either PayPal or a credit card.
Customizing options and tools
Comparing Posteo and Fastmail requires looking at two key areas: customization options and tools. The former is relatively limited with both, but Fastmail allows users to create multiple inboxes and choose from several themes; Posteo, on the other hand, offers very little in terms of customization, instead of focusing on its anonymous sign-up process.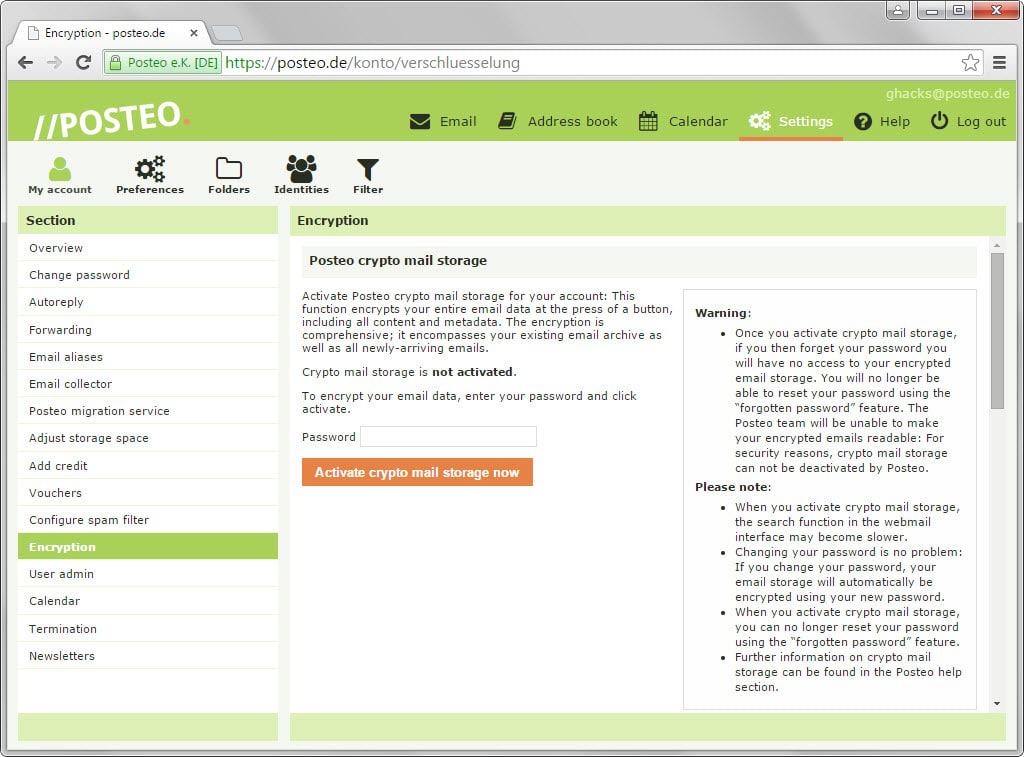 Tools are where Posteo starts to pull ahead. It includes an ad blocker, disposable email addresses, and encryption features (though you'll need to pay for them).
Fastmail also has a decent number of tools, including shared calendar functionality and spam protection. Both services have solid spam protection by default.
Productivity features
Posteo may have fewer productivity features, but it still has everything you'd expect from a well-rounded email service. It includes search and bulk delete functionality and a mobile app for iOS and Android.
Posteo is definitely on par with Fastmail when it comes to sync: Each cloud provider offers support for Gmail, Outlook, Yahoo Mail, Apple iCloud, and IMAP accounts. Mail can be accessed through any standard web browser or an application like Thunderbird.
Affordability and user support
Posteo has been free since its creation and features easy-to-use email interfaces on desktop, webmail, and mobile apps. Fastmail also offers a free version, but it lacks an ad-free experience.
Users can upgrade to fast silver (Fastmail's most popular plan) for $5 per month, removing ads and increasing storage capacity. Posteo has not introduced an upgraded plan yet, but many users have had no issue keeping their business emails running without any paid support services from Posteo.
These users have benefited from affordable server plans that are simple to manage independently with no advanced skills required. This makes both Fastmail and Posteo affordable solutions for small businesses looking for user-friendly email solutions at reasonable prices.
Cost
The price difference is where Posteo shines. It costs $0.99 to start and then just 2 cents per day for each account. Fastmail, on the other hand, starts at $4.95 per month for unlimited accounts or 10 cents per day for up to 10 accounts.
It also has add-ons like storage space (at a cost) and calendar features (also at a cost). So, while Fastmail is more expensive, it's flexible enough that you can pay as little or as much as you want.
There are also many different levels of service available that provide varying amounts of storage space to pick precisely what works best for your needs without paying too much extra each month on top of your plan's base price.
Posteo
Summary
Plans
$1 per month per user, 2GB storage
Free Trial
No Free Plan
Platforms
Webmail, Android, iOS, IMAP/SMTP

POP3

Selling Points
AD free

Anonymous signup and payment

Encrypted data

Daily security backups

IP stripping

Drawbacks
Metadata is not 100% encrypted

No calendar for iOS yet

Smaller than average storage space
Fastmail vs Google Workspace
Security
Google Workspace has options to encrypt everything, but security with Google's email still isn't on par with Fastmail's industry-leading end-to-end encryption. Google works with some major service providers that have systems in place for military and government clients, but it's not as well established or secure as Fastmail's technology.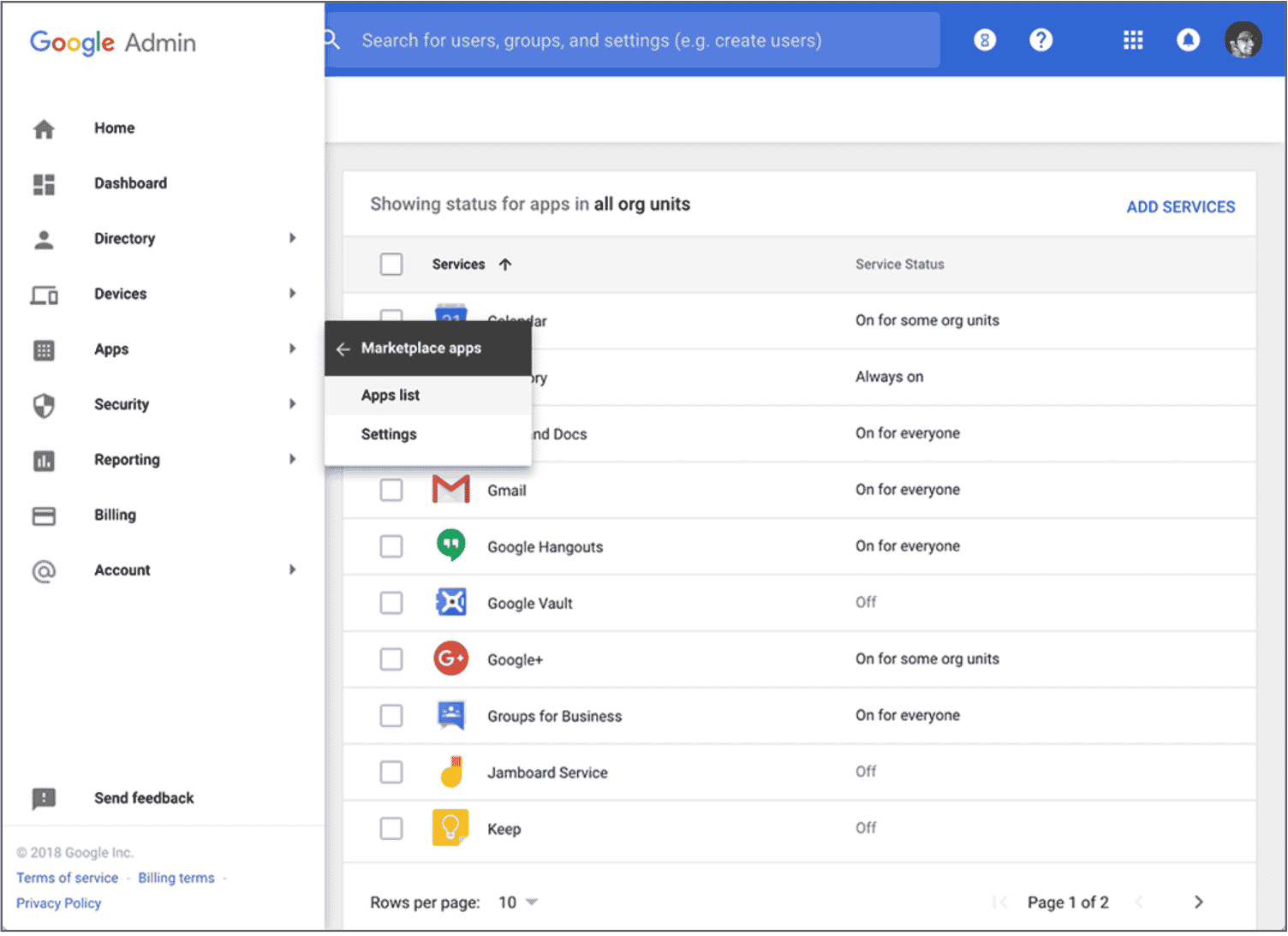 Even if Workspace encrypts your messages from one email client to another, it can be accessed and viewed in several ways if someone wants to do so. For a system where all employees have access to sensitive information and data, you'll want more assurance than what Google provides.
Storage
The Google Workspace includes 10 GB of storage, and Fastmail offers unlimited email storage as part of its plans. The difference here is clear, but Google Workspace might be a good option if your primary concern isn't storage space.
There are other differences between these two email solutions; when it comes to security options and add-ons, Google has more in common with Outlook than Fastmail. Google Workspace could be a great choice if you're set on Gmail but want something more capable than what your free account offers.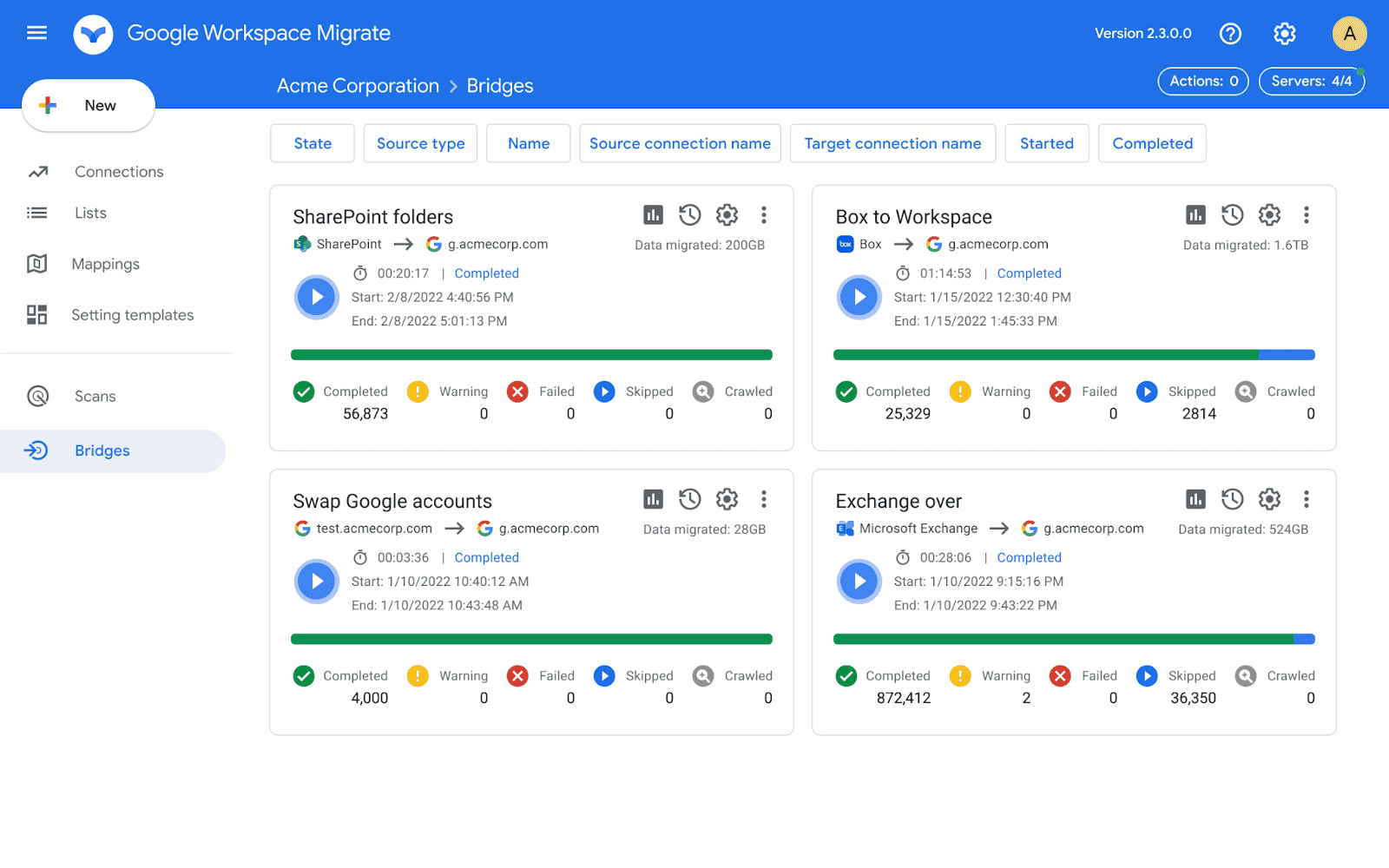 On the other hand, those who rely heavily on email organizations may find more value in Fastmail's system. Let us proceed to the FastMail vs Gmail comparison of customizing options.
Customizing options and tools
Fastmail offers customizable options in various areas, including email storage, domains, and privacy. With Google Workspace, on the other hand, customization comes with added cost. Additional inboxes and features can be added to your account as part of a team plan at $5 per month per user.
If you prefer privacy, Google doesn't promise that it won't scan your email to deliver targeted ads within Gmail itself or across their advertising network—Fastmail assures users that third parties do not scan their emails. They don't share data with third parties either.
Since Fastmail doesn't serve ads or sell user data, users can enjoy Gmail-like functionality without worrying about any potential conflict of interest or advertising snooping.
Productivity features
Google Apps has recently launched several productivity features that allow users to integrate apps like Evernote and GDrive into Google Workspace. Fastmail also has several productivity features like multiple signatures—Mac's sync services.
So, if you're using Google Apps or Apple iCloud, it's definitely worth giving Fastmail a try to see how it works with your other productivity tools. If you don't mind investing in products from smaller companies, Fastmail has many features that aren't available elsewhere. So, the productivity feature Fastmail vs Google Workspace winner is Fastmail.
Affordability and user support
With Fastmail, it's US$2.50/month with 50GB and $10/month with 2TB. That's highly affordable if you have a lot of emails, need international support, and don't mind paying a premium price.
Google Workspace (now known as G Suite) starts at $5/user/month with unlimited storage and includes 24-hour live chat support, which Fastmail doesn't offer.
You can find more details in G Suite reviews but note that Google Apps include only 10GB of storage; beyond that, Google charges per gigabyte at $0.25 per GB, which is quite steep compared to Fastmail providers.
Cost
Neither Google Workspace nor Fastmail cost anything, but they aren't free. You may get one or both of these tools through your employer or a contract. If not, they both offer free trials that can give you a taste of what they have to offer.
The biggest difference between them is their pricing models; Fastmail offers all of its features at once and then charges $5 per month per account, while Google Workspace gives each user just 10GB for free and then charges $2 per month for every 20GB extra it adds. If you are still undecided, you can always do an Outlook vs Gmail comparison.
Google Workspace
Summary
Plans
Business standard, $12/month per user, 2TB storage

Business plus $18/month per user, 5TB storage

Enterprise – Contact Google Workspace Sales team

Free Trial
No Free Plan
Platforms
Web, Android, iOS, macOS, Linux
Selling Points
Custom and secure business email

eDiscovery, retention

Enhanced security and management controls, including Vault and advanced endpoint management

Enhanced Support (paid upgrade to Premium Support)

Drawbacks
Complex data migration system, to force clients to remain current users.

The inability of the support team in solving simple issues.

Pricing is a little bit higher than other services
Conclusion
Over the last few years, Fastmail has established itself as one of your primary email providers. There are reasons for its popularity: it comes with some premium features, it provides email clients for every platform, and its pricing is fairly affordable (though there are better Fastmail alternatives).
If you have a specific need from your email provider, chances are you can find a dedicated app or service to satisfy your requirements.
| | | | | |
| --- | --- | --- | --- | --- |
| | Fastmail | ProtonMail | Tutanota | Posteo |
| Compatible With Mailbird | Yes | Yes | No | Yes |
| Two-Factor Authentication | Yes | Yes | Yes | Yes |
| PGP Encryption | No | No | No | Yes |
| Encrypted Calendar | NO | Yes | Yes | Yes |
| Custom Domains | Yes | Yes | Yes | No |
| Email Aliases | Yes | Yes | Yes | Yes |
| Admin Control Panel | Yes | Yes | Yes | No |
| Eco-Friendly | No | No | Yes | Yes |
| Fully Open Source | No | Yes | Yes | Yes |
| Webmail | Yes | Yes | Yes | Yes |
| 1st Party Desktop App | No | Android Only | Yes | No |
| Supports IMAP | Yes | Yes | No | Yes |
| Mobile App | Yes | Yes | Yes | No |
FAQ
Is Fastmail end-to-end encrypted?
Yes, by default. All communications between your computer and our servers are encrypted using TLS with perfect forward secrecy.
This provides extra protection for your messages against eavesdropping, tampering, and forgery. Learn more about how we encrypt Fastmail here. Other mail providers such as Gmail and Outlook do not offer end-to-end encryption.
How many email accounts can I have Fastmail?
If you're looking for a plan with more than four accounts, you can go with TotalStorage Plus. It allows you to have unlimited accounts at $3 per month.
If your company has more than 500 users, it costs $6.25 per user per month. This is still much cheaper than Gmail and other alternatives to Fastmail such as Office 365 or Zoho Mail.
Is ProtonMail safer than Gmail?
By their very nature, all cloud-based email services are susceptible to government surveillance. ProtonMail is open source, so its code can be viewed and tested by anyone—no one has complete trust in any email service these days.
Google's transparency report shows that it received requests for data from governments worldwide and complied with many of them. This is troubling enough if you are in the U.S.
How do I forward my Gmail to Fastmail?
To use Fastmail on Gmail, you'll need some extra software, like Xobni or TypeIt4Me. They're handy add-ons.
But they can be a bit of a pain if you're not used to them—they require you to type out your entire email address before you send each message. Still, they work with Fastmail, making working with Gmail pretty simple.
Read also:
MSG to Outlook Transfer – User's Manual Even though "email conversion" may sound technical and complex, it is a fairly simple routine if you have the right tool at hand. Conversion…
---
Mbox to Outlook Transfer – User's Manual The primary goal of Mbox to Outlook Transfer software is to assist users in moving their emails from any email client supporting the Mbox format to…
---
When it comes to mail clients, Outlook is the preferred environment for many businesses and users. It is secure, versatile, and powerful. One may store and manage a large volume…
---
Data Extraction Kit for Outlook is a powerful all-in-one tool for Outlook/PST email conversion, migration and data analysis. The product can be used for extracting emails and other objects from…
---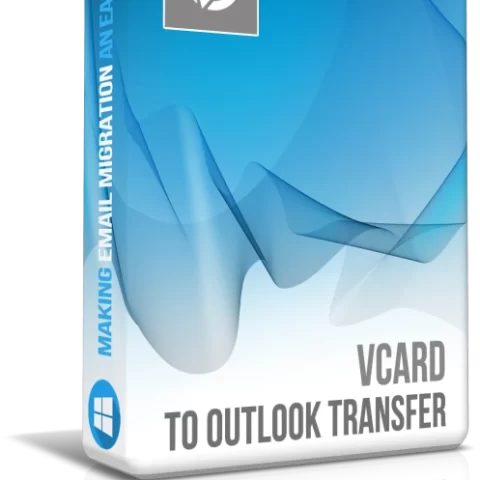 vCard to Outlook Transfer – User's Manual Transferring contacts from one system to another may seem like a complex task - and it can be if you do it manually.…
We are sorry that this post was not useful for you!
Let us improve this post!
Tell us how we can improve this post?