Selecting one of the top 5 alternative email clients similar to Incredimail can help move your business forward and make your and your team's functioning more productive. We hope this post will help you find a decent replacement that will satisfy your personal and business expectations.
Introduction — What Happened to IncrediMail?
Is IncrediMail still working? No, IncrediMail will not send emails anymore since it was shut down on March 20, 2020. The company wants to focus on other technology areas relevant to today's users.
Best Free IncrediMail Alternatives
There are a lot of free alternatives to IncrediMail. We'll discuss some of them in this article. Choosing the best alternatives to IncrediMail can be challenging with many options available. We've put together the best 5 IncrediMail alternatives for Windows 7,8,10, and 11.
Microsoft Office Outlook

Microsoft Outlook is an email client and one of the best IncrediMail alternatives. It has a simple interface for users to navigate their way around the app. As an Outlook user, you can customize the app to suit your business needs.
Customizing options
The Away Message. You can set away messages for your contacts when you're on holiday. What's beautiful about this customization option is that you can set two different messages, one for internal members and the other for people outside your organization.
To set an away message in Outlook, follow these steps;
Click on the File tab in your Outlook inbox.
From the Info tab, select Automatic Replies.
You can set the desired date and time range for your away message.
Type your customized away message.
Set rules for your automatic replies.
Click OK.
Font and Color Customization. In Outlook, you can assign each contact a unique color to make them stand out. Here's how.
Click on the File tab in your Outlook inbox.
From the Info tab, select Options.
From the Options tab, choose Mail.
Set your preferred font style, size, and color in the Mail window.
Set them as default, then click Save.
Email Alerts and Notifications. Alerts and notifications help you stay up to date with your contacts.
Click on the File tab.
Select Options.
Click on the Mail tab.
From the Mail tab, you can customize your on-screen and audio alerts and notifications to ensure you're always up to speed.
You can turn off the alerts too.
The View tab. The view tab is where a lot of customization happens.
The show as a conversation option is a great way to declutter your inbox. Instead of viewing your emails individually, you can group all your replies into a conversation.
The Reading Pane. With the reading pane turned on, you can read emails with a click. Messages in the reading pane are set to unread by default, but you can configure it to read once you've viewed the email in the reading pane.
To-Do Bar. The to-do bar allows you to consult your calendar quickly. There's no need to switch to the calendar app to look at your schedule with the to-do bar.
Productivity features
Color-code your calendar. Use colors to differentiate between various tasks from others on your calendar.
Click on the View tab.
Select view settings.

Click on Conditional formatting.
Add a new rule, then select the color code.

Email your calendar. Are you struggling to find the best time to schedule a meeting with another person? Emailing your schedule will help him pick the right time that fits into your schedule.
Clean up your conversations. Having back and forth conversations with your contacts can make your Outlook inbox look cluttered. Microsoft Outlook clean-up tool will delete the redundant emails leaving only the recent ones. The older emails are still in the thread included in the current conversation.
Microsoft Office Outlook is an excellent alternative to IncrediMail. There are a lot of productivity features you'll find in Outlook that will make the integration of this software in your business process easy and smooth.
Mailbird
Mailbird is an email client like IncrediMail for businesses that want to increase productivity. It can manage multiple accounts. It allows users to synchronize and centralize emails and contacts from several platforms in a single inbox.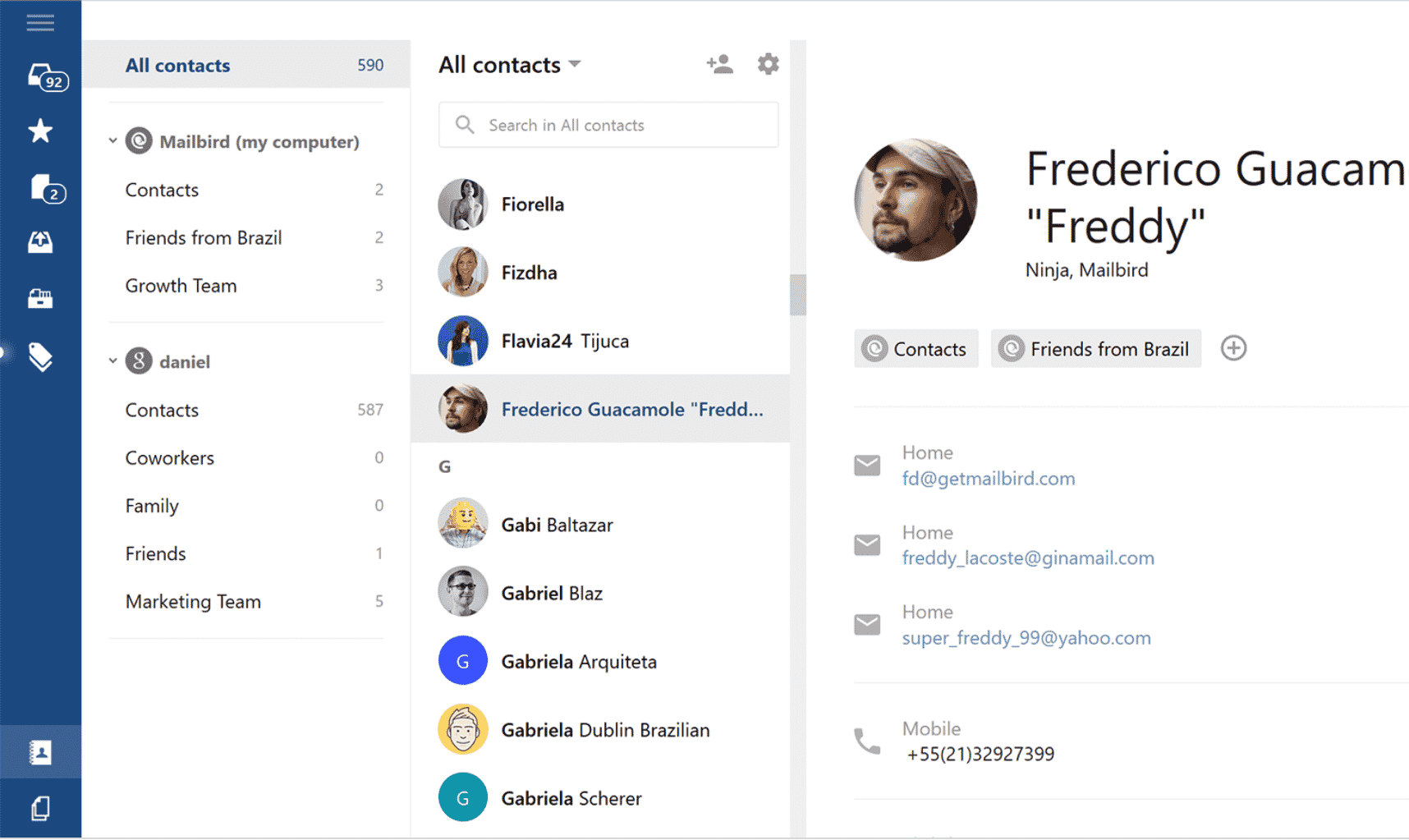 Customizing options
One of the attractive productivity options is the drag and drop feature. You can drag and drop various files, including media, directly to folders to help you organize your daily communication. It's also a handy tool to drag files into emails or as an attachment.
Mailbird's quick action buttons appear when you hover the mouse over the contact's profile picture. What does this do? It allows you to forward, reply or archive emails quickly.
Productivity features
Sometimes, managing all your emails from one folder is wrong, affecting your productivity. But when you create folders and subfolders for each topic, it reduces the clutter in your inbox. Email categorization improves communication and productivity.
The Mailbird snooze feature. The snooze feature temporarily allows you to postpone your emails and hide them from your inbox. Hiding the emails and dealing with them later gives you the chance to work without distraction. When you snooze your emails, you can set them when they reappear in your inbox.
Quick Compose feature. Do you want to send an email quickly without opening your email client? Then Mailbird's quick compose feature is a handy tool to write your emails even when other applications are running. To open the quick compose window, press Ctrl + Alt + Space.
In some cases, you'd want to quickly find all the emails you've exchanged with a contact. All you have to do is click on the person's profile picture, and all your conversations will appear.
Mailbird has filters and advanced search capabilities for the user to explore. Mailbird email client users can integrate over 35 apps to expand their productivity.
eM Client
eM client is for Windows and macOS users who need a modern and intuitive email client to manage emails, calendars, tasks, contacts, and notes. There's a live chat integrated into the eM client. It unifies your inboxes to work with all your accounts in one place. This mail client is a free email alternative program like IncrediMail.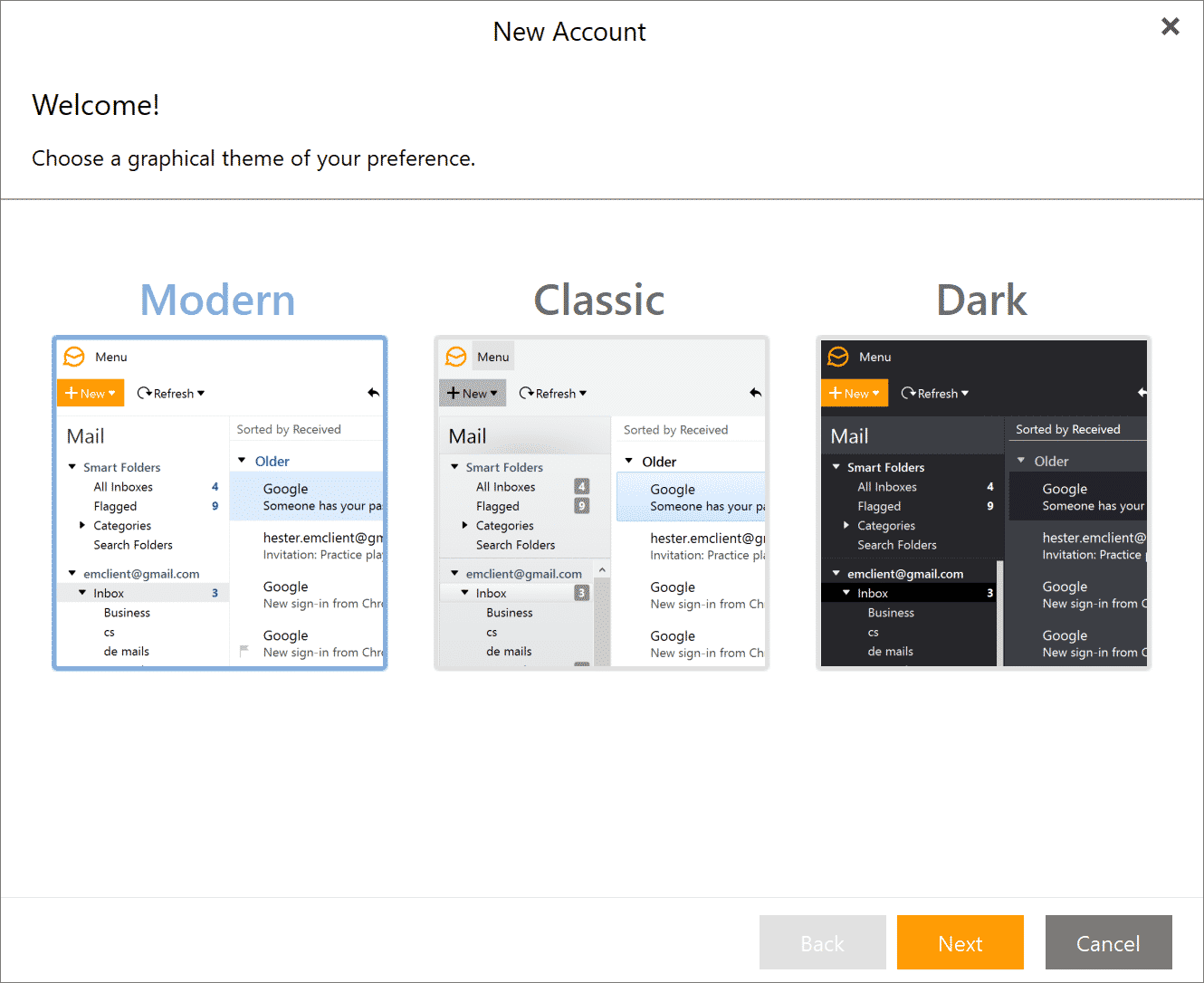 Customizing options
eM Client has a lot of customizing options to make the app look and feel the way you want it. It includes options such as changing the positions of the buttons or adding and removing the button.
Productivity features
Send later. Schedule your emails to be sent at a specified time and date.
Conversation support. Get a clean inbox by grouping your messages into conversations.
One thing that sets the eM client apart is its email templates and signature. eM Client helps you create beautiful templates for fast communication.
Have you received an email in another language? eM Client has a multi-language translator to translate it to a language of your liking.
Postbox
Postbox is a desktop email client with simple and easy yet powerful features to handle all your workload. Postbox is an easy and customizable IncrediMail alternative to manage your contacts, emails, calendar, and schedule.
Customizing options
Postbox has an intuitive and straightforward interface. Are you interested in customizing the app to suit your brand colors? You can build your theme or select one from the pre-made templates.
You can customize the interface to your liking. Display your messages in either vertical or horizontal views. Pin your favorite emails for quick access. Like the other alternatives to IncrediMail in this post, Postbox gives users the chance to organize emails into folders and sub-folders.
Productivity features
The lightning speed search feature helps you find things in the blink of an eye. The search can be filtered by the sender, subject, date range, or others.
Postbox has pre-formatted response templates with placeholders you can fill, saving you a lot of typing time. Stay productive by grouping your work and personal emails in separate groups with Postbox.
Thunderbird
Thunderbird is one of the best free replacements for IncrediMail clients. Mozilla Thunderbird is a free desktop email client funded by the Mozilla foundation.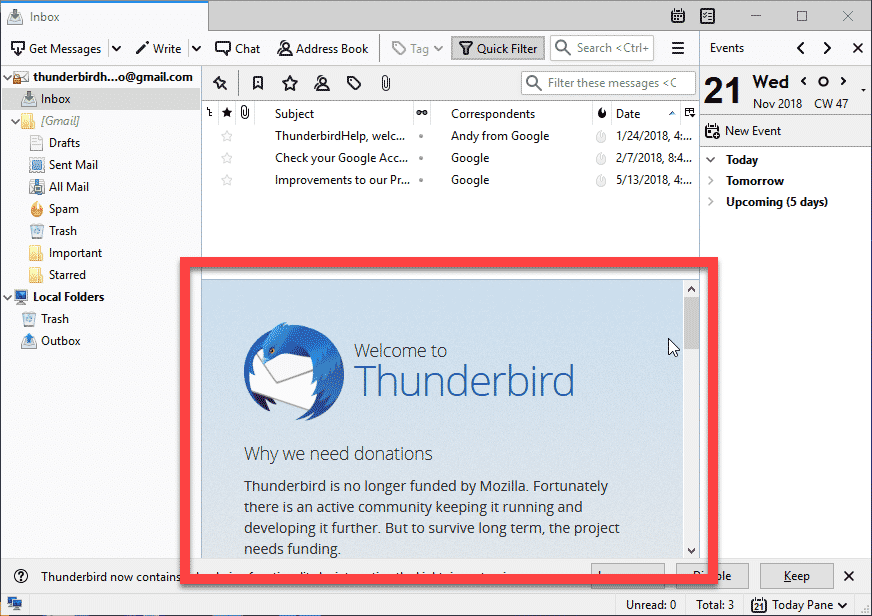 Customizing options
Thunderbird allows you to install themes to change the app's appearance to suit your preference. The themes can also make the buttons look different.
The dates in Thunderbird are set to the regional settings of your operating system. However, you can change it to any locale you want. This feature is excellent if you have multiple languages installed.
Productivity features
Thunderbird provides many productivity tools that allow you to expand the app's capabilities. These tools make it easy to switch from IncrediMail to Thunderbird. Thunderbird is an incredible alternative to IncrediMail. But there are many alternatives to Thunderbird as well.
Other IncrediMail Replacements
There are many email programs like IncrediMail on the market. Aside from the top 5 we've discussed, here are a few email clients replacements for IncrediMail.
Gmail
Gmail is a free cloud-based client from Google. With Gmail, you read your emails from the mobile app or the browser. It's a free alternative to IncrediMail that gives you 15 gigabytes of storage shared across Google Drive and Google Photos. There are many productivity apps integrated for Gmail users.
Mac Mail
Mac Mail (Apple Mail) is lightweight email application for Mac OS.
Exchange Server
Microsoft Exchange server is an email client alternative to IncrediMail. This client allows users to access their messaging platform from their devices.
Windows Live Mail
Windows Live Mail is a free IncrediMail alternative email client for Windows 7. It's a mail client, calendar application, contact management app, and newsreader in one program.
Zimbra
Zimbra is a free email client for Windows, Linux, and Mac OS X users. It's a dedicated server that manages messages, contacts, calendars, and attachments.
Entourage
The Entourage email client is an alternative to IncrediMail, developed for Mac OS but discontinued. It was last released in Microsoft Office 2008 and later replaced with Outlook.
Yahoo
Yahoo mail is also an email client that can replace IncrediMail. It's a client that Yahoo, the company, released.
WorkMail
Amazon WorkMail manages your calendar, email, and contacts on desktop, mobile devices, or the web browser.
SmarterMail
SmarterMail is an email collaboration server for businesses of all sizes. It includes features like modern webmail for desktops and mobile devices.
Kerio
Kerio is a cross-platform client used by thousands of companies around the globe. Your company's budget doesn't matter; you can use Kerio to manage your emails, calendar, and contacts.
Lotus Notes
IBM Lotus Notes is an excellent software for businesses. Lotus email application allows businesses to manage their emails, appointment scheduler, and calendar.
FAQ
Will IncrediMail stop working?
Yes, IncrediMail has stopped working. The company announced that as of March 20, 2020, they're shutting down their servers and the desktop app. The reason? It's time they focus on areas that are more relevant to today's use of technology. Ex users have to switch to a free or paid IncrediMail alternative.
Does IncrediMail work on Mac?
IncrediMail email client is a Windows-based email management system, and it doesn't support macOS. Marketers who use Mac have to opt for an IncrediMail alternative.
How do I switch from IncrediMail to Outlook?
When IncrediMail shut down its servers, many users switched to other email clients. One of the most common email clients users are switching to is Microsoft Outlook. Read our in-depth guide on how to transfer from IncrediMail to Outlook.
How do I recover my IncrediMail email?
If you have accidentally deleted your emails, you can recover them from the trash folder. However, if the emails were corrupted, you'd need a recovery tool for the job.
How do I export emails from IncrediMail?
To reliably and securely transfer emails from IncrediMail to Outlook, the best solution is to use the IncrediMail to Outlook converter. The converter should have the following features to make the transfer easy.
Instant conversion.
No file size.
Change language option.
Export multiple mailboxes.
We've discussed some of the best IncrediMail alternatives you can use to manage your business in this article.
MSG to Outlook Transfer – User's Manual Even though "email conversion" may sound technical and complex, it is a fairly simple routine if you have the right tool at hand. Conversion…
---
Mbox to Outlook Transfer – User's Manual The primary goal of Mbox to Outlook Transfer software is to assist users in moving their emails from any email client supporting the Mbox format to…
---
When it comes to mail clients, Outlook is the preferred environment for many businesses and users. It is secure, versatile, and powerful. One may store and manage a large volume…
---
Data Extraction Kit for Outlook is a powerful all-in-one tool for Outlook/PST email conversion, migration and data analysis. The product can be used for extracting emails and other objects from…
---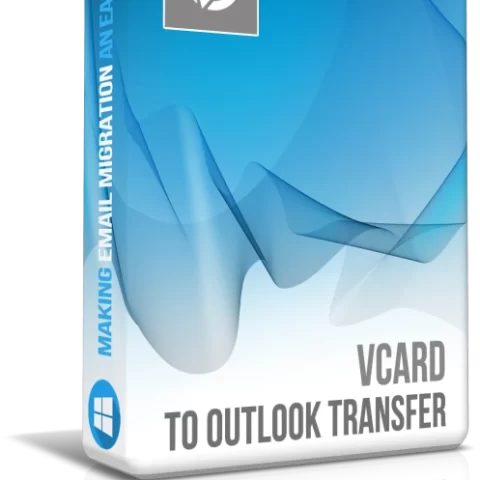 vCard to Outlook Transfer – User's Manual Transferring contacts from one system to another may seem like a complex task - and it can be if you do it manually.…
We are sorry that this post was not useful for you!
Let us improve this post!
Tell us how we can improve this post?