Table of contents
Outlook is the most powerful email tool that is much better than the web version of Gmail. If you already know everything about how to use Outlook, here are some of the unobvious possibilities of this outstanding service that may be useful to you. If you still don't use this service, you really need to create Microsoft email address.
Preview of letters
In the list of messages, there is an available preview of each letter. You see the sender's address, subject and the first line of the main text. The last parameter can be customized. To do this, open the "View" tab, find the "Message Preview" drop-down and select the required number of lines. You can, if you wish, disable viewing at all to save space. The service will also ask if you want to apply the setting only to this folder or to all mailboxes. It means that there is no need in additional email list managers.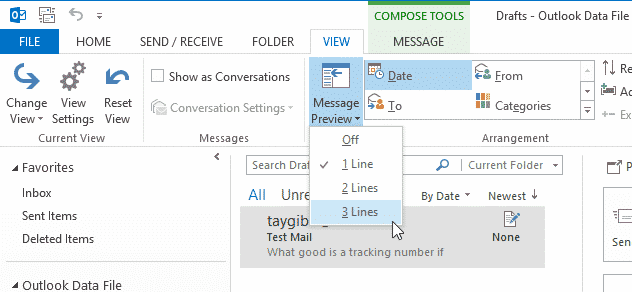 The main mailbox
If you have multiple accounts, you might be interested in Outlook email management. You can select one as the primary one so that the corresponding folder opens when you start the service. To do this, click "File" → "Options" and in the window that appears, select the "Advanced" tab in the left pane.

In the section "Outlook start and exit", click on the "Browse…" button. In the "Select a folder" dialog box, find the required account and select "Inbox" or another necessary folder. Now it will open when you start working with Outlook.
Search folders
If you often search for letters by typing the same words and expressions into the search panel, you can simplify your task by learning how to organize email in Outlook. But the service also supports search folders or smart folders. Set them up and you can forget about manually sorting correspondence.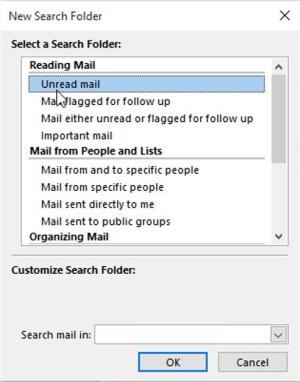 Click the "Folder" tab → "New Search Folder";

In the window that appears, you can select the search folder from the templates provided by Outlook, or create your own.

For example, the "Unread Mail" search folder will show all messages that you didn't open, no matter where they are or what accounts they belong to.

Letters will not move anywhere: in the search folders only links to them are displayed.
If you're not satisfied with the Outlook 365 templates, select "Create a custom Search Folder" at the bottom of the list. Click "OK". Then enter a name for the folder, click "Criteria…" and specify the conditions for selecting messages in it. In such a way, it is simple to create folder in Outlook.
Cleaning the folders
This feature removes redundant messages in the selected folder. You can find it in Outlook Task List.  Excess refers to quoted copies of your letters. To check the function in action, right-click on the folder in which repetitions and copies of messages are accumulated, and select "Clean Up Folder".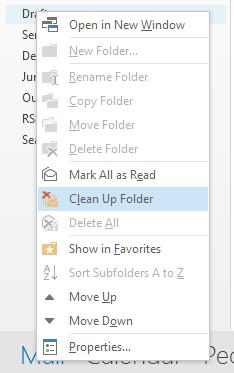 You can specify which messages are considered redundant. To do this, select "File" → "Options" → "Mail" → "Conversation Clean Up". Here you can set up cleaning so that it does not affect important or selected messages, as well as select which folder to move unnecessary letters to. By default, they are sent to the "Deleted Items" folder of the account to which they belong.
---
Delayed delivery
This feature allows you to write a letter now and send it later. Just specify the time of sending and forget about the letter – it will reach the address without your participation. Gmail is proud of this feature with its new interface, but it is already long in Outlook.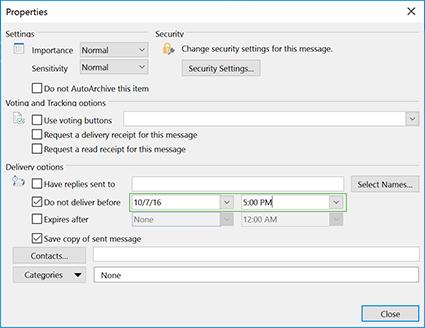 Create quick email, specify the addressee and subject as usual. Then click the "Options" button and select "Delay Delivery". In the window that opens, check the "Do not deliver before" box and specify the date and time. You can set other parameters. For example, mark a message as important or send a copy of it to another address.
Quick Steps
In skilful hands, this is an incredibly powerful tool that will help to cope with large volumes of correspondence. The Quick Actions feature allows you to automate any sequence of actions and execute them with one click.
On the Home tab, find the "Quick Steps" group. Here are a few templates, but you can make your own. To do this, click on "Create New" in the "Quick Steps" section and enter a name. Then, clicking on the "Steps" button, select the operations that you want to perform, step by step. Quick action can be saved on the toolbar or assign a combination of hotkeys to it.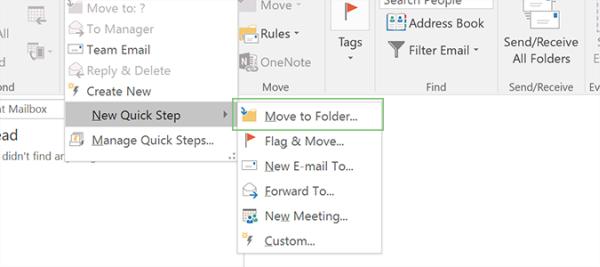 For example, you can create a quick action to move selected messages to a specific folder and mark them as read. Or respond to your interlocutors en masse by creating reminders in a calendar about meeting with them. You can also use it to create a new Outlook email. Turn on the fantasy.
Rules and Alerts
This feature allows you to automatically perform certain actions with new mail. Click "Rules" on the "Home" tab and select "Manage rules and alerts." Here you can create, modify and manually launch them.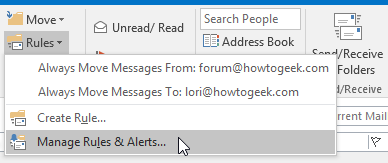 Click "Create a rule", and then set your preferences in the window that appears. You can make the application to give a certain sound signal, display an alert, and transfer letters to the correct folder that match certain criteria.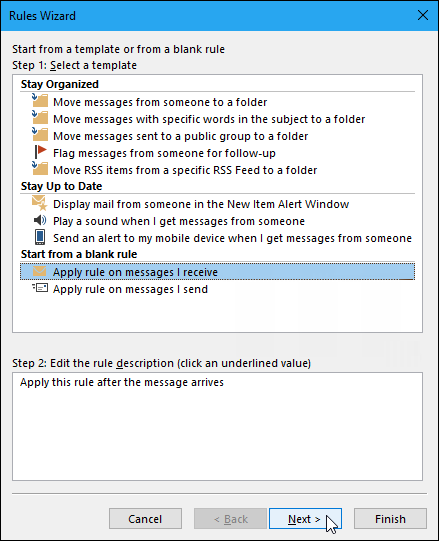 Account Names
By default, your email address is used as the account name in Microsoft Outlook 2018, but you can also change the account name. At the same time on the server of your email provider, it will remain the same, so you can call your mailboxes by their content: "Work", "Home" and so on.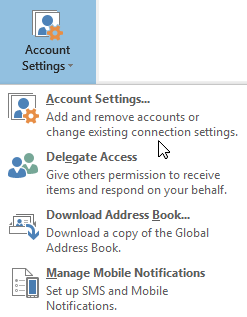 To change the account name follow the next steps:
right-click on the account (left panel);

select "Account Properties";

Or go to "File" → "Details";

open the "Account Settings";

select the account which name you want to change;

click "Change";

enter a new name;

click "Next" and "Finish".
Command-line switches
Geeky Outlook tricks that will help you use Outlook more effectively will suit those who are used to working with the keyboard, and not with the mouse. Press Win + R to open a command prompt and enter the commands:
outlook.exe /nopreview – open Outlook without email preview window. Main and very useful parameter which will help you to run Outlook after error produced by the receiving of the damaged or malicious email  preventing the normal Outlook launch;

outlook.exe  /select folder_name – open Outlook with a specific email folder instead of the one you have assigned the main one. If instead of folder_name enter outlook: calendar, a calendar will open;

outlook.exe /restore – open Outlook, restoring all windows if the program was closed as a result of a system error;

outlook.exe /finder – open a powerful Outlook search tool.
It is not the complete list of Outlook command-line parameters. You may read more about Outlook command-line switches in Microsoft knowledge base articles.
More Knowledge Base articles
---
You can hardly imagine life today without e-planners. Most people have rather busy life and
Read more
---

Technologies and innovations have become a major part of people's life. All modern applications allow
Read more
---
It is best to track e-correspondence within a unified mailing environment. Juggling multiple apps is
Read more
---
Periodically, appears a strong necessity to transfer Mbox to Outlook triggering the continuous search of
Read more
---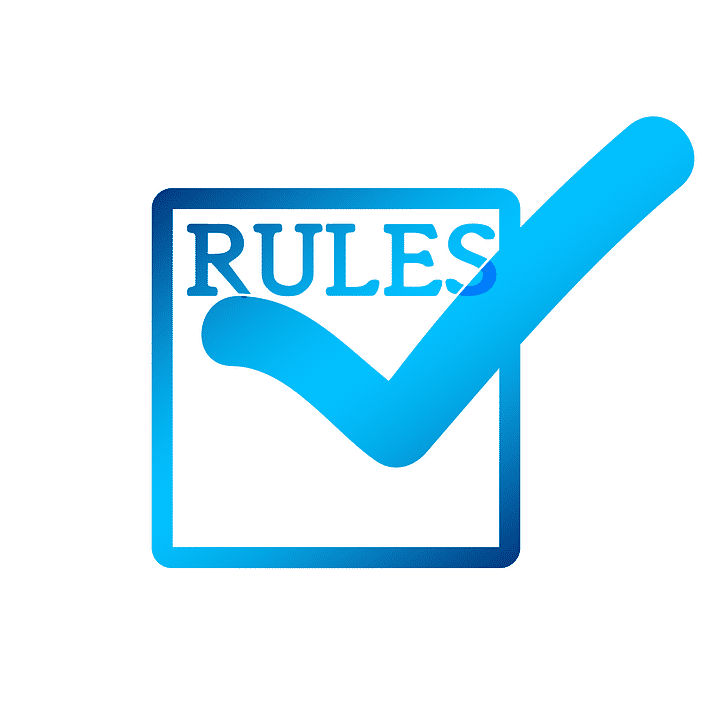 One of the respectful American research groups once figured the amount of online correspondence delivered
Read more
How useful was this article?
Click on a star to rate it!
Average rating / 5. Vote count:
We are sorry that this post was not useful for you!
Let us improve this post!
Thanks for your feedback!