The first and primary purpose of any software is to facilitate people's life by fulfilling certain tasks better, quicker and more precisely. When it comes to using the Office Suite, in particular MS Outlook, there are lots of Outlook tricks that help users conveniently arrange the process of emailing, keeping calendar entries, arranging meetings, as well as storing valuable contact details. However, these are not all the Outlook features available to users. Here, we have collected the list of Microsoft Outlook tips that will save you up to several hours per day. Read on to master effective time management.
Effective Outlook Tips for the Best User Experience
When it comes to time management, every minute is valuable. Will you be surprised if we tell you that with the below Outlook tips and tricks, you will save at least two hours per day being an active user of this program? Owing to effective 2016, 2013 or Outlook 2010 tips and tricks, you will be able to make use of the software functionality in full. Let's get started.
Ways of Organizing Emails in Outlook
MS Outlook's major function is emailing. Though, its great benefit is not the function that is, honestly speaking, not rare nowadays with so many email clients out there. Thanks to Outlook email management and search possibilities, you will not have to scroll manually all the inbox looking for necessary data.
When you get an email, before opening it, in the preview mode, it is possible to see the sender, subject, and the first line.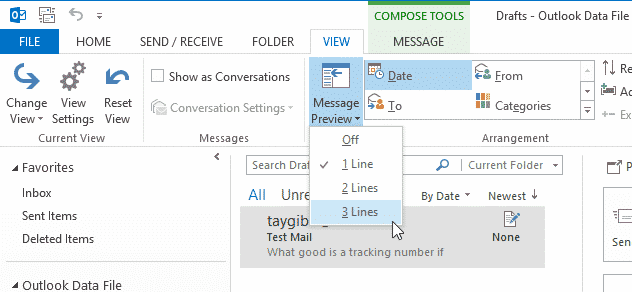 The latter can be adjusted: open the tab View ➝ Message Preview ➝ opt the number of lines from the drop-down menu. This can be applied to all the emails or a particular folder only. Make your choice and save.
It is one of the easiest and, at the same time, the most effective ways on how to organize email in Outlook. If you are used to storing emails for future reference, create the system of folders so that to quickly find necessary data. There is the possibility to create rules for emails from a certain sender to be automatically placed in a certain folder: use the shortcut Ctrl + Shift + E to create a new folder ➝ find an email from the sender and right-click it ➝ Rules ➝ Always move messages from … ➝ select the folder you have just created for this sender.

Thanks to this Outlook organization possibility, you will easily navigate among projects and other relevant folders that can be found on the Outlook navigation pane.
If you are used to searching for necessary info by typing a keyword or sender name in the search bar, make use of the best folders' system from Outlook.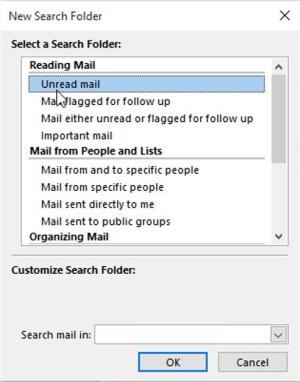 This solution is called search or smart folders. Press on the tab Folder ➝ select New Search Folder ➝ in the appearing window, select a template folder or create own with Create a custom Search Folder option ➝ indicate the criteria (a particular sender or all unread messages) ➝ Ok. Read more about Search Folders in Outlook.
Another effective way on how to organize emails in Outlook is to mark them according to categories. For every category, there is a different color. Besides, they can be named and set contingent on your needs and preferences in the way you organize Outlook folders. For this, find the tab Tags and click on Categories. In the menu that will appear, one can rename a category and choose a color for it. Then, in the inbox, apply one of these categories to visually facilitate searching. A flag can be assigned to an email simple left-clicking. If you right-click, there are settings and notifications for a certain email.
Among the ways on how to organize Outlook email, cleaning up the folders automatically. This function makes it possible to remove copied messages and duplicates to a certain folder.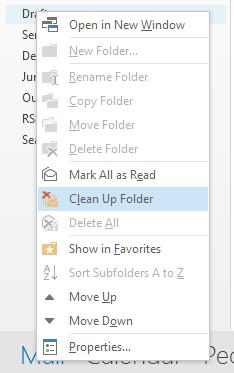 To specify which exactly emails should be considered redundant, press on File ➝ Options ➝ Mail ➝ Conversation Clean Up. In this window, indicate all the relevant criteria so that Outlook to act accordingly. By default, these emails will be added to the folder Deleted Items. Don't forget to Compact Outlook Data File periodically to keep the data structure optimized.
The Tips from Outlook Favorites
Even the few above features prove that Microsoft Outlook is developed to automatically fulfill a lot of functions. Among 365, 2016 versions or Outlook 2013 tips and tricks, there are plenty of email hacks to master time management:
It is one of the Outlook best practices as this function lets you send the report on time, do not forget to send a greeting card or send an email early in the morning as if you are already awake.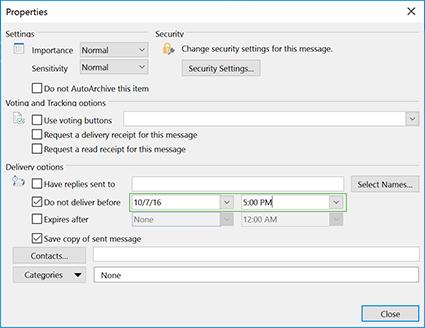 Outlook management will come to the rescue. After creating an email and typing a recipient, click on the button Options ➝ Delay Delivery ➝ check the box Do not deliver before ➝ indicate time and date and check other parameters that you can apply ➝ Close ➝ press Send. This email will remain in the outbox until the specified time. Read more about delayed email delivery in Outlook 365.
You may also want to know how to schedule email in Outlook.
Those in search of the best way to organize Outlook emails should not overlook this feature. With Quick Actions, a user can choose the most often needed actions and fulfill them in just one click.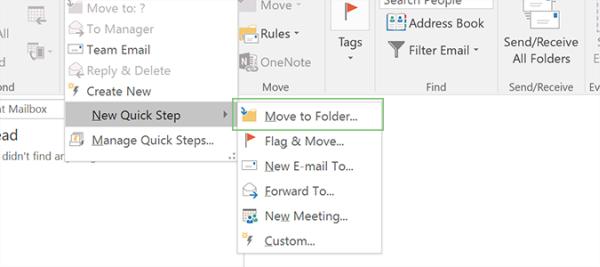 Go to the tab Home ➝ in the group called Quick Steps, there are some templates. To create own, press on Create New ➝ enter its name ➝ hit on Steps and opt the operations that should be performed. Then save this quick action on the toolbar, or the hotkeys' combination can be selected. Just think of the actions you do most often.
One more feature cannot be missed on the way on how to organize Outlook effectively. Thanks to this function, certain actions can be assigned and automatically performed with a new email.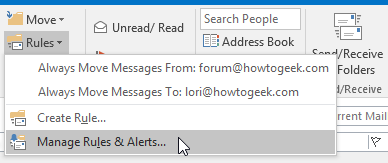 Go to the tab Home ➝ hit on Rules ➝ ch Joose Manage Rules and Alerts. In the window that appears, you can check all the possible rules, create, edit, and assign them.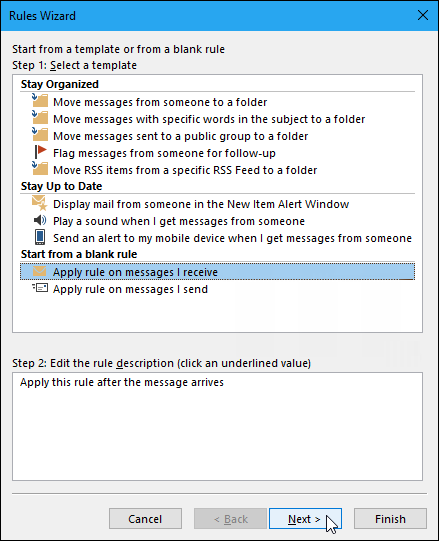 To use this Microsoft Outlook tip, hit on Create a Rule and opt for the rules applicable to what you have planned to do with an incoming email (notification, placing an email to a certain folder, etc.)
Microsoft Outlook Email and Calendar Management Tips
Thanks to some Windows 10 tips, tricks, and hacks, as well as plenty of available quick free email features, for instance, Outlook 2010 tutorials, there is the feasibility to save a considerable amount of time. One of the best examples is the use of shortcuts that speed up the work not only in Outlook but also in other programs of the Office Suite. Here are some of them:
Ctrl + R: for replying to an email; 

Ctrl + Shift + M: for creating a new email;

Ctrl + 1: for opening an email;

Ctrl + 2: for opening a calendar;

Ctrl + 3: for opening contacts;

Ctrl + 4: for

Outlook

to

show tasks in the calendar;

Ctrl + 4: to display Notes;

Ctrl + 6: to enable a Folders View mode.
Other calendar management tips are described in separate article.
Drag & Drop
This feature works between Mail, Calendar, Contacts, Tasks, and Notes. It is possible to check Microsoft Outlook 2010 tutorials on this matter, however, it is just necessary to understand the idea. For instance, to save an email in a folder or on the desktop, simply drag it and drop. If you click an email and drag it to the Contact icon on the navigation bar, a new contact with the name and email already entered will appear. An email can be dropped to the Calendar or Tasks, and an appointment or task will be created. It is one of the ways on how to use Outlook tasks effectively as it enables a user not to type all the details from the message.
Account Names
By default, your email address is used as the account name in Microsoft Outlook 2018, but you can also change the account name. At the same time on the server of your email provider, it will remain the same, so you can call your mailboxes by their content: "Work", "Home" and so on.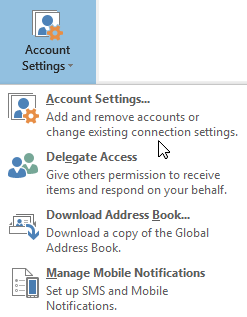 To change the account name follow the next steps:
right-click on the account (left panel);

select "Account Properties";

Or go to "File" → "Details";

open the "Account Settings";

select the account which name you want to change;

click "Change";

enter a new name;

click "Next" and "Finish".
Command-line switches
Geeky Outlook tricks that will help you use Outlook more effectively will suit those who are used to working with the keyboard, and not with the mouse. Press Win + R to open a command prompt and enter the commands:
outlook.exe /nopreview – open Outlook without email preview window. Main and very useful parameter which will help you to run Outlook after error produced by the receiving of the damaged or malicious email  preventing the normal Outlook launch;

outlook.exe  /select folder_name – open Outlook with a specific email folder instead of the one you have assigned the main one. If instead of folder_name enter outlook: calendar, a calendar will open;

outlook.exe /restore – open Outlook, restoring all windows if the program was closed as a result of a system error;

outlook.exe /finder – open a powerful Outlook search tool.
It is not the complete list of Outlook command-line parameters. You may read more about Outlook command-line switches in Microsoft knowledge base articles.
Important: Remember About Safety in Outlook
No matter why you use this software, quite likely it contains confidential and important information. For this purpose, it is crucial to regularly change the passwords, install reliable antivirus software, as well as to back up emails. Nothing is going to frustrate more if crucial information is lost. In such a situation, all the time saved with the help of the above tips will be wasted. To restore the lost data, way more time can be required.
To Finalize
Microsoft Outlook is an email client developed to fulfill a considerable number of functions. Aside from the standard list of features, one may also sign useful Outlook macros or insert Outlook symbols to make an email interactive, as well as use plenty of other functions and features described above. Remember: the main characteristic aspect of Outlook is its easiness and comprehensiveness. Thus, users do not have to search for Outlook 2016 for dummies, just utilize one of the above tips once, and will definitely remember how to use them in the future.
More Knowledge Base articles
---
Email migration is a process of transferring emails and other data from one email platform to another. One of the most common email migration scenarios is moving from a different…
---
An MBOX file is a mailbox format that stores email messages one after the other as a plain text. Each individual message within mbox file stored in EML format. So…
---
Outlook is a widely used email client, which is professionally developed by Microsoft. It offers many advanced features to its users, such as emails, calendars, tasks, contacts, notes, and many…
---
Outlook is a popular email client used by millions of users worldwide. It is widely used by individuals, businesses, and organizations to manage their emails, calendars, tasks, and contacts. However,…
---
As a Microsoft Outlook user, you may experience the "Errors have been detected in the file xxx.ost" error message. This situation can be frustrating and confusing, especially if you rely…
We are sorry that this post was not useful for you!
Let us improve this post!
Tell us how we can improve this post?