This article contains several common questions often asked by our users and googled across the web.
Q: How to convert an extra large mailbox to Outlook?
The problem our users often report is mailboxes that for years have grown so large, that converting them to the PST format becomes a problem. Indeed, older versions of Outlook had quite strict limitations on the maximum size of a PST file. Specifically, Outlook 2002 allowed only 2GB at max, Outlook 2003 to 2007 allows up to 20GB, and the current local version of Outlook 2010-2019 has the 50GB limit.
A: There are two ways to deal with a larger PST file…
Option 1. Split the output PST file. First, you can split the entire exported mailbox to multiple PST files of a smaller size. You can easily do this if you use one of our Outlook conversion tools. For example, suppose you want to convert gigabytes of your Thunderbird emails to Outlook. You run the Thunderbird to Outlook Transfer tool, and configure it to split the result of conversion onto PST file of the specified size. This way you can import to any given version of Outlook without problems.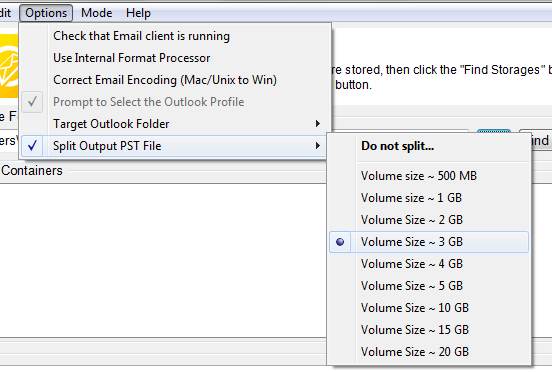 Here you can find the detailed tutorial on how to split a PST file.
Option 2. Increase the PST file size limit. Yes, in fact you can simply increase the maximum file size and avoid the problem completely. To do this, you will need to edit the registry to create two new registry key values.
Incorrect modification of the System Registry may cause the serious problems on System Level. You are modifying the System Registry at your own risk!
Run Registry editor. Press Win+R, then type regedit and press Enter.
Find the following key in the Registry:HKEY_CURRENT_USER\Software\Microsoft\Office\%version%\Outlook\PSTWhere %version% is the version of Outlook you use, specifically:Outlook 2003 – 11.0
Outlook 2007 – 12.0
Outlook 2010 – 14.0
Outlook 2013 – 15.0
Outlook 2016/2019/365 – 16.0For example, if you use Outlook 2010, the registry path is:

HKEY_CURRENT_USER\Software\Microsoft\Office\14.0\Outlook\PST

Create two DWORD values using the Edit -> Create menu.WarnLargeFileSize
MaxLargeFileSize
Set the amount in MB that is the maximum size of a PST file. The first value means the size when Outlook displays a "Your mailbox has reached its maximum size limit at which you cannot send or receive any more content." warning. The second value is the actual maximum file size, it must be at least 5% higher.
Note that the theoretical limit to the file size is 4 petabytes (4096 TB), so don't exceed this value.
After that your Outlook will be able to swallow PST files of extremely large sizes.
Keep in mind that working with large files requires more system resources. As other programs, Outlook can slow down if the data file is too large. Therefore, we recommend that you use smaller PST files by splitting them up.
Q: I ran your conversion tool, but every imported Outlook folder is empty. What to do?
Sometimes when you import emails to your Outlook profile, you end up with the correct folder structure imported, but all folders are empty, no messages are there.
A: There are a number of possible reasons for empty folders:
You tried to import emails to online account. In most cases the online account such as IMAP or Exchange Server account is restricted, so usually you can only import emails to an offline Outlook profile, such as POP3. Additionally online mailboxes automatically synchronize with the server, so your imported folders get overwritten by the empty ones from the server. If this is the case, simply export your emails to a standalone PST file instead. Then, import that PST file to the online Outlook profile.
You need to apply the registry fix to the Click-to-Run Outlook 2013 installation. The problem could be missing MAPI marshalling registry keys. If you use C2R Outlook 2013 installation, simply download the registry fix here, quit Outlook and apply that fix.
Outlook local profile is not configured. In order for Outlook Transfer to be able to import data directly to Outlook, a valid Outlook profile must be configured first. Please run Outlook and create a profile to import messages to.
Outlook is not installed properly. Importing requires Outlook to be installed in a standalone mode. Trial versions as well as Click-to-Run version do not allow importing emails from external sources. Try reinstalling Outlook.
Q: How to import Thunderbird contacts to Outlook?
And another popular query by our users. How to effortlessly transport all your precious contacts to Outlook, intact?
A: Use vCard to Outlook Transfer tool
A short answer is: export your Thunderbird contacts to the vCard format (VCF), then use the vCard to Outlook Transfer tool to import them to Outlook safe and sound.
A longer answer can be found in this step-by-step tutorial explaining how you can import Mozilla Thunderbird contacts to Outlook.
Q: How to import contacts from an Excel spreadsheet to Outlook?
Along side with importing contacts from other mail software, people often need to import contacts from an Excel spreadsheet. Below is a short tutorial explaining how to import your contacts to Outlook from Excel.
A: Import contacts from Excel as .csv
Open your spreadsheet with contacts in Excel.
Save the spreadsheet as Comma Separated Values (.csv). To do this, click File -> Save As. Then select "CSV" in the "Save as Type" box. Click Save. If Excel produces a warning, just click OK, this won't affect your original file.
In Outlook, open the File menu on the ribbon and select Import & Export.
In the Import and Export Wizard, select "Import from another program or file". Click Next.
Choose "Comma Separated Values" as the type of the source file. Click Next.
Browse for a CSV file you have created on Step 2. Click Next.
Select the Outlook folder where the contacts will go to. Click Next.
Now you need to map fields of your CSV file to fields in the contact database. Click the Map Custom Fields button.
The mapping dialog allows you to map certain fields in the CSV file (like name, email address, company etc. to corresponding Outlook contact fields.

Some fields may be recognized automatically, others you may need to adjust by hand.
Click Finish to finish importing contacts from Thunderbird to Outlook.
Q: Can I use Outlook Transfer tool to import emails to Outlook 365?
A: Not directly, but yes
Our Outlook Transfer tools cannot import emails from other mail software to Outlook 365 account directly. However, you still can import messages and contacts to a standalone PST file and then upload this PST file to Outlook 365. You can find the official instruction on the Microsoft website here.
More Knowledge Base articles
---
Email migration is a process of transferring emails and other data from one email platform to another. One of the most common email migration scenarios is moving from a different…
---
An MBOX file is a mailbox format that stores email messages one after the other as a plain text. Each individual message within mbox file stored in EML format. So…
---
Outlook is a widely used email client, which is professionally developed by Microsoft. It offers many advanced features to its users, such as emails, calendars, tasks, contacts, notes, and many…
---
Outlook is a popular email client used by millions of users worldwide. It is widely used by individuals, businesses, and organizations to manage their emails, calendars, tasks, and contacts. However,…
---
As a Microsoft Outlook user, you may experience the "Errors have been detected in the file xxx.ost" error message. This situation can be frustrating and confusing, especially if you rely…
We are sorry that this post was not useful for you!
Let us improve this post!
Tell us how we can improve this post?