The volume of data coming from everywhere constantly grows, the same for the Outlook PST data file. Many emails every day, a lot of attachments, forwards and replies. However the PST size is limited by Microsoft by default and so you may face with the problem when Outlook stops working. For example the Outlook 2002 PST file size is limited by 2 GB, Outlook 2003-2007 PST file size is limited by 20 GB. Modern versions of MS Outlook 2010 and above are limited to have PST files not more than 50 GB in size. But what if you should import tons of EML files?
In all new versions of Outlook Transfer products (5.2 and above) we have implemented the output PST splitting option especially for those who need to maintain the PST file size. Now you may use the "Split Output PST File" menu to enable one of the predefined "Volume size …" options to split PST file on several smaller parts while converting the EML to PST or migrating from other email clients to Outlook.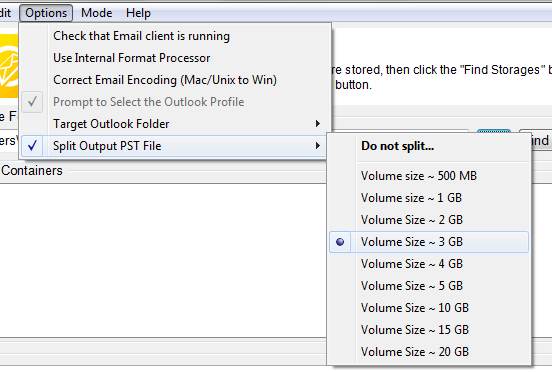 How the PST splitting works:
We will review it on example of EML to Outlook Transfer tool…
Run the EML to Outlook Transfer utility
Use menu "Mode" to select "Save to PST file" option
Use menu "Options" > "Split Output PST File" and select the desired size of the PST file part (volume)
Use menu "Options" > "Target Outlook Folder" if you want to pre-select the target Outlook folder
Specify or select the source folder where your source EML files and folders are stored
Press "Scan Folder" button to scan the nested subfolders
Press "Save PST" button to start the EML to PST conversion
The Outlook Transfer tool will write all imported data into several PST files with number in the file name for each PST part. You may open each PST part separately in Microsoft Outlook using menu File > Open > Open Outlook Data File…
When you working with huge data arrays of data you may also want to save / load option of the Email Containers list. This functionality allows you to interrupt the data conversion and then continue it from the same moment.
Other Tutorials
---
EML to Outlook Transfer – Usage Instructions Email conversion of any sort is quite often a complex process that involves a great number of dependency and format compatibility checks, implies a…
---
Article describes how to convert IncrediMail contacts and emails into Mailbird email client. Mailbird is modern messaging application which allows to use multiple accounts to manage emails, supports the GUI…
---
Mac Mail to Outlook Transfer – User's Manual In this article, we will show you how to convert your entire Mac Mail email archive to Microsoft Outlook on a PC…
---
Data Extraction Kit for Outlook is a powerful all-in-one tool for Outlook/PST email conversion, migration and data analysis. The product can be used for extracting emails and other objects from…
---
Gmail to Outlook Transfer – User's Manual Gmail to Outlook Transfer (click here to download) is a highly efficient specialized tool for transferring the contents of online Gmail folders and email…
We are sorry that this post was not useful for you!
Let us improve this post!
Tell us how we can improve this post?