Microsoft Office 365 seems to be constantly failing in providing its services. Users are unable to connect to the Exchange Online service for hours. There are numerous reports about lost or undelivered e-mails, random sign outs, corrupted content and more. And if you think these are single-event failures and there's nothing to worry about, read this article and think again.
Table of contents
Problems with Outlook 365
Surely, when you work with some online or offline application you expect it to work flawlessly. Especially when it comes to working with important correspondence and crucial emails. Unfortunately, with the cloud version of Microsoft Outlook this is not so.
Below is a list of typical problems users experience with Microsoft cloud services. For each problem we provide a short description of the issue, its frequency and user feedback.
Unable to login
Many Outlook Online users report they cannot access their account or have to try many times before they can. The log in page simply doesn't allow to log in producing various error messages. Over 50% of users report having problems with logging in one or the other way.

Examples of error messages shown to users are:
Corrupted Content Error
The site at https://outlook.live.com/ma… has experienced a network protocol violation that cannot be repaired. The page you are trying to view cannot be shown because an error in the data transmission was detected. Please contact the web site owners to inform them of this problem.

---
This account does not exist (MSSPError=-805308370)

---
MO172692 – Unable to access Microsoft 365 services
Status: Service degradation
User impact: Affected users are unable to authenticate to and access Microsoft 365 services.

Latest message:

Title: Unable to access Microsoft 365 services

User Impact: Affected users are unable to authenticate to and access Microsoft 365 services.

More info: Customers that have their authorization cached are unaffected by this issue, and new authentications are succeeded approximately 50 percent of the time.

Current status: We've identified a network issue that is affecting authentication to multiple Microsoft 365 services. We're moving services to alternate network links to resolve the issue while we perform targeted service restarts in parallel to provide more immediate relief.
Scope of impact: This issue may potentially affect any of your users attempting to access Microsoft 365 services.
Start time: Tuesday, January 29, 2019, at 9:15 PM UTC
Preliminary root cause: A portion of network infrastructure that facilitates authentication requests is degraded, affecting access to one or more Microsoft 365 services.
EX172491 – Can't access email
Current status: We're continuing to fix the unhealthy Domain Controllers while actively monitoring the connections to the healthy infrastructure. Additionally, we're reviewing system logs from the unhealthy Domain Controllers to understand the underlying cause of the issue. 
Scope of impact: Impact is specific to users who are served through the affected infrastructure.
---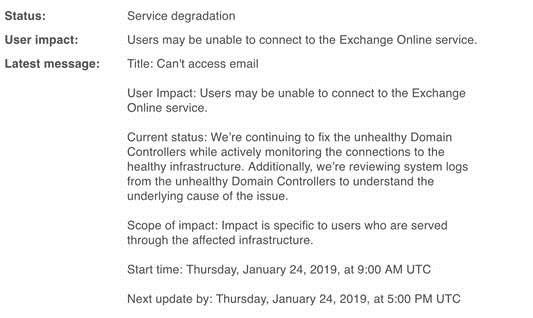 Random log out
If problems while logging in are not enough, there are also spontaneous log outs from Office 365 services and from Outlook and Hotmail accounts. Users report they're kicked out from their accounts on both desktops and mobile phones. Even worse, repeated logging in also fails with the "incorrect password" message, and even resetting the password cannot be done due to an error.

Examples of error messages users get when they get logged out:
Incorrect password
There's a temporary problem with the service. Please try again. If you continue to get this message, try again later
Cannot receive emails
What cloud e-mail service is for? Apparently, for receiving and sending emails. Unfortunately, Microsoft online mail service has problems with both. In January 2019, users massively reported problems with receiving emails sent to their mail accounts. Email messages sent to hotmail accounts were bounced back. Some users reported being unable to receive any correspondence for 30 or more days! That's a lot, provided those e-mails could be urgent business issues that possibly cost their addressee a lot of money.

Cannot send mails
Sending messages is also impaired in the cloud version of Outlook. Sending just one message may take 10 minutes, 40 minutes, 2 hours. Again, this is not a one-time issue. Multiple users report having a problem with sending replies for weeks. Sending messages produces errors or just hangs forever.

Your request cannot be completed right now, try again later.
Outlook website is down
Another common problem with online Outlook and Office 365 services is that users simply cannot open the website to use those services. Specifically, people report Outlook websites are down all over the world including such major URLs as outlook.com, outlook.co.uk, outlook.live.com and so on.


We're having trouble finding this site.
Outlook folders has disappeared
Unlike local Outlook installed on your own computer, online Outlook is caught in limiting access to a user's Outlook folders for no reason. Moreover, Microsoft request users to subscribe to a new product in order to get access to Outlook folders back.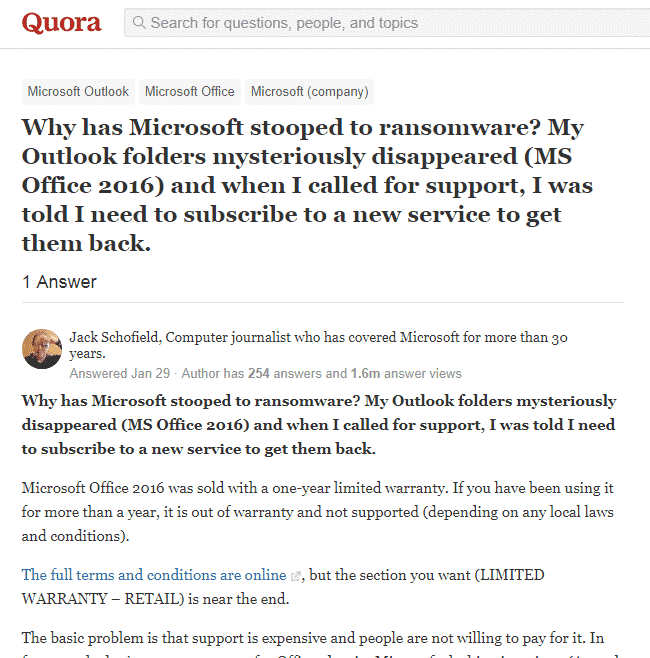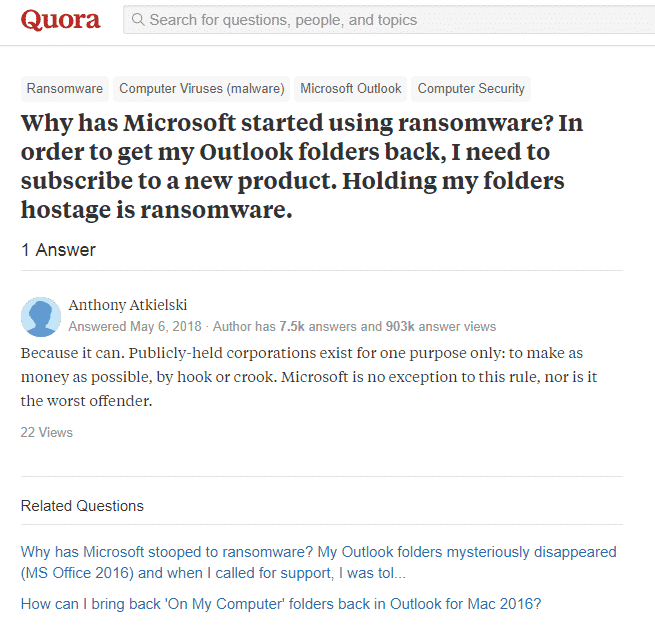 Such questions are not rare at Quora…
---
Solution – use local Outlook
As you see from the previous section, the Microsoft's cloud service is obviously overloaded and just cannot reliably manage the amount of user accounts it has. The number of problems with Office 365 and Outlook 365 is growing like a snowball. Too bad, the support does not seem to provide a long-term solution for the issues. Many users claim they had been waiting for an answer (not to mention a solution) for months!
We do not say Office 365 is a bad cloud service. But it's apparently having problems right now. And while online Outlook clearly has troubles delivering your emails in time and giving you access to your own folders and years of messages, there is a simple and 100% working solution to all of the problems mentioned above.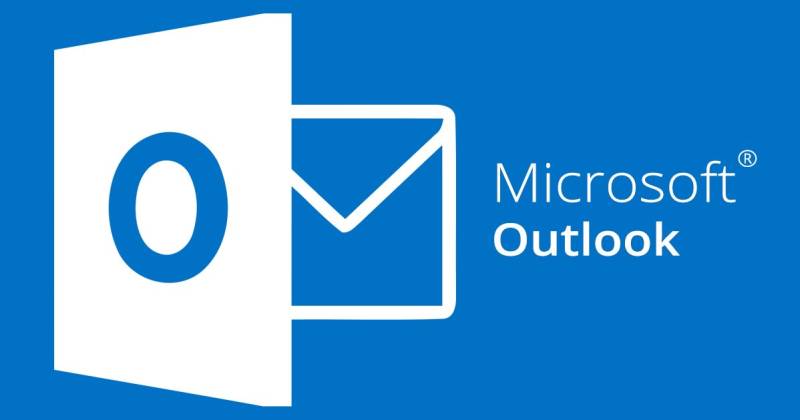 The solution is to switch back to local, standalone Outlook version. Yes. Install the local email client, configure POP3 or IMAP fetching of emails from your mail account and enjoy flawless operation of all functions an e-mail client should have.
Advantages of local Outlook over cloud Outlook (Office 365)
Stability
Provided cloud services of Microsoft work unstable, locally installed Outlook does not seem to have any problem with accessing accounts or sending and receiving emails. You install the software on your computer and use it just like you use your Outlook 20013/2016 in the Office 365 cloud service. Exclusive off bugs, lags and issues online Outlook 365 has.
Safety of your data
As you see, users reporting losing all their email folders, with all the content, emails, attachments, calendar appointments and so on. As soon as you become unable to login to your online Outlook account, you instantly lose everything. Every single bit of data becomes unavailable to you. Your only hope then is that the support will be able to recover what you have lost. And what if not? On the other hand, with local Outlook your data are safe.
You control your emails
Cloud services provide nice accessibility since you can access the same account from any browser or device. However, your emails are stored in the cloud, and this means you cannot actually control anything. If the service gets down (and that's what happens with Outlook very often now) you can only blame Microsoft and retweet your rage on Office 365 over and over. You have no control over your own data!
And if you installed Outlook locally, the email accounts are stored on your own computer in PST files. Open them, move them, make any changes and, of course, get access to correspondence at any time. You decide when.
Send and receive emails at any time
"Wait, wait, wait. Are you telling me I cannot receive anything from anyone simply because you have technical issues on the server? But what about my documents? I need them ASAP, literally NOW!"
Yep. That's what technical support of the Outlook service tells their clients. Inbound emails bounce back and never make it to your Hotmail mailbox. And the messages you send stay beyond the event horizon of the black hole called Office 365. They simply cannot leave it no matter how many times you try.
At the same time, local Outlook works like a charm. Even if Microsoft's own POP/IMAP servers are down, you can quickly switch to any other servers (like Google's Gmail) to stay connected no matter what. Your old emails are still in your side and always available.
Backup easily
One more advantage of local software over a cloud service is that you can backup your data at any time. Take any Outlook backup tool and tell it to copy your messages to a safe place. Outlook in the cloud has backup options too, but this barely helps if you cannot access them, because the log in function does not work.
Export or import emails
With locally installed Outlook you can import email messages from any other email client to PST or export messages from Outlook. It is equally easy. Basically, all you need is an email conversion tool of a kind. In comparison, exporting or importing emails from Office 365 is possible only if you have access to your online account in the cloud service.
Conclusion
We hope we provided enough evidence that installing Outlook on your computer has a number of advantages over cloud Outlook from Office 365, which works unstable and spells a number of troubles for its users. It goes without saying that cloud email client is convenient. But in case of Microsoft Office 365 this is also risky. So why keep all your eggs in the same basket? Install a local copy of Outlook and keep your emails on your local PC. And synchronizing the local accounts with your Office 365 using the built-in Outlook capabilities will allow you to use the cloud service too. You won't risk all your data if one day the cloud service stops responding, because your local folders are still here.
More Knowledge Base articles
---
Email migration is a process of transferring emails and other data from one email platform to another. One of the most common email migration scenarios is moving from a different…
---
An MBOX file is a mailbox format that stores email messages one after the other as a plain text. Each individual message within mbox file stored in EML format. So…
---
Outlook is a widely used email client, which is professionally developed by Microsoft. It offers many advanced features to its users, such as emails, calendars, tasks, contacts, notes, and many…
---
Outlook is a popular email client used by millions of users worldwide. It is widely used by individuals, businesses, and organizations to manage their emails, calendars, tasks, and contacts. However,…
---
As a Microsoft Outlook user, you may experience the "Errors have been detected in the file xxx.ost" error message. This situation can be frustrating and confusing, especially if you rely…
We are sorry that this post was not useful for you!
Let us improve this post!
Tell us how we can improve this post?