When changing over to a new computer, one of the most challenging issues most people face is having to merge multiple email accounts and settings in MS Outlook. If you are looking to move Outlook archive to new computer, or transfer Outlook contacts to new computer, here are some possible solutions that might be helpful at a particularly hard time.
Why Will I Copy My Outlook Settings to New Computer
Before the actual process when you want to copy Outlook settings to a new computer, it would be useful to understand the reasons for possibly wanting to transfer and import Outlook settings to a new computer.
The biggest reason for Outlook settings transfer is so that one does not lose their history and the operational systems that they might be used to.
Microsoft Outlook enables user to enjoy many privileges, including the ability to organize emails into folders and create emails from different email templates. It allows to save significant dates on the calendar, schedule delivery of the email, and block emails from certain specific senders.
Any such settings might be lost if one does not commit to copying Outlook data files onto a different computer. This would imply that they have to be manually set up again. Luckily, after reading this, it will be much easier to transfer these settings or Outlook data files.
How to transfer Outlook settings to a new computer using built-in features
There are several different options available when it comes to the transfer of Outlook settings from one computer to the next. There is a wide range of inbuilt features that might be useful in the transfer of Outlook settings like the following:
Office "Save My Settings" wizard
The "save my settings" wizard is one of the most useful strategies for the transfer of settings given that it was specifically designed to fix the various issues with Outlook settings migration.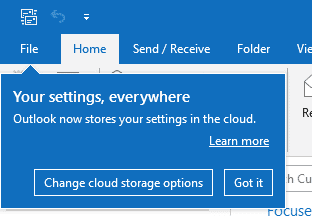 This import and export wizard works by making a backup of the settings, which then allows their restoration in the same or new system. It is, however, essential to note that it was version specific and therefore cannot turn up in required performance.
The Recreation of Outlook Profiles
Another way to transfer Outlook settings is to recreate the Outlook profiles manually. This manual recreation of a PST file, especially without the right tech savviness and experience, might be very tedious and time-consuming.
Outlook Backup Toolbox
Another technique that might help copy Outlook settings to a new computer is the Outlook Backup Toolbox tool. Developed by professionals with years of experience recovering data in various formats, including Outlook PST.
Outlook Backup Toolbox is related to the manual recreation method, as it is used to make backups and migrate the PST files and email account settings from the old to the new system. It is powered by additional options such as PST splitting and data encryption.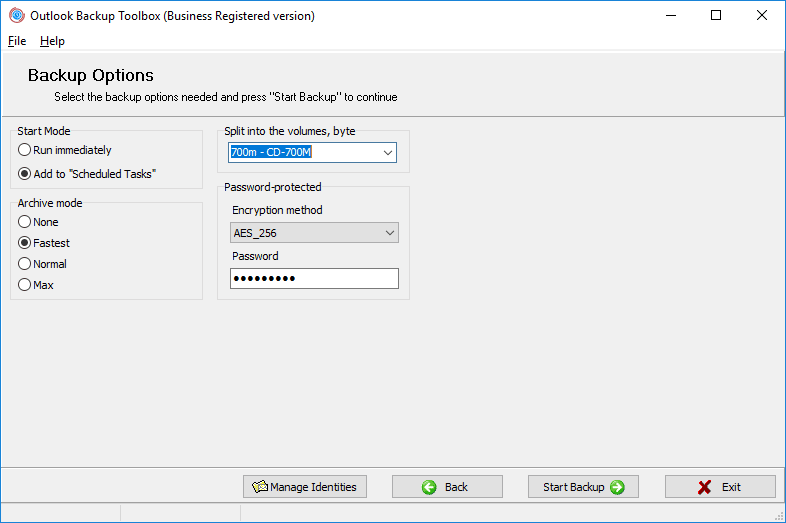 Registry Settings
This also enables the export of Outlook profiles. The registry settings procedure makes use of batch files to export the registry keys. After this, the user can then run the task scheduler using the Outlook Macro.
An example would be to paste "REG EXPORT "HKEY_CURRENT_USER\Software\Microsoft\Office\16.0\Outlook" "C:\Users\Diane\My Box Files\Outlook-options.reg" /y" and then run the task scheduler.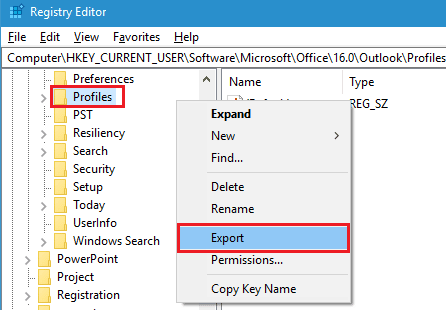 Exporting the Outlook information via The Registry Editor
It allows for the direct export of Outlook account settings. Here, the users can very easily export the settings to a .reg file, which is then later moved and imported into the new system's Outlook application.
Run the Registry Editor ( regedit.msc ).
Open up the registry tree on HKEY_CURRENT_USER\Software\Microsoft\Office\<our Outlook version here>\Outlook
Select File > Export…
Save the registry file.
Like the other inbuilt techniques, this one also holds a significant limitation in that it does not export the Outlook password settings. Furthermore, it can be a relatively complex process, and one must carefully understand the necessary steps required to perform the procedure.
Our Automatic Solution
Most inbuilt techniques are relatively complex and do not perform the extraction and transfer of the settings in their entirety. This is why our automatic solution is the best possible bet for you.
The solution here is an Outlook email extractor, one that enables the export of emails, notes, contacts, and other data from Outlook versions from 2016 all the way to 2010 and even earlier.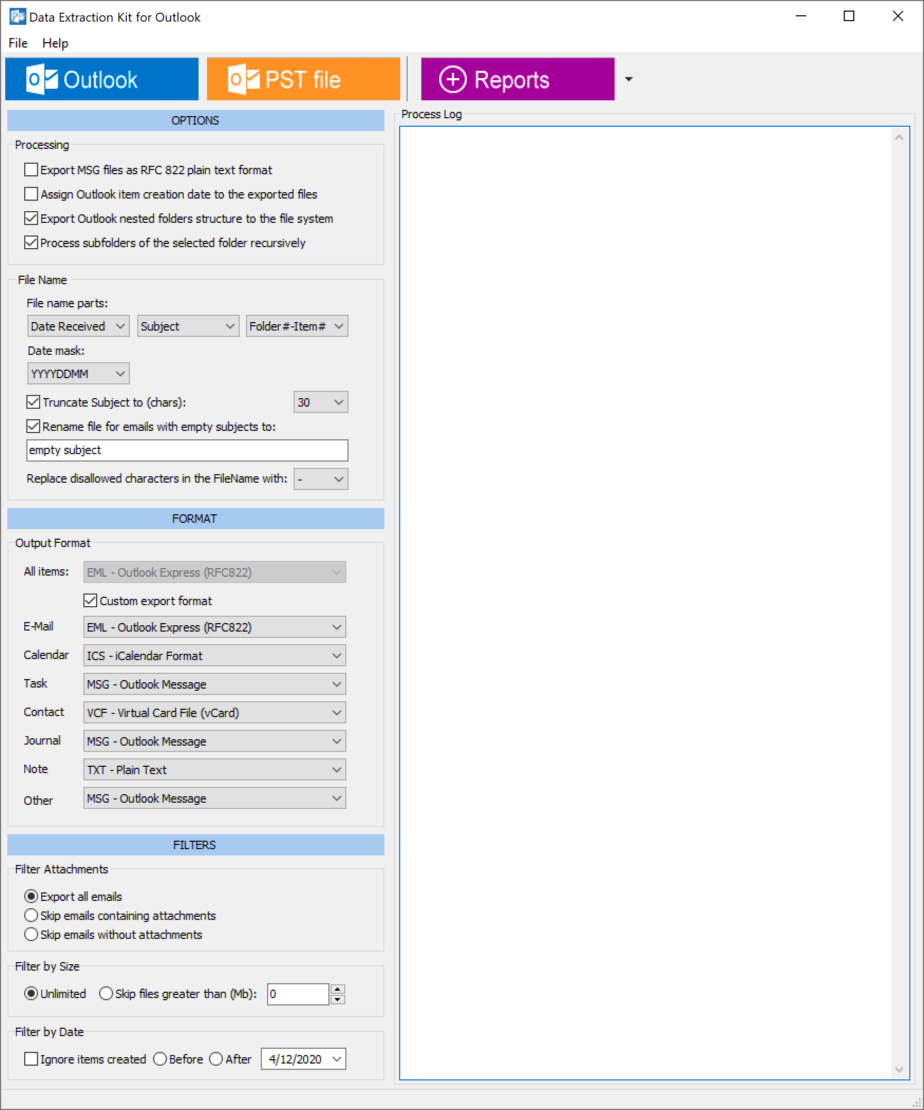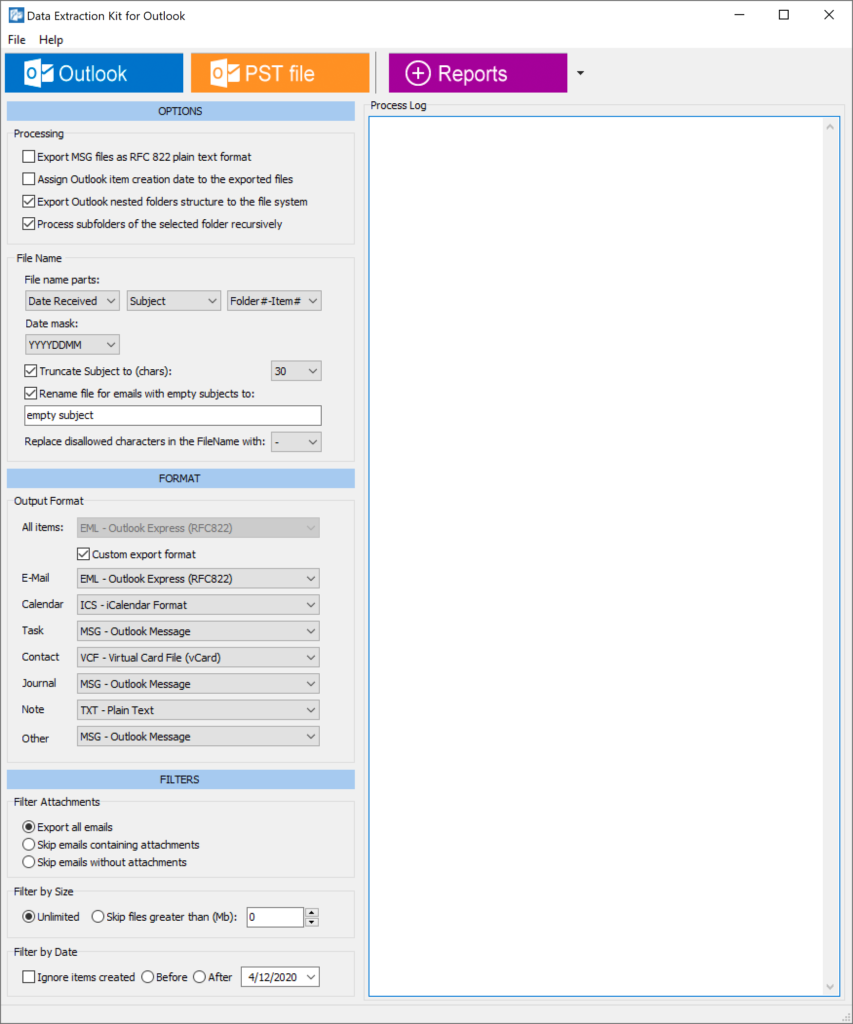 * - The unregistered version converts a limited number of messages
The data extraction kit is a super-fast, reliable, and adjustable technique used primarily for saving messages from Outlook. Furthermore, it allows one to move from Outlook to basically any other email client, given its support for a wide range of mailbox formats. Another useful feature offered here that the other inbuilt solutions might not offer is the password recovery feature. In situations where one has lost passwords to their emails, they do not have to pay anything.
Features of The Data Extraction Kit for Outlook
The data extraction kit for Outlook, which has a useful free trial, can help them out in seconds. Here are some of the key features.
It can work with all the existing versions of Microsoft Outlook, including the 32-bit and 64-bit versions.
It can convert Outlook to file formats like PDF, MSG, RTF, EML, VCF (vCard), HTML, MHT, TXT, VCS (vCalendar) or iCS (iCalendar).
It can generate different types of Outlook data reports for email forensics and e-discovery.
It can export contacts from Outlook to CSV files, save PST emails onto excel files, and can also further create many contacts.
Save the nested structure of Outlook folders as system file directories.
Back up the Outlook profile settings and help recover Outlook passwords.
Transferring Outlook Account Settings is Now Easier
The transfer of Outlook account settings onto a new computer or system can be a tedious exercise. Many inbuilt solutions are available that might enable you to transfer Outlook account settings seamlessly once one switches to a new computer.
However, all these solutions have some kind of inherent difficulty involved in their execution. However, with the Outlook account transfer data extraction kit, one can seamlessly transfer Outlook account settings and enjoy additional perks like password recovery.
Read also
We are sorry that this post was not useful for you!
Let us improve this post!
Tell us how we can improve this post?