What is Zoho Mail
Zoho Office Suite is set of online office tools that include a text processor, a spreadsheet editor, presentations and other instruments including a web-based email client called Zoho Mail. The suite was launched in 2005 and since then has been steadily increasing the number of users.
Zoho Mail is a part of the suite. The web-application offers powerful email management capabilities including but not limited to managing multiple mailboxes and folders, automatic filtering and sorting, convenient composing of messages and a lot of integration features.
Migrating to Zoho Mail does not seem an all crazy idea after all, so many users seek a way to import email from Outlook to Zoho. Without spending hours on manual conversion, of course. In this article we explain how you can move to Zoho after years of checking your emails with Outlook.
How to import emails from Outlook to Zoho Mail
To import emails to Zoho, you should fetch a zipped archive file containing messages in the EML format. However, Outlook does not offer a quick and convenient way to export emails from your profile to the EML format. Therefore, you need some third-party tool to do this. One such simple and efficient tool is Data Extraction Kit for Outlook.
Here is how you can easily convert your emails from Outlook to Zoho:
Step 1: Install Data Extraction Kit for Outlook
First of all, we need a simple tool to automate extraction of Outlook emails in the EML format. You can get Data Extraction Kit for Outlook using this link:
* - The unregistered version converts a limited number of messages
Downloading takes no more than a few minutes. After it completes, install the program and run it. The main window of the program looks as follows: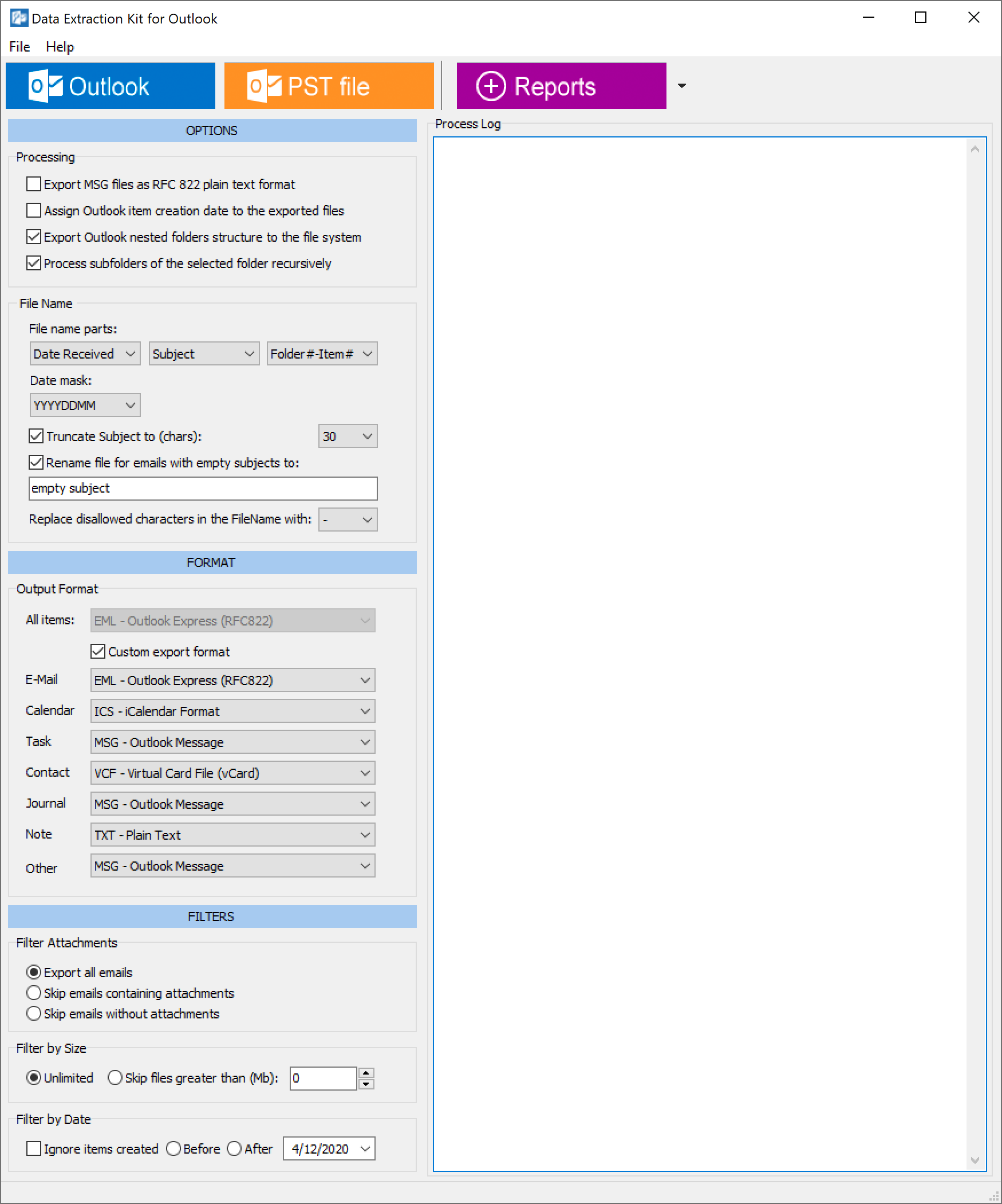 * - The unregistered version converts a limited number of messages
Step 2: Export EML from Outlook
To export messages from Outlook, you need to set the output format to EML – Outlook Express in the Format section [1], then click the Outlook button [2] or use the "File > Export from Outlook" menu to start exporting EML data from Outlook.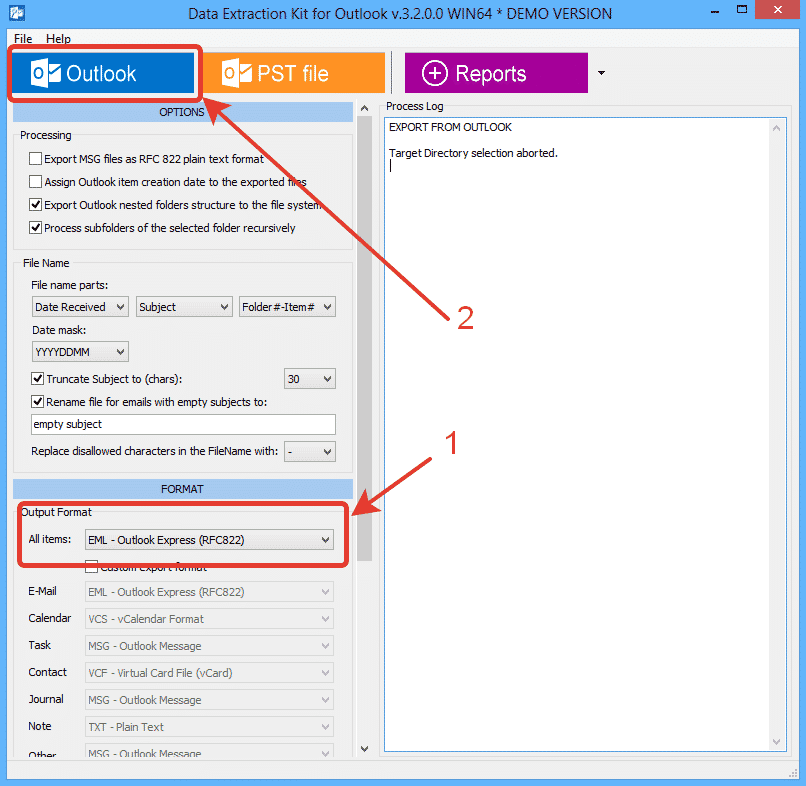 The "Export Outlook nested folders structure to the file system" option tells the program to keep the original hierarchy of your Outlook folders. Make sure this option is on if you want to retain the same structure after importing to Zoho Mail.
Note that Data Extraction Kit can also export messages, tasks, calendar, contacts and other information from Outlook or from a standalone PST file to variety of output formats including but not limited to EML, MSG, VCF, CSV, PDF.
Step 3: Import EML files to Zoho
After Data Extraction Kit for Outlook finishes its job, you should do the following to import these data to Zoho:
Pack the entire folder with EML files exported from Outlook to a ZIP file. This is required because Zoho will ask you for EML files zipped into one archive.
Login to your Zoho Mail account.
Go to Settings (at the right-side panel).

Scroll to the "Import/Export" section.

In the account dropdown list select the account you want to import data to.
In the Import section, click "Choose file" and select the ZIP file you have created earlier.
Configure importing options if you want and click "Import".

Zoho will start importing your emails in the background. When it finishes, you can access your emails from Outlook in your Zoho Mail account. Note that emails will retain the same folder structure as they did in Outlook if you enabled the corresponding option in Data Extraction Kit AND in Zoho Mail.
You may also want to know:
We are sorry that this post was not useful for you!
Let us improve this post!
Tell us how we can improve this post?