What is SeaMonkey
SeaMonkey, the all-in-one internet application suite includes a host of programs to work with internet: a web browser, an e-mail client, a newsreader and so on. The SeaMonkey Mail project is based on source codes of Mozilla Thunderbird, and offers similar functionality, however in a drastically different envelope more resembling classical GUI solutions.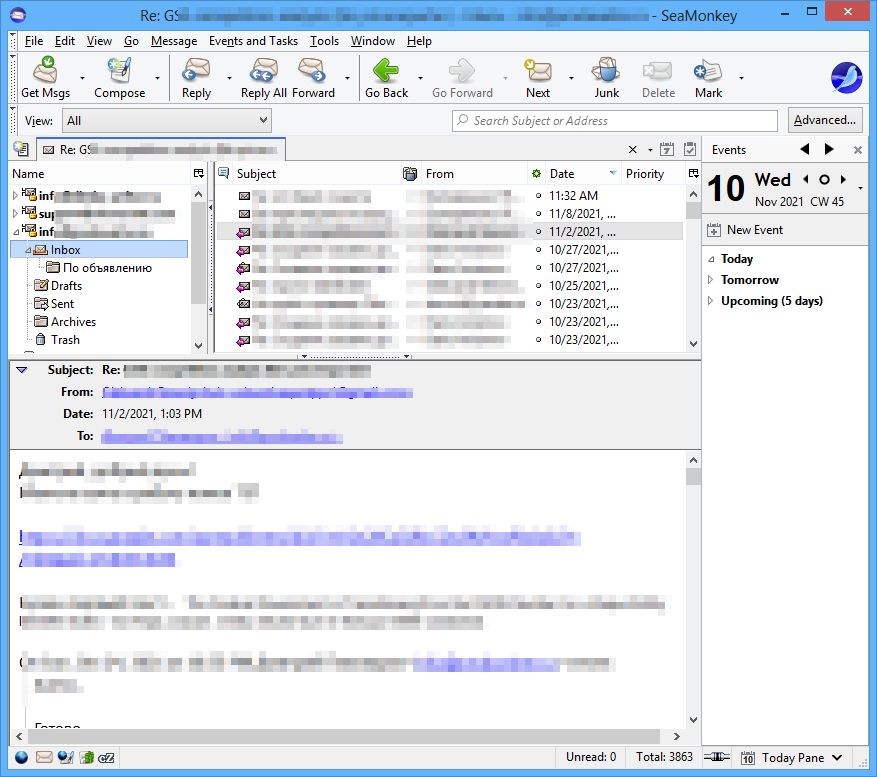 While SeaMonkey has never enjoyed world-wide popularity of its biggest brother Thunderbird, the email client still has a lot of devoted users thanks to great stability of the program and constant updates. And sometimes those users decide to convert their SeaMonkey mailboxes to Outlook.
In this tutorial we explain how to move from SeaMonkey to Outlook with minimum hassle.
How to convert messages from SeaMonkey to Outlook
Bad news: you cannot just tell Outlook to import emails from SeaMonkey and call it a day.
Good news: you can import SeaMonkey mailboxes to Outlook via the MBOX conversion. You will need our MBOX to Outlook Transfer tool for that.
Step 1: Locate SeaMonkey mailboxes
SeaMonkey stores its mailboxes in the Application Data system folder. Here is how you can locate the folder where your mailboxes are:
Run SeaMonkey and select the mailbox you want to export. You should see the information panel opened at the right. Click the

View settings for this account

link.

If you do not see the information panel, you can instead right-click the mailbox and select the

Settings

item in the context menu:
In the Settings window, go to the

Server Settings

section and locate the

Local directory

setting:

Select the path in the

Local directory

and copy it to the clipboard. Hint: to make sure the entire path is selected, put the cursor into the box and press

Ctrl+A

.
Now, open an Explorer window and paste the path from the clipboard to open that folder.
You should see a number of files with distinct names like 'Inbox', 'Sent' etc, and without extension. These are folders of your mailbox in the MBOX format.
Copy folders to another location, then rename them to add the ".mbx" extension to each file. For example, "Inbox" -> "Inbox.mbx". Remember the path to this folder, we will need it on Step 3 later.
That's it. The first part of your migration from SeaMonkey to Outlook is ready.
Step 2: Install MBOX to Outlook Transfer
The conversion of MBOX to Outlook requires installing our software, MBOX to Outlook Transfer. The reason is simple: Outlook cannot open MBOX files and therefore cannot import SeaMonkey mailboxes. You need a third-party tool for that, and MBOX to Outlook Transfer is just the right tool.
MBOX to Outlook Transfer can reliably import MBOX files saved from other email clients including SeaMonkey to the PST format supported by Outlook. The program supports all versions of SeaMonkey and Outlook and works automatically.
After you download the program, install it.
The main window of MBOX to Outlook Transfer looks as follows: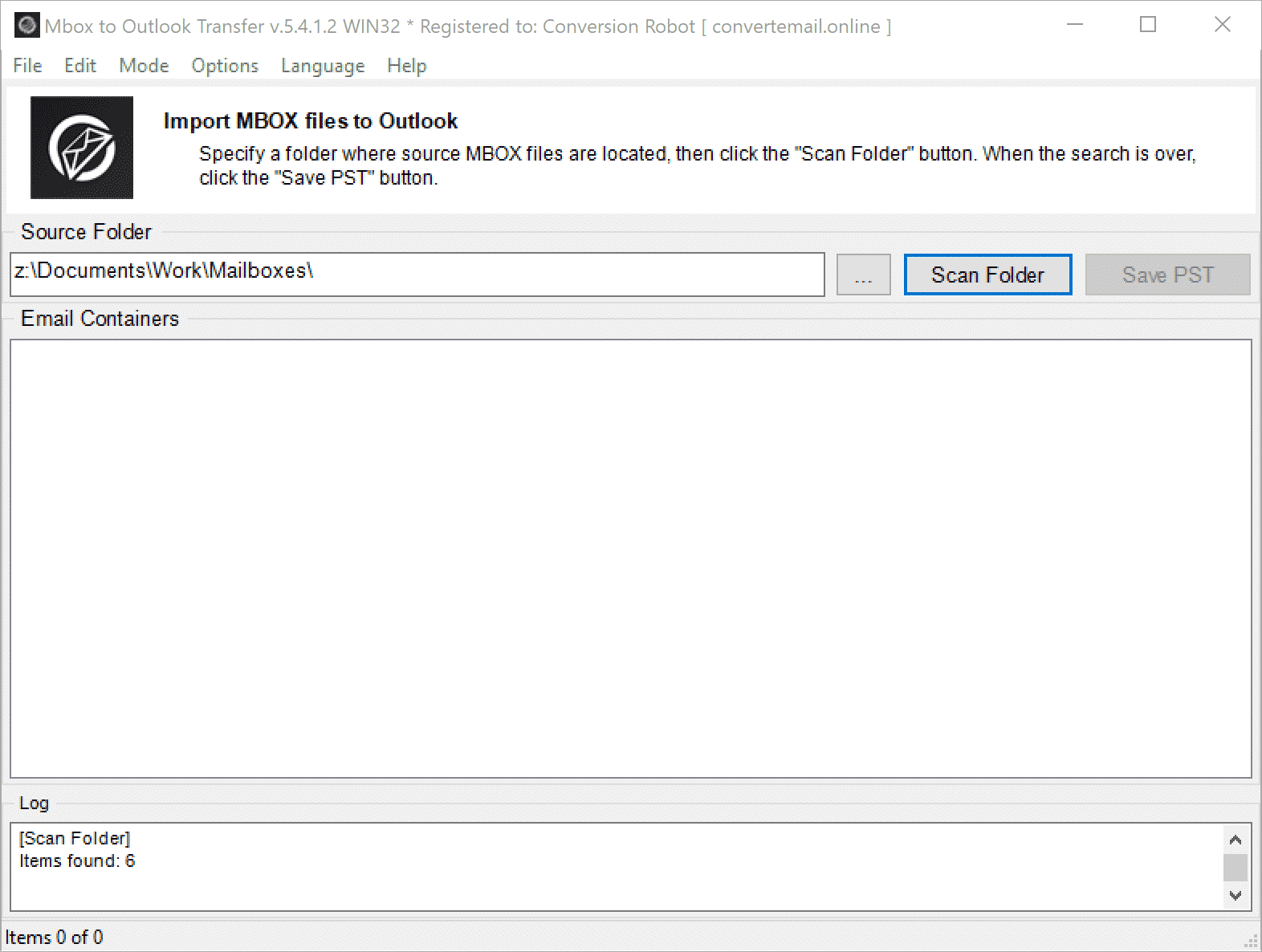 Step 3: Browse the folder with MBOX files
Now, you need to tell MBOX to Outlook Transfer where your MBOX files from SeaMonkey are. Click the button with three dots and browse for the folder, where you saved your renamed files from SeaMonkey. Then, click the Scan Folder button. MBOX to Outlook Transfer scans the provided path and finds all MBOX files in it. The found email containers are immediately listed in the main window.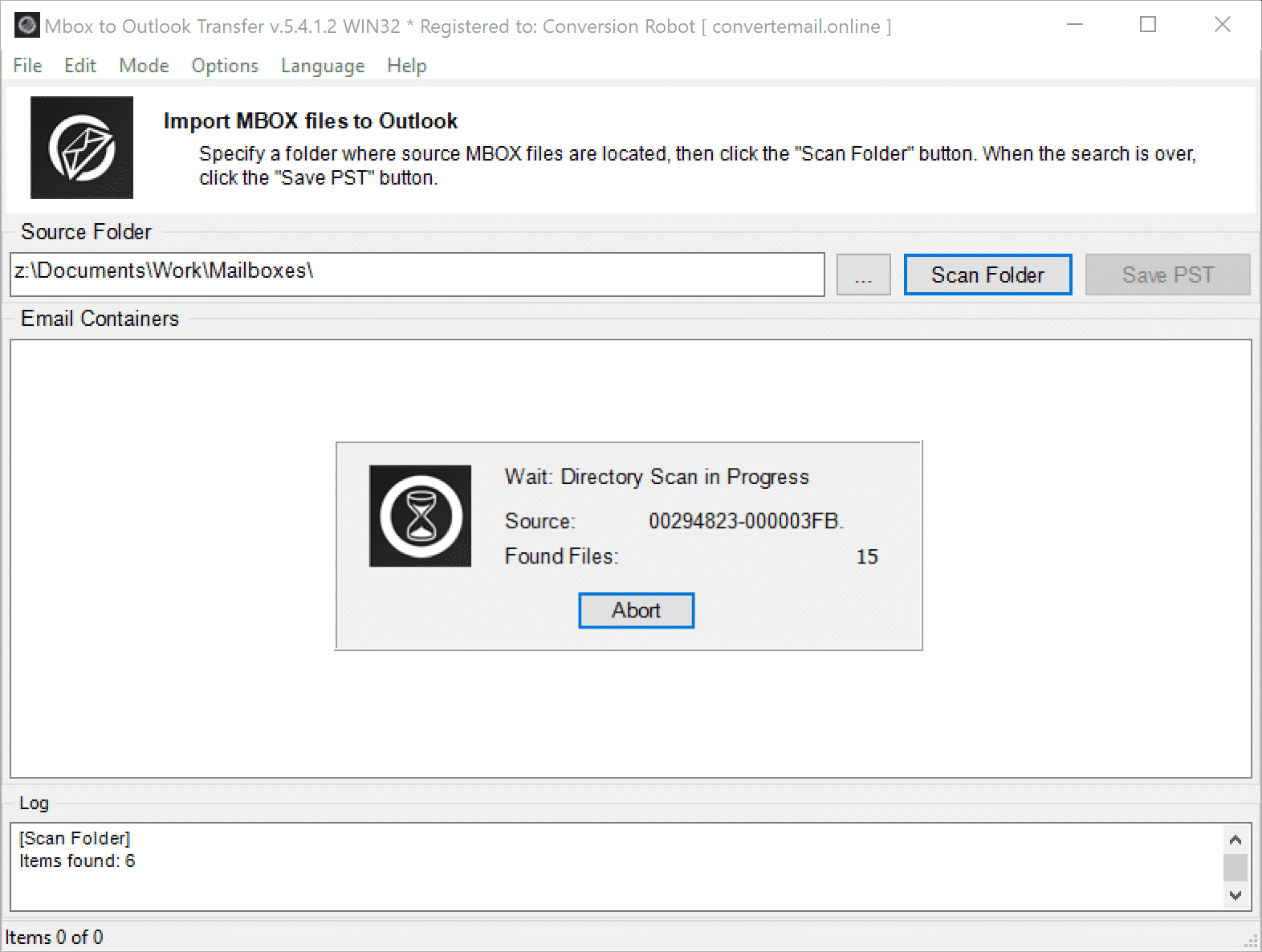 Step 4: Import MBOX data to Outlook
As soon as the program finishes reading MBOX files content, you can start importing them to the PST format. To do this, click the Save PST button. This will convert your SeaMonkey email messages to Outlook.
When you click the button, the program asks you to specify a location where you want to save the PST file. Then, you should also select an Outlook folder to import the data from MBOX mailboxes to.
Finally, click OK to start conversion.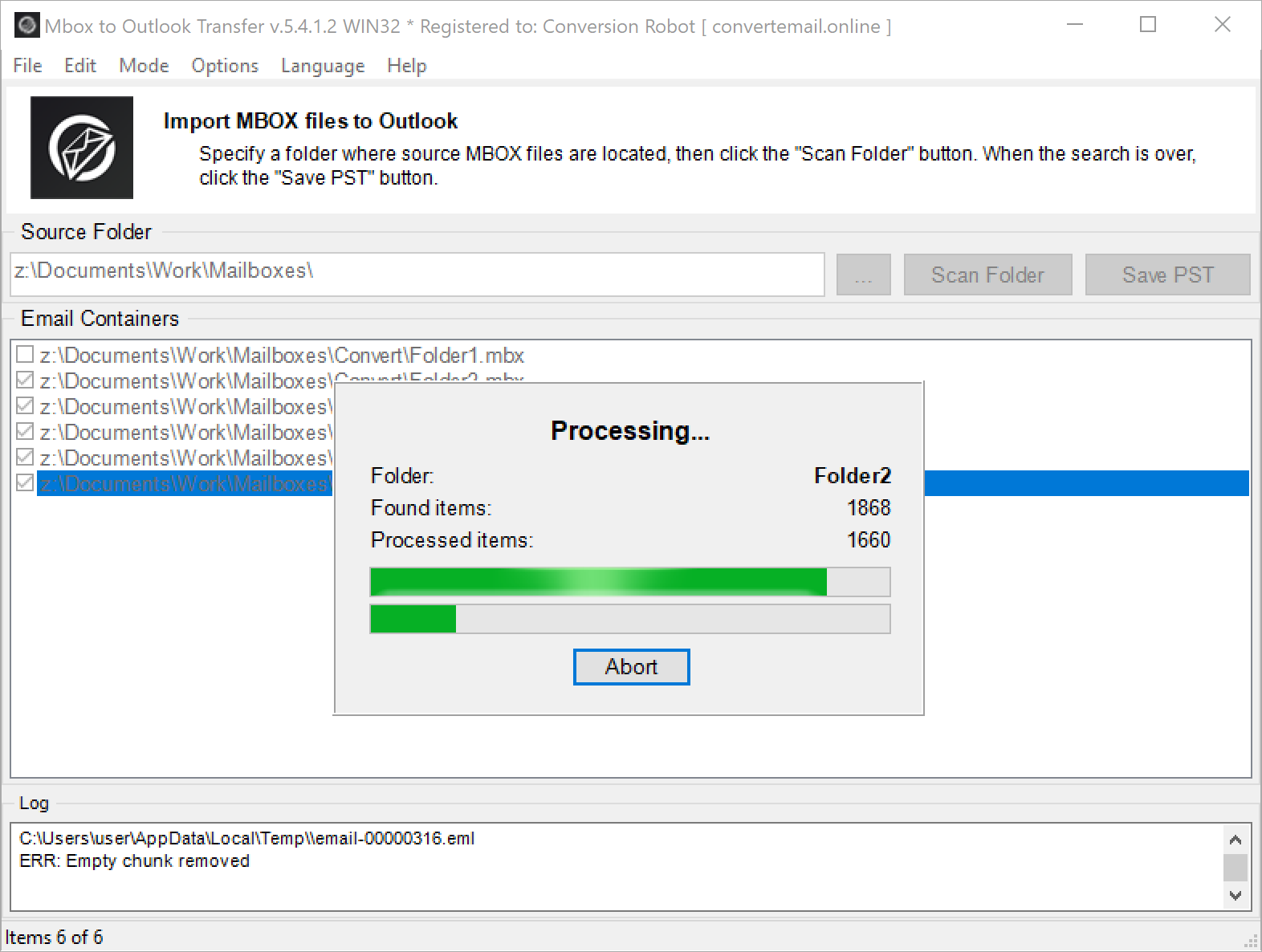 As you see, converting SeaMonkey to Outlook can be very easy with the right tool in hand. Such tool is MBOX to Outlook Transfer. If you haven't downloaded the tool, click the below button to do this now.
Alternative
You may use the Thunderbird to Outlook Transfer software which works directly with *.msf files. In this case there is no need to rename the source files.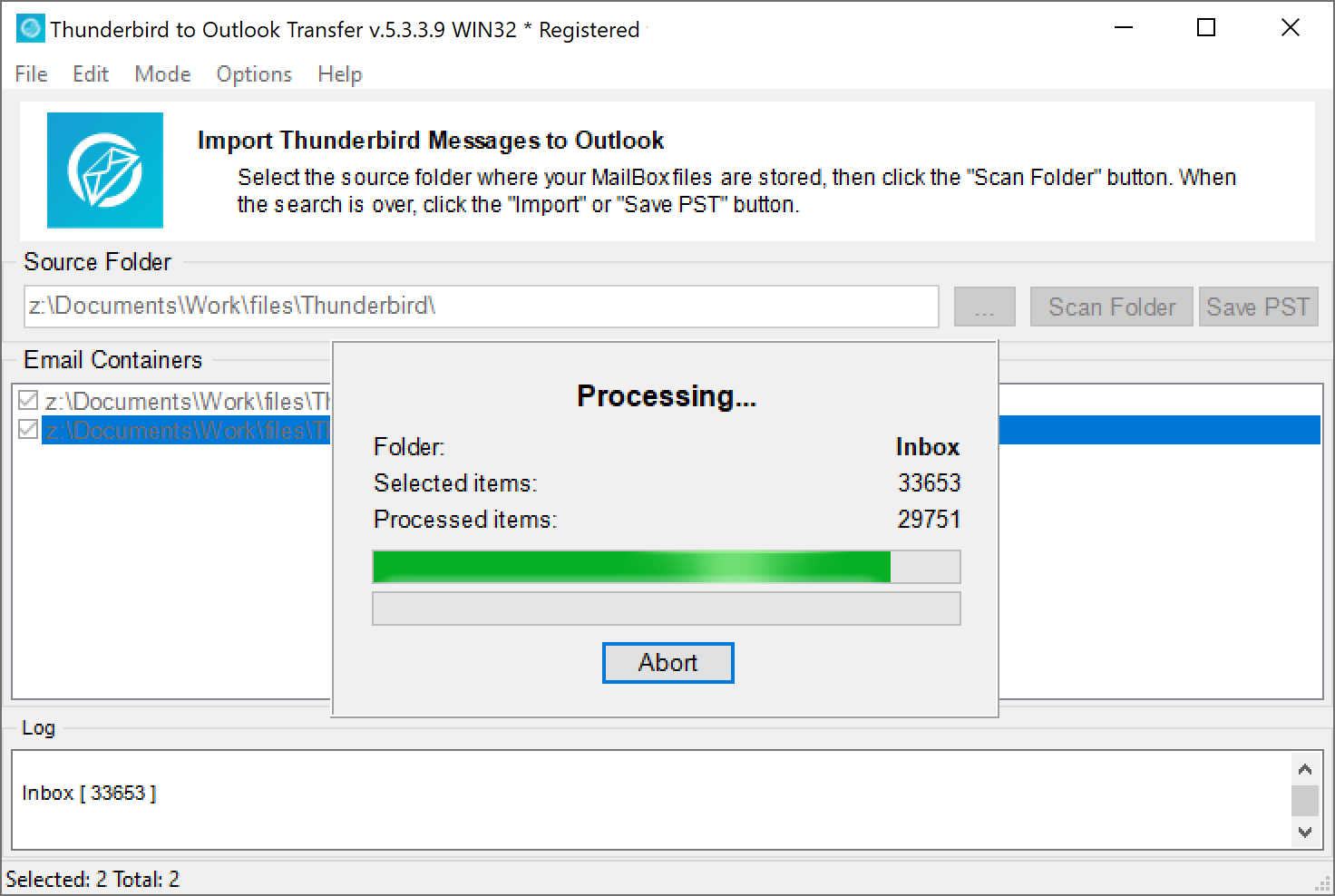 We are sorry that this post was not useful for you!
Let us improve this post!
Tell us how we can improve this post?