Outlook can be considered as one of the messengers a person can daily use. Aside from emailing, it provides the possibility to arrange the meetings and invite participants to them, as well as to keep contacts. Email correspondence is essential not only for communication. Besides, this is the place where emails are kept so that to be used in the future.
Important information can contain in the inbox, outbox or even deleted emails. Luckily, the client has got a lot of useful features including the one that will recover deleted emails in Outlook.
How to Recover Deleted Emails in Outlook 2010 and Other Versions
Every user knows that deleted items are mostly placed into the dumpster or separate folder where they are stored for some time. The function to recover deleted emails Outlook provides to the users is contingent on where deleted items are. In other words, in Microsoft Office 2007 or later versions, a user should first check the folder Deleted Items. If removing an item from this folder, an email will be permanently deleted.
In the latter case, a user may wonder how to recover deleted emails in Outlook 2007. For this, it is necessary to click on Tools on the menu bar → Recover Deleted Items.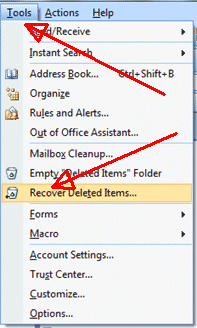 A window with those items that have been recently deleted will pop up. Select emails that have to be restored and press on the button Recover Selected Items.
Other Versions of Outlook: What's the Difference
One may wonder how to recover deleted emails in Outlook 2013, and the client provides such a possibility. After deleting an email from the folder of deleted items, one may choose this folder, press on the tab Folder that is in the upper part of the screen, and select Recover Deleted Items.

After a dialogue box will appear where one may choose the items that should be restored. Then, press on the button Recover Selected Items. The same steps have to be fulfilled by the users of Outlook 2010.
For the users of other versions, the information on how to recover deleted emails in Outlook 2016 will be needed:
Select the tab Home;
Find the option Recover Deleted Items From Server and click on it;
In the window that appears, it is necessary to choose the items to recover.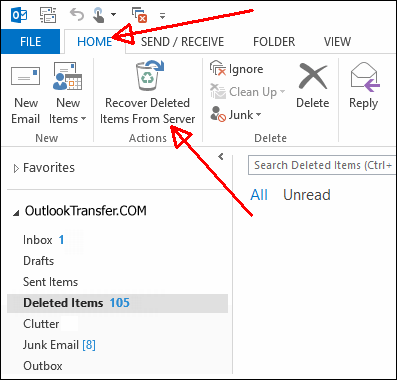 Those who need to know how to recover deleted emails in Outlook 365 should understand the above principle and proceed in the same manner: Mail app → Deleted Items folder → right-click and select Recover Deleted Items → find an email → right-click and press Recover.
How to recover emails deleted from Deleted Items folder
If your emails were deleted also from "Deleted Items" folder you may try to repair them using one of Outlook recovery software available on market. It is not ideal way to choose the software by feedbacks or rating stars at software download websites as these ratings may be easily manipulated. Check the manufacturer of the software, if their offices are located in Europe, Canada or United States, you found the best.
Tools that we may recommend:
Note: Don't forget to create a backup copy of Outlook .pst data file prior to launch the recovery tool, even if it is damaged. Emails recovery is very complicated process and software may change the source file which will make it irrecoverable. However email recovery tools suggested here are not changing the source PST file, so you may use them free of any fears.
Additional Tip on How to Recover Deleted Emails
There several options to recover deleted emails in Outlook 2016 Windows 10 and other versions' users can choose. The main principle is alike. If you have just deleted an email and realized that shouldn't have done it, there is a simple way. Use the command Ctrl + Z that is used to undo the change that has been previously done. Try one of the above recommendations contingent on the version of Outlook you have got and have no worries about a deleted email. It can be recovered.
Read also:
More Knowledge Base articles
---
Email migration is a process of transferring emails and other data from one email platform to another. One of the most common email migration scenarios is moving from a different…
---
An MBOX file is a mailbox format that stores email messages one after the other as a plain text. Each individual message within mbox file stored in EML format. So…
---
Outlook is a widely used email client, which is professionally developed by Microsoft. It offers many advanced features to its users, such as emails, calendars, tasks, contacts, notes, and many…
---
Outlook is a popular email client used by millions of users worldwide. It is widely used by individuals, businesses, and organizations to manage their emails, calendars, tasks, and contacts. However,…
---
As a Microsoft Outlook user, you may experience the "Errors have been detected in the file xxx.ost" error message. This situation can be frustrating and confusing, especially if you rely…
We are sorry that this post was not useful for you!
Let us improve this post!
Tell us how we can improve this post?