It is most likely that there are numerous essential contacts in your Microsoft Office Outlook contact list that you don't want to lose. From time to time, technology urges us to move on to a newer computer or laptop. Now you think, "How do I transfer Outlook to a new computer?" Of course, you need a safe and secure way of transferring all existing contacts from an old to a new computer. To tell the truth, it is a no-brainer at all. Follow the step-by-step guide to cope with this manual task as 123. However, it is also essential to understand the version of the program you currently have.
Table of contents:
Outlook Version Info
To define the version you use (if that is not stated), use the next steps:
Open the program on your PC.
Click Help, then click → About Microsoft Office Outlook. (required for new Outlook versions)

Find the version information and the build number version you have.
Version
Description
Outlook 2003

The original version of Outlook 2003 (1) followed by the critical update version (2) of November, 2003.
(3) and (4) are the two Service Pack release versions.

Outlook 2007
The release of 2007
Outlook 2010
The release of 2010
Outlook 2013
The release of 2013
Outlook 2016
The release of 2016
Outlook 2019
The release of 2019
The exported address book may be too voluminous to save on a flash drive, and export to a network resource may be too slow. Download address book and save the file to your desktop, and then pack it into an archive before copying it to a USB flash drive or over a network. It is very useful to make backup copies of contacts and other important data every few weeks. In the event of a computer failure, the address book file may be damaged and not exportable.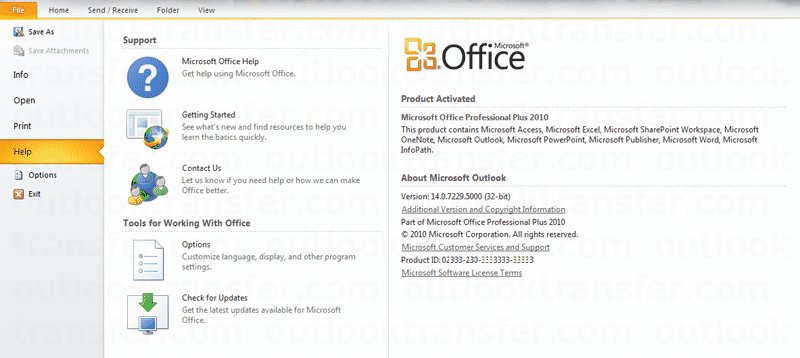 Now that you've determined which one is yours, let's begin with the transfer outlook contacts to new computer.
Read detailed step-by-step guide on how to check what Outlook version you have.
Manual Contact Export for Outlook 2003
Transferring contact data from the 2003 version entails more steps than versions above. As usual, open the program on your old device and click on the icons we gonna name, one by one.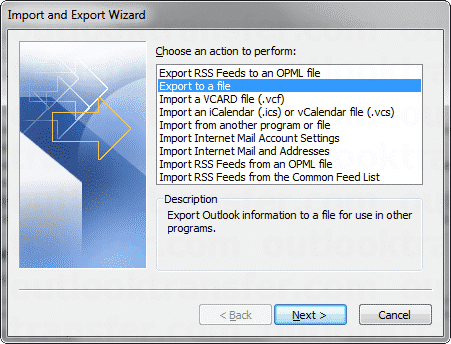 click File → Import and Export → Export to a file → Next.
choose Personal Folder (.pst) → Next.
Find the folder Contacts → Include subfolders → Next.
Find Save Exported File As → Browse → Pick a disk and a folder you'd like  to save it to (or simply save it to the desktop.)
Name the transferred contacts → click Finish.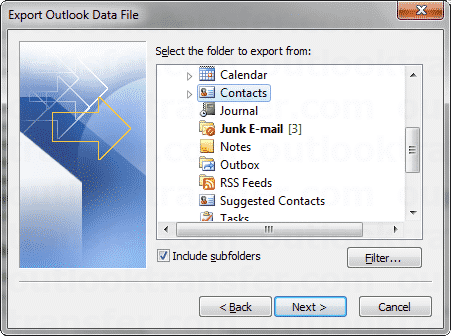 Having copied the file, move on to your new device and proceed in the program. First of all, you need to remember about having the backup data. All available fields are exported to the file, which are provided for filling contacts in Outlook that often makes the file exported to Excel inconvenient for further use. In case it is necessary to upload only certain contact data to Excel or substitute certain contact data from Outlook into certain Excel cells, it is better to do this using a VBA macro to transfer the data.
This is the whole process and you can see that it is quite simple and does not require any special knowledge or additional help.
Contact Export for Outlook 2007
Click File → Import and Export → Export to a file → Next.
Find and select "Comma Separated Values" → Next.
In Contacts → Include subfolders → Next.
 Browse → Pick a disk and a folder you'd like  to save it to (or just save it to the desktop.)
Create a name for them → click Save → Next → Finish.
After copying your files, you should move on and continue according to the following scheme in the Outlook.
Insert the device with backup files on it.
File → Import and Export → Next.
Then, conduct the import → Next.
Pick comma Separated Values (.csv) → Next.
Browse the PST file with your backup data and click Open.
Select Do not import duplicate items or Replace duplicates with items imported → Next.
Make final adjustments and press OK → Finish.
Export Contacts in 2013, 2016 and 2019 versions
There are the steps for users of 2013 and 2016 versions. Run Outlook and then:
Go to menu File.
Click Open & Export > Import/Export > Export to a file.
Click Next button.
Select "Comma Separated Values" and click Next.
Find "Personal Folders" and click on contacts below it, then click Next.
Click Browse and select a location to export data file
Click Next button.
Click Finish button.
Save the PST file to the CD/DVD or a USB drive and do all the same steps to move the contacts as in older versions. Open it on a new computer, run the program, click Contacts →  Add contacts →  Upload from it.
Contact Export for 2010 Version
It is a bit more complicated to transfer Outlook from one computer to another if you use an outdated version. However, following this step-by-step list will lead you right there. Exporting contacts from Outlook is a simple procedure. Actually, for this, you do not need to know where Outlook contacts are stored. Everything can be done through the program.
First, you need to open the program and select an Export menu. Then, choose the export to the file. In the next menu item, you need to select the type, the values of which are separated by commas. This is a CSV file format. As you can see, here you can save data in a different format, but we advise you to stop at the more common one. Choose the contacts and select where to save them.
Make sure that the pasted info is formatted properly. If it isn't, try CTRL + Z to undo and paste again without formatting by clicking CTRL +SHIFT + V. Or, integrate the adjustments by fixing the formatting by hand. You can as well delete unnecessary contacts and add new ones in the process.
Importing Contacts to Outlook
Once all the modifications are done, save it to the memory stick. Open it on a new computer, run the program, click Contacts →  Add →  Upload from the file.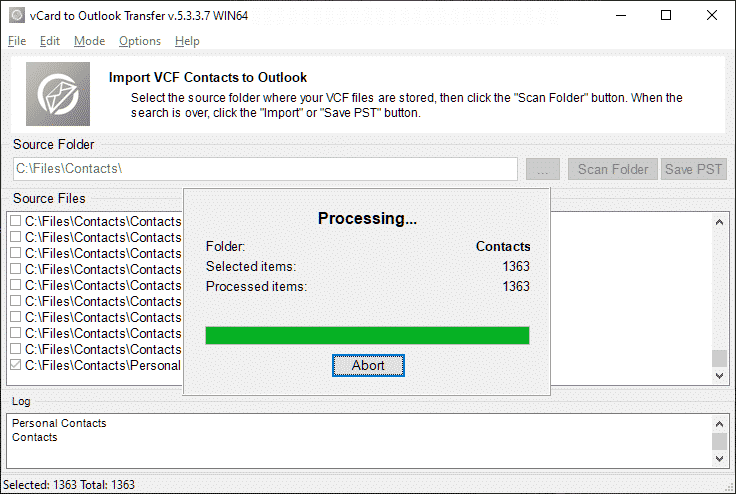 * - The unregistered version converts a limited number of contacts
Run vCard to Outlook Transfer utility
Specify the source folder containing exported contacts
Run the folder scan and wait while the program is checking the source files
Click "Save PST" button and complete the conversion.
Click here to read the full VCF to Outlook conversion instruction.
We hope that you've made it till the end with no complications. After all, contact transfer from Outlook to new computer is an automated process, which requires only tiny adjustments in the settings from your side. If you do everything according to the instructions, you can be 100% sure that each important contact will appear on a new device's Outlook.
Other Knowledge Base articles
---
Email migration is a process of transferring emails and other data from one email platform to another. One of the most common email migration scenarios is moving from a different…
---
An MBOX file is a mailbox format that stores email messages one after the other as a plain text. Each individual message within mbox file stored in EML format. So…
---
Outlook is a widely used email client, which is professionally developed by Microsoft. It offers many advanced features to its users, such as emails, calendars, tasks, contacts, notes, and many…
---
Outlook is a popular email client used by millions of users worldwide. It is widely used by individuals, businesses, and organizations to manage their emails, calendars, tasks, and contacts. However,…
---
As a Microsoft Outlook user, you may experience the "Errors have been detected in the file xxx.ost" error message. This situation can be frustrating and confusing, especially if you rely…
We are sorry that this post was not useful for you!
Let us improve this post!
Tell us how we can improve this post?