Periodically, appears a strong necessity to transfer Mbox to Outlook triggering the continuous search of decent tools allowing to fulfil that. In case you aren't an avid computer user, typically extended guidance for beginners with lots of unknown words can easily make you sick, especially if it goes about doing that manually. In addition, if you aren't sure about your skills then obviously desirable files won't work properly. Indeed, there're a plethora of methods allowing you to convert MBOX to PST Outlook but unfortunately, a few of them provide excellent results.
While dealing with different formats requires considerable knowledge and seems to be quite a tiresome procedure for the beginner user, tool like Mbox Converter software undoubtedly is a must in the sphere. A fully self-sufficient tool with pleasant for eye interface will definitely satisfy your needs. It ensures export of all sorts Mbox files with a few clicks. If you still have doubts, then let's try to figure out why manually converting isn't the best option.
Mbox is the notion of describing the whole family of formats used to store a collection of multiple email messages. Unfortunately, it hasn't been standardized yet and possesses numerous variations. Consequently, all of them must be converted to be properly compatible with Outlook.

Generally, there're two ways to deal with that: the first method is manual and the second one involves usage of third-party computer software. Many people tend to apply the first one while working with different formats since they're more cost-effective. Nevertheless, experience shows that they have the following imperfections comparing to the third-party software.
Time Confinement. Mbox to Pst manual conversion is an absolutely tedious process. Besides, the time needed fully depends on the file size you are importing.
Too intricate for Non-Technical users. Of course, you can try your skills but if you aren't sure, then there's a high risk to cause a data loss. One wrong step can lead to a disastrous situation when all your data accidentally vanished.
Corruption of Images. While conversion, sufficiently large-sized picture can be broken. Unpleasant, doesn't it?
Totally Disorganized Data. Manual convert Mbox to Pst often reveals information in a disorganized way. Some of the data can disappear as well as the structure can differ from the initial one.
Why you should equip yourself with MBOX Converter?
It becomes obvious, that changing file formats manually has a considerable amount of demerits. But still, there exists an alternative solution to using special software. The brilliant idea is to choose MBOX to Outlook Transfer tool, as it has lots to offer and possesses remarkable functions.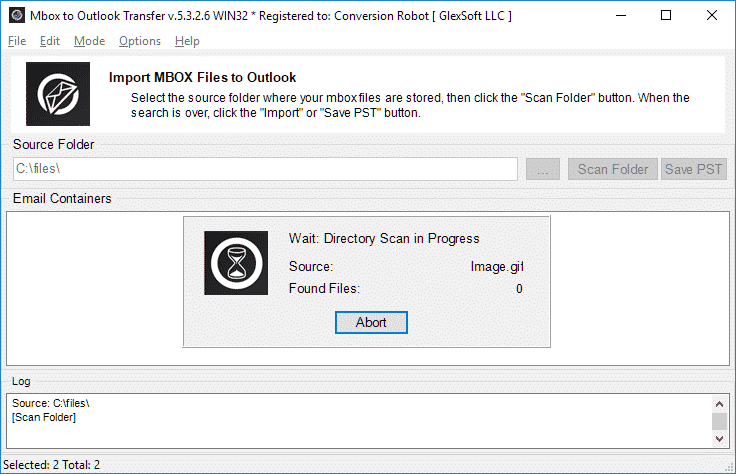 Migrates files effortlessly with a few clicks;
Enables its user to convert more than 20 Mbox Email clients;
One can try it for free and check how it works with your data;
It provides the user with an enormous number of converted formats such as EML, PST, Outlook 365;
Different versions of Microsoft Outlook can work with it.
Obviously, it's hard to pick the best tool to work with, but we hope presented arguments showed you the prevalence of MBOX to Outlook Transfer tool with its huge functional package.
Read more about Mbox to PST conversion tool
Supported formats: Alpine, Atmail, Becky! Internet Mail, Claws Mail, Cone, Ubuntu Evolution, Gnus, Google Mail (Gmail), KMail, Mozilla Mail, Mulberry, Mutt, Netscape Messenger, Opera Mail, Pegasus Mail, Pine, PocoMail, SeaMonkey Mail, Zimbra.
More Knowledge Base articles
---
OST and PST are two of the major outlook data file formats. Essentially, they store information meant to be read or viewed in Outlook. While their primary purpose is to…
---
Connecting an email account to Outlook creates a local backup of that data on your PC. You may retrieve already downloaded or synced emails, calendar entries, contact information, and activities…
---
This quick TIP for those who want to convert their OST (Offline Storage or Offline Outlook Data File) to PST format without purchasing conversion software. This guide describes how to…
---
PST stands for Personal Storage Table.  Microsoft Outlook utilizes the file format to store email and other data in an easy-to-access form. Each computer and mobile device has its storage…
---
Table of contents: How to import Android contacts to Outlook using CSV file? Useful way to Export Android address book to VCF file How to Sync Android Phone Contacts With…
We are sorry that this post was not useful for you!
Let us improve this post!
Tell us how we can improve this post?