Mozilla Thunderbird is one of the most popular desktop email clients. It's also a free open-source email client to manage your calendar, emails, and schedule. The Mozilla Foundation created the Thunderbird email client.
Is Mozilla Thunderbird still supported?
With so many Mozilla Thunderbird alternatives on the market, which one is good for you? This article discusses some of the best alternatives to Thunderbird. Users of Mozilla Thunderbird have complained about Thunderbird not sending emails. Answering the question, Mozilla is still hosting the resources of Thunderbird but does not support and update them. And a lot of users experience complications that make them look for alternatives to Thunderbird.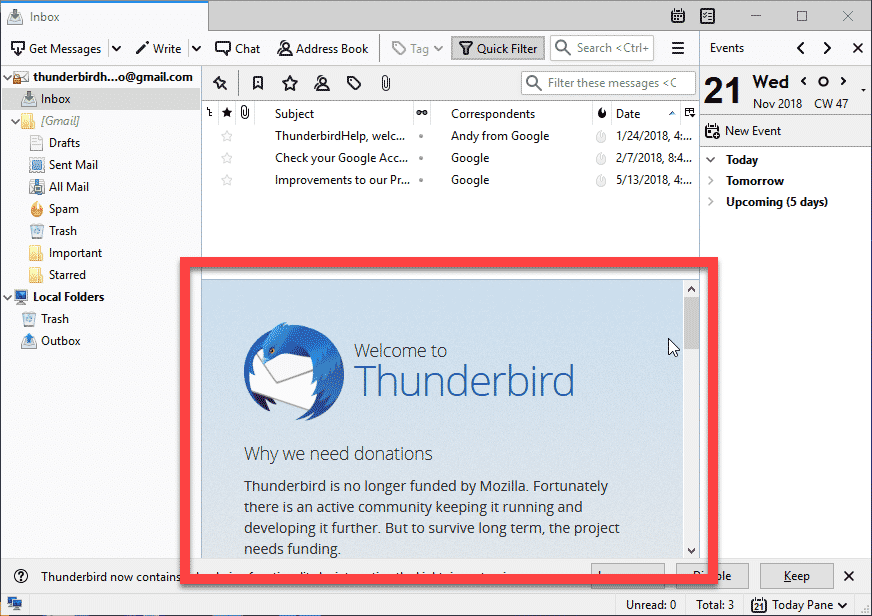 The Best Alternatives to Thunderbird Mail
If you have been searching for a Thunderbird replacement, you have landed in the right place. There is no need to hesitate if the Thunderbird email is still available. We are here to provide you with other options.
Microsoft Office Outlook
Microsoft Office Outlook is a cross-platform email alternative to Thunderbird. Outlook is a better customizable alternative to Thunderbird.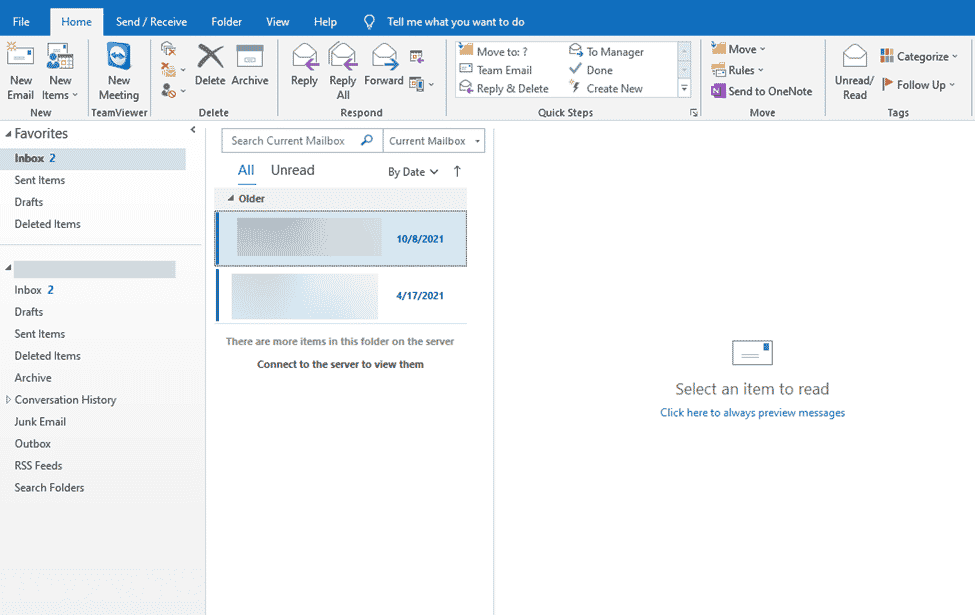 Layout and User Experience
User Experience
You can schedule your emails, giving you a lot of room to breathe and focus on other important tasks.
Microsoft Office 365 allows users to access Outlook through a browser. Office 365 is a modern web version of Office that has all the software on it. You can access your media files from anywhere.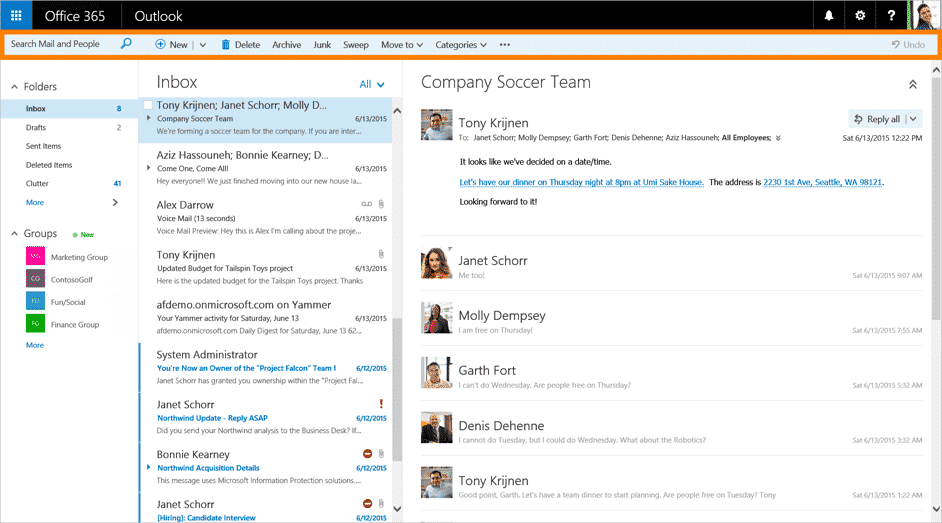 Desktop notifications can get you distracted. Adjusting the desktop notification will help you focus on being productive.
Layout and UI
All Microsoft Office apps have a ribbon across the top. The most commonly used tab on the ribbon is the Home tab. The toolbar provides access to all the functions in Outlook. The file tab, however, takes you to the backend for further customizations.
There are other tabs like the view and home tab. Under each tab are groups and commands for easy navigation.
The Navigation bar: The navigation bar is at the bottom left-hand corner of the main window. Blue is the active tab's color. The tools you'll find on the navigation bar are mail, calendar, people, and tasks.
When the mail tab is active, directly above it is your folder bar. The folder bar lists your inbox, email accounts folders, and favorite emails.
In Outlook you'll see a lot of collapsible arrows and triangles. They mean you can click on them to expand for more options.
Customizing options
Are you looking for more space in your Outlook window? The collapsible ribbon gives you more space to work.
The Away Message. Set away messages when your contact can't reach you. You can set different messages for different groups.
Productivity features
Email your calendar. Are you trying to schedule a meeting with someone? You can just send your calendar to the person. This will help the person decide the best time to meet you.
Color-code your calendar. Use colors to differentiate between essential tasks from others on your calendar.
Create a distribution group. When you want to email a group of people, you can create a group for them and message them like one person.
Cost
Microsoft Office 365, has two modules – Microsoft 365 family and the business plan. Businesses can sign up for Microsoft 365 to get 1TB of cloud storage for as low as $6.00 per user/month.
Microsoft Outlook is an excellent alternative to the Thunderbird email client. Former users of Thunderbird want to know how they can export emails to Outlook. The recommended software tool is a Thunderbird to Outlook converter.
Mailbird Thunderbird alternative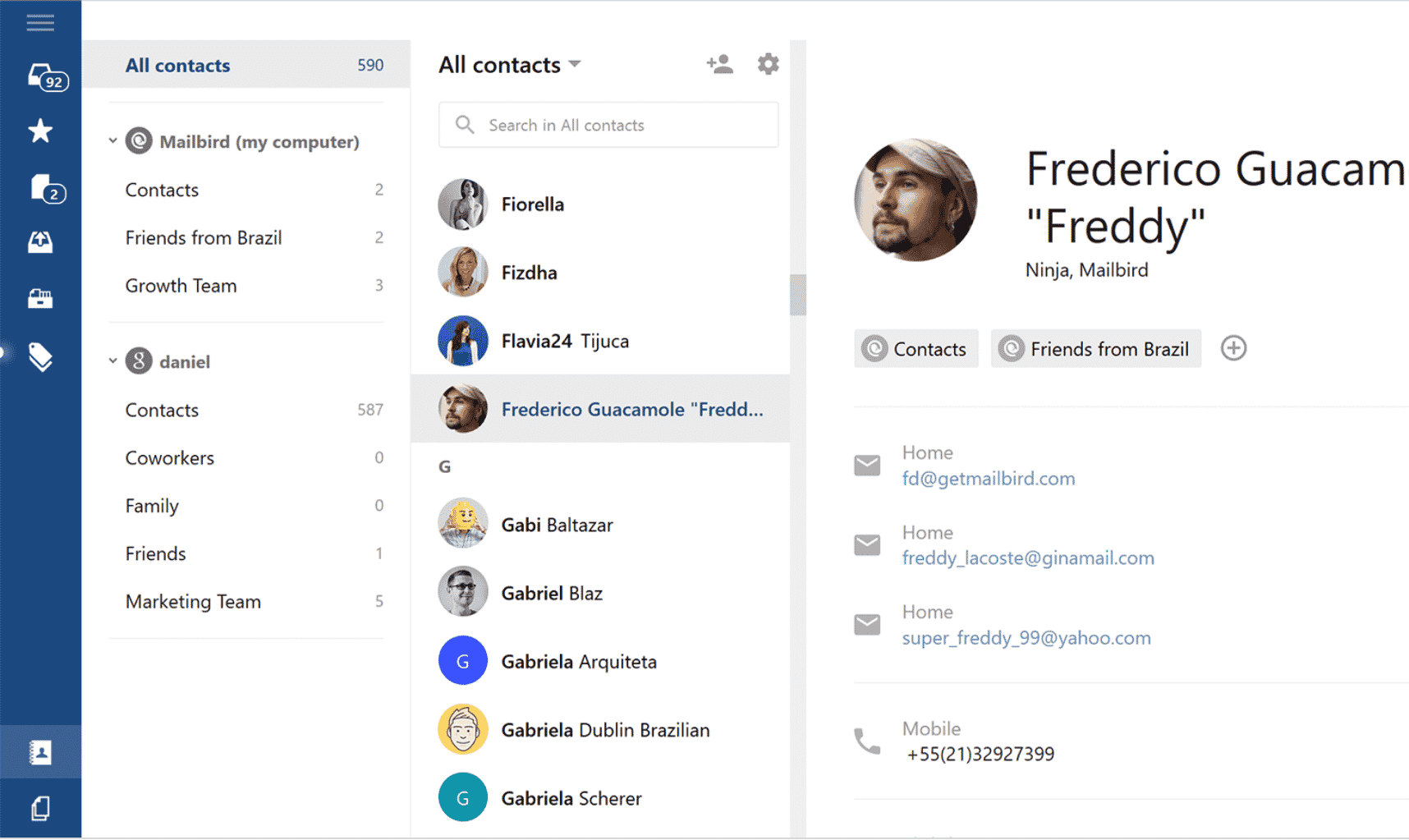 Mailbird is a Windows Thunderbird alternative, including Windows 10, and a Mac email client for businesses. It can manage multiple email accounts in one inbox. Mailbird is by far the most popular Thunderbird alternative. Its clean and beautiful interface makes it easy for first-time users.
Layout and User Experience
User Experience
You have the option to integrate apps like Instagram, Google calendar, and Evernote. Users can use these apps right inside Mailbird without closing their email client.
Layout and UI
Most of the settings and customization buttons are in the main window. In Mailbird you don't need to click many buttons to effect a change.
You can access your WhatsApp messages, Facebook, and Instagram without leaving the app.
All these features make Mailbird the best Mozilla Thunderbird alternative.
Customizing options
One of the attractive productivity options is the drag-and-drop feature. It's also a handy tool to drag files into emails or as an attachment.
Mailbird's quick action buttons appear when you hover the mouse over the contact's profile picture. This is a handy tool for quick email replies.
Productivity features
The Mailbird snooze feature. When you activate the snooze feature, it temporarily pauses incoming emails. Hiding the emails and dealing with them later curbs distractions. You can also schedule when the messages should appear in your inbox.
Quick Compose feature. Do you want to send an email quickly without opening your email client? Mailbird's quick compose feature is an excellent tool to write your emails even when other applications are running. To open the quick compose window, press Ctrl + Alt + Space.
Sometimes, you'd want to quickly find all the emails you've exchanged with a contact. All you have to do is click on the person's profile picture, and all your conversations will appear.
Mailbird has filters and advanced search capabilities for the user to explore. Mailbird email client users can integrate over 35 apps to expand their productivity.
Read also – How to migrate from IncrediMail to Mailbird
Cost
Mailbird has two editions – personal and business. In each edition, you can choose either the lifetime license or the yearly payment plan. The personal edition: $99 for a lifetime or $3.25/month billed annually. For the business plan, you can choose either the lifetime license of $119.70 or $4.92/month billed annually.
The Bat!
The Bat! is a secure desktop email client for Windows computers. Security is one of The Bat! strongholds, protecting your data through many encryption streams. The Bat! can work without keeping your emails in the cloud where it's susceptible to theft. It keeps your emails on your computer to make them private. The security features of The Bat! make it a better alternative to Mozilla Thunderbird.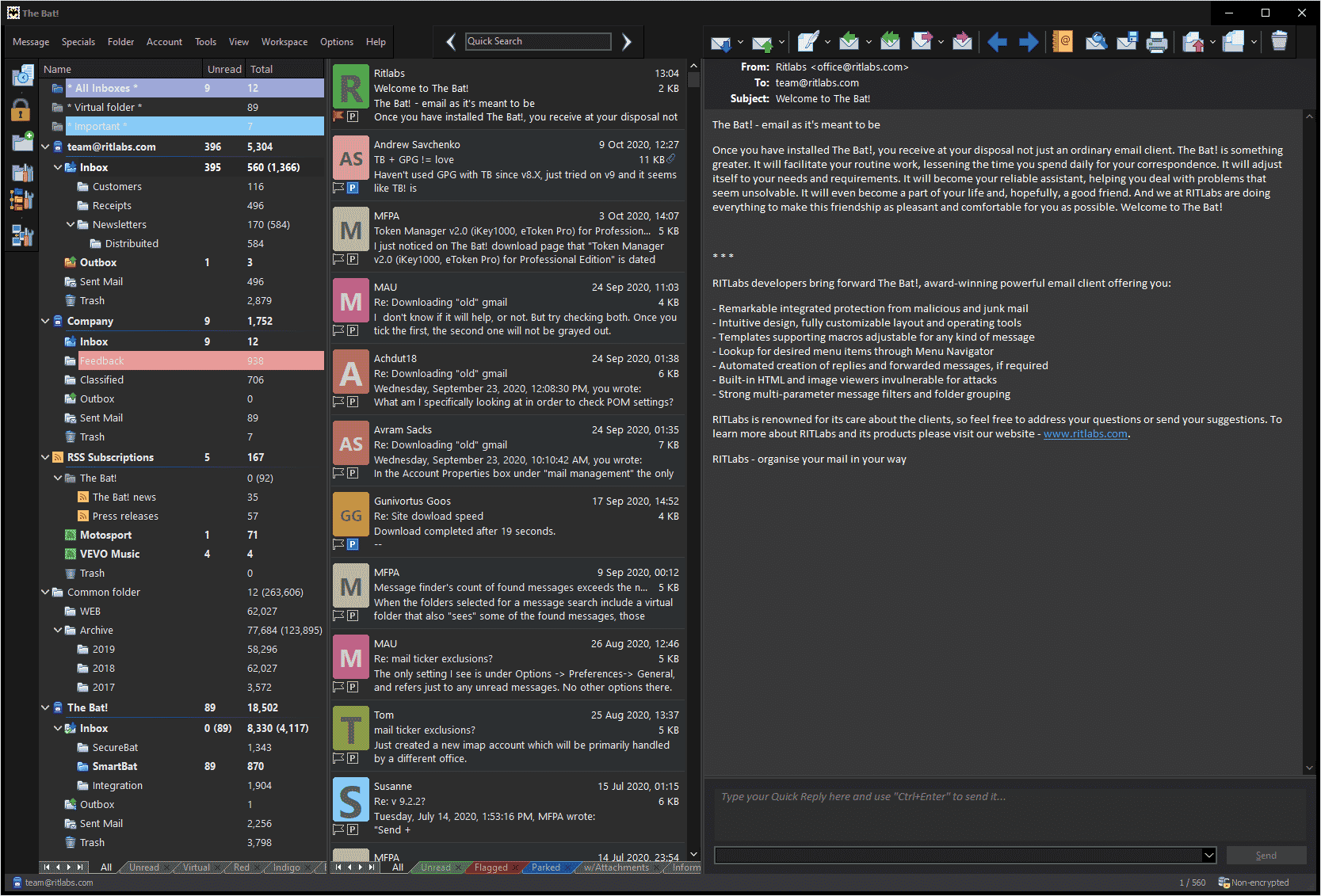 Layout and User Experience
User Experience
You can create a custom message template you send to your contacts to save time.
The Bat! supports address book synchronization with Google and iCloud. The changes you make in The Bat! will reflect in Google and iCloud storage.
The Bat! makes viewing attached images faster with its in-built image viewer. Generate QR codes from selected URLs, emails, and text.
With The Bat!, you can import your emails from the popular email clients like:
Mozilla Thunderbird.
Microsoft Office Outlook.
Eudora Lite/Pro.
Layout and UI
The Bat! as GUI software also supports command line parameters for users who love to use commands. The command-line commands can perform the same tasks as their GUI.
Customizing options
With The Bat!, you can customize your message editor window to make it easy to use.
The Bat! also allows you to manage your emails with filters and folders for accessibility. You can customize the main window to suit your preferences, including tweaking the toolbar.
Productivity features
Quick Templates: Do you want to send a quick email without typing everything from scratch? Using The Bat!'s quick email templates, you can insert a preformatted text into your emails.
The Address Book. With The Bat!'s address book feature, you can group your personal and business contacts into folders.
Multilingual Interface. The Bat! supports 18 languages you can switch to anytime.
Schedule your emails. The Bat! can schedule your emails to be sent later. An outstanding feature to improve productivity.
Cost
The Bat!, which is a Thunderbird email client alternative, is available in two editions – Professional and Home. The Professional edition cost is $59.99 and the Home edition cost is $49.99.
Read this article if you considering to move from The Bat! to MS Outlook
Postbox
Postbox is a Thunderbird alternative email client for Mac and PC for businesses. You can manage all your email accounts in one place.
Layout and User Experience
User Experience
You can keep your message from automatically marking as read when you open it. You can delay it for a few seconds. If you want to clear your search history from the search bar, right-click on the search bar, then select "Clear search history."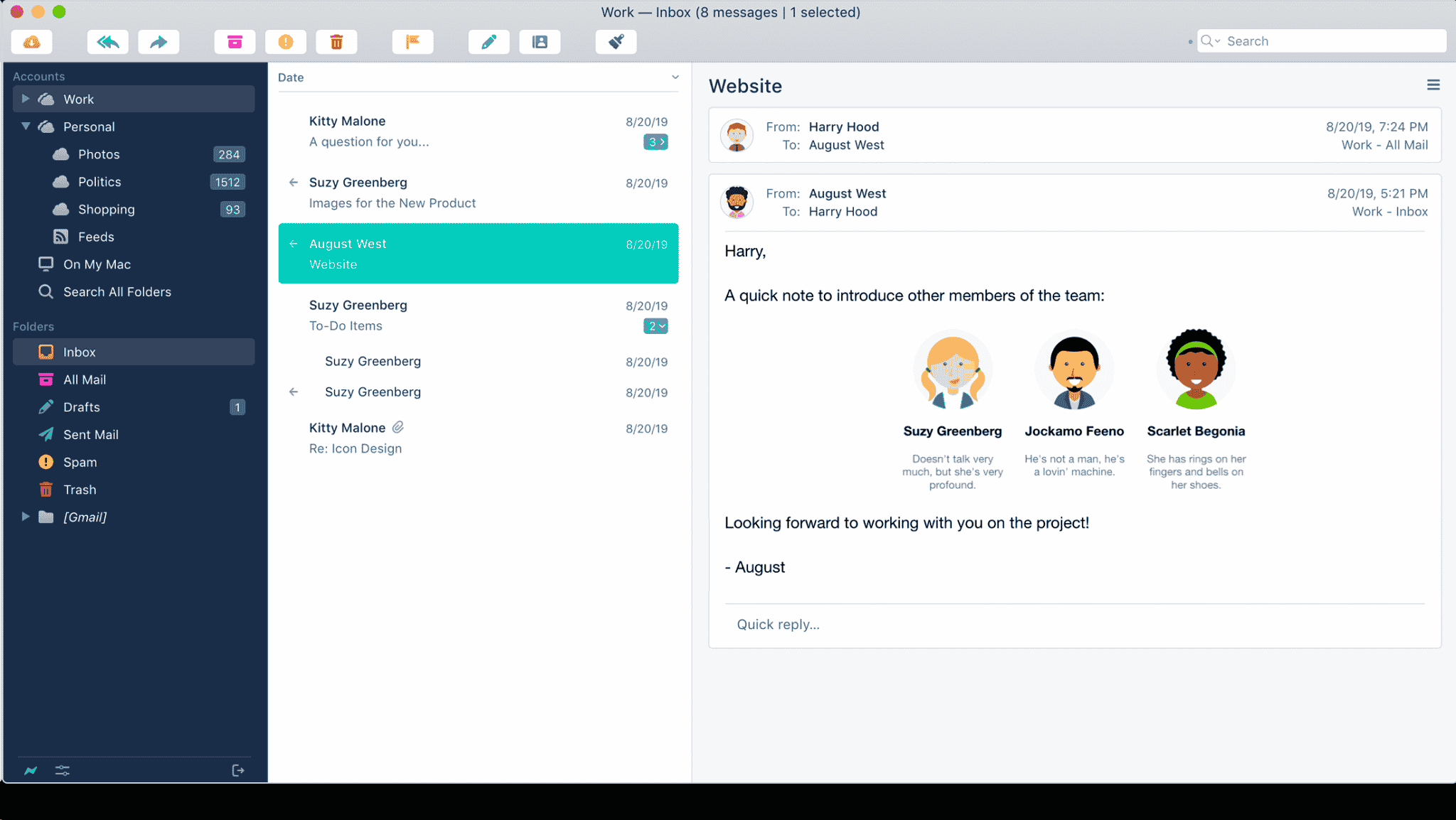 Postbox also gives you the option to place your email signature above or below your messages.
Layout and UI
The beautiful and clean interface acts like a native app for your operating system. You can also build your theme with the Postbox theme editor.
The focus pane lets you focus on the most important task at hand. It focuses on what you really want to do at the moment like unread messages.
Customizing options
Postbox allows you to group your work email and personal emails into separate folders to help you stay organized.
The one-click quick filter helps you stay organized and focused. You can also customize searches by the sender, subject, and date range.
Productivity features
The lightning speed search feature helps you find things in the blink of an eye. The search can be filtered by the sender, subject, date range, or others. The pre-formatted response email templates with placeholders save you a lot of typing time. Stay productive by grouping your work and personal emails in separate groups with Postbox. You can integrate other productivity apps into Postbox to expand its capabilities.
Cost
Postbox offers a one-time purchase for a lifetime.
Here is how to migrate from PostBox to Outlook
Webmail
Webmail, unlike the other Thunderbird alternatives, runs only on web browsers. When you want to use webmail, you simply log on to the website of the webmail provider and access your emails.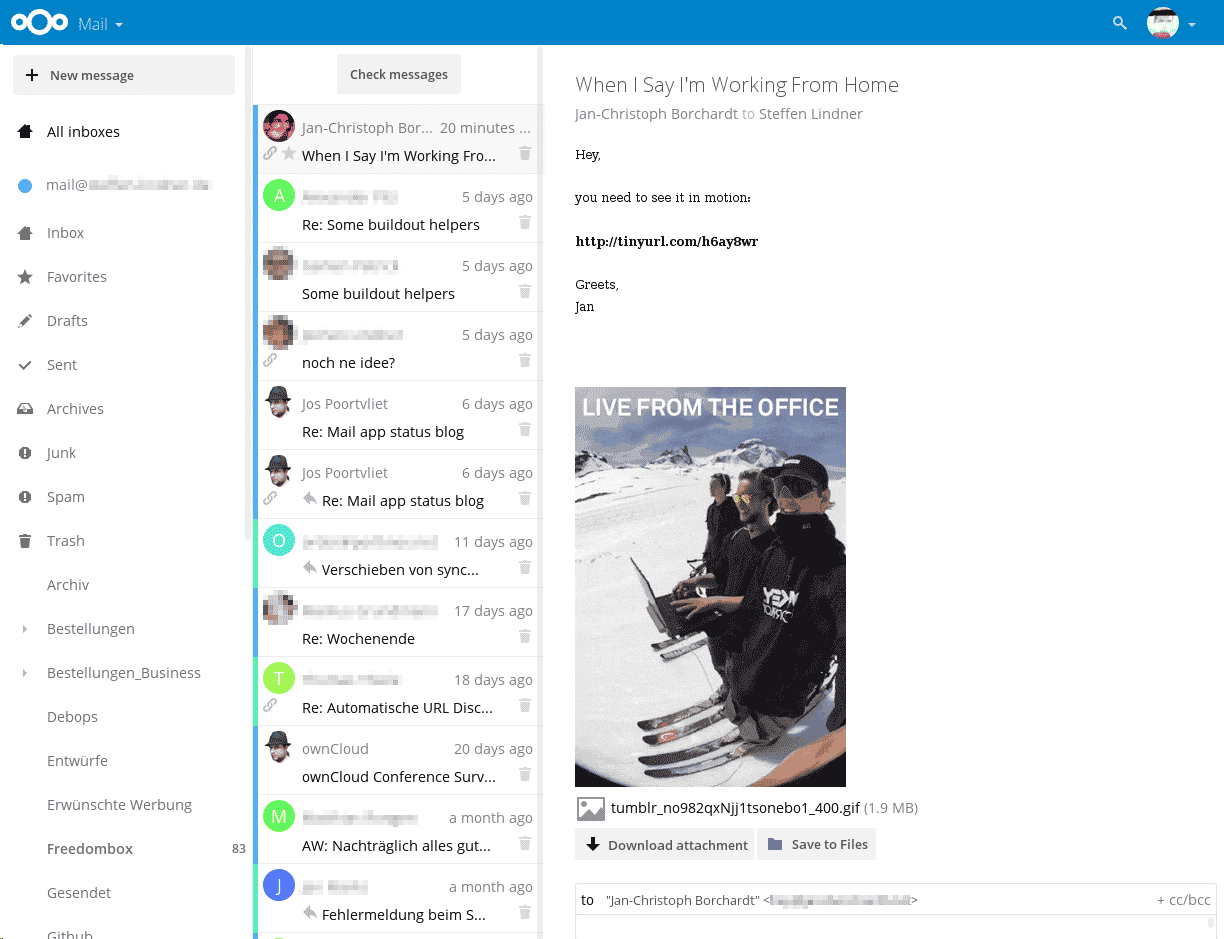 Layout and User Experience
User Experience
Webmail email services are browser-based, which means you're not limited by your operating system. There's no need to install any software on a computer.
Layout and UI
The user interface of Webmail is mostly dependent on the service provider.
Customizing options
The layout for Webmail alternatives for Mozilla Thunderbird can be accessed in the C panel of the hosting account.
Productivity features
With Webmail's email client, you can schedule messages and other tools your hosting platform provides.
Cost
In most cases, Webmails are provided by website hosting providers that usually come with your hosting plan.
Other Replacements for Thunderbird
Roundcube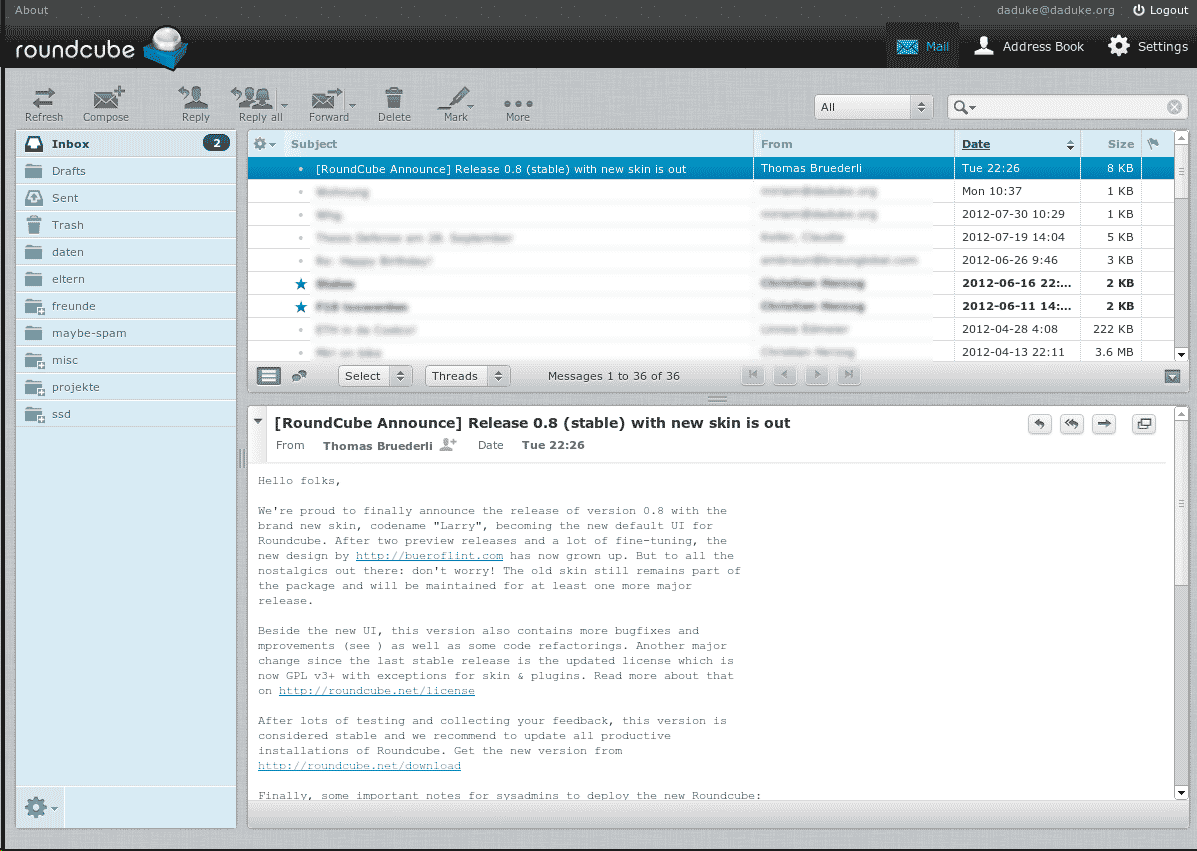 Roundcube is a web-based multilingual email client known among users who know that Thunderbird is no longer supported. Roundcube has many advanced features for users who want to switch from Mozilla Thunderbird. Its features:
Multiple sender identities.
Threaded messages listing.
Drag and drop message management.
Roundcube to Outlook conversion
Mailspring
Mailspring is a free email client for Windows, Mac, and Linux. Mailspring has one of the best interfaces and user experiences. It has an interface you can customize and a well-thought keyboard shortcut. These awesome features make Mailspring a great email alternative to Mozilla Thunderbird.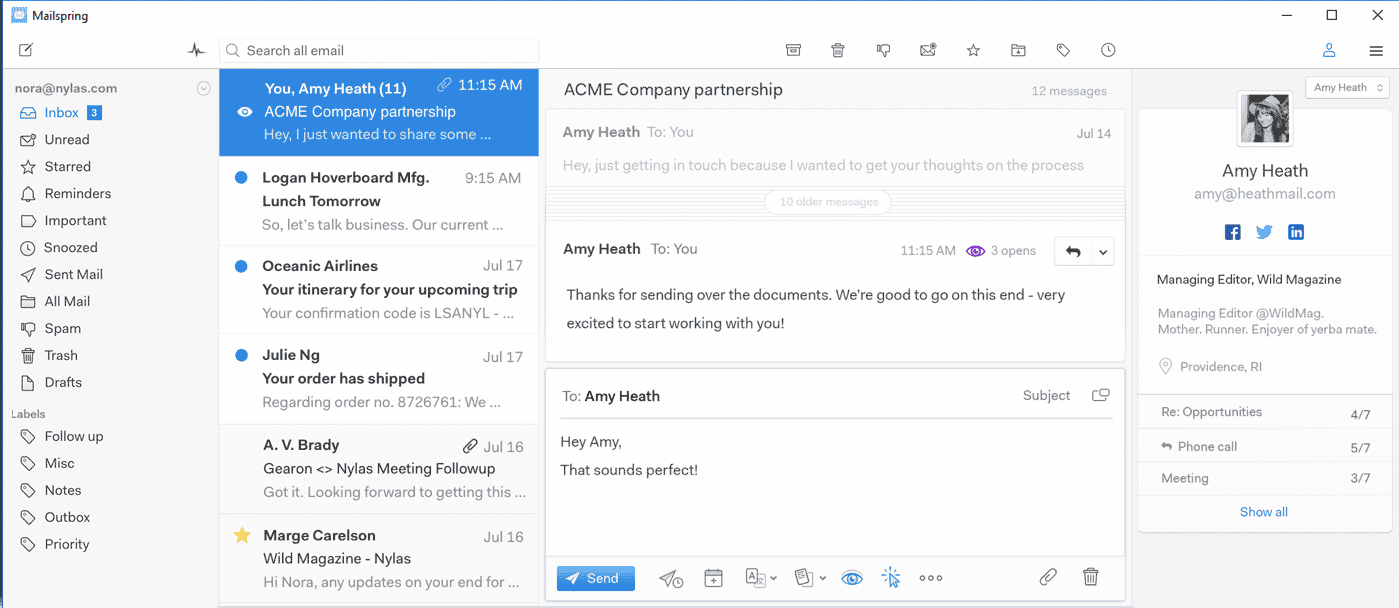 Mailspring is free. However, if you want to use features like snooze, send later, send reminders, and read receipts, you'd need to buy a monthly subscription.
Claws Mail
Claws Mail is a free and open-source email and news Windows and Linux client alternative to Thunderbird. It offers easy-to-customize features and configurations. Claws Mail has an in-built RSS reader. This email client can be used with multiple accounts.
SeaMonkey
SeaMonkey is a free client that uses the same architecture as Mozilla Thunderbird. It is available on Windows, Linux, and Mac. The similarity between SeaMonkey and Thunderbird makes the first a great alternative. Users of Thunderbird can easily switch to SeaMonkey.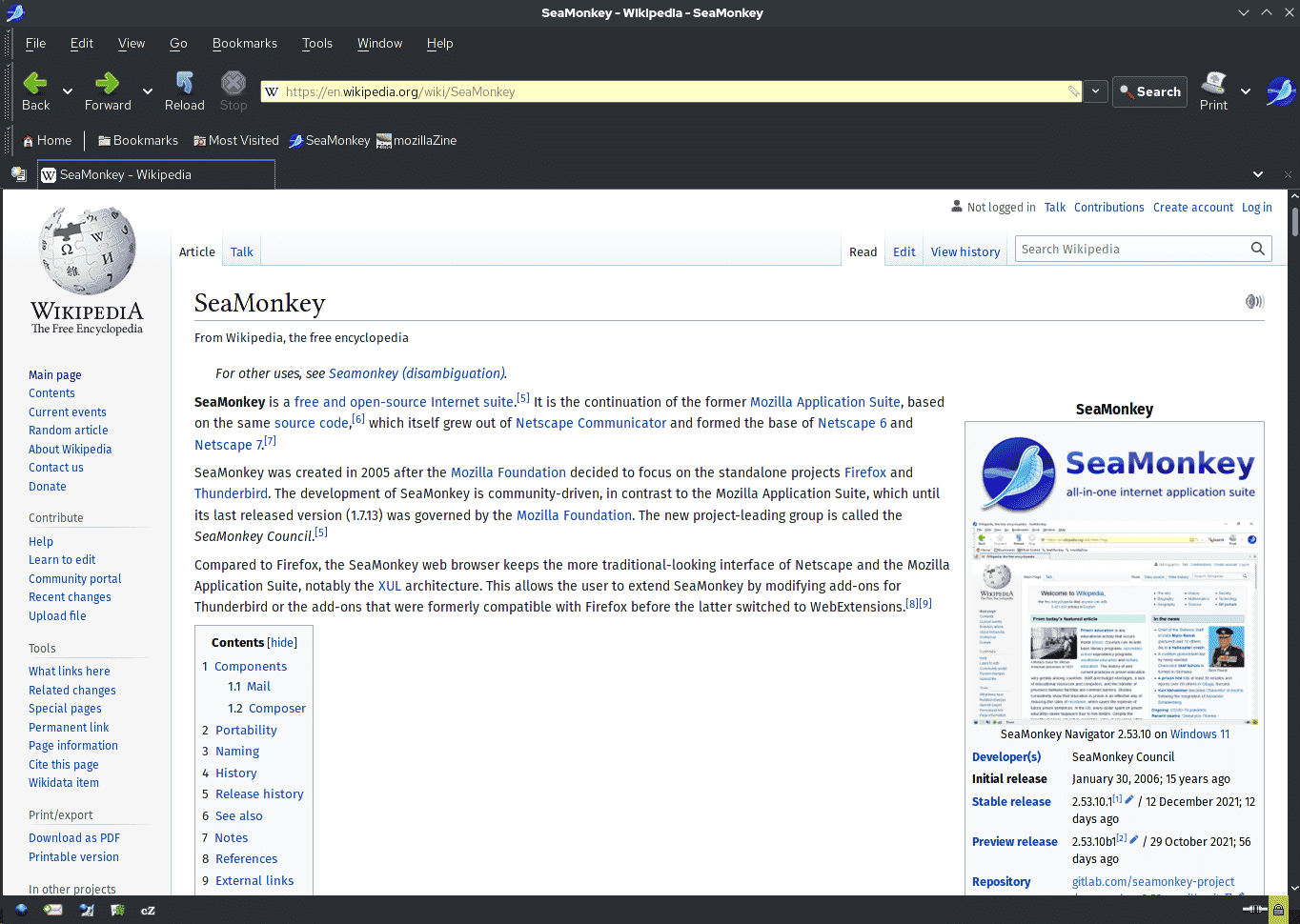 Pegasus Live Mail
Pegasus Mail is a free mail client for single and multiple users on standalone computers and internal networks.
Windows Live Mail
WLM was a freeware email client from Microsoft, which is no longer supported. Currently, users give preference to MS Outlook which is more contemporary and convenient. If you are still using Live Mail, it is time to move to MS Outlook.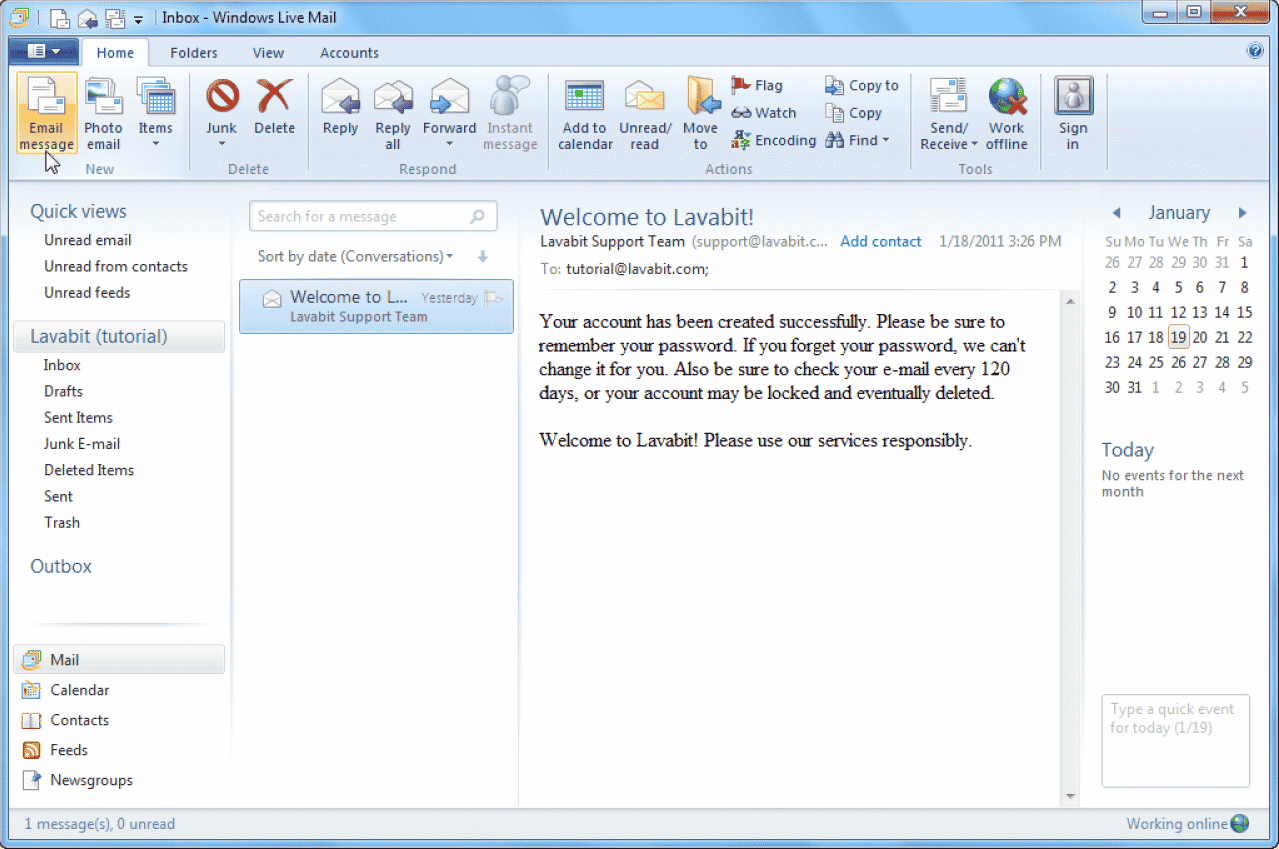 Gmail
Gmail is a free cloud-based email client from Google. With Gmail, you get access to your messages from the browser or the mobile app on any device. It's a free alternative to Thunderbird that gives you 15 gigabytes of storage shared across Google Drive and Google Photos. There are many productivity apps integrated for Gmail users.
If you want to transfer your emails from Mozilla Thunderbird to Gmail, then read our in-depth guide on importing Thunderbird to Gmail.
FAQ
What email is better than Thunderbird?
Looking for the best alternative to the Thunderbird email client? Our top picks are Microsoft Office Outlook, Mailbird, Postbox, and The Bat!. You can choose any of these email clients, as they are better than Thunderbird.
Is Thunderbird still supported in 2022?
Thunderbird is an open-source free email client for desktop operating systems. The Mozilla Foundation doesn't provide support to Thunderbird users. However, since the Mozilla foundation stopped funding the project in 2012, the Thunderbird community has been providing support for its users. But if you want an email client that provides regular updates and support, you can sign up for one of the alternatives to Mozilla Thunderbird.
Why is Thunderbird no longer funded by Mozilla?
Since July 6, 2012, Mozilla no longer funds Thunderbird development. The reason is that continuous effort to fund Thunderbird is fruitless. Thunderbird is independent and is supported by voluntary donations from people.
Which is better: Thunderbird or Mailbird?
Mailbird is better than Thunderbird in ease of use. It takes a few minutes to get a hang of Mailbird while it takes a little learning curve to find your way around Thunderbird. Thunderbird is a little cluttered while Mailbird gives spaces with icons and buttons and has a cleaner user interface. Some users even call it the best Thunderbird alternative.
Is there an Android version of Thunderbird?
Mozilla Thunderbird has no mobile version including Android and iOS. This is due to the limited resources of the Thunderbird community. You can opt for Thunderbird alternatives that are compatible with mobile operating systems. There are many Thunderbird alternatives for Android devices.
Which of the above alternatives to the Thunderbird email client is your favorite? To learn more about the other email client, read the articles on the blog.
We are sorry that this post was not useful for you!
Let us improve this post!
Tell us how we can improve this post?