Article describes how to convert IncrediMail contacts and emails into Mailbird email client. Mailbird is modern messaging application which allows to use multiple accounts to manage emails, supports the GUI color customization and integration with many popular application such as Whatsapp, Facebook, Twitter, Dropbox etc. However, Mailbird does not support the EML importing, so we were forced to create a special tool which pushes the Mailbird to receive the email files like it does when it is receiving the messages from your email provider. This instruction contains a step-by-step description of messages and contacts conversion from IncrediMail to Mailbird.
In this Tutorial:
Export emails from IncrediMail to EML files
* - The unregistered version converts a limited number of messages
Run IncrediMail to Outlook Transfer utility.
Click Close button in appeared message that Microsoft Outlook is not accessible (if appeared).
Go to menu Mode and enable mode called Export to EML files.
Select source folder where IncrediMail Message Store is located.
Click Scan Folder button.
Click Save EML button.
Choose a file system folder to save EML files and wait for the end of the export.
Import IncrediMail messages to Mailbird
If you already using Mailbird email client you obviously have existing messages inside the Inbox folder. We recommend you to move them all temporary into another folder to prevent the mixing of imported and existing emails. If you just installed Mailbird, proceed to the next chapter. Alternatively you may create Filter which will move all received emails into specific folder.
If you did not yet installed Mailbird we recommend you to see this video:
Create Temp folder and move Inbox emails to it
Run Mailbird application open Inbox folder.
Press Ctrl+A shortcut to select all emails.
Right click to the selected emails to open the pop-up menu.
In the pop-up menu click Move to… then click Add folder option.
Enter the new folder name Temp (for example) and click OK button.

This will create a Temp folder and all selected emails will be moved inside it. You may move these emails back by going into the Temp folder and using popup menu item Move to Inbox.
Import EML files into Mailbird
Download EML bridge application https://www.outlooktransfer.com/trial/emlbridge.zip
Unpack the application and run it.
Disable a Search in subfolders option.
Specify the path to the folder where EML files are located (topmost text field).
Click Search button. The program will find all EML files located in the selected folder.
Click Start Bridge button.
Now run Mailbird and setup new POP3 email account with the following parameters:

* you may use any user name and password.
Now click Inbox and press F5 button or click the refresh icon to receive emails.
Mailbird will receive all emails from the EML Bridge and the Bridge will be stopped automatically.
Select imported emails and move them to the desired folder as it described in the previous chapter. Repeat the steps above to import emails from another folder.
Import contacts from IncrediMail into Mailbird
Mailbird supports importing of vCard files, however IncrediMail stores the address book inside special database. First, contacts should be extracted and saved to the vCard format, after that they can be imported into Mailbird. Here is how to convert IncrediMail contacts to Mailbird:
Extract IncrediMail address book to vCard files
Run Address book extractor utility.

Just after start the program will try to find all IncredImail address book and place all found address books to the top list. You may also select address book file manually by pressing Choose Manually button.
Select one of Address Book files.
Click Choose Target button and specify the folder to save extracted vCard contacts.
Program will save extracted contacts to the selected folder. vCard files may be imported into Outlook, Gmail or another email clients.
Import vCard contacts into Mailbird
Run Mailbird and click Contacts icon
Click the Settings icon to open pop-up manu.
Click the Import contacts from vCard menu option.

Click the Browse button in the appeared Import from vCard window.
In the Open Dialog navigate to the folder where IncrediMail vCard contacts were saved.
Click Ctrl+A keys combination to select all vCard files.
Click Open button and selected contacts will be imported.
You may also want to know:
Other Tutorials
---
MSG to Outlook Transfer – User's Manual Even though "email conversion" may sound technical and complex, it is a fairly simple routine if you have the right tool at hand. Conversion…
---
Mbox to Outlook Transfer – User's Manual The primary goal of Mbox to Outlook Transfer software is to assist users in moving their emails from any email client supporting the Mbox format to…
---
Data Extraction Kit for Outlook is a powerful all-in-one tool for Outlook/PST email conversion, migration and data analysis. The product can be used for extracting emails and other objects from…
---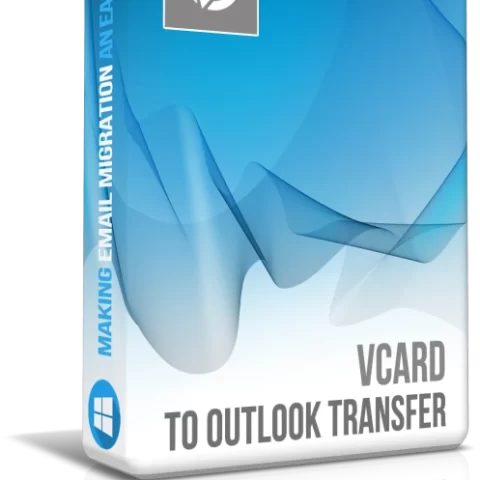 vCard to Outlook Transfer – User's Manual Transferring contacts from one system to another may seem like a complex task - and it can be if you do it manually.…
---
When it comes to managing large amounts of data in Outlook, one common issue that users face is the size limitation of PST files. PST files, which store all the…
We are sorry that this post was not useful for you!
Let us improve this post!
Tell us how we can improve this post?