What is Mutt
Mutt is a text-based e-mail client for Unix systems. The program focuses on keyboard-only user interaction and offers a wide range of capabilities for pro users. First developed back in 1995, Mutt still receives updates and has thousands of users worldwide.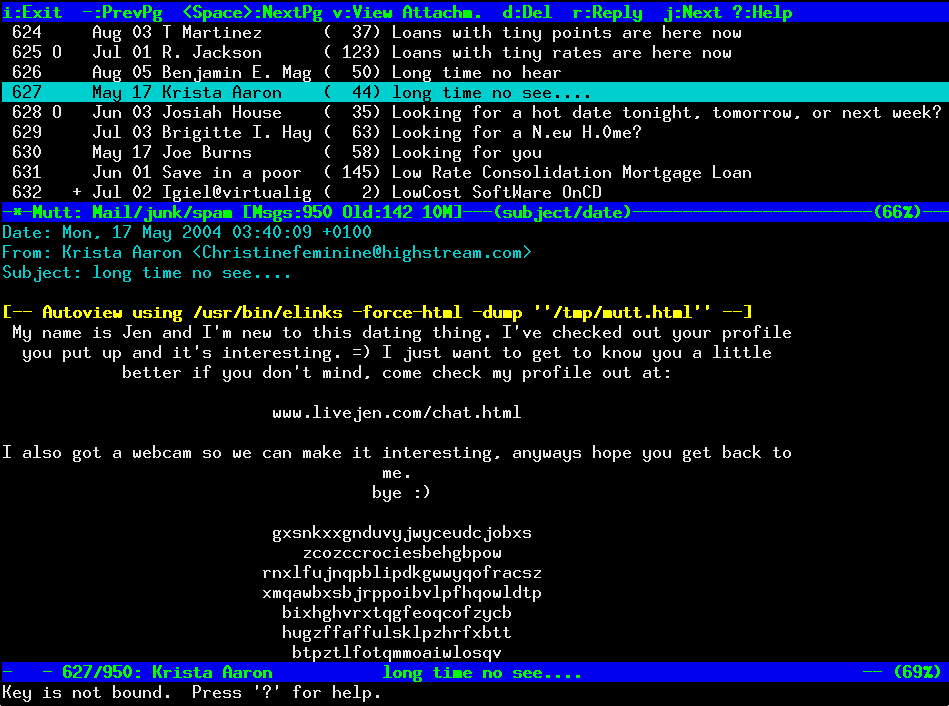 This tutorial explains how to transfer emails from Mutt to Microsoft Outlook.
How to convert messages from Mutt to Outlook
Mutt is quite universal in terms of supported mailbox format. And since MBOX is one of them, migrating from Mutt to Outlook basically means conversion of MBOX mailboxes to Outlook. Sounds simple, but Outlook does not offer built-in support for MBOX files, so you should use our program, MBOX to Outlook Transfer to effortlessly do the trick.
For exact instructions, please continue reading this tutorial.
Step 1: Retrieve MBOX files from Mutt
Mutt stores mailboxes in /var/spool/mail/USER. Note that this path may be different depending on the value of the $MAIL shell variable. You can check the current mail storage path using this command:
printenv MAIL
Copy .mbx or .mbox files from this location to some other folder.
Step 2: Download the MBOX to Outlook Transfer software
To finish your conversion, you need a reliable tool to import MBOX files with Mutt emails to Outlook. MBOX to Outlook Transfer solves this task easily and safely. The tool can process huge mailboxes and carefully transfers the data in them to a standalone PST file or import them directly to Outlook.
Click the below button to download our MBOX to Outlook Transfer tool.
* - The unregistered version converts a limited number of messages
After download completes, install and run the program. The main window of MBOX to Outlook Transfer looks as follows: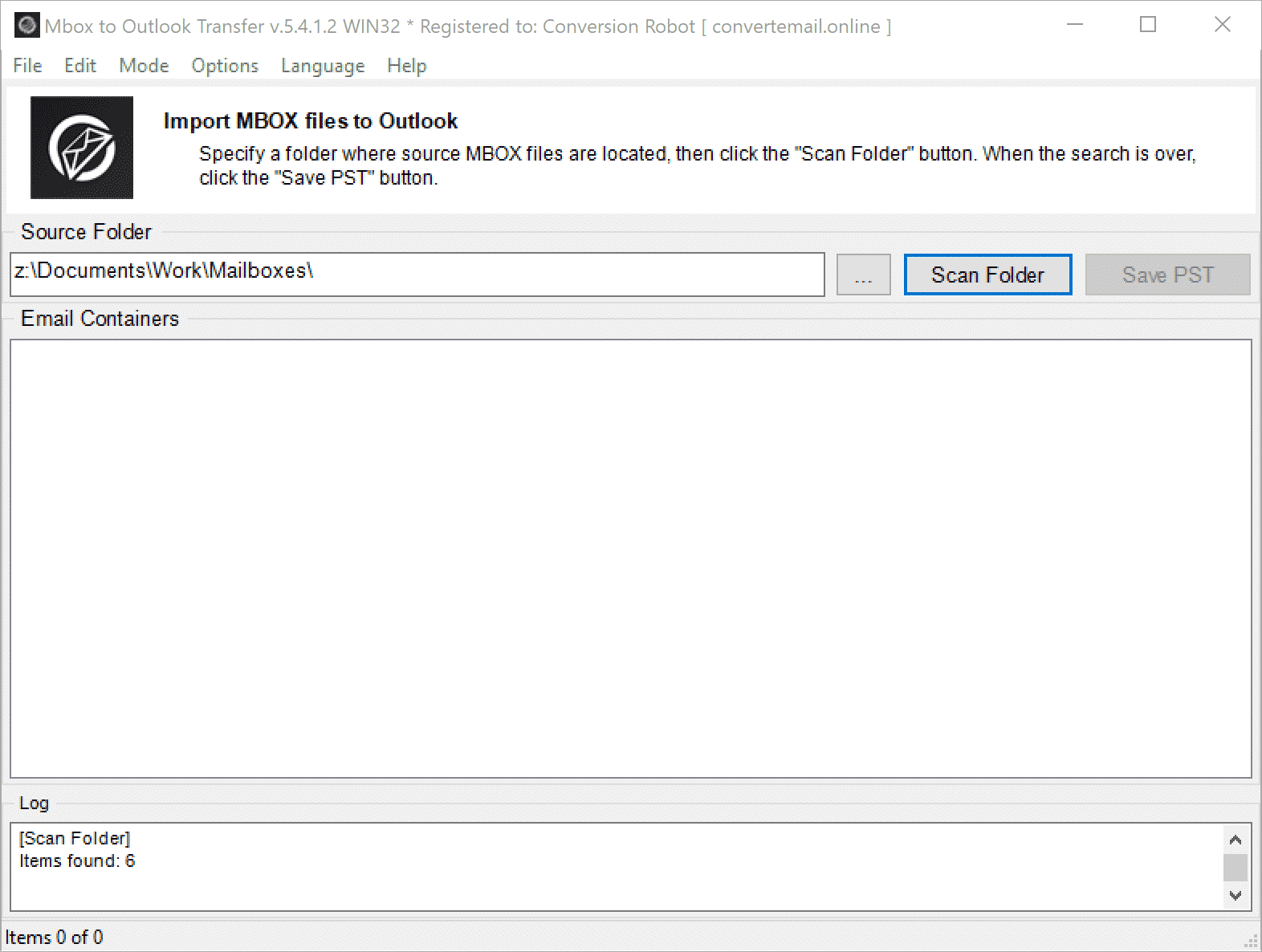 Step 3: Browse for MBOX files
Click the … button to browse for a folder where MBOX files from Mutt are. If you move emails from a Unix system to another computer with Windows, you probably copied your MBOX files to some USB stick or other removable media. In this case, browse for this media instead.
Then, click Scan Folder. The program quickly scans the provided folder and detects all MBOX email containers in it.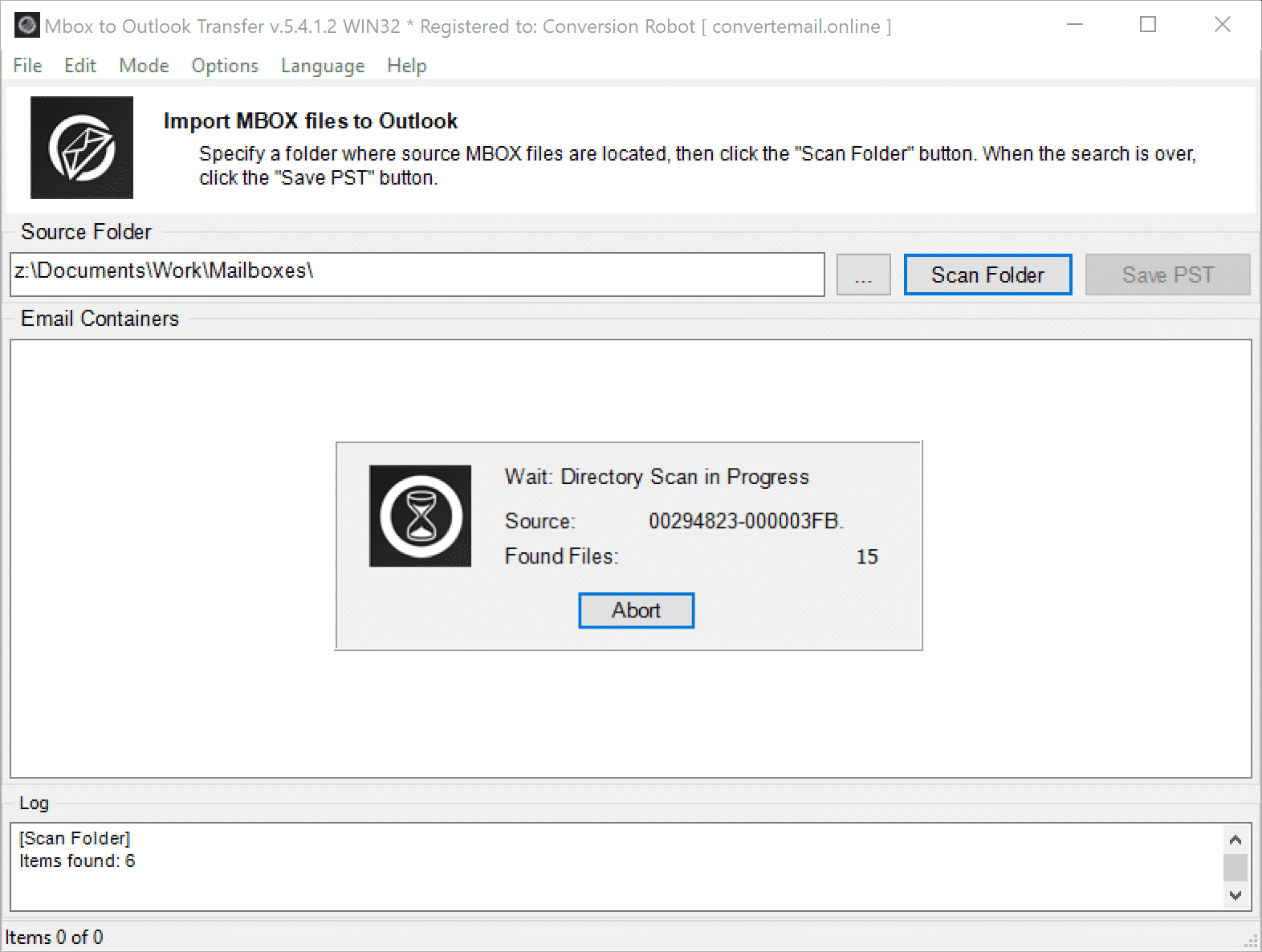 Step 4: Load MBOX data from Mutt to Outlook
After the program completes the scan, you should see the list of found email containers in the main window. Now, you can finish the conversion by clicking the Save PST button. This will save the entire contents of MBOX files to a PST file preserving the structure, threads, attachments and so on.
After you click the button, the program asks you to specify the folder where the PST file is to be saved to, and then a folder in your Outlook account where the data should be imported to. Once you confirm the conversion, the program will start processing.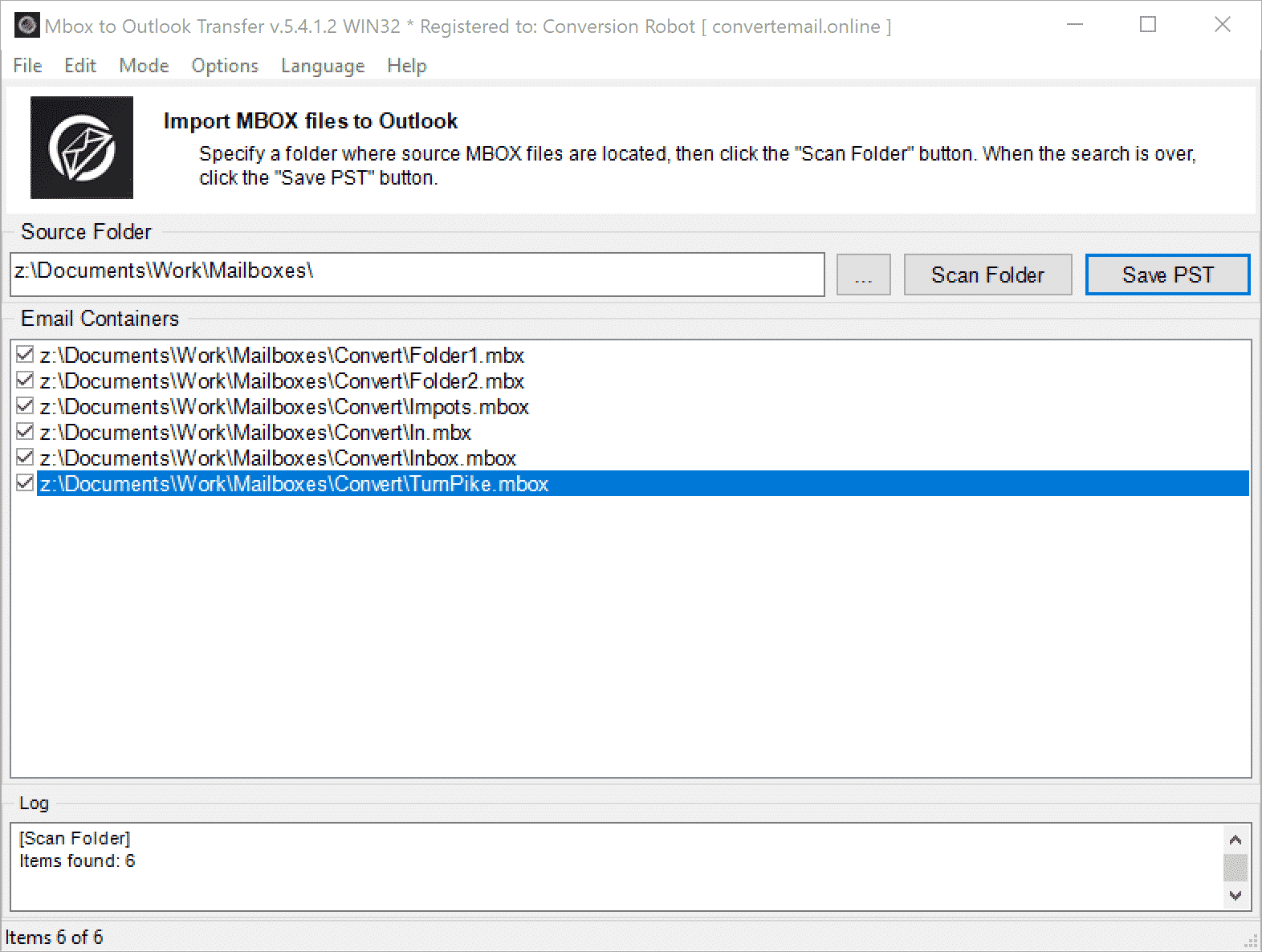 Note that depending on the overall amount of data to convert, the process may take some time to complete. Please be patient. If you want to stop the process, click the Abort button. Once the transfer completes, the resulting file is opened in Outlook immediately.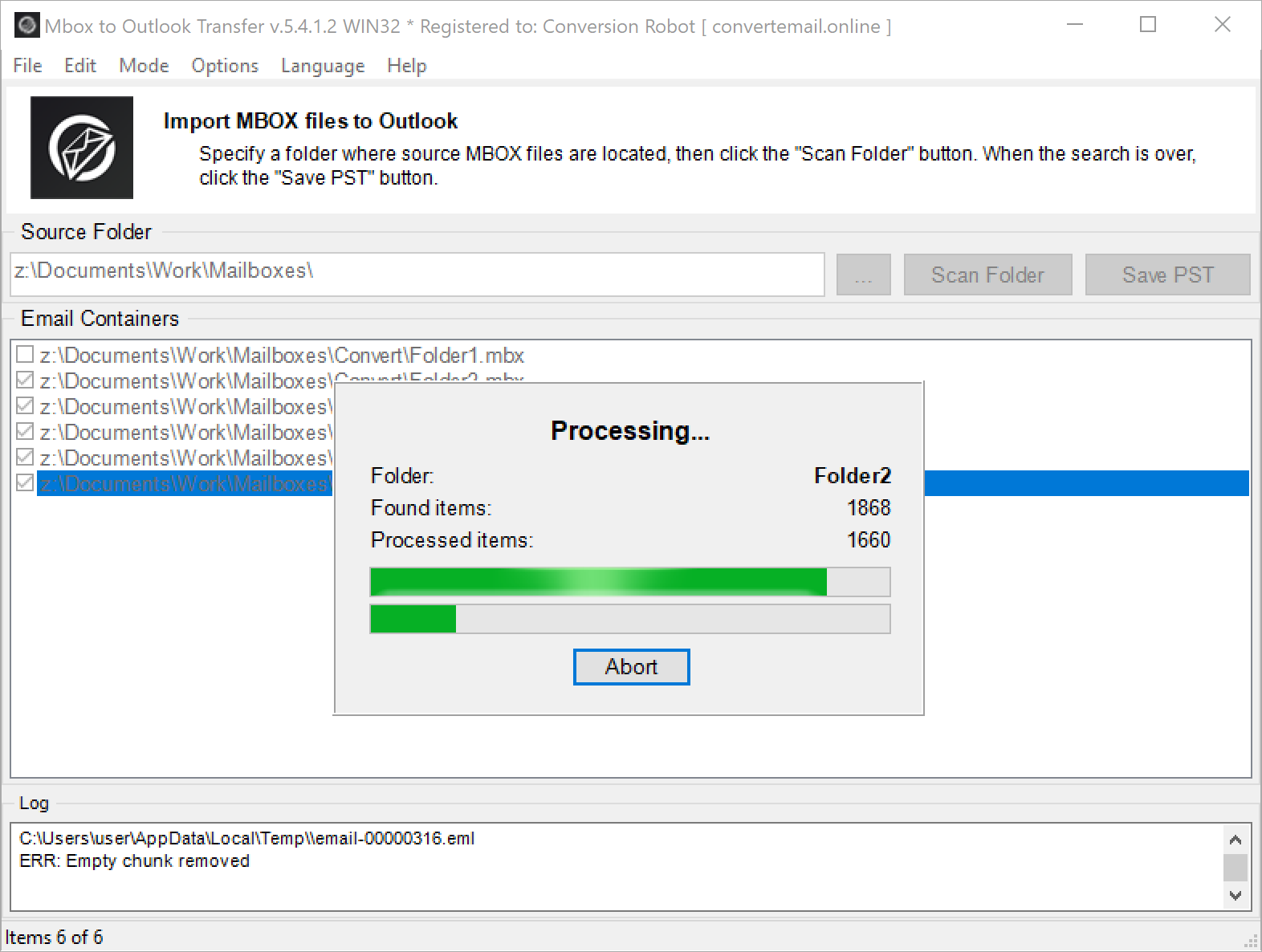 As you see, there is nothing complex in migrating from Mutt Mail to Outlook if you have the right tool in your toolbox. MBOX to Outlook Transfer is just the right tool. You can use it to import to Outlook emails from a number of other email clients as will including Thunderbird, Alpine, Sylpheed or Kmail as long as the software supports the MBOX format.
Read also:
We are sorry that this post was not useful for you!
Let us improve this post!
Tell us how we can improve this post?